Can You Use Acrylic Paint on Metal? – Painting Metal with Acrylics
Acrylic paint is by far the most popular paint used today. Most of us started our journey as budding artists in our infancy. Because of its affordability and durability, acrylic paint has become the natural paint to use in the home and at schools worldwide. So, can you use acrylic paint on metal? What about using acrylic paint on metal without primer? These may be questions that many of us wonder about! In this article, we will answer questions such as will acrylic paint stick to metal, and we will also work through the process step by step on how to paint on metal with acrylic, as well as learn if we can use acrylic paint on metal without primer. What other paint works on metal? Let's dive right in because we know that these thoughtful questions need quick responses!
How to Paint on Metal with Acrylic
Asking the question, can you use acrylic paint on metal is common, and we will demonstrate a step-by-step guide on how to do it so that your color lasts for years. Being able to paint metal with acrylic means that those old tired looking pieces of furniture that you thought were ready for the trash heap could very well be revived.
A coat of paint can make any tired-looking object appear new again, and the best thing about this is that it won't be an expensive process.
Refurbishing old furniture is relatively cheap, and the results are truly astounding. Look around your garage and storage areas and spot the items that can get a new lease on life, such as steel cabinets, tables and shelves, outdoor furniture, garage doors, bed posts, door knockers, and handles, just by painting them with acrylic. Outdoor furniture is often thrown away because it tends to look quite tired after the exposure it gets from standing outside all year long.
Garden furniture is the perfect item to get a new lease on life with minimal elbow grease!
Preparing the Surface
You should clean the furniture surfaces or the metal you want to paint. If you paint the legs of an old table, it makes no difference how clean your household is kept; fingers and other scuff marks will remain on the surface, so cleaning a surface is always recommended. If this step is skipped, you may land up with the paint starting to flake long before you expect it to.
Apply masking tape to the areas and edges you do not want to paint. We will have to strip off old rust, cobwebs, oil, and sometimes old paint from the surface.
Use gloves to protect your hands and then wipe the legs down with a damp cloth to clean; once that is done, use sandpaper on the legs or, alternately, a wire brush. Wire brushes are available in various sizes. It should be a fine sandpaper that is used. A wire brush should do the trick if the surface is heavily caked with old paint.
If you are scraping off a chair that was previously painted or has a bit more rust than usual, you will probably have to use a bit of elbow grease for this process.
Once you have finished sandpapering the surface, take a clean damp cloth and wipe the legs off to remove all the residue. Give it a second wipe-down if there has been a lot of dirt on the surface. Rinse the cloth in warm soapy water and wash the surface thoroughly. If there is a rust build-up on the legs, consider using thinners to guarantee an effective clean.
If you are going to use thinners, make sure you are in a well-ventilated room. Use a face mask to help keep the fumes under control as you clean the surfaces. Thinners carry a potent smell; if not handled with care, you could inhale the fumes, which might make you sick.
Apply the Primer
Many people ask whether or not you can paint metal with acrylic without using a primer. To answer this important question, we will discuss the process further in the article below. Let us first look at how to paint metal with acrylic using primer.
For this step in the process, you will have to give the surface some drying time after applying the soap and water or thinners. About half an hour should do the trick. An acrylic primer can be purchased from any hardware store or arts and crafts shop. When applied to metal, the primer is specially made to work with acrylic paint.
Dip your paintbrush into the primer and paint the surface. Use a smaller paintbrush to get into all the corners if the surface is small. You will apply two coats of the primer, and in between each coat, we recommend that you wait at least 5 to 10 minutes to allow for drying time.
Depending on the climate that you live in, the drying time could be less than 10 minutes. You will know when it is dry if it is not sticky to the touch.
After applying the two coats effectively, you will have protected the metal against corrosion and exposure to the elements.
The primer also allows the paint to stick to the metal surface easily. Once the second coat has dried completely, it is time to apply the acrylic paint.
Painting the Metal Surface
Can you use acrylic paint on metal? This is a question that is often asked but is an easy one to answer and an easy task to perform. When you apply the paint to the surface you have prepared, in this case, the legs of a chair; you should look at where the item will be placed once you are finished with it. If the chair is to go outside, you will need to use exterior acrylic paint, and if the chair is to stand inside the house, then you can purchase regular acrylic paint.
With a clean paintbrush, you can now start painting. Dip your brush into the paint bottle and start painting in even strokes in the same direction. Try to keep the movement the same when painting because after you have painted the surface, you might be able to see the brush strokes. Again, the paintbrush should tie in with the surface you will paint. A larger surface will require a larger paintbrush and vice versa.
You will paint the surface with two coats and want a drying time between each coat. With the paint, to be on the safe side, we recommend that you wait at least half an hour before starting the next coat. Don't worry if the first coat of paint differs from the color you envisaged; the second coat will do the trick.
Once your chair is completely dry and you have finished the second coat, leave it where it is and don't put it back where it belongs for at least 48 hours. Doing this will ensure no accidents occur if somebody brushes against the surface by mistake.
How to Seal Acrylic Paint on Metal
If you have used exterior acrylic paint, you will not need to seal the surface with any product because the exterior acrylic paint has already been treated. However, if your chair is to remain inside the house, you must add a coat of sealant which will ensure that if there are scuff marks, they will not chip the paint but rather be eliminated by wiping the surface off with a damp cloth.
Sealants are available in warehouse stores and arts and crafts shops, and they are sold either as a spray or can be applied as paint just like you used the primer.
The sealant in a spray bottle is clear and will not affect the final color of the paint, and the sealant that is painted onto the surface with a brush may change the color of the paint while the sealant is still wet but don't worry, once it is dry, the actual color of the paint will shine through.
After your 48 hours have gone by and the chair feels dry to the touch, it is time to peel off the masking tape, put back the cushions, and place your chair in its rightful place, ready for all visitors to admire. Well done!
Using Acrylic Paint on Metal Without a Primer
Metals such as stainless steel, formulated to prevent oxidation and damage from rust, will not require a primer. Traditional metals exposed to the elements will need a primer coat because the oxidation has already been compromised. If you are still determining whether a metal surface has already been through the oxidation process, we recommend adding a coat of primer instead of being sorry.
It will save you both money and time in the long run.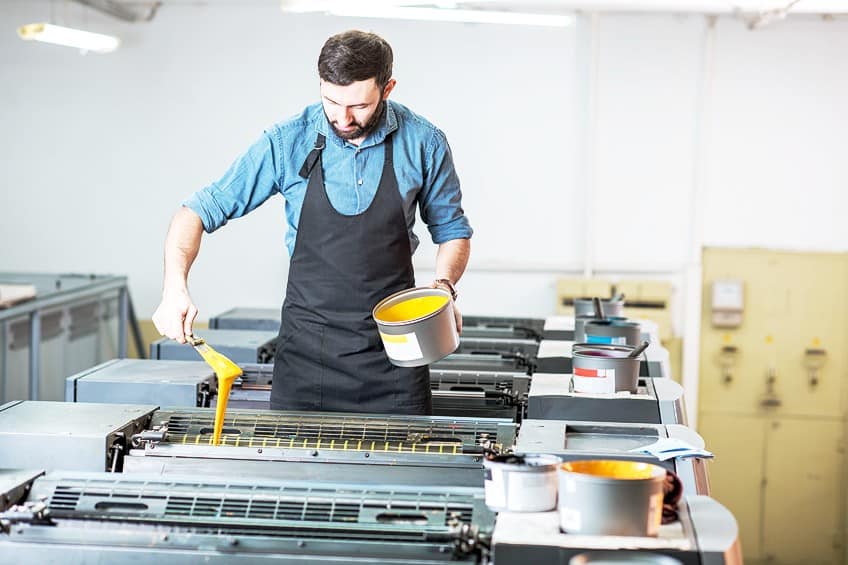 Ensuring Acrylic Paint on Metal Is Permanent
Nothing is worse than having to re-do a job at home that you have just finished. To ensure that your acrylic paint is a permanent fixture on your metal surface, especially with outdoor garden furniture, you have no option but to seal the surface with a sealant or a top coat. It's always lovely to see new furniture come to life after reviving it with a coat of paint.
You may be tempted to miss out on the final step of sealing the paint in because you are too eager to put the furniture back in its place, but missing out on this vital last step will only mean heartache when you have to re-do what you have just done.
The protective finish will guarantee that when you paint metal with acrylic, it will last a long time; it should last for as long as you still like the color. Remember, with the wide range of colors you get in acrylic paints, you may change your mind about the color every year. If you don't know the sealant best suited for your furniture, most hardware stores have staff knowledgeable about all kinds of painting projects, and it certainly will be okay to ask for some guidance if you are unsure. They will also advise on whether the surface should be painted or sprayed.
Acrylic paint is so versatile; not only can it be used for all sorts of arts and crafts ideas in the home, but we can also paint with glass, and as we now know, we can paint metal with acrylic. Acrylic paint is available in the most beautiful colors, and the exterior of your home can quickly receive that much-needed facelift. Just thinking of the possibility of bringing dull furniture to life is truly liberating. How wonderful that this paint was invented. There are so many lucrative ideas that we can accomplish with acrylic paint. Imagination is the key thing here. If you can think of it, why not try and do it? The possibilities are endless. We hope you have enjoyed learning how to seal acrylic paint on metal, amongst other helpful hints throughout the article.
Frequently Asked Questions
What Other Paints Work on Metal?
The question of what other paint works on metal besides acrylic only requires one answer, and this is an oil-based metal paint, which is a typical covering for metal surfaces. Oil-based paint sticks to metal far better than most other paints and offers a longer-lasting coat of color.
Will Acrylic Paint Stick to Metal?
Water-based acrylic paints will stick to metal, and these surfaces can be painted with a brush or a spray gun. The question of will acrylic paint will stick to metal is answered with a resounding yes, it will. When painting metal with acrylic paint, please ensure that the surface has been treated before the paint is applied and then treated with a sealer, ensuring that the acrylic paint will work on the metal.
Can You Use Acrylic Paint on Metal with a Brush?
Yes! You can use a brush and you can also use a roller to apply the acrylic paint to metal. These days, the world of color has become so advanced that some countries even offer acrylic paint for spray guns and if you are going to paint huge metal surfaces, consider making this purchase. Acrylic paints are available in multiple sheens and colors. If you are going to spray a surface with a spray gun, then you would paint the metal surface with at least six to seven coats. Spray guns and spray bottles can be tricky to use, so practice before spraying.