Caricature Art – Introducing the Art of Exaggeration
What are caricatures? You may have encountered a caricature or two in the local newspaper or a comical post online, yet did you know that this form of art was considered a notable art form of the 16th century? There are many intriguing facts about the history of caricature and the artists who practiced it. In this article, we will explore caricature's history, as well as some of the most famous caricature artists of art history who managed to create art out of exaggeration. Keep reading for more about the evolution of caricature in fine art!
Exploring the Art of Exaggeration: Caricature History
What are caricatures? You may be surprised to discover that caricature history dates further back than the 20th century. The art of caricature is also known as the art of exaggeration and is an art form that involves the satirization of a subject through the exaggeration and mockery of the subject's physical features. This is an intentional distortion in a painting or drawing that is meant to serve a satirical or humorous purpose and can also become a critique of the subject. So, where did this art form come from? And how did it evolve to become a newspaper feature? The word "caricature" was derived from the Italian word caricatura and first appeared in the art of Annibale Carracci at the turn of the 16th century. Later on in the 18th century, the word was documented in English and appeared as a reference in the work of William Hogarth in O the Roast Beef of Old England, which was a French satirical painting that captured the artist's experience during his second trip to France where he was arrested on the suspicion that he was a spy. In other words, Hogarth used caricature as a form of artistic revenge on the French along with numerous xenophobic references.
Knowing Faculties – Size (1826) by George Cruikshank; History of Medicine Division – NLM – NIH, No restrictions, via Wikimedia Commons
This brings us to the function of caricature art and its significance when looking at its origins. Caricature art relies on either the exaggeration or simplification of its subject, which can be a dehumanizing practice if used for ulterior motives. Caricature art can therefore become a form of entertainment, an insult, or a complimentary artwork that critiques the subject of the time. Caricature art was most commonly found in reference to political opinions and for public entertainment, relying on recognizable features of well-known figures who were subjects for critique and entertainment for the public. Editorial cartoons also feature elements of caricature and text that poke fun at politicians and celebrities while distorting the realistic image of the subject in question. Artists from the Middle Ages may have also used early forms of caricature to create gargoyles and other biomorphic animals that were featured in illuminated manuscripts.
Exploring the Different Types of Caricature Art
There are at least four types of caricature art forms and these include portrait caricatures, satirical caricatures, humorous or comedy caricatures, and grotesque caricatures. Caricature portraiture is vastly different from formal portraiture since it presents the complete opposite of the functions of formal portraiture. While formal portraiture tends to uphold, preserve, and perhaps glorify the sitter, caricature portraits tend to remind the sitter or viewer of one's own shortcomings while attempting to preserve the dignity of the sitter.
It is a poke at representation and ideal conventions, which reject any sense of idealism and opt for the unreal, exaggerated, distorted, and comical qualities of the act of portraiture.
Humorous or comedic caricature intends to use the ridiculousness of the image for entertainment purposes and most commonly mocks the subject for the viewer's pleasure, making use of wit, exaggerated facial expressions, and otherwise ridiculous compositions and appearances. Grotesque caricatures use unappealing elements to distort the subject and are not entirely created for humorous purposes. Grotesque caricatures can be found in portraits where the character of the sitter is critiqued through the distortion of their appearance such that they range from monstrous to uncanny.
Characteristics of Caricature Art
What then are the characteristics of caricature art? And how can one identify a caricature? The term "caricature" is also understood as a "loaded portrait" and was first discovered in works produced by Leonardo da Vinci. Da Vinci sought out individuals with facial deformities to create a more profound impression in his portraits and as such, relied on these individuals for artistic inspiration. Initially, caricature art was most popular among the aristocrats of Italy and France and later spread to England when the first caricature book was published in 1762. The book was called A Book of Caricaturas and was authored by Mary Darly, a caricaturist, educator, and print seller.
Hé! La chian….. li….li….li….. (1834) by Honoré Daumier; Honoré Daumier, Public domain, via Wikimedia Commons
Among the earliest caricatures, the most common characteristics included the use of symbolism, irony, exaggerated features or eyes, distorted features, the use of a recognizable subject, a display of likeness, an analogy of animal actions, and substituted elements for other body features. In most caricature artworks, reference to the subject's personal traits is included while the face or portrait image of the subject is the focal point of exaggeration.
Caricatures vs. Cartoons
One might also ponder over the role of caricature in cartoons and illustrations as well as the difference between labeling an animated image a cartoon or caricature. The key lies in the manner and style of drawing whereby the artist may choose to focus on storytelling in both cartoons and caricatures, however, the illustration of their character's figures or physical traits will make clear to the viewer whether the work is a caricature or cartoon figure.
Caricature figures can appear in cartoons as a style of defining the characters in the narrative.
Caricatures on their own, focus solely on the character at hand and are aimed at the mockery of the figure or its ridiculous nature for satirical or humorous purposes. Cartoons are more commonly created for humorous purposes while caricatures are figure-specific. Cartoons also tend to be created using computer-generated images and are a lot more light-hearted than caricatures. In the 19th century, the first reference to cartoons was made in Punch Magazine, which featured comical artworks also seen in newspapers. The first film-based cartoon was released in 1906 and produced by J. Stuart Blackton under the Vitagraph Company.
Famous Caricature Artists and Artworks
While caricature may be a late-16th-century art form, the exaggeration of figurative subjects in art can also be recognized in ancient Egyptian works that portrayed men as animals and also featured in Greek comedy. The first formally recognized caricaturist was Pier Leone Ghezzi, who was active in Rome throughout the 17th century. Ghezzi can be considered one of the earliest portraiture caricaturists of his time who approached early caricature drawing by employing the preferred style of using a full-body profile portrait set against a blank background.
En omnibus (1874) by Honoré Daumier; Honoré Daumier, Public domain, via Wikimedia Commons
Early caricaturists such as Ghezzi and Max Beerbohm presented caricatures in portraiture by emphasizing the element of inflation in relation to the comical small bodies and distorted proportions of the figures they chose. Below, we will introduce you to some of the best caricature artists in art history as well as their most popular caricature paintings and drawings that showcase the evolution of caricature.
Hieronymus Bosch (1450 – 1516)
Artist Name
Hieronymus Bosch
Date of Birth
1450
Date of Death
9 August 1516
Associated Movements, Themes, and Styles
Renaissance, Early Netherlandish painting, religious art, and caricature art
Mediums
Painting and drawing
Famous Artworks
● Christ Carrying the Cross (1510 – 1535)

● Infernal Landscape (n.d.)

● Ship in Flames (n.d.)

● Two Caricatured Heads (n.d.)
Renowned Dutch and Netherlandish painter Hieronymus Bosch was also a famed caricaturist who incorporated elements of caricature in many of his religious paintings. Bosch's passion for fantasy and whimsical expression can be seen in his caricatures of men, expressed by the exaggeration of noses in many of his drawings. Bosch's imaginative caricature paintings also featured unusual creatures with allegorical scenes, which echoed the influences of his previous experience as a caricature illustrator specializing in satirical caricatures. His works often allude to grotesque figures that appear bizarre yet are rendered with such intricate detail that it is hard to miss the otherworldly quality of his work.
His influence on art history is notable and has especially challenged the ideas of beauty and representation in religious art.
Christ Carrying the Cross (1510 – 1535)
| | |
| --- | --- |
| Date | 1510 – 1535 |
| Medium | Oil on panel |
| Dimensions (cm) | 76.7 x 83.5 |
| Where It Is Housed | Museum of Fine Arts, Ghent, Belgium |
Christ Carrying the Cross is one of the most famous examples of caricature as seen in the paintings of Hieronymus Bosch and portrays the figures of Jesus, Simon of Cyrene, and Saint Veronica amidst a myriad of distorted faces and figures carrying the large wooden cross. The elements of caricature can be seen in the noses and twisted smirks and mouths of the individuals. Christ is observed in the center with his eyes closed shut wearing a thorny crown as the crowds sneer at him. The scene clearly illustrates the intensity of the moment of Jesus' persecution and the disdained reactions of the crowd who are portrayed as angry, dissatisfied, and "evil" in almost every corner of the painting.
Christ Carrying the Cross (1510 – 1535) by Hieronymus Bosch; Hieronymus Bosch, Public domain, via Wikimedia Commons
Giuseppe Arcimboldo (1526 – 1593)
Artist Name
Giuseppe Arcimboldo
Date of Birth
5 April 1526
Date of Death
11 July 1593
Associated Movements, Themes, and Styles
Mannerism
Mediums
Painting
Famous Artworks
● The Jurist (1566)

● The Cook (1570)

● The Gardener (1587 – 1590)

● Vertumnus (c. 1591 – 1592)
Giuseppe Arcimboldo was among the best caricature painters of the 16th century who combined vegetables and fruits as part of his caricature approach to portraiture. Arcimboldo was an imaginative Italian painter whose surreal collage-like approach to caricature portraiture made his work one-of-a-kind. Arcimboldo was also known to admire and study the works of Leonardo da Vinci while also serving in the court of Maximilian II and Rudolf II.
His caricature portraits were labeled "composite heads", which included an array of sea animals, tree roots, fruits, and vegetables.
The Cook (1570)
| | |
| --- | --- |
| Date | 1570 |
| Medium | Oil on panel |
| Dimensions (cm) | 53 x 41 |
| Where It Is Housed | Nationalmuseum, Stockholm |
The Cook is one of the most famous caricature paintings that reflects the grotesque nature of Arcimboldo's portraits. While the composition resembles a face, the subject is made up of a variety of roasted meats. Here, Arcimboldo uses the style known as pareidolia. Pareidolia is an effect that occurs when perception imposes a meaningful interpretation of a visual nebulous stimulus, such that meaning is derived from a painting that has no meaning. The title alone and the use of roasted meats help the viewer to draw meaning from the portrait that it is, in fact, a person, with a distorted appearance. Many studies on pareidolia suggest that humans can interpret a face out of specific patterns of light, shadow, and shapes such as a combination of a circle and a few lines.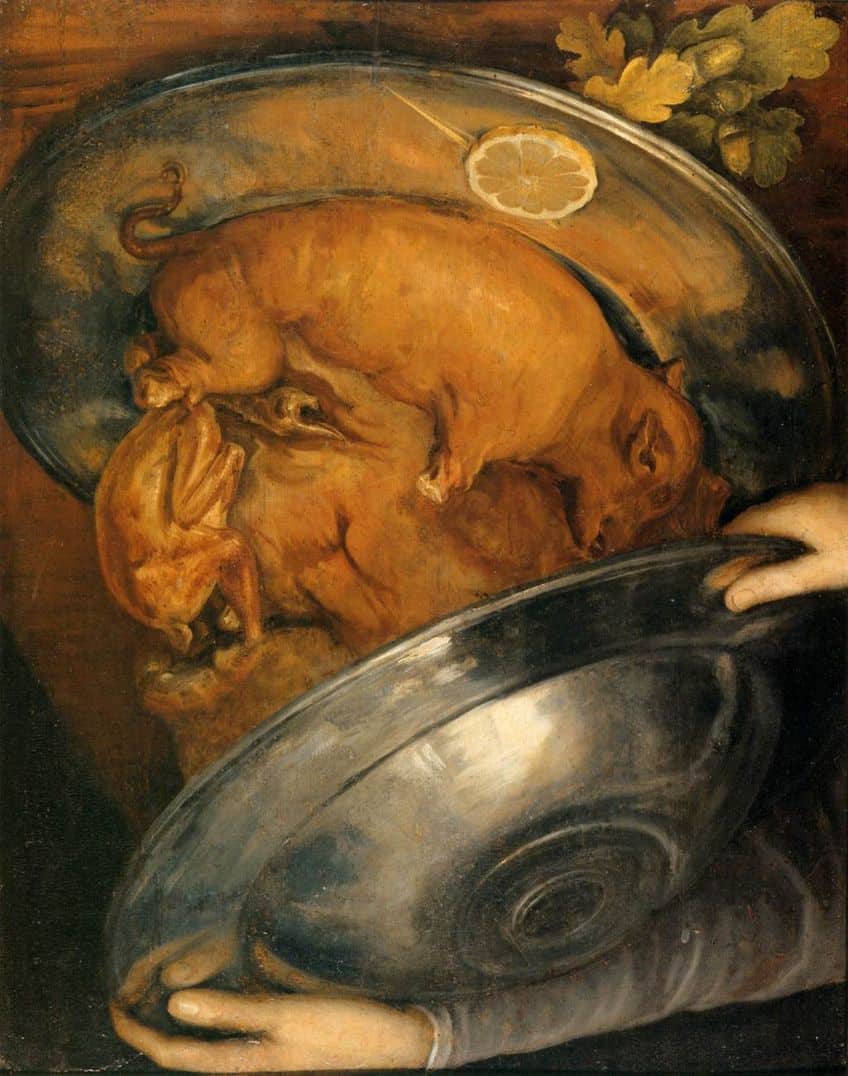 The Cook (1570) by Giuseppe Arcimboldo; Giuseppe Arcimboldo, Public domain, via Wikimedia Commons
Annibale Carracci (1560 – 1609)
Artist Name
Annibale Carracci
Date of Birth
3 November 1560
Date of Death
15 July 1609
Associated Movements, Themes, and Styles
Classicism, Baroque painting, and caricature art
Mediums
Painting and drawing
Famous Artworks
● Caricature Heads (c.1590)

● Sheet of Caricatures (c. 1595)
Annibale Carracci was among the earliest and best-known caricature artists of the late 16th century whose work was published by Arthur Pond in the mid-1700s. Towards the 1590s, Annibale Carracci created a set of caricature drawings, which were exaggerated portraits meant to mock his artistic theories. Carracci and his brother Agostino developed and taught their theories at the Bologna Academy, which became the source of caricature art. The brothers who founded the school also drew smaller caricatures called ritrattini carichi, which became a recreational activity for the duo.
Carracci and his brother were incredibly talented at narrowing in on the elements of their caricatures and selecting subjects from their trips to local taverns.
During this period, many artists moved away from attempting to imitate nature and instead focused on capturing the essence of reality to challenge the Mannerist practices of the time. Additionally, the Carracci institution was a popular choice for scholars due to its relaxed atmosphere, which promoted a very progressive environment for students to learn to enjoy art. It was here that students of the Bologna Academy learned the art of vision to recognize the truth beyond appearances and nature, which caricature provided.
Caricature Heads (c. 1590)
| | |
| --- | --- |
| Date | c. 1590 |
| Medium | Pen and gray-brown ink on paper |
| Dimensions (cm) | 19.4 x 13.5 |
| Where It Is Housed | The British Museum, London, United Kingdom |
Previously deemed a work of Agostino Carracci, this caricature drawing is one of the few surviving caricature illustrations by Annibale Carracci. The drawing portrays multiple side-profile portraits of different figures and characters that Carracci was possibly experimenting with. In the drawing, Carracci emphasized the noses, eyes, and proportions of the people he witnessed. The drawing is one of the best-remaining caricature compositions to date that illustrates the lighthearted and humorous eye of Carracci.
Man Laughing (1583) by Annibale Carracci; Annibale Carracci, Public domain, via Wikimedia Commons
Pier Leone Ghezzi (1674 – 1755)
Artist Name
Pier Leone Ghezzi
Date of Birth
28 June 1674
Date of Death
6 March 1755
Associated Movements, Themes, and Styles
Italian Renaissance, Rococo style, caricature art, and self-portraiture
Mediums
Painting and drawing
Famous Artworks
● Caricature of a Polish Count (c. 1694 – 1755)

● A Caricature of L'Abbate Folinghi (1674 – 1755)

● A Monk with a Carrot and a Woman with a Chamber Pot (late 17th – 18th century)

● Caricature of a Male Figure (n.d.)
Pier Leone Ghezzi is considered to be the first artist to establish himself in the professional sphere as a caricature artist. Ghezzi was inspired by the tourists who visited Italy and used their faces to create many interesting and comical caricatures. Before he committed to caricature, Ghezzi was also a well-known religious painter for a few Roman churches. His caricature style was informed by a single figure depicted in their postures and clothing with exaggerated anatomy.
For group portraits, Ghezzi used a comedic approach by repeating a character's awkward expression or pose.
Caricature of a Polish Count (c. 1694 – 1755)
| | |
| --- | --- |
| Date | c. 1694 – 1755 |
| Medium | Pen and brown ink on paper |
| Dimensions (cm) | 31.5 x 21.1 |
| Where It Is Housed | The Metropolitan Museum of Art, New York City, United States |
Caricature of a Polish Count is a perfect example of Ghezzi's approach to caricature, which was simple yet effective in its display of likeness and distorted proportion. Here, Ghezzi presents a solitary portrait of a Polish count whose nose is exaggeratedly large. His face bears a quirky smirk and his stance appears rigid and unprepared. The count is presented as unknowing, relaxed, and slightly carefree with his hat removed and sly smirk.
Caricature of a Polish Count (c. 1694 – 1755) by Pier Leone Ghezzi; Pier Leone Ghezzi, CC0, via Wikimedia Commons
William Hogarth (1697 – 1764)
Artist Name
William Hogarth
Date of Birth
10 November 1697
Date of Death
26 October 1764
Associated Movements, Themes, and Styles
Caricature art, satire, and editorial cartoons
Mediums
Painting, drawing, engraving, and writing
Famous Artworks
● A Harlot's Progress: pl.6 (1732)

● Characters and Caricaturas (1743)

● O the Roast Beef of Old England (1748)

● Beer Street (1751)
William Hogarth was another prolific and loved critic of British society who created many ironic and satirical exaggerated drawings, which featured absurd figures, social scenes, and complex storytelling. Hogarth was also a painter, however, much of his artistic freedom and success came from his powerful ability to craft a humorous yet serious narrative and condense it into an evocative illustration. His illustrations were also created for intentional purposes that supported local laws and encouraged society to cope with and accept these changes. Hogarth's character was equally as complex as his storytelling and was known to be someone who would bite the hand that fed him among other names such as a "street-wise rogue". He was an outcast of society whose experiences helped build impactful imagery and social commentary.
Despite mixed opinions on his political standpoint, scholars do attest to his genius, which made him a master pioneer of early modern capitalist illustration.
| | |
| --- | --- |
| Date | 1751 |
| Medium | Etching and engraving |
| Dimensions (cm) | Unavailable |
| Where It Is Housed | National Gallery of Art, Washington D.C., United States |
Beer Street is a popular etching by William Hogarth that was created after he became one of the first artists to secure his copyright. Hogarth created Beer Street to bolster the public's enthusiasm for the Gin Act, which saw an increase in taxes on spirits to stop excessive gin drinkers and promote the consumption of beer instead. Hogarth presented the characters in Beer Street as fun-loving and happy-go-lucky people enjoying the influx of beer and is often contrasted with his other print Gin Lane, which illustrates the negative effects of the over-consumption of alcohol by presenting figures that appear suicidal and insane. Hogarth was a clever illustrator and included elements of caricature in Beer Street and Gin Lane to effectively promote the laws and desired societal behaviors. His art in caricature and cartoon illustrations proved highly influential.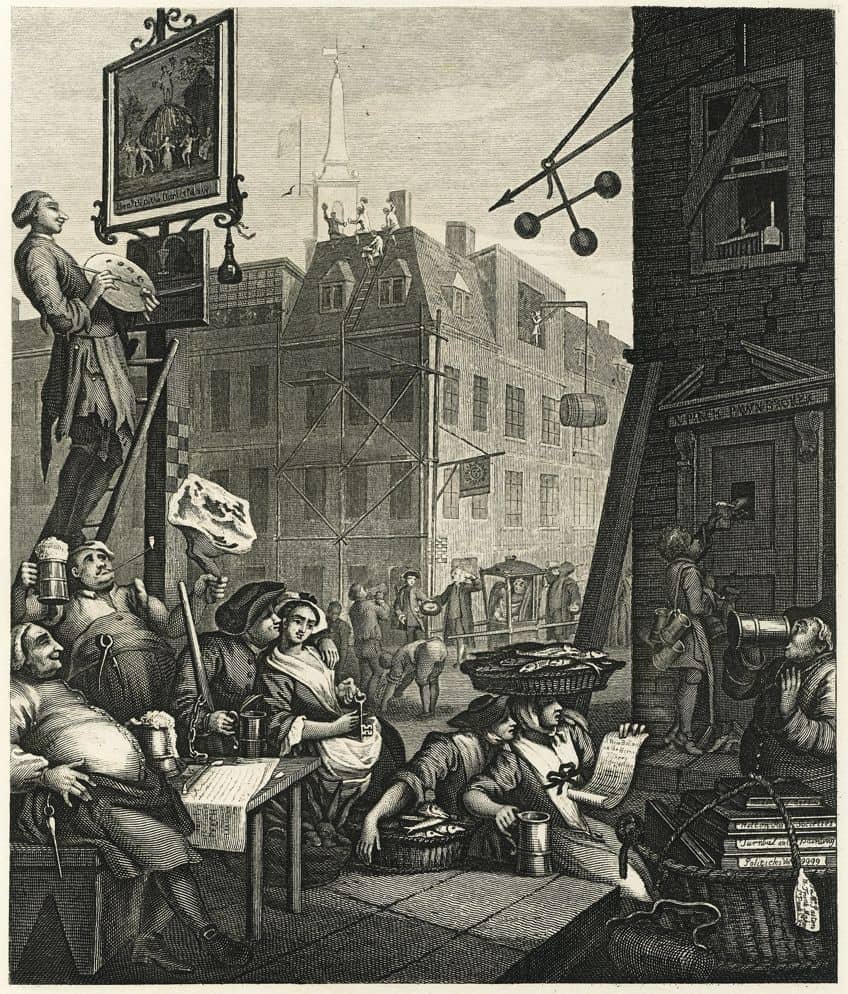 Beer Street (1751) by William Hogarth; William Hogarth/Samuel Davenport, Public domain, via Wikimedia Commons
George Cruikshank (1792 – 1878)
Artist Name
George Cruikshank
Date of Birth
27 September 1792
Date of Death
1 February 1878
Associated Movements, Themes, and Styles
British caricature, and social and political commentary
Mediums
Illustration, drawing, printmaking, and painting
Famous Artworks
● London Dandies (1816 – 1855)

● John Bull Giving Advice To His Favorite Candidate!! (n.d.)

● Interno di Osteria (n.d.)

● Original Composition for a Social Satire (n.d.)
George Cruikshank was among the best-known British caricaturists of the 19th century who created many detailed Victorian sketches and caricature drawings of politicians, social figures, and racist caricatures. He was recognized as an important figure in voicing public political concerns and opinions through his caricature illustrations. Cruikshank's introduction to caricature began in his father's studio as he learned etching and engraving techniques. Later, as a teenager, he began creating political caricatures for The Scourge, which propelled his career significantly. Cruickshank, who had also been close friends with Charles Dickens, collaborated on Dickens' book Oliver Twist and at some point, accused Dickens of stealing his idea for the plot of the book.
During his tenure, he created illustrations for over 800 books and thousands of drawings, some of which are currently housed at the British Museum.
Massacre at St Peter's (1819)
| | |
| --- | --- |
| Date | 1819 |
| Medium | Hand-colored etching |
| Dimensions (cm) | 24.8 x 34.7 |
| Where It Is Housed | The British Museum, London, United Kingdom |
Massacre at St Peter's is one of the best-known caricature artworks of George Cruikshank that was inspired by the Peterloo incident, which occurred on the 16th of August 1819. The Peterloo incident saw many crowds gather together at St Peter's Field in Manchester to listen to speeches by Henry 'Orator' Hunt and other radical figures advocating for parliamentary reform. Unfortunately, at least 17 spectators died and 700 were left with injuries by local authorities. Cruikshank's satirical print illustrates the Manchester Yeomanry attacking the crowd of men, women, and children. Henry Hunt was also featured in the satirical text and was a prominent activist for parliamentary reform. One of the figures in the print reveals the image of a liberty cap, which was a key symbol for the revolution at the time.
Massacre at St Peter's (1819) by George Cruikshank; George Cruikshank, Public domain, via Wikimedia Commons
Honoré Daumier (1808 – 1879)
Artist Name
Honoré-Victorin Daumier
Date of Birth
26 February 1808
Date of Death
10 February 1879
Associated Movements, Themes, and Styles
Realism, socio-political commentary, and caricature art
Mediums
Painting, sculpture, drawing, and printmaking
Famous Artworks
● Le Passé-Le Présent-L'Avenir (1834)

● Le Ventre Législatif (1834)

● Emmanuel Arago (1869)

● The Capitulation of Sedan (1870)

● Gargantua (1879)
Honoré-Victorin Daumier was one such caricature artist whose work eventually landed him in jail for six months. Daumier dominated the caricature art scene throughout the 19th century using his politically-charged illustrations and cut-outs that were published regularly in the La Caricature. By 1835, the French government banned any type of seditious art form, especially political caricature art. During this period, Daumier switched over to creating social caricature artworks where he leveraged the art of satire to gain much success.
His specialty involved matching his subject's mental disposition to a physical deformity.
M. Prune (1833)
| | |
| --- | --- |
| Date | 1833 |
| Medium | Lithograph |
| Dimensions (cm) | 27 x 35 x 0.1 |
| Where It Is Housed | Wallector, Rome, Italy |
Prune is a well-known caricature by Daumier that illustrates a stubby and gloomy old man who portrays the human embodiment of greed. His expression is one of hatred and was meant to portray the greed of politicians at the time. The caricature stands out strongly against the stark white background and is a perfect display of Daumier's mastery over clean delicate lines. Daumier also used lithography to convey his message, which elevated the art of caricature to a more serious art form. His portraits of celebrities are also the best examples of Daumier's knowledge of traditional portraiture and mastery over caricature, character, and expression.
M. Prune (1833) by Honoré-Victorin Daumier; Daumier, Honoré (Marseille, 26–02–1808 – Valmondois, 10–02–1879), dessinateur, CC0, via Wikimedia Commons
Thomas Nast (1840 – 1902)
Artist Name
Thomas Nast
Date of Birth
26 September 1840
Date of Death
7 December 1902
Associated Movements, Themes, and Styles
Realism, caricature art, battlefield landscapes, and portraiture
Mediums
Illustration and drawing
Famous Artworks
● Tammany Tiger Loose (1871)

● Group of Vultures Waiting for the Storm to Blow Over (1871)

● Merry Old Santa Claus (1881)

● Calling the Club to Order (1890)

● More Hell Than Harmony in New York (1892)

● Joseph Jefferson as Bob Acres in 'The Rivals' (1893)
Thomas Nast was one of the United States' leading caricature artists whose contributions to Harper's Weekly helped launch his career in cartoon illustration. Nast was also recognized for his caricature attacks on William M. Tweed, a famous political figure in New York City. Nast was also an advocate for the abolishment of slavery, and he used his cartoons to oppose slavery and support the Union during the civil war. His work was also commended by President Abraham Lincoln who stated that Nast was his best recruiting sergeant for the abolishment of slavery. His use of caricature in his cartoons exposed the exploitation of African-American slaves by the Southerners and painted the image of President Andrew Johnson as a repressive autocrat.
Nast's ability to summarize and condense a character and its worst flaws as a tool for political propaganda and activism was unmatched in its effectiveness.
Merry Old Santa Claus (1881)
| | |
| --- | --- |
| Date | 1881 |
| Medium | Lithograph |
| Dimensions (cm) | Unavailable |
| Where It Is Housed | Unavailable |
Merry Old Santa Clause is one of the most iconic caricature illustrations from Thomas Nast's career that was promoted as part of wartime propaganda imagery as well as the modern image of Santa Clause. His caricature embodied the essence of Father Christmas himself presented as a jolly, white-bearded man in a red suit. It is believed that Nast also used his own likeness to draw the new image of Santa Clause, which was to become the worldwide image of St. Nicholas. His depictions of Santa Clause also extended into his wartime illustrations, which helped spread some positivity during the civil war and distract the masses. In Merry Old Santa Clause, Nast highlights the figure's most recognizable physical features as seen in his rose-colored cheeks, large, round belly, and massive beard that shrouds his face.
Merry Old Santa Claus (1881) by Thomas Nast; Thomas Nast, Public domain, via Wikimedia Commons
Sam Viviano (1953 – Present)
Artist Name
Sam Viviano
Date of Birth
13 March 1953
Date of Death
Present
Associated Movements, Themes, and Styles
Caricature art and Contemporary art
Mediums
Drawing, illustration, digital art, and painting
Famous Artworks
● Cover to MAD #223 (1981)

● If The Miller Lite Gang Ran the Country; Mad #256 (1985)

● The Wizard of Odds Pg 6; Mad #300 (1991)

● Sam and Dave (2016)

● Madonna: Truth or dare (n.d.)
Sam Viviano is a renowned American caricature artist and art director who was recognized for his wide-jawed caricatures and crowd scenes. Viviano's artistic practice spans abstract expressionist painting as well as cartoon illustration, textile design, and digital illustration. He is also associated with the famous Mad Magazine, where he was credited with producing the first digital illustration. In 1999, Viviano was invited by the magazine to take on an art direction role, which has since left the magazine with immense success in its illustration and art department.
Viviano also makes sure to include his close family members in his cartoon works.
Cover to MAD #223 (1981)
| | |
| --- | --- |
| Date | 1981 |
| Medium | Digital illustration |
| Dimensions (cm) | Unavailable |
| Where It Is Housed | Unavailable |
This was the first digital illustration created by Viviano for Mad Magazine and displays his use of the wide-jawed deformity in caricature that was popularized through Mad Magazine. Presented with a comic-book approach to humor, the caricature is almost terrifying to look at for its overwhelming disfigurement of the human face. The eyes of the figure also appear disturbing since it is unaware of the gun pointed at it. The most prominent features of the caricature are its pronounced cheeks, jaw bones, nose, white teeth, and chin, which are complemented by the large and shapely Texan cowboy hat.
Robert Risko (1956 – Present)
Artist Name
Robert Risko
Date of Birth
11 November 1956
Date of Death
Present
Associated Movements, Themes, and Styles
Caricature art, Contemporary art, retro art, airbrush art, and portraiture
Mediums
Painting, illustration, and printmaking
Famous Artworks
● Chita Rivera and Liza Minnelli in `The Rink.' (1984)

● The Beatles Risko Caricature (colorized) (1994)

● Stevie Wonder Risko Caricature (1995)

● Liza Minnelli Risko Caricature (2010)

● Marilyn Monroe Risko Caricature (2014)

● Ein gerahmtes Karikaturporträt von Karl Lagerfeld, signiert, zusammen mit einem gerahmten Poster von Karl Lagerfeld stehend (n.d.)

● A Portrait Caricature of Sir Michael Caine (n.d.)
Perhaps one of the most famous caricature artists of Hollywood, Robert Risko is one of the leading Contemporary caricature illustrators whose vivid and modern printed illustrations feature many icons captured via their essential identifiable features. From celebrities such as Diana Ross and David Bowie to Muhammad Ali and Malcolm X, Risko has immortalized the characters of these icons through caricatures that are playful, light, and clean.
His edgy airbrush-finished caricature illustrations have also been used on numerous movie posters, books, and bespoke jackets, which help promote his illustrative graphic style alongside icons of the 20th century.
Fred Astaire and Diana Vreeland, Vanity Fair Magazine (c. 1985)
| | |
| --- | --- |
| Date | 1985 |
| Medium | Watercolor and gouache |
| Dimensions (cm) | 48.3 x 36.8 |
| Where It Is Housed | Robert Funk Fine Art, Miami, United States |
This iconic caricature painting by Robert Risko encapsulates his approach to caricature art during the 1980s, which was characterized by Risko's hand-air-brushed style that he practiced for over 30 years. In the late 1990s, he switched to using the airbrush feature on Photoshop, which made his process a lot easier. Among the artist's favorite celebrities who worked with him on many famous caricatures include Elizabeth Taylor, Jack Nicholson, and Julia Roberts who purchased several of his artworks. Risko is also praised for his collaborations with creative photographer Annie Leibovitz on many Vanity Fair projects. Regardless to say, the work of Risko is loved by all who have had the opportunity to be in his presence and process.
Jan Op De Beeck (1958 – Present)
Artist Name
Jan Op de Beeck
Date of Birth
1958
Date of Death
Present
Associated Movements, Themes, and Styles
Contemporary art, caricature, and portraiture
Mediums
Illustration, drawing, and painting
Famous Artworks
● Sophia Loren 800 (2009)

● Tim Burton 800 (2009)

● Salma Hayek 800 (2009)

● Lennon800 (2010)

● Jan Op De Beeck In CWN (2016)
Congo-born caricaturist Jan Op de Beeck is among the most renowned caricature illustrators of the 21st century who has created many famous caricatures of celebrities. Having studied at Sint-Thomas and the Royal Academy, De Beeck soon became a master caricature artist and teacher. De Beeck had also been featured at many caricature conventions as a keynote speaker and bagged numerous awards for his talents.
This includes Master of the Year in 2006 and 2012 for the National Caricaturist Network and first position for Best Traditional Art (Caricature) at the 2017 Eurocature.
Famous Corpses (2008)
| | |
| --- | --- |
| Date | 2008 |
| Medium | Illustration |
| Dimensions (cm) | Unavailable |
| Where It Is Housed | Unavailable |
Famous Corpses is one of De Beeck's best-selling publications, authored by Danielle Griffith, and features the masterful celebrity caricatures of De Beeck's hand. The book covers household names in Hollywood and celebrities who have passed away in a playful and witty roast. De Beeck's caricature portraits made for an excellent addition to the publication considering its humorous and edgy approach to entertaining the masses.
The art of caricature illustration and its roots prove the seriousness and power of the art form that has lasted for over five centuries. The way that caricature evolved from its rejection of traditional portraiture to a weapon for social influence, political opinion, and social critique is fascinating. In cartoons and illustrations, caricatures also hold the power to define the content of the artwork and shape its narrative. It is evident that caricature has played an important role in reflecting the mass opinion of society, while highlighting the downfalls of the structures of governance that keep us functioning.
Frequently Asked Questions
What Is Caricature Art?
Caricature art describes the art form of exaggeration or simplification where the subject's physical appearance is intentionally distorted to relay an artistic message. Caricature art is often used to express satire, humor, political and social opinions, as well as to mock the figure involved in the artwork.
What Is the Difference Between a Caricature and a Cartoon?
Cartoons and caricatures can be distinguished by their role as both tools for comedy and entertainment as well as satire and social critique. Cartoons are created primarily for comedic purposes and are modernly produced using computer-generated imagery. Caricatures, on the other hand, are centered on the exaggeration of physical features of a subject intended for mockery, satire, humor, or socio-political critique. While cartoons can feature such elements, caricatures are more direct.
Who Created the First Caricature?
The first set of caricatures was officially produced by Annibale Carracci around 1600. Carracci and his brother, Agostino, owned a school called the Bologna Academy, which was used to promote exaggerated drawings.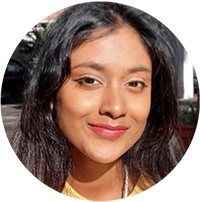 Jordan Anthony is a Cape Town-based film photographer, curator, and arts writer. She holds a Bachelor of Art in Fine Arts from the University of the Witwatersrand, Johannesburg, where she explored themes like healing, identity, dreams, and intuitive creation in her Contemporary art practice. Jordan has collaborated with various local art institutions, including the KZNSA Gallery in Durban, the Turbine Art Fair, and the Wits Art Museum. Her photography focuses on abstract color manipulations, portraiture, candid shots, and urban landscapes. She's intrigued by philosophy, memory, and esotericism, drawing inspiration from Surrealism, Fluxus, and ancient civilizations, as well as childhood influences and found objects. Jordan is working for artfilemagazine since 2022 and writes blog posts about art history and photography.
Learn more about Jordan Anthony and about us.
Cite this Article