Famous Australian Artists – A Look at Famous Australian Painters
Australian art is known to have a long and rich history that stretches back more than 30,000 years. Aboriginal art, in the manner of rock art, was already being produced throughout the region during the prehistoric era. After Europeans landed on the continent, landscapes and representations of nature were the first kinds of artworks made by the earliest famous Australian painters. Today we will look at the most famous Australian artists who helped shape the nation's art and culture.
Famous Australian Artists
During the Romantic period, landscape artists continued to advance until a separate style of distinctly Australian art started to emerge.  The participants of the Heidelberg School were regarded as the "Australian Impressionists." They changed the face of Australian art right through to the present era, as had European Impressionist painters.
In the 20th century, Australia saw the emergence of several contemporary art movements, such as the Hermannsburg School, the Antipodeans, and the Western Desert Art Movement.
Margaret Preston (1875 – 1963)
| | |
| --- | --- |
| Date of Birth | 29 April 1875 |
| Date of Death | 28 May 1963 |
| Place of Birth | Port Adelaide, Australia |
| Mediums Used | Painting, woodcuts |
Margaret Preston was one of Australia's most creative early modernist artists. Her prints and paintings, predominantly of still life subjects, were vibrant, cosmopolitan, and brilliantly colored, representing a period of great creativity in Australian art history. Margaret Preston was a pioneer of Australian art, establishing an oeuvre with a distinct vision that promoted a distinct nationalist perspective. She was ambitious, bold, outspoken, and extraordinarily accomplished.
Her paintings struck a challenging balance between appealing to the general audience and her fellow painters.
Photograph of Australian artist Margaret Preston, outside her home in Berowra in 1936; Harold Cazneaux, Public domain, via Wikimedia Commons
She toured Europe in 1904 and avidly sought out the art of Europe's significant contemporary artists. Preston established a "decorative" style that she would retain throughout her whole career at this period, after being exposed to artworks by painters such as van Gogh, Matisse, Gauguin, Cézanne, and Whistler, as well as the influences of Asian aesthetics.
Despite her extensive travels in Asia and Europe, she actively fought for a local style that was unique and expressive of Australian culture.
Japanese and Chinese themes, as well as approaches and motifs from Aboriginal Australian art, were fundamental to Margaret Preston's unique Australian aesthetic. Margaret Preston was a staunch supporter of Aboriginal art from the 1920s until she died in 1963, a time when it garnered little public notice. Her usage of Aboriginal symbols and images has provoked a lot of debate and controversy.
Grace Cossington Smith (1892 – 1984)
| | |
| --- | --- |
| Date of Birth | 20 April 1892 |
| Date of Death | 20 December 1984 |
| Place of Birth | Neutral Bay, Australia |
| Mediums Used | Oil painting |
Grace Cossington Smith was a trailblazer of modernist art in Australia and was crucial in establishing post-Impressionism in her nation. Cossington Smith, one of the most significant and famous Australian painters of the 20th century, is particularly renowned for her modernist portrayal of Sydney cafeterias, illustrations of the Sydney Harbor Bridge's arch in construction, and her later interior scenes with windows and doorways where yellow is often the primary color.
Many of her settings, including still lifes, doors, and window sills, offer a view into the typical suburban household of the era.
Photograph of Australian artist Grace Cossington Smith, outside her home in Turramurra circa 1915; Unknown author unknown author, Public domain, via Wikimedia Commons
She occasionally depicted significant events as well, such as the wars and the Prince of Wales's visit to Sydney, which provide a more comprehensive perspective of the time's developments in Australia and the rest of the world. She made excellent use of the sun and gorgeous patterns of colorful vibrancy, adding cool colors to the shadows to give them a sense of vitality. She established form in color by meticulously grouping dazzling brushstrokes side by side to create little squares.
She was one of the first famous Australian artists to split away from Australian Impressionism and be inspired by the European Post-Impressionist style.
Her paintings were quite daring for the time. She was Thea Proctor and Margaret Preston's contemporaries. Her major interest was in color, specifically vivid, sparkling colors that were drenched in sunshine. She embraced modernism and created her style.
Albert Namatjira (1902 – 1959)
| | |
| --- | --- |
| Date of Birth | 28 July 1902 |
| Date of Death | 8 August 1959 |
| Place of Birth | Northern Territory, Australia |
| Mediums Used | Watercolor painting |
Although Albert Namatjira was not the first Aboriginal artist to paint in a European manner, he is undoubtedly the most well-known. The Hermannsburg school is distinguished by palm-filled canyons, Ghost gums with brilliant white trunks, and dark red mountain ranges that become purple at twilight. In 1877, Lutheran missionaries founded Hermannsburg Mission on the Finke River's banks, west of Alice Springs. Rex Battarbee, an artist, taught Namatjira watercolor technique.
Namatjira's landscapes were once deemed to have fallen to European visual styles – and consequently to notions of European supremacy over the land – but have subsequently been re-evaluated as encoded renderings of traditional places and holy wisdom.
Portrait of Indigenous Australian artist Albert Namatjira, circa 1950; Unknown author unknown author, Public domain, via Wikimedia Commons
Land ownership is inherited, but a precise understanding of what it "encompasses" is learned in degrees through ritual, song, narrative, and interaction. Namatjira's totemic links to his nation are so strong in his works that they appear to merge, revealing Namatjira's cultural, artistic, and proprietorial ownership and understanding of the land.
Namatjira's aptitude for European watercolor paintings was viewed as proof of integration policies' likely effectiveness.
Namatjira was the first Aboriginal individual to be awarded provisional Australian citizenship in 1957. This gave him some social freedoms and allowed him to reside in Alice Springs, however, he was not allowed to buy land. His relatives, such as his children, were not given the same rights. Namatjira was accused of giving liquor to individuals of the Aboriginal community in 1958, even though it was unlawful for all Aborigines, apart from Namatjira, to own and drink alcohol.
Sidney Nolan (1917 – 1992)
| | |
| --- | --- |
| Date of Birth | 22 April 1917 |
| Date of Death | 29 November 1992 |
| Place of Birth | Carlton, Australia |
| Mediums Used | Mixed-media, painting |
Sir Sidney Nolan was a prominent artist in Australia known for his Modernism works. He was well known for his portrayals of the mythology and history of Australian bush life. His artworks, which are typically rich in color, stunning in composition, and purposefully uncomfortable in technique, depict Australian themes of failure, loss, and captivity, with people such as Eliza Fraser the shipwreck victim, the Kelly Gang, and adventurers Wills and Burke.
Nolan's classic images of the Kelly Gang assisted in the creation of Ned Kelly's reputation as an icon of Australian identity and culture.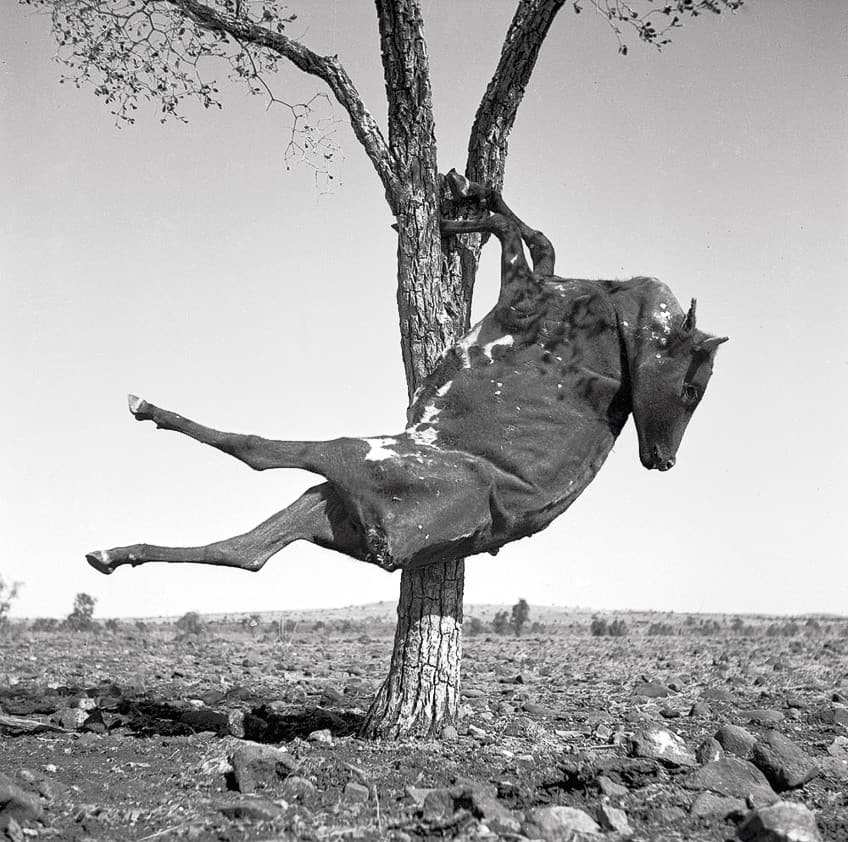 Photograph of a dried carcass of a cow suspended in a tree, Queensland, Australia. Taken by artist Sidney Nolan during the 1952 Queensland drought; Sidney Nolan, Public domain, via Wikimedia Commons
In 1944, after abandoning the army, Nolan went by the alias Robert Murray and the next year launched his renowned series about Ned Kelly, which depicted the circumstances leading up to the outlaw's death. Kelly is portrayed in these Australian artworks wearing black armor.
In 1947, after leaving Melbourne, Nolan traveled to far north Queensland and Fraser Island to create another historical sequence on Mrs. Eliza Fraser, the shipwreck victim.
He then went to the outback of Australia, where he became interested in the Australian explorers, Wills and Burke, who had both died trying to traverse Australia from south to north, and portrayed their voyage in Gray sick (1949). Throughout his career, Nolan returned to this early subject matter.
Margaret Olley (1923 – 2011)
| | |
| --- | --- |
| Date of Birth | 24 June 1923 |
| Date of Death | 26 July 2011 |
| Place of Birth | Lismore, Australia |
| Mediums Used | Oil painting |
Margaret Olley is Australia's most recognized painter of interiors and still life paintings, motivated by flowers, fruit, and ceramics. She grew up on Queensland's sugar cane plantations before earning her stripes in Sydney's post-war art scene. Travelers to the Northern Rivers area of New South Wales can stop at the Margaret Olley Art Centre in Murwillumbah, a delightful gallery that honors the artist's work and legacy.
Olley was appointed an Officer of the Order of Australia in the Queen's Birthday Honors list on the 10th of June, 1991 for his "contribution as an artist and to the development of art."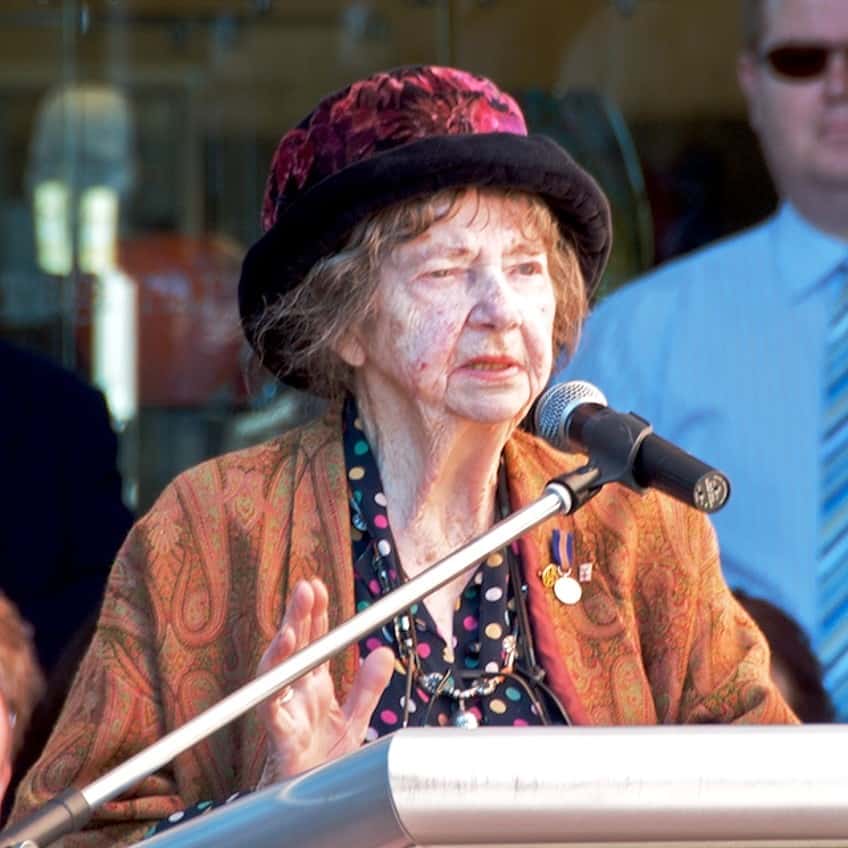 Margaret Olley at the Reopening of the Maitland Regional Art Gallery, 2009; Nomadtales, CC BY-SA 3.0, via Wikimedia Commons
John Olsen (1928 – Present)
| | |
| --- | --- |
| Date of Birth | 21 January 1928 |
| Date of Death | N/A |
| Place of Birth | Newcastle, Australia |
| Mediums Used | Painting, ceramics, printmaking |
John Olsen is not regarded as simply an abstract artist; rather, he is a master of emotive painting. Another of his significant strengths is his relationship with poetry. He was endowed with the capacity to appreciate beauty while also praising the unsightly, irregular, and challenging. His work also encompasses numerous fields and he masters them all.
A zealous collector once dubbed him "the Picasso of Australia", a superficial comment, but like Picasso, he has perfected and never wavered in any of his preferred mediums.
John Henry Olsen at the Mosman Art Gallery, on the donation of his painting, "The Rolling Sea and that Streeton Painting," in 2015; Mosman Council from Sydney, Australia, CC BY 2.0, via Wikimedia Commons
John Olsen is regarded as a national treasure and one of the most famous Australian artists living today. After spending several years traveling across Europe, Olsen relocated to Australia in the 1960s to create several colorful, energetic, experimental depictions of the Australian environment – an approach that has typified Olsen's distinguished 70-year career.
His style's quirkiness pervades everything.
Brett Whiteley (1939 – 1992)
| | |
| --- | --- |
| Date of Birth | 7 April 1939 |
| Date of Death | 15 June 1992 |
| Place of Birth | Sydney, Australia |
| Mediums Used | Oil painting, charcoal, pencil |
Australian artist Brett Whiteley traveled extensively and produced work in several nations, including England, Italy, and the US. Despite having an excellent career, he developed a drinking and drug addiction. Unable to manage his addiction, he finally overdosed and passed away. His works exhibit influences from Vincent van Gogh, the effects of drugs, alcohol, and the Vietnam War. The scale of his creations is one manner in which America impacted him.
He was heavily affected by the peace movements during that period, and he grew to feel that if he produced one large artwork advocating peace, the Americans would pull their soldiers from Vietnam.
Brett Whitley's Almost Once sculpture, located in Sydney; Martin Pueschel, CC BY-SA 3.0, via Wikimedia Commons
Whiteley became involved in the big peace demonstrations of the 1960s, protesting America's participation in the Vietnam War. The completed piece was a massive work that included collage, painting, and other mediums. He was known for his vivid, abstract style.
In Sydney's Surry Hills, where Whiteley formerly used to have a studio, you can now discover more about his work and life thanks to a 20-year transformation project by the Art Gallery of New South Wales.
He was a recipient of multiple renowned Australian art prizes including the Wynne, Archibald, and Sulman Prizes despite his terrible habits. He is one of the most famous Australian artists in history, with his paintings on exhibit in almost all Australian art galleries.
Fiona Hall (1953 – Present)
| | |
| --- | --- |
| Date of Birth | 16 November 1953 |
| Date of Death | N/A |
| Place of Birth | Oatley, Australia |
| Mediums Used | Painting, photography, sculpture |
Fiona Hall, one of Australia's most renowned modern artists, is best recognized for remarkable works that convert everyday materials into dynamic organic shapes with current and historical overtones. Hall works in a variety of disciplines, including painting, photography, sculpture, moving images, and installation, and frequently employs museological presentation. Hall's sculptures are distinguished by their sophisticated structure and philosophical relevance with globalization, war, environmental, and conflict themes.
Hall established a notable name for herself in the 1980s by participating in various individual and group shows in Australia.
In 1981, she returned to Australia as a resident artist at the Tasmanian School of Art with the help of a grant as part of her studies. Hall started teaching photography at the South Australian School of Art in 1983, where she stayed until her formal resignation in 2002. She produced a large number of pieces out of everyday materials in the 1980s. Hall retired from photography in the late 1990s, and the portrait of her father was the final one she presented at exhibitions. Hall was selected to construct a public artwork for Sydney's Royal Botanic Gardens in 2000.
The artist also represented her country at the Venice Biennale's 56th International Art Exhibition in 2015.
Simryn Gill (1959 – Present)
| | |
| --- | --- |
| Date of Birth | 1959 |
| Date of Death | N/A |
| Place of Birth | Singapore |
| Mediums Used | Photography, sculpture, drawing |
Simryn Gill was born in Singapore in 1959, grew up in Malaysia, and received her education in the United Kingdom and India. She makes art using photography, sculpture and sketching. She is a methodical collector, particularly of books as objects of veneration and contention. Several of her work include removing or stripping away the printed word in a microcosmic conflict with power as portrayed by canonical literature.
She converts common materials into large-scale works that leave a profound impression on the observer, such as highway trash converted into toy cars or books shaped into beads.
Much of Gill's artwork, including painting, sculpture, and photography, criticizes Australia's harsh refugee policy in Southeast Asia. Roadkill (2000) was created by collecting hundreds of pieces of garbage that had been ridden over by cars, such as cigarette packs, bottle caps, plastic cutlery, combs, and tin cans, and attaching toy wheels to each one.
She then put them in a bustling unidirectional traffic arrangement on the floor.
In Throwback (2007), Gill recreates the mechanical components of a Tata truck, a popular vehicle in India and Malaysia. She cast the separate sections out of river clay, termite mound dirt, banana skins, bodhi leaves, mangosteen peels, areca nut shells, coconut bark, and lalang grass, among other materials.
David Noonan (1969 – Present)
| | |
| --- | --- |
| Date of Birth | 1969 |
| Date of Death | N/A |
| Place of Birth | Ballarat, Australia |
| Mediums Used | Collage, sculpture, film |
The films, collage pieces, sculptural items, paintings, tapestries, and installations of David Noonan are characterized by a complicated layering of collected historical and modern-day imagery. In his works, he is focused on the temporal and liminal; the interaction between abstraction and figuration; in ambiguities, paradoxes, and in-between areas. Every image is made up of fragments.
This is how we perceive things; this is how we recall what we don't completely comprehend. Creation is always a cumulative process.
Images emerge intuitively, frequently in reaction to something that has previously been created. His art frequently features a monochrome palette that echoes his original material while also presenting a refined aesthetic. He examines how materials interact and influence one another to produce visual harmonies that guide his creative activities. Noonan, who was born in Ballarat and now lives in London, uses pictures from books and periodicals to create screen prints on linen, weaving stories out of these diverse acquired materials.
Today we have explored Australian art and the famous Australian painters that created them. Australia is indeed a very unique country, with a distinctive environment and wildlife. Famous Australian artists have sought to depict the beauty of the land, as well as the cultural aspects of Australian life. However, there is also Australian art that brings into question the political policies of the country – especially concerning Aborigines and foreigners.
Frequently Asked Questions
Are There Any Aboriginal Famous Australian Artists?
The Aboriginal natives were well known for their rock art. The first native to start producing Western-style art in Australia was Albert Namatjira. Due to his artistic abilities, he was afforded certain freedoms that were not available to the other native folk.
What Do Famous Australian Painters Paint?
Much of the art in Australia was influenced by Western tradition until a uniquely Australian style started to develop. The Heidelberg School was even referred to as Australian Impressionism. Landscape paintings were a significant part of Australian art.