Famous Still Life Photographers – 10 Masters of the Lens
Organizing and developing creative compositions in photography require careful thought and curation, which you will appreciate after reading this article! Below, we will explore some of the best still-life photographers from past to present that will have you not only intrigued at how one can push the boundaries of still-life photography, but also keen to see what some of these Contemporary creatives generate next!
The Art of Still Life Photography
You may have heard of still life in painting that portrays a curated composition of objects and subjects under the artist's intentions. Still-life photography follows a similar foundation but is executed with the medium of photography and is defined as the arrangement of inanimate objects, which can be both organic and inorganic objects.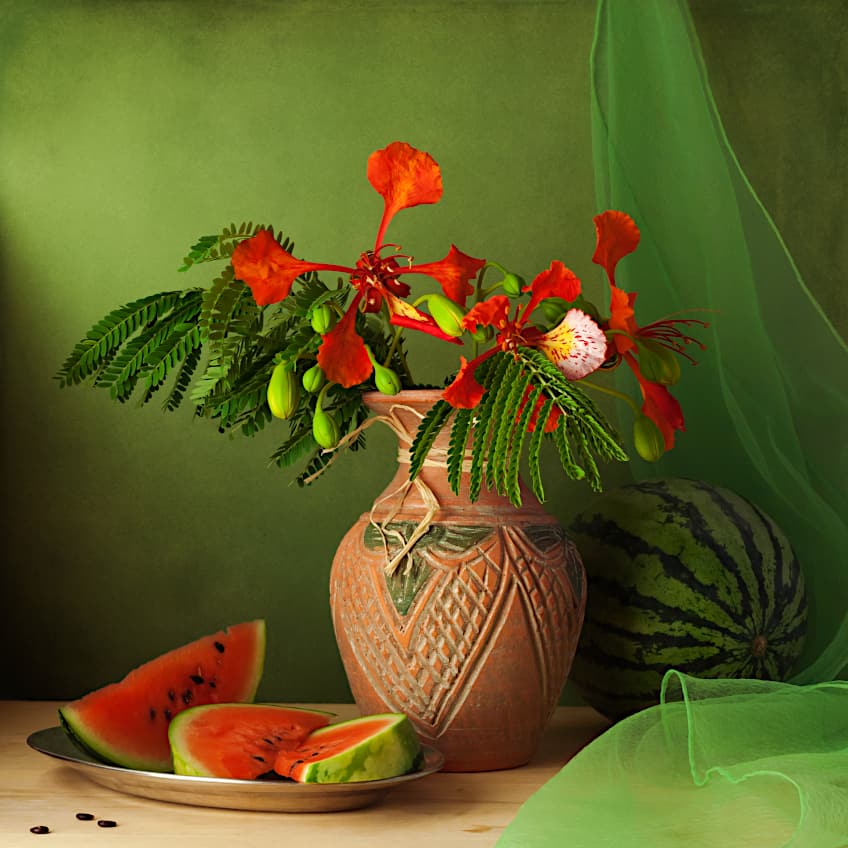 Example of an intentional still-life composition based on color, pattern, and texture; Stock-photo
There are two main categories within still life photography and these include the sub-genres of the invented or created still life and the found still life. With this in mind, still-life photography can be either stumbled upon by coincidence and chosen to be photographed by the artist or organized and arranged in a particular way.
Example of a coincidental still life opportunity spotted by a photographer; Stock-photo
Both forms of still-life photography hold the same weight since it takes a trained eye to see something special in the ordinary. Still-life photography is further divided into different micro-genres characterized by either the technical means of production or the intention behind creating the still life.
This can take the form of product photography or flat-lay still-life photography.
Studio set-up for product photography; Stock-photo
Aside from curation and planning, artists put in a lot of consideration and preparation for photographing the arrangement.
This includes tasks such as preparing the photography equipment, selecting the appropriate lenses, ensuring the necessary lighting is in place, adjusting camera settings, creating the composition, selecting backdrops, angles, and many more steps that seem "mundane", but are, in fact, incredibly important to the final still life image.
Top 10 Most Famous Still Life Photographers
Still-life photography is one of the most creative genres in photography that allows one the freedom to explore their talents in curation, develop an eye for detail, and build more organization. Below, we have compiled a list of the top 10 most famous still-life photographers from the past and present that have wowed the crowds through their stunning and thought-provoking compositions.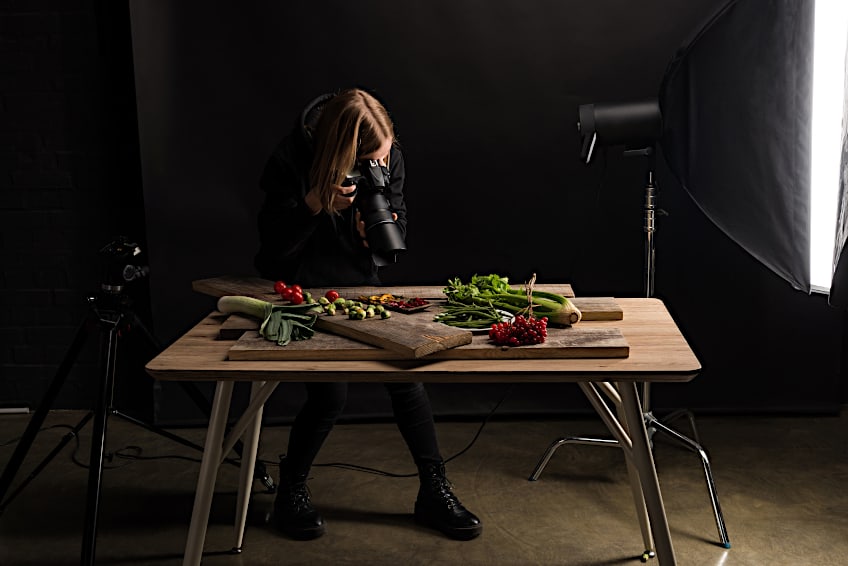 Still-Life Photographer at work; Stock-photo
Olivia Parker (1941 – Present)
Artist Name
Olivia Parker
Date of Birth
1941 – Present
Nationality
American
Notable Artworks

Artichoke I (2010)
The Peach (2012)
Core (2018)
With over 100 solo exhibitions across the globe, Olivia Parker is one of the most famous still-life photographers in the world. Parker is currently represented in many major museums and private institutions, including the Museum of Modern Art and the Museum of Fine Arts in Boston. Parker's still lifes illustrate the finer intimate moments of everyday objects and items that often go unseen. Parker's images are also highly focused and provide much clarity on the subject of the image, leaving no room for idle thought.
According to Parker, she enjoys exploring the way that people think about the unknown where new ideas can take shape and old ideas can be "shattered". She also compares old ideas to graffiti on a wall that just appears from time to time. The moments of uncertainty are what draw in the viewer when observing Parker's photographs and the more one examines the seemingly simple and mundane objects, the more one is inclined to question the full picture.
Paulette Tavormina (1949 – Present)
| | |
| --- | --- |
| Artist Name | Paulette Tavormina |
| Date of Birth | 1949 – Present |
| Nationality | American |
| Notable Artworks | |
A former prop and food stylist in Hollywood, Paulette Tavormina is a name you will want to remember. Tavormina specializes in Contemporary still-life photography fueled by her interest in 17th-century still-life painting, inspired by the old masters.
Her subject matter deals with timeless topics such as the fragility of human life and other timeless symbols that once dominated art history.
Photograph of Paulette Tavormina taken in 2013; Sicilian, CC BY-SA 3.0, via Wikimedia Commons
Tavormina has received commissions from National Geographic with many of her photographic works being acquired by major institutions and private collections.
The artist also indulges in commercial photography for Sotheby's and published her own monograph in 2016 called Paulette Tavormina: Seizing Beauty, which was well received and reviewed by The New York Times.
Jonathan Knowles (c. 1952 – Present)
Artist Name
Jonathan Knowles
Date of Birth
c. 1952
Nationality
British
Notable Artworks

Turbulence – Liquid (2014)
Dole (101 London) (n.d.)
Trajectories (n.d.)
Slime (n.d.)
Jonathan Knowles is one of the world's leading Contemporary still-life photographers whose works have been praised across the film and advertising sectors. Knowles' subject matter revolves around drink and food items as first inspired by Harold Edgerton's image of the milk splash. Knowles states that he had since been fascinated with the "unseen forms of nature", which he makes clear in his still-life photography.
Based in London, Knowles has collaborated with many world-class brands, including Roku Gin, Nike, Coca-Cola, and Cadbury to produce stunning visuals in advertising media. Knowles' still lifes are crisp and offer a sense of presence to the viewer.
Some of his most intriguing works include Stained Glass, Slime, and Complex Simplicity. What makes his works impactful is his directness in approach to composition and clear execution embedded in his still lifes.
Marcel Christ (1969 – Present)
Artist Name
Marcel Christ
Date of Birth
1969
Nationality
Dutch
Notable Artworks

Fading Flowers (2020)
High Fashion series (n.d.)
Marcel Christ is a popular still-life photographer and short film director whose unique approach to modern still-life photography made him one of the most recognizable photographers in his industry.
Christ marries the worlds of photography with chemical engineering to create enigmatic works that test the boundaries of special effects and their role in still-life photography. his production process is controlled with a great deal of precision and refers to his process of making as "controlling coincidence".
Christ's work resurrects objects and captures moments such that his work alludes to anything but stillness. His consistency across film, photography, conceptualization, and chemistry is what makes Christ a unique player in the world of Contemporary still-life photography. Some of his notable clients include Coca-Cola, Johnnie Walker, and Absolut Vodka.
Bas Meeuws (1974 – Present)
Artist Name
Bas Meeuws
Date of Birth
1974
Nationality
Dutch
Notable Artworks

Untitled (#50) (2011)
Untitled (#106) (2014)
The sacrament of miracle' (2016)
De lieve lent by wintertijd' (2017 – 2018)
Born in the Netherlands, this brilliant still-life photographer creates some of the most gorgeous still-life arrangements that mimic the aesthetic quality of Dutch Golden Age painting.
Bas Meeuws' elegant floral compositions feature a selection of flowers arranged in a vase against various backgrounds accompanied by symbols such as butterflies, shells, and other small additions that elevate the composition.
Some of Meeuws' most stunning compositions include Untitled (#68) (2012), Untitled (#94) (2013), and Hommage à Sanyu (#10) (2018).
Photograph of Bas Meeuws taken in 2022; Bas Meeuws, CC BY-SA 4.0, via Wikimedia Commons
Meeuws' process of creation is inspired by a personal catalog comprising more than 13,000 species of flowers from which he carefully selects the flowers and precisely inserts insects and gastropods in the composition to elevate it.
Meeuws also skillfully uses the chiaroscuro effect in his works through the use of a neutral background and precise lighting to create a dramatic Flemish flair. His artistic intention behind these incredible still-life photographs is to draw attention to the transience of life and enlighten viewers on the importance of respecting nature.
Meeuws' impactful modern still-life photography has been acquired by the collections of many famous institutions, including the Rijksmuseum Muiderslot in Muiden, the Museum of Art and Photography in Bangalore, and the Westfries Museum in the Netherlands.
Krista Van Der Niet (1978 – Present)
Artist Name
Krista van der Niet
Date of Birth
1978
Nationality
Dutch
Notable Artworks

Butterflies (2013)
Het Zuidelijk Toneel (2020 – 2022)
Pose series (n.d.)
Krista van der Niet is one of the best still-life photographers whose works are housed in many prominent collections, including the Ministry of Foreign Affairs and the LUMC-Art Collection. Niet's Contemporary still-life photography expresses playful freedom through a balance of vivid colors and high-contrast images coupled with a sense of exploring curiosity and indulging in intrusive thoughts.
Some of her most playful still lifes include Eieren (2019), Octopus (2019), and Taboe (2021/2022).
Evelyn Bencicova (1992 – Present)
Artist Name
Evelyn Bencicova
Date of Birth
1992
Nationality
Bratislava
Notable Artworks

Artificial Tears (2018)
Notes on Hysteria (2019)
(un)forbidden pleasures (2020)
Obsessions (Vogue cover story) (n.d.)
A brilliant marriage of concept and photography, Evelyn Bencicova creates some of the world's most unique still-life compositions that are informed by her scenarios that blur the lines between reality and fiction and present narratives that are founded on some sort of "truth".
Bencicova's Contemporary still-life photography offers both the academic class of still-life arrangements found in traditional still-life painting with the modern-day edge of photography.
In Bencicova's Precious Skin series for Vogue, her eye for color and texture to complement the products in the shoot are remarkable and provide the creative conceptual lens through which Bencicova approached the project. Her consistent lighting also stands out and sets the mood for her carefully curated still-life photographs. Bencicova has completed commissions for Vogue, Dior, and the Institute of Molecular Technology.
Katya Havok (b. Unknown)
Artist Name
Ekaterina Chebotareva (Katya Havok)
Date of Birth
Unavailable
Nationality
Turkish
Notable Artworks

The Sculptural Body Parts (2021)
The White Pineapple (2021)
Katya Havok, also known as Ekaterina Chebotareva, is one Contemporary still-life photographer to keep your eye on. Katya Havok specializes in conceptual pop art photography with a clever balance of Minimalism.
Her characteristic approach is vivid with a clear sense of weight and dimension, especially in her NFT artworks. Katya Havok's licenses to use her work had been purchased by major names, including Rolling Stone, Cosmopolitan, Women's Health, and BuzzFeed.
Her quirky and eclectic still-life compositions give art lovers a modern lens through which popular artistic tropes and references can be combined with modern objects to create imaginative compositions.
James Drury (b. Unknown)
Artist Name
James Drury
Date of Birth
Unavailable
Nationality
British
Notable Artworks

Miss Enid's House (2015)
The Old Leatherworks (2015)
James Drury is a UK-based photographer specializing in street and still-life photography. His still lifes of an abandoned house, shot in 2015, demonstrate the artist's trained eye for spotting and strategically capturing the still moments of an abandoned home. The many found objects and household items coupled with the dramatic natural light from the windows make these stunning compositions.
There are a few photographs from his abandoned house series that appear arranged, yet Drury's manipulation of the lens and eye for a good still life makes his work seem effortless.
Antonio Diaz (b. Unknown)
Artist Name
Antonio Diaz
Date of Birth
Unavailable
Nationality
Mexican
Notable Artworks

Sánchez Cotán (n.d.)
Love ends (n.d.)
Silent things (n.d.)
Antonio Diaz finds beauty in the simplest of everyday objects and items. Diaz's still-life photographs demonstrate his experimentation with color and demonstrate his freedom of expression through color, contrast, and daily objects. Diaz also likens still-life photography to 17th-century still lifes informed by Spanish Bodegón artists such as Bartolomé Esteban Murillo and Diego Rodríguez de Silva y Velázquez.
His still-life paintings draw attention to the micro and are evidence of the artist's passion for photography. Some of his best works include The Guest, Vitamins, and Silent Things, which can be viewed on his 1x profile.
These incredible still-life photographers have captured the essence of the everyday object through still-life photography and transformed it into unique artworks that open one's mind up to the potential for photography. These famous still-life photographers demonstrate the way that still-life photography can be reimagined while working with major brands and testing the boundaries of technology, photography, and concept.
Take a look at our still life photographers webstory here!
Frequently Asked Questions
What Is Still Life Photography?
Still-life photography refers to the depiction of inanimate objects arranged in different ways and captured via photographic means. Still-life photography follows similar foundations to that of still-life painting and can differ according to function, concept, and technical approach.
What Are the Different Types of Still Life Photography?
The different types of still-life photography include product photography, tabletop photography, found object photography, and food photography. The common point in all these types of still-life categories is that the objects involved are inanimate.
What Is the Difference Between Found Still Life Photographs and Created Still Life Photographs?
The difference between found still life photographs and created still life photographs is that found still life images are constructed out of random objects that occur naturally in their environment and are not altered or adjusted to look curated. On the other hand, created still-life photographs are curated to look a particular way and appear cleaner, organized, and assembled.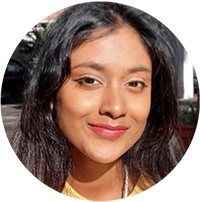 Jordan Anthony is a Cape Town-based film photographer, curator, and arts writer. She holds a Bachelor of Art in Fine Arts from the University of the Witwatersrand, Johannesburg, where she explored themes like healing, identity, dreams, and intuitive creation in her Contemporary art practice. Jordan has collaborated with various local art institutions, including the KZNSA Gallery in Durban, the Turbine Art Fair, and the Wits Art Museum. Her photography focuses on abstract color manipulations, portraiture, candid shots, and urban landscapes. She's intrigued by philosophy, memory, and esotericism, drawing inspiration from Surrealism, Fluxus, and ancient civilizations, as well as childhood influences and found objects. Jordan is working for artfilemagazine since 2022 and writes blog posts about art history and photography.
Learn more about Jordan Anthony and about us.
Cite this Article