Famous Surrealist Artists – Explore the Work of Famous Surrealists
Who were the Surrealist painters, and how did they influence the art world? The Surrealism movement, founded in 1924 by André Breton and promoted by several famous surrealists, took the world of art by storm. Surrealism artists sought to access the unconscious in an attempt to release their imagination and creativity. This article will be an exploration of the most famous Surrealist artists that have left their unique mark.
Famous Surrealist Artists
They felt, informed by psychoanalysis, that the logical mind repressed the force of their expression. Surrealist painters argued that artists should disregard logic and reason in the visual arts such as photography, literature, and film. These strategies, which encouraged chance and improvisation in artistic endeavors, were known as automatic writing. They utilized a range of themes that portrayed these concepts, guided by Freud's works, and focus on the relevance of dreaming and the unconscious. Surrealism artists used their own symbolism, yet their artwork was frequently regarded as bizarre, puzzling, and even eerie, jolting the observer out of their comfort zones.
Nature was the most often depicted iconography, from Max Ernst's fascination with birdlife to Salvador Dalí's representation of eggs or ants to Joan Miró's ambiguous biomorphic imagery.
War (1894) by Henri Rousseau; Henri Rousseau, Public domain, via Wikimedia Commons
Surrealism art, which arose from the Dada movement, included aesthetic inspirations from several sources. Surrealist painters were influenced not just by Giorgio de Chirico's strange imagery and disturbing arrangements, but also by the works of painters interested in primitivism and sensational imagery such as Arnold Bocklin, Gustave Moreau, Henri Rousseau, Odilon Redon, and even Hieronymus Bosch. Many Surrealist concepts were eventually absorbed into the Abstract Expressionism movement, casting a shadow on their supremacy with new means for depicting the unconscious.
Nonetheless, the surrealist movement's stunning imagery, rich symbolism, polished painting methods, and scorn for tradition impacted several generations of artists. Here is our list of the most famous Surrealists that impacted the world of art.
Jean Arp (1886 – 1966)
Nationality
German-French
Date of Birth
16 September 1886
Date of Death
7 June 1966
Place of Birth
Strasbourg, France
Notable Artworks
● Human Concretion (1935)

● Torn-Up Woodcut (1954)

● The Sun Recircled (1966)
Jean Arp was a one-man art movement who could (and would) turn everything into art. He was most renowned for his biomorphic sculptures and was one of the most diverse creative minds of the early 20th century, creating sculptures out of stone, plaster, and bronze as well as collages, paintings, sketches, and poetry. His approach to form, known as organic abstraction, was astonishingly consistent: his undulating lines alluded to plants, bodily parts, and other natural elements while staying completely abstract.
Arp's talent was in portraying visual information as if he were experiencing it for the first time, almost as if he were an alien visiting Earth.
Constellation According to the Laws of Chance (1930) by Jean Arp; Wmpearl, CC0, via Wikimedia Commons
Transformation, growth, fertility, and metamorphosis are among his work's major themes. Arp's art is non-representational while remaining deeply rooted in nature. His most abstract creations are reminiscent of biological forms. This piques the viewer's interest while also providing a uniform foundation for pleasing the eye. Arp was one of the first artists to include randomness and chance in their work, and he considered chance as a partner in his process.
This was a watershed moment in the visual arts. Western painters had previously strived for a sophisticated degree of control.
Man Ray (1890 – 1976)
Nationality
American
Date of Birth
27 August 1890
Date of Death
18 November 1976
Place of Birth
Philadelphia, Pennsylvania, United States
Notable Artworks
● Gift (1921)

● Rayograph (1922)

● Glass Tears (1932)
The artist Man Ray worked in a variety of mediums, including painting, sculpture, photography, cinema, poetry, and prints, and was inspired by Futurism, Dada, Cubism, and Surrealism. Nonetheless, he is most known for his photographs from the interwar period, particularly the camera-less images he dubbed "Rayographs". Breton labeled him a pre-Surrealist, pointing to his inherent love for the style and the presence of Surrealist overtones in his works before the movement was even created.
His photography depended on diverse approaches that blurred the barrier between the dream and reality, operating in the space between art and life.
Kiki, Noire et Blanche (1920) by Man Ray; Tim Evanson from Cleveland Heights, Ohio, USA, CC BY-SA 2.0, via Wikimedia Commons
He used solarization, cropping, and overdevelopment to produce Surrealism photography in an attempt to establish a Surrealist view of the feminine form. Ray's creative and technical abilities emerged at a young age. His high school experience was crucial in giving him a solid foundation in drafting and other art methods. He also educated himself by visiting art museums on a regular basis, where he learned about the works of Old Masters such as Michelangelo, Leonardo da Vinci, Rembrandt, and Caravaggio. He was influenced as a student by Mr. Alfred Stieglitz, whose gallery he frequented, as well as Mr. Robert Henri, his high school instructor.
Man Ray held his first one-man painting show when he was 25 years old. His 55-year relationship with Duchamp inspired their work and culminated in cooperative creative undertakings.
Max Ernst (1891 – 1976)
Nationality
German
Date of Birth
2 April 1891
Date of Death
1 April 1976
Place of Birth
Brühl, Germany
Notable Artworks
● The Elephant Celebs (1921)

● Ubu Imperator (1923)

● Forest and Dove (1927)

● Europe after the Rain II (1941)
Despite serving in the military throughout World War I, Ernst was prepared to continue producing art and show at Der Sturm in Berlin in 1916. In 1918, he returned to Cologne. The next year, he created his first collages and co-founded the briefly existent Cologne Dada movement which Jean Arp and others later joined. Ernst first showed in Paris in 1921, at the Galerie au Sans Pareil. In the early 1920s, he was active in Surrealist activity alongside André Breton and Paul Eluard. Ernst carried out his first frottages in 1925. In 1932, he had his first American exhibition at the Julien Levy Gallery in New York. Due to being a foreign alien, he was detained in France in 1939.
Ernst escaped to the United States two years later with Peggy Guggenheim, whom he married in early 1942. After their divorce, he married Dorothea Tanning and moved to France in 1953.
Photograph of Max Ernst (1968); See page for author, CC0, via Wikimedia Commons
Max Ernst was a provocateur, as well as a stunning and original artist, who explored his unconscious for dreamy surrealist images that challenged conventional conventions. He made the concept of the modern world being nonsensical the foundation of his work. He was one of the first painters to use Sigmund Freud's dream ideas in his work, painting freely from his inner mind to uncover the source of his inspiration and release his primordial feelings. He also investigated the universal unconscious through common dream imagery.
He experimented with paintings, sculptures, and works on paper as a flexible and productive surrealist artist.
André Breton (1896 – 1966)
Nationality
French
Date of Birth
19 February 1896
Date of Death
28 September 1966
Place of Birth
Tinchebray, France
Notable Artworks
● Poeme (1924)

● The African Mask (1948)

● Cadavre Exquis with André Breton, Max Morise, Jeannette Tanguy, Pierre Naville, Benjamin Peret, Yves Tanguy and Jacques Prevert (1928)
André Breton was a founding figure of the Dada movement who later founded and led the Surrealism movement. The artist and his friends in New York organized Surrealist shows that presented the early Abstract Expressionists with notions of automatism and spontaneous art creation. He worked in a variety of creative media, primarily collage and printing, and authored many books. Breton pioneered the use of chance association to connect text and pictures to generate new, lyrical word-image pairings.
In the 1940s, his theories about tapping the unconscious and employing symbolism for self-expression were key conceptual foundations for famous Surrealists in New York.
André Breton at Dada festival in Paris bearing a sign designed by Francis Picabia (1920); http://blakegopnik.com/post/147009113161, Public domain, via Wikimedia Commons
André Breton was committed to avant-garde art and was noted for his ability to bring diverse artists together through printed materials and curatorial endeavors. In 1924, Breton published the Surrealist Manifesto, which defined Surrealism as "pure psychological automatism", profoundly influencing the methods and beginnings of subsequent movements such as Abstract Expressionism. During the First World War, one of Breton's primary ideas was using art as an anti-war protest.
This theme resurfaced during and after World War II when early Abstract Expressionist painters created works to express their anger at the horrors that were occurring in Europe.
André Masson (1896 – 1987)
Nationality
French
Date of Birth
4 January 1896
Date of Death
28 October 1987
Place of Birth
Balagny-Sur-Thérain, France
Notable Artworks
● Automatic Drawing (1924)

● Pupae to Toledo (1935)

● Gradiva (1939)
André Masson, an early Surrealist, made art that transcended classification owing to stylistic shifts. He intended to represent the creative energy of the unconscious by experimenting with instinctive sketching and letting his hand roam effortlessly across the canvas without a conscious plan. He would frequently labor in harsh conditions, such as going without food or sleep for extended periods of time, or while under the effect of narcotics, believing that this would drive him into a decreased level of awareness devoid of logical control.
He is also known for his surreal depictions of brutal confrontations and weird battles. His art has been described as bridging the gap between Abstract Expressionism and Surrealism.
Femme tourmentée (1942) by André Masson; Funke, CC BY-SA 4.0, via Wikimedia Commons
In 1958, the Venice Biennale allotted an entire space to his art, and his works became increasingly abstract. Masson designed for the stage on a regular basis, starting with his ideas for Léonide Massine's ballet Les Présages in 1933 and continuing until the mid-1960s. His most major and ambitious postwar project came in 1965 when author and Minister of Culture André Malraux asked him to paint the roof of Paris's Théâtre de l'Odéon.
His first major retrospective was held in 1941 at the Baltimore Museum of Art.
René Magritte (1898 – 1967)
Nationality
Belgian
Date of Birth
21 November 1898
Date of Death
15 August 1967
Place of Birth
Lessines, Belgium
Notable Artworks
● The Treachery of Images (1929)

● Golconda (1953)

● The Son of Man (1964)
René Magritte, a prominent Belgian surrealist painter, made paintings that are lovely in their purity and simplicity, but often elicit unpleasant feelings in the viewer. He ignored the aesthetic distractions of much modern painting, instead opting for a deadpan, pictorial manner that plainly conveyed the topic of the piece. His sculptures are regarded as images that conceal nothing yet conjure a feeling of deep mystery. His art, which features common objects in strange juxtapositions, challenges human perception, and assumptions, and forces the viewer to examine things that are often taken for granted.
He made art pieces that typically have a certain intriguing quality that defines most of his Surrealist work, often incorporating the interplay of linguistic and visual signals.
Panorama popular (1926) by René Magritte; Pilardenou999, CC BY-SA 4.0, via Wikimedia Commons
Pipes, clouds, bowler hats, and green apples are among the most instantly identifiable symbolic objects used by René Magritte. With the Surrealist painter's visual and linguistic riddles, Magritte made the familiar upsetting and unexpected, presenting concerns about the nature of depiction and reality. He created a body of work that made everyday objects unusual, positioning them in weird or unsettling settings or purposefully mislabeling them in order to make the most mundane objects stick out.
Magritte started his career as a graphic designer and quasi-abstract artist, but his style changed in 1926 when he began reinventing himself as a figurative painter.
Yves Tanguy (1900 – 1955)
Nationality
French
Date of Birth
5 January 1900
Date of Death
15 January 1955
Place of Birth
Paris, France
Notable Artworks
● Mama, Papa is Wounded! (1927)

● Death Awaiting his Family (1927)

● Reply to Red (1943)
Yves Tanguy was a classic Surrealist in many ways, well known for his molten and rock surfaces, which defined his Surrealist aesthetics. His symbology was profoundly personal, reflecting his interests in childhood memories, hallucinations, dreams, and psychotic experiences. Tanguy depicted abstract landscapes inhabited with biomorphic patterns and painted in somber tones as a result of his love of nature. His landscapes have a certain hallucinogenic aspect, balancing reality and imagination.
He was preoccupied with visions and the unconscious, and he described the psyche and its contents with realistic detail, seeing the unconscious as a location. Carl Gustav Jung illustrated his idea of the collective unconscious with one of his surrealist paintings.
Objects represented in nature hover or glide toward the skies. Masterful manipulation of size and viewpoint, as well as astute views of the natural world, add to his works' hallucinogenic impact. His strange rock structures were most probably influenced by his mother's home in Brittany. Tanguy, like other famous Surrealist artists, was obsessed with visions and the unconscious. The realistic clarity with which he represented the psyche and its contents set him apart.
This was his most important contribution. Tanguy envisioned and painted the unconscious as a location more completely than any other artist before him.
Luis Bunuel (1900 – 1983)
Nationality
Spanish-Mexican
Date of Birth
22 February 1900
Date of Death
29 July 1983
Place of Birth
Calanda, Spain
Notable Artworks
● Un Chien Andalou (1929)

● L'Age d'Or (1930)

● Los Olvidados (1951)
Luis Bunuel was the surrealist filmmaker who most effectively realized the movement's ideals of escape from linear, rational storytelling. Surrealism pioneered the method of automatic writing in literature, and it created striking but static dream-like visuals in painting. Bunuel thought that film might go beyond painting to depict the fragmentary visual tales of human dreams in motion.
His first two Surrealist movies depict the lack of moral filtration, volition, and reasoning that define the dreaming condition as if Bunuel had managed to set his camera within genuine dreams and record them.
Bunuel's pictures of brutality or cruelty are extremely effective at breaking the viewer's complacency, destroying comforting preconceptions about reality and existence, and activating the most fundamental and buried concerns stored in the subconscious mind. His videos elicit not just emotional and intellectual reactions, but also physically touch the audience with scenes of insects, human waste, decomposing corpses, mutilation, and other horrifying desecrations of human body parts. They engage and interact with the audience in ways that are characteristic of postmodernist art.
Unlike most other Surrealist directors, Bunuel's films are never stylized: they have an urgent, startling, and visceral aspect to them, even at their most ridiculous times.
Salvador Dalí (1904 – 1989)
Nationality
Spanish
Date of Birth
11 May 1904
Date of Death
23 January 1989
Place of Birth
Figueres, Spain
Notable Artworks
● The Great Masturbator (1929)

● The Persistence of Memory (1931)

● Dream Caused by the Flight of a Bee Around a Pomegranate a Second Before Awakening (1944)
Salvador Dalí is most remembered for his colorful personality and technical brilliance, but he also pursued sculpture, printing, fashion, advertising, literature, and cinema in partnerships with Alfred Hitchcock and Luis Bunuel. Despite being formally banned from the Surrealist movement in 1934 for his regressive political beliefs, he is nonetheless widely linked with it today.
Dalí attempted to build a structural and visual language in his workshop that could portray his dreams and hallucinations by basing his surrealist artworks on Freudian theory. He referred to the technique of delving into the unconscious as "critical paranoia".
Salvador Dalí (1972) by Allan Warren; Allan warren, CC BY-SA 3.0, via Wikimedia Commons
Obsessed with themes of sexuality, death, and degradation, he is well-known for using ready-interpreted symbolism in his work, which includes fetishes, animal images, and religious symbols. As an art student in Barcelona and Madrid, Dalí absorbed a wide range of creative genres and showed exceptional technical ability as a painter.
Yet, it was not until the late 1920s that he discovered Sigmund Freud's works on the sexual importance of subconscious images and his involvement with the Parisian Surrealists, a number of artists and authors who attempted to establish the "greater reality" of the human subconscious above reason.
Leonora Carrington (1917 – 2011)
Nationality
British-Mexican
Date of Birth
6 April 1917
Date of Death
25 May 2011
Place of Birth
Clayton Green, United Kingdom
Notable Artworks
● The Meal of Lord Candlestick (1938)

● Portrait of Max Ernst (1939)

● Green Tea (1942)
Leonora Carrington is considered as a pivotal player in the Surrealist movement as well as a singular artist. She, like the other Surrealist painters, was fascinated by the unconscious mind and dreamlike imagery. These dreamy and magical compositions of exotic animals define her paintings. She used a deeply personal symbolism to create otherworldly situations, which she preferred not to articulate.
In her exploration of sexual identity, she disregarded the common Surrealist clichés of women as objects of desire.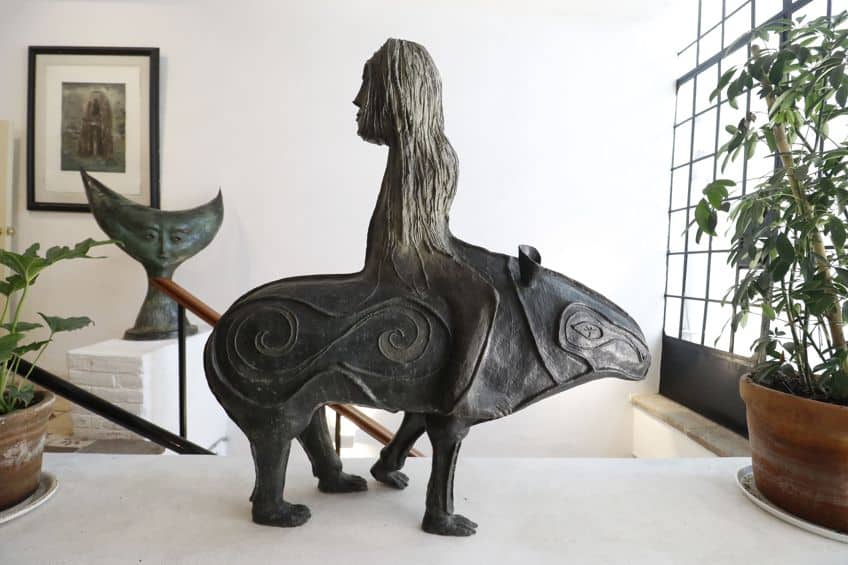 Godiva in the Jungle (1995) by Leonora Carrington; Secretaría de Cultura Ciudad de México from México, CC BY 2.0, via Wikimedia Commons
She integrates numerous cultural elements such as Renaissance painting, Celtic literature, medieval alchemy, Central American folk art, and Jungian psychology to depict exotic monsters and reoccurring themes of identity, metamorphosis, and magic. Carrington's artwork is filled with hybrid characters that are half-animal and half-human or mixtures of other exotic animals that vary from frightening to amusing. She tackled issues of evolution and identity in an ever-changing environment through her unique images.
Surrealism was an aesthetic and literary movement founded in Paris in 1924 by poet André Breton. It argued that the Enlightenment, a powerful intellectual movement in the 17th and 18th centuries that promoted reason and individuality, had suppressed the greater characteristics of the irrational, unconscious mind. The purpose of surrealism was to free the mind, language, and the human condition from the repressive confines of rationality. Famous Surrealists were able to create unconscious artwork thanks to automatism, a process similar to free association or a stream of consciousness.
Take a look at our surrealist artists webstory here!
Frequently Asked Questions
Who Was the Most Influential Surrealist Painter?
André Breton was educated in psychiatry and medicine and was well-versed in Sigmund Freud's psychoanalytic writings. He was especially fascinated by the notion that the unconscious mind, which created dreams, was the basis of creative production. Breton, a devout Marxist, envisioned Surrealism as a groundbreaking group capable of liberating the minds of the public from the logical order of society.
What Did Surrealist Painters Portray?
Not every Surrealist opted to make such abstract creations. Many Surrealists discovered that depicting a thing's genuine look in the physical world may more successfully evoke connections for the spectator, revealing a deeper, unconscious reality. Artists like Salvador Dali and René Magritte developed hyper-realistic, dreamy visuals that serve as portals into a bizarre world beyond the realms of waking reality. For example, Magritte's La Clairvoyance (1936), in which an artist is painting a bird in flight while looking at an egg on a table, indicates a dream state or a hallucinatory experience.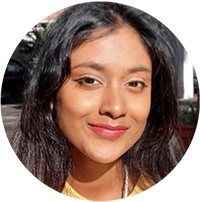 Jordan Anthony is a Cape Town-based film photographer, curator, and arts writer. She holds a Bachelor of Art in Fine Arts from the University of the Witwatersrand, Johannesburg, where she explored themes like healing, identity, dreams, and intuitive creation in her Contemporary art practice. Jordan has collaborated with various local art institutions, including the KZNSA Gallery in Durban, the Turbine Art Fair, and the Wits Art Museum. Her photography focuses on abstract color manipulations, portraiture, candid shots, and urban landscapes. She's intrigued by philosophy, memory, and esotericism, drawing inspiration from Surrealism, Fluxus, and ancient civilizations, as well as childhood influences and found objects. Jordan is working for artfilemagazine since 2022 and writes blog posts about art history and photography.
Learn more about Jordan Anthony and about us.
Cite this Article