Frida Kahlo – Explore the Life and Art of the Iconic Frida Kahlo
In this article, we will give you a general overview of Frida Kahlo's life. When was Frida Kahlo born? Where was Frida Kahlo born? What is Frida Kahlo known for? How did Frida Kahlo die? We will touch on the answers to these questions and more in this article. We will also look at Frida Kahlo's art, Frida Kahlo's biography, the significance of her famous self-portraits as well as a few Frida Kahlo facts that are rarely known.
Frida Kahlo: The Muse, the Maker, but Never the Mother
| | |
| --- | --- |
| Date of Birth | 6 July 1907 |
| Date of Death | 4 October 1954 |
| Country of Birth | Mexico |
| Art Movements | Surrealism, Expressionism, Symbolism |
| Genre/Style | Ex-voto, Naïve |
| Mediums Used | Oil painting, Collage |
| Dominant Themes | Isolation, death, Mexican heritage, miscarriage, love, self |
The fame of iconic artist Frida Kahlo has only grown since her sudden passing in 1954. Her vibrant paintings, stoic self-portraits, body pain, political activities, and love life with the famous painter, Diego Rivera, have touched people worldwide when looking at her works.
But the full picture of who Frida Kahlo really was as a person, artist, and lover has been lost between the headlines associated with her name.
In this article, we will follow the well-told timeline of her life and art, as well as explore facts about this marvelous artist that came to light in recent years. In this section of the article, we will start by looking at Frida Kahlo's biography.
Early Life: Where Frida Kahlo Was Born and Raised
Frida Kahlo's father, Karl Wilhelm Kahlo (who changed his name to Guillermo upon moving to Mexico), came to Mexico in 1890 from Germany. He married Matilde Calderón y González after the passing of his first wife with which he had two daughters, María Luisa and Margarita. Matilde and Karl had four daughters together: Matilde, Adriana, Frida, and Cristina.
Frida Kahlo was born on 6 July 1907 in Mexico City.
After her birth, Frida's mother fell ill and Frida was given to an indigenous Mexican wet nurse. When Frida Kahlo was born, Matilde had already lost a baby boy. Her health never really recovered after birthing all of her children and it was Frida's eldest sisters, Matilde and Adriana, who took care of Frida and Cristina during their childhood.
Portrait of Mexican painter Frida Kahlo in 1932; Guillermo Kahlo, Public domain, via Wikimedia Commons
Frida grew up in the Casa Azul in Coyoacán, Mexico City. The house is on the corner of Callas de Londres and Allende and was built by her father a few years before she was born. Her mother, a depressive and intimidating woman, was not very affectionate and "fanatical" about the Catholic religion (as Frida described herself). Frida and her sisters grew up going to the Catholic church around the corner of their house every day and saying grace at every meal. They were taught the traditional arts of sewing, embroidery, cooking, and housekeeping by their mother.
Matilde's neuroticism and often cruelty pushed Frida to seek warmth and affection from her frail father.
Until age six Frida was a healthy and happy child, mischievously calling her father "Herr Kahlo" and always laughing. A new area in her life, that marks the start of a life-long health and pain struggle, started with the contraction of polio. For nine months she was confined to her bed and the illness left her with a wasted leg and a limp which earned her the nickname, "peg-leg Frida".
Photograph of Kahlo on 15 June 1919, aged 11; Guillermo Kahlo (October 26, 1871 – April 14, 1941) – Photographer Born in Baden, Germany. Died in Mexico City, Mexico. Details of artist on Google Art Project, Public domain, via Wikimedia Commons
As part of her healing, her father put together an exercise plan which included learning to roller-skate, riding a bike, rowing, playing ball, and wrestling (which were all activities only done by boys at the time). Frida tried to cover her disability with layers of clothing, became a tomboy, and learned to cope with her limp – which became less apparent after training with her father.
However, she often had pain, her cheerful nature was replaced by a more serious one and she often felt left out and different from the other children.
Besides bringing her and her father closer together, polio also brought about a shift in young Frida. She became more inwardly focused, and started developing a creative sensibility that was fired on by her father's teachings on the use of a camera, developing and retouching photographs. The tiny brush strokes used in retouching photographs, the extreme focus in the darkroom and the nature walks with her father all became influences in Frida Kahlo's art in years to come.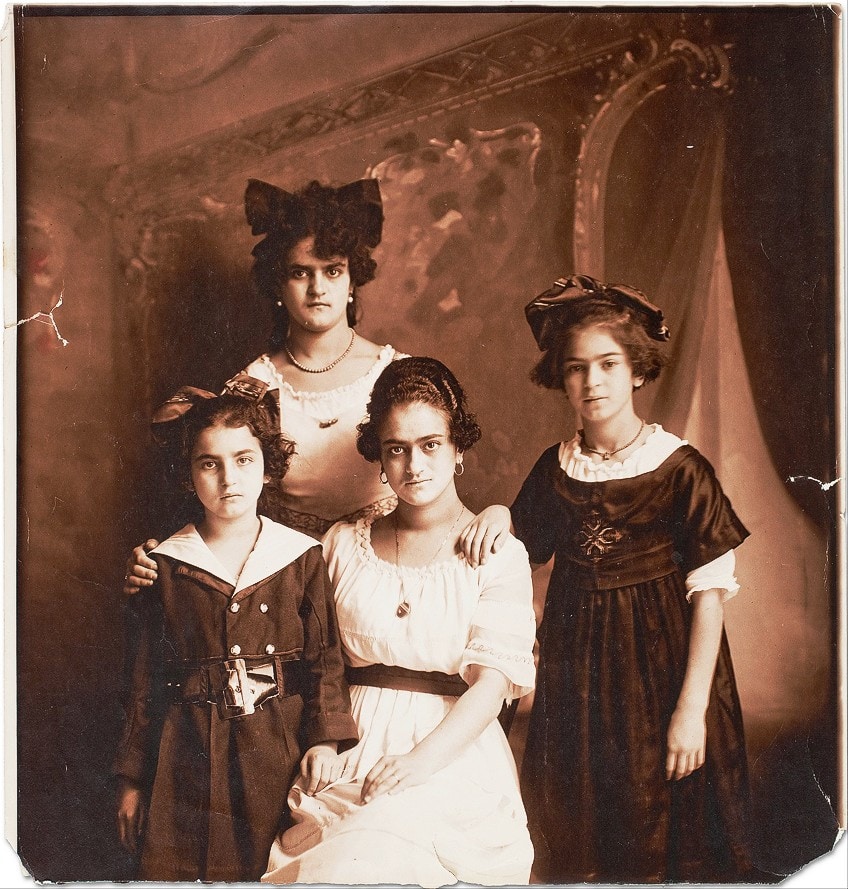 Photograph of Kahlo (on the right) and her sisters Cristina, Matilde, and Adriana, taken by their father in 1916; Guillermo Kahlo, Public domain, via Wikimedia Commons
When Frida was 14, she was selected to be a part of the elite school, Escuela Nacional Preparatoria, that had just started admitting girls. She chose to do a five-year course studying medicine and had to travel an hour into the heart of Mexico City by tram every day of the week to conduct her studies. Her provocative and determined nature brought her into contact with the group, The Cachuchas, which became her true family. This group wore peaked caps and was known for their intelligence, pranks, and hoaxes.
Their values included a mix of Socialism, Romanticism, and Nationalism and their base was the Latin American Library in Mexico City. With this group, Frida's political career started.
On 17 September 1925, Frida was in a terrible bus and tram accident. This accident marks the final shift in her life into artistry and away from her aspirations to study medicine. Everyone in the accident was injured, but Frida most of all.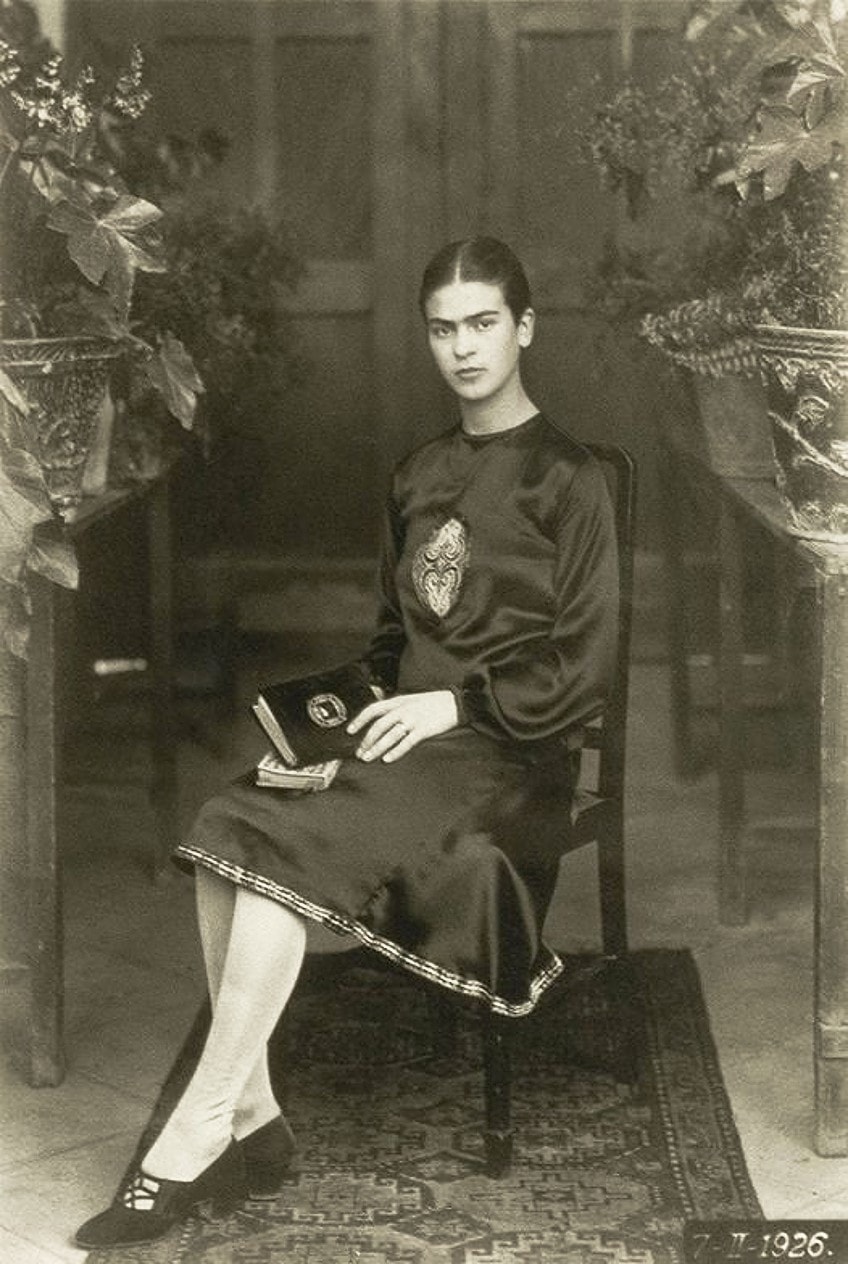 Photograph of Kahlo in 1926 at 18 years old; Photo by her father Carl Wilhelm Kahlo Kauffmann, Public domain, via Wikimedia Commons
Besides the triple fracture to her spine, fracture to her collarbone, fractures to the third and fourth ribs, dislocation of the left shoulder, triple fracture of her pelvis, perforation of her abdomen and vagina, eleven fractures to her right leg, and dislocation of her left foot, the accident also brought Frida a lifetime of doctor appointments, operations, and extreme physical pain.
Frida miraculously woke up after being sewn together by doctors convinced that she would die. It took Frida months to recover.
During this time, she read a lot and wrote letters to her lover at the time, Alejandro. She had to be in bed all the time because the paster corset that held her spine in place made her completely immobile. Her mother had a four-poster bed put in her room with a mirror attached to the underside of the canopy. Her father had a special easel made for her and gifted her the first set of paints. Completely isolated and stuck in her bed with only her mirror image for company, Frida became even more internal. With the new tools of brush and paint, she began to teach herself to give expression to this newfound, heavy, inner world.
Influences: The Things That Made Frida Kahlo an Artist
Frida's relationship with Diego Rivera cannot be left out in the account of her life, much less in the discussion of her art. The two artists had an immense influence on each other and Frida's portraits are saturated with the love she had for Diego as well as the pain their relationship caused her. Frida is often quoted saying that there were two accidents in her life, the tram accident and meeting Diego – Diego, she said, was by far the worst.
In this section of the article, we will discuss the rest of Frida Kahlo's biography with these main "accidents" in mind and look at the influence they had on her art.
The Muse: The Love with Diego
Their unconventional love story is often at the center of the retelling of Frida Kahlo's tale, but the recent publications on her life such as Self-Portrait in a Velvet Dress (2008) and Frida Kahlo: The Complete Paintings (2021) expose this as a sensationalist phenomenon as it neglects to focus on the multifaceted nature of Frida Kahlo, the artist, and the person.
That being said, her relationship with Diego informed a lot of her artistic work and their relationship speaks volumes of the important political life Frida lived with him.
After her accident in 1925, Frida emerged out of her isolation with a huge appetite for life. This quality would define her career and is also reflected in the way she introduced herself to Diego Rivera. At the time, Diego was already famous and established as a Mexican muralist, tasked to educate the Mexican people and reestablish a sense of cultural identity by retelling the traditional Mexican stories on public buildings. He was widely known for his monumental and detailed frescoes.
Frida Kahlo and her husband Diego Rivera; Unknown authorUnknown author, Public domain, via Wikimedia Commons
At the time of Frida and Diego's meeting, Diego was working on a piece at the Ministry of Education building. Frida shouted up to him, urging him to come down and look at what she had brought him. An 18-year-old Frida, with a few of her paintings under her arm, waited for the irritated and slightly intrigued muralist to come down from the scaffolding. Diego was struck by the honesty of Frida Kahlo's art and described it as then already having a clear artistic identity.
As much as Diego was impressed by Frida's paintings, he was also captivated by her serious and direct request for him to give her more than just compliments, but constructive criticism.
She invited him to her parent's house to look at the rest of her work and he described himself as not having a choice but to go – equally motivated by his curiosity about her paintings as by his interest in Frida herself. His interest, admiration, and respect for Frida would never dim in the following 30 years of their relationship as lovers and artistic colleagues.
Photograph of Frida Kahlo painting Self Portrait as a Tehuana (1943), as Diego Rivera looks on; Ambra75, CC BY-SA 4.0, via Wikimedia Commons
Frida and Diego got married on 21 August 1929. One of the reasons their relationship is remembered so long after both of their deaths is because they made such an odd couple. Frida was 20 years younger than Diego and next to this huge 1.8 m man that weighed 150kg, Frida seemed petite.
Her mother was not pleased by the match and told Frida that her dove was marrying an elephant. Frida made a painting of her and Diego on their wedding day that shows this big difference in size.
Frida and Diego Rivera (1931) shows Diego holding his paints in one hand and Frida's hand in the other. Perhaps a wish from Frida, who painted this portrait almost two years after their actual wedding, for Diego to always have only two focuses: painting and Frida.
The Pain: The American Scandals, Their Baby, and Betrayal
Frida's life became even more about art after she married Diego. She embraced her traditional upbringing and cared for Diego with a lot of love and devotion. This domestic part of Frida's life is often neglected in the popular accounts of her life.
Even though she was a strong and independent woman she also got immense joy from her home space and famously created a sanctuary for art and important conversations wherever she went.
After her accident, the doctors advised Frida against becoming pregnant. She did not listen to them and three times her body had the final say. The traumatic miscarriages and terminations of the babies Frida so desperately longed for caused a big emotional setback for her and Diego. Perhaps to help them process and forget, Diego booked a trip to San Francisco to market his art and invited Frida to join him.
The love embrace of the universe the earth, Mexico, myself, Diego, and Senor Xolotl (1949) by Frida Kahlo; Ambra75, CC BY-SA 4.0, via Wikimedia Commons
Their trip to San Francisco brought Diego professional relief as his work was very well received and he was welcomed by many admirers. Frida's reaction was different. She was still in mourning for their unborn babies and found the city and social events boring. She longed for her home and beloved Mexico. Besides the attention Frida got for her exotic appearance, she was lonely and the pain related to her accident led to another operation while she was in America.
Frida and Diego returned to Mexico in 1930 and Frida was delighted to be back in the house she grew up with its bright colors and noisy pets.
Diego commissioned two free-standing houses to be built for them, each with their own studios and the houses only being connected by a bridge mid-height. He was called back to America to have his first retrospective exhibition at MoMA in New York and Frida, with a heavy heart, accompanied him again on the boat to America. Frida hated New York and living in her husband's shadow.
Diary of Frida Kahlo, where she wrote about her everyday ideas and thoughts; SantinoDeMarquishi, CC BY-SA 4.0, via Wikimedia Commons
Another miscarriage broke Frida's heart and in trying to accept the fate that she would never have a little "Dieguito" Frida turned to paint again. She expressed her pain about the terminations in her paintings and used medical journals to study fetuses and other medical illustrations that would become a famous element in Frida Kahlo's art. It is here that Frida's art became a serious part of her emotional life.
Before she processed emotions through the act of painting portraits and improving her style, but after the terminations and miscarriages she started using painting to express what was a very deep sense of loss.
A well-known painting from this phase in her life is titled, Henry Ford Hospital (1932). It shows Frida's hospital bed in a bleak landscape with factories in the background. She is crying and holding a ribbon in her hand that is attached to objects connected to her miscarriage.
Wheelchair in Frida Kahlo's Blue House in Coyoacan, Mexico City; Juan Carlos Fonseca Mata, CC BY-SA 4.0, via Wikimedia Commons
Despite pouring her soul into working, Frida still longed to return to Mexico. She received news that her mother was on her death bed and decided to return home without Diego. After her mother's death, Frida was reunited with Diego in Detroit, but by this time in 1933, his Detroit murals had caused so much controversy that conformists and puritans had launched an anti-Rivera campaign. Frida expressed her dislike of life in America in the paintings, Self-portrait on the Borderline between Mexico and the United States (1932) and My Dress Hangs There (1933).
In these paintings, her grim experience of America is illustrated in gray clouds of smoke, and compositions packed with machines, cityscapes, and factories.
After a final scandal with a mural Diego was painting in the Rockefeller Center in the heart of Manhattan, Diego's American commissions started drying up. Frida's homesickness, Diego's humiliation about losing the battle against Rockefeller, and the fact that their funds were depleted were the final nail in the American coffin for Diego. They moved back to Mexico and into the two free-standing houses Diego had built for them.
Self Portrait on the Borderline Between Mexico and the United States (1932) by Frida Kahlo; Ambra75, CC BY-SA 4.0, via Wikimedia Commons
When they got married Frida knew and understood Diego's love for women. They had an agreement that they were both allowed their freedom, as long as they stayed loyal to each other. However, the couple had explosive fights and arguments about the various lovers throughout their lives. In their new house, they entertained the who's who of international writers, painters, photographers, musicians, actors, militants, and their multiple lovers.
In 1934, Frida did not produce any paintings as she was admitted to the hospital three times.
Cristina, Frida's favorite sister, came to keep her company at that time. Diego was depressed and furious about being forced to return to Mexico and started an affair with Cristina. Frida, jealous of all the affairs Diego had had over the years and upon discovering the recent affair with her sister, moved out of the house and distracted herself with more lovers and a trip to America.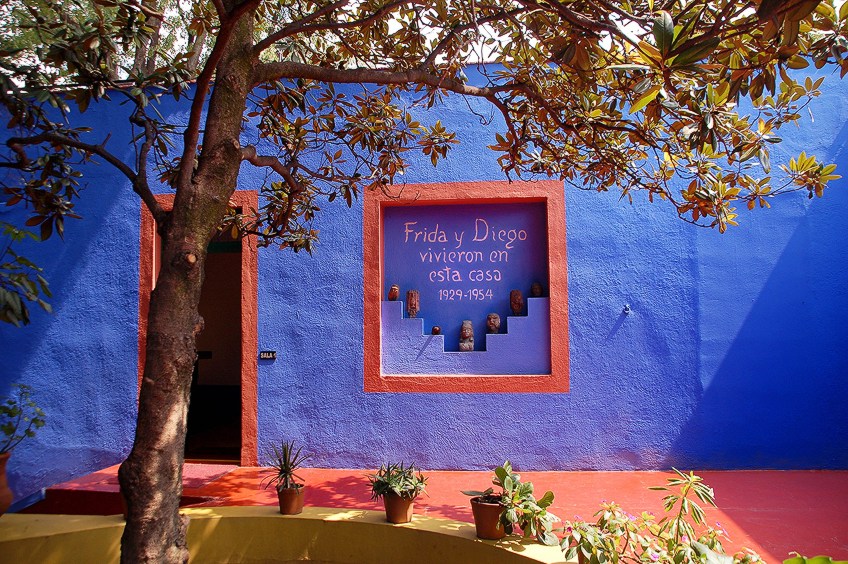 La Casa Azul in Mexico, which is now the Diego Rivera and Frida Kahlo Studio House Museum; Matthias Bethke, CC BY-SA 4.0, via Wikimedia Commons
Frida painted A Few Small Nips (1935), which retold the story of the gruesome murder of a woman. The murderer still stands over her bed, with the bloody weapon in his hands. Above the violent scene, words on a banner state that the woman was killed with just "a few small nips". This painting was used as an analogy by Frida to express the violent pain Diego's betrayal caused her. She later swallowed her pride and admitted to Diego that the flings do not matter because underneath it all they will always love each other. She moved back home but started drinking to keep the fear of abandonment away.
No matter their marital problems, their political views were still aligned, connected the two artists, and gave Frida's life a new focus.
They moved back to the Casa Azul, Frida's childhood home, and offered it as a refuge to Leon Trotsky and his wife, Natalia Sedova. Frida and Trotsky had a brief affair, but she ended it because of Diego's murderous jealousy. After this affair, Frida was more confident in her beauty and also in her craft. She painted more than ever.
Communist Leon Trotsky's arrival in Mexico in 1937. Behind him are his wife, Natalia, and Frida Kahlo; Unknown authorUnknown author, Public domain, via Wikimedia Commons
In 1938, she exhibited and made her first big sale with Diego's encouragement. This marked the start of her fame and financial independence. In 1939 she traveled to France and connected with famous artists such as Marcel Duchamp, Pablo Picasso, and Wassily Kandinsky. She was well received but not charmed by the Parisian people. Upon arriving home, she discovered that Diego was again involved with her sister, and Trotsky had left the Casa Azul after an argument with Diego.
Mid-October 1939, Diego filed for divorce, saying that he loved Frida too much to want to cause her suffering, and decided to separate from her.
This was an extremely difficult time in Frida's life. She separated herself from their friends, started drinking again, and struggled immensely with her back. A famous Frida Kahlo portrait from this time depicts a scene in which she cut off her hair after the divorce with Diego was finalized.
Self Portrait with Braid (1941) by Frida Kahlo; Ambra75, CC BY-SA 4.0, via Wikimedia Commons
In Self Portrait with Cropped Hair (1940), Frida painted a composition focused on her as the subject, but from a more zoomed-out perspective than the cropped self-portraits, she is famous for. You see the hair she cut off in a private moment strewn all over the floor, symbolizing the cutting of ties with Diego. Frida is wearing a suit that's too big for her in the painting, instead of one of the Tehuana dresses Diego adored.
Frida worked really hard during the time she was separated from Diego and produced many paintings. She sold her art through Julien Levy and got a lot of support from patrons and friends.
However, Frida was arrested because of her connection with Ramón Mercader, who killed Trotsky. After a lengthy investigation Frida was set free, but her health had declined rapidly. Diego, seeking reconciliation, bombarded her with marriage proposals until she finally agreed to get remarried in 1940.
The Maker: The Development of Frida Kahlo Art
In the confrontation with her own identity (through the halting of her studies and uncertainty around her physical health) Frida explored themes relating to the relationship of the self with death, illusion, and duplication in the early years of her career. Her later work dealt with themes like sterility, eroticism, masochism, self-abortion, and separation anxiety.
Her famous study of the self through the vibrant self-portraits she created was more existential than aesthetic.
These self-portraits as well as the collaged and juxtaposed paintings she created when she traveled to America all captured her sense of isolation. This was echoed by Frida, who said that she painted herself because she was alone most of the time. The first Frida Kahlo portraits she created were less symbolic and politically implicated than her later works. But with the fine brush marks, she was taught in photograph retouching by her father, Frida always used her own image to explore and establish her artistic style.
Photograph of Frida Kahlo in 1926; Guillermo Kahlo, Public domain, via Wikimedia Commons
As discussed above, the three major sources of inspiration for Frida Kahlo's art were the tram-bus accident that almost ended her life, the fact that she could not bear children, and her tumultuous marriage with Diego Rivera. But these various subjects in her work were only the foundation from which this multifaceted artist built a rich body of artworks.
She constantly reinvented herself, while still clearly communicating a strong personal essence through her work. Even though she started her career as an artist by asking for advice from Diego, she far surpassed him in artistic significance and fame.
About the paintings she created while they were in America he said, "Frida began working on a series of masterpieces that were unprecedented in the history of art- paintings glorifying the feminine qualities of endurance, truth, reality, cruelty, and suffering. No woman had ever put so much poetic anguish on canvas as Frida, in Detroit and in this time."
Self Portrait with Monkeys (1943) by Frida Kahlo; Ambra75, CC BY-SA 4.0, via Wikimedia Commons
Frida Kahlo's work has often been described as surreal. Even though her paintings are characteristic of the blurred lines between reality and imagination, Frida rejected this classification saying simply that she painted what was real to her.
Definitely expressive, Frida Kahlo's art was also painted in the ex-voto style, a painting style traditional to folk art.
Ex-voto style acts as a testimonial to divine intervention in personal tragedy, as well as an accidental catalog of human misfortune. Her body of artworks has become a monument to her life and although she painted for many years, she only produced around 154 works. In the next section, we will look at two well-known Frida Kahlo paintings to understand more of her exploration of symbolism and the self.
Layered Symbolism: What the Water Gave Me (1938)
| | |
| --- | --- |
| Date Painted | 1938 |
| Dimensions (cm) | 91 x 70 |
| Where It Is Housed | Collection of Daniel Filipacchi, Paris |
| What It Is Worth | Not available |
In the painting, What the Water Gave Me (1938), the surrealistic qualities of Frida's work are the strongest. It shows the different elements of her life surfacing as daydreams in a bathtub above her submerged legs. The painting doesn't have a specific focus but shows how Frida is lost in recounting events from her childhood and life in general. There is blood trickling from the plughole of the bath and her right foot. Her bleeding foot has an open wound, but both feet's toenails are perfectly painted red.
This shocking contrast of vanity and the open wound indicates the struggle Frida was experiencing with her feet at that time (later she had to have her one foot and a few toes amputated) and her various physical disfigurements.
However, the red toenails speak to how she covered her physical impairments with beautiful dresses and always wore many traditional trinkets to distract from the pain and limp under her skirts. The bathtub is full of subconscious scenes from Frida's imagination. Her traditional Tehuana dress floats next to a strangled Frida.
The painting depicts Frida's experience of loss, sadness, confused identity, and death.
Her dead body is connected to a rope that suspends, on the one side, from a Christ-like figure resting again a volcano, and on the other side from one rock to another. On the suspended rope a nightmarish parade of spiders, bugs, and snakes is painted. The painting also shows her parents in formal wedding clothes, a boat symbolizing her travels, and a burning Empire building.
Frida Kahlo's Self Portraits: The Broken Column (1944)
| | |
| --- | --- |
| Date Painted | 1944 |
| Dimensions (cm) | 39.8 × 30.6 |
| Where It Is Housed | Museo Dolores Olmedo, Xochimilco, Mexico City, Mexico |
| What It Is Worth | Not available |
The painting, The Broken Column (1944), shows a typical Frida Kahlo self-portrait with a stoic face looking directly at the viewer. But unlike her other famous self-portraits, Frida is shown naked and she painted herself with her chest and waist exposed to her hips. The nudity and direct stare confront the viewer with her intense experience of pain. Her broken spine is pained as a shattered column and her whole body is stabbed with nails.
The tears in her eyes and cheeks create an unavoidable call for the viewer to feel what she feels.
The Broken Column (1944) by Frida Kahlo; Ambra75, CC BY-SA 4.0, via Wikimedia Commons
Her body is strapped together with bands of fabric and larger nails in her heart indicating deeper emotional and spiritual pain. Frida's portraits are typical of a relaxed, empty face and the elements painted around her are symbolic of her experience of being herself at the time it was painted.
The portraits in general (including The Broken Column) act almost like a mirror for the viewer to share what the artist was going through throughout her full life.
These portraits also log the various personalities that Frida Kahlo adopted in her life, adapting herself to fit in with the life of Diego, in both America and Mexico, in the colorful house of her childhood surrounded by plants and exotic animals.
Reading Recommendations
Below is a list of excellent books on the life, love, and art of Frida Kahlo. These books provide either a detailed account of the story of her life or give you a little more about the person behind the famous persona.
Frida Kahlo: A Modern Master (1997) by Terri Hardin
Frida Kahlo: A Modern Master (1997), published by Todtri Book Publishers, catalogs most of Frida Kahlo's paintings. It discusses her influences and general significant life and career events, as well as a few in-depth analyses of her paintings.
Examines the life and career of the famous artist
Provides a catalog of most of Frida Kahlo's paintings
Discusses the influence that her works had on the art world
View on Amazon
Frida Kahlo: I Paint My Reality (2008) by Christina Burrus
This small and easy-to-travel-with handbook on Frida Kahlo's life, published by Thames and Hudson, is such a compact read. Besides a detailed account of her life, it also includes a few painting analyses. There are many interesting facts about the artist, as well as personal documents like her diary compiled in this stunning book.
A detailed account of the life of Frida Kahlo
Traces the extraordinary circumstances of the artist
An exploration of Kahlo's unforgettable imagery and works
View on Amazon
Self Portrait in a Velvet Dress: Frida's Wardrobe (2008) by The Museo Frida Kahlo
Self Portrait in a Velvet Dress: Frida's Wardrobe (2008), published by Chronicle Books, reveals the clothing, fashion, and personal items of Frida Kahlo's wardrobe for the first time 50 years after her death.
95 original and staged photographs of Kahlo's newly restored clothing
Paired with historic photos of the artist wearing the clothing
Includes the paintings in which the garments appear
View on Amazon
The passion with which Frida lived her life, as well as her deep love and sadness, struck the world. Years later images of her in elaborate headdresses, embroidered flair skirts, and colorful bibs of the matriarchal Tehuantepec nation still immortalize her unique artistic identity. In 2004 her private dressing rooms and cupboards were opened for the first time in 50 years after her death, revealing a deeply intimate and special part of the artist's life- her costumes and traditional items. All of the discoveries were beautifully compiled in the book, Self Portrait in a Velvet Dress (2008) by the Museo Frida Kahlo, bringing the special Frida Kahlo and her paintings back into the limelight it deserves.
Frequently Asked Questions
When Was Frida Kahlo Born?
Frida Kahlo was born on 6 July 1907. She later changed the year of her birth to 1910, the start of the Mexican Revolution. This revolution resulted in the end of the 30-year dictatorship and the formation of a constitutional republic. The fact that Frida changed her birth year to 1910 communicates what a deeply political person she was.
Where Was Frida Kahlo Born?
Frida Kahlo was born in Coyoacán, Mexico City, Mexico, at the Caza Azul owned by her parents at the time. Frida lived in this house during her childhood, returning to it with her husband Diego Rivera in 1937 to refuge Trotsky and his wife there. She died there as well, in her room.
What Is Frida Kahlo Known For?
Frida Kahlo's portraits are her most famous paintings. She is recognized for her traditional dress, unibrow, and various exotic animals she housed and painted. Her love for Diego is also an area of her life that Frida Kahlo is known for, as well as the many famous lovers she had throughout her life including Leon Trotsky and André Breton.
How Did Frida Kahlo Die?
Frida Kahlo died on 4 October 1954 from pneumonia. However, she struggled with her health her entire life because of the effects of the polio virus on her body, which she contracted when she was six years old, as well as the terrible tram and bus accident that she was in when she was 18 years old.
What Are a Few Rarely Known Frida Kahlo Facts?
A few rarely known facts about Frida Kahlo include that she was of average height and size for a Mexican woman, even though she appeared petite next to the huge Diego Rivera. Although she knew a lot of famous people during her life, Frida Kahlo's art really became famous after she died. Another interesting fact about the artist is that her husband, Diego Rivera, had her dressing room and cupboards closed after her death for 50 years.