Maliheh Afnan – A Look at Important Maliheh Afnan Artworks
Maliheh Afnan was one of the most significant Middle Eastern contemporary artists of the 20th century. She is most famous for her signature "written paintings". Her sensitive and nuanced abstract works explore themes of Palestinian heritage, exile, displacement, and migration due to geopolitical unrest. This article provides a short summary of this influential artist's 50-year-long career.
Artist in Context: Who Was Maliheh Afnan?
| | |
| --- | --- |
| Date of Birth | 24 March 1935 |
| Date of Death | 6 January 2016 |
| Country of Birth | Haifa, Mandatory Palestine |
| Art Movements | Abstraction and Contemporary art |
| Mediums Used | Painting and calligraphy |
In the 20th century, Maliheh Afnan was one of the most influential Middle Eastern artists. She was widely regarded for her sensitive "written paintings", inspired by her love for calligraphy. Although she spent most of her life in London, her work speaks to her Palestinian roots and tells stories about exile, migration, and displacement.
Childhood and Early Education
Maliheh Afnan was born in Haifa, Mandatory Palestine, in 1935. She was born to Iranian parents who were forced to flee from Iran as they were being persecuted for their Baha'i faith. A few years later, Afnan and her family again had to relocate as they sought refuge from the war in Palestine. In 1949, the family settled in Beirut, the capital of Lebanon.
While in Beirut, Afnan completed her high school education. Even before Afnan could properly read and write, she showed great interest in the shapes and forms of letters.
During her time in Beirut, Afnan would collect official documents written in different languages. Her fascination with official documentation and the art of lettering already influenced her high school art projects and would continue to provide inspiration for the remainder of her career as an artist.
After graduating from High School, Afnan went on to pursue a BA in Sociology and Psychology at the American University of Beirut. She graduated with her undergraduate degree in 1955. In 1956, Afnan moved to the United States. She settled in Washington D.C. whilst she continued her studies and graduated from the Corcoran School of Art in 1962 with an MA in Fine Arts. In 1963, with her studies completed, Afnan moved to Kuwait. She stayed here until 1966.
During this time, Afnan honed her signature style of painting which she called "written paintings".
Early Career
In 1966, Afnan returned to Beirut, where she would stay until 1974. With a history of displacement and exile, Afnan grew accustomed to traveling and moving around. Whilst staying in Washington DC, Afnan encountered the work of American artist Mark Tobey (1890 – 1976). Tobey was widely known as the artist who introduced abstracted calligraphy into Modern Art. Afnan greatly admired Tobey's work and even visited his studio in Switzerland.
In 1971, Tobey would assist Afnan in the preparations for her first solo show held at the Galerie Claire Brambach in Basel, Switzerland. Tobey's influence on Afnan's practice is clear in works such as Untitled (1969) and Wartorn (1979).
In these works, the lettering is so layered and dense that it shares a visual similarity to Tobey's signature "all-over painting" style. Afnan's work was, however, unique in its spontaneity. The creation of her works was almost like an intuitive performance where she would begin with a single line, allowing her subconscious to lead her hand over the surface of the artwork.
These lines remind one of old calligraphy or ancient languages, particularly from the Middle East, but they have no semantic relevance. Rather, the lines became more topographical and the paintings were almost like written landscapes. To further add to the aged look of the typographical and topographical references, Afnan used rusty and earthy colors that gave the work a sense of decay.
She furthermore smudged the lines with her fingers and scratched the surface of the paint to create an old and distressed look.
Mid-Career and Figurative Works
Afnan relocated again in 1974 to Paris, and in 1997, she finally settled in London, where she would remain till her passing. Afnan's background of displacement and experiences of travelling also greatly influenced her early work. Her abstract written paintings and collages have been described as blurred visions or memories of past homes, lands, and people that were once part of her life. Though there are personal memories in her works and references to her mother tongue, the abstract nature of her works made them universal and timeless.
The monochrome tones, gestural lines, and layered textures make her work globally accessible and identifiable as "earth", rather than being connected to a single geographical location.
During the 1990s, Afnan also began experimenting with making more figurative works. Again, the artist drew from memory rather than relying on models. Her figurative works were just as intuitive as her abstract works and each work began with a simple line. Like tracing with her subconscious, Afnan would follow the line until a figure emerged from her memory and imagination. The result of this process were gestural and ghostly images that Afnan executed with immense grace and elegance. Some of the figures, like The Founder (1990) and Eminence Grise II (1995) appear even vacant and sorrowful.
Many of these faces were exhibited in 2019 in a solo show of Afnan's work, titled Personnages, held at the MAN Museo d'Arte Provincia di Nuoro in Italy.
Later Career
After settling in London, around the 2000s, Afnan started experimenting with different mediums and many of her later works have the addition of gauze added to paintings on paper. Afnan enjoyed working with paper the most. Paper, she explained, allowed her to work more spontaneously as she could respond to its differences in texture, malleability, transparency, absorbency, and colorfastness.
The work Afnan created in her later career made more use of collage techniques, especially incorporating gauze and abstract calligraphy.
We can see this, especially in her works Nothing to Declare (2007) and Veiled Nonsense (2009). Afnan's Veiled series that she started in her later career are among the most famous works she ever created. The works were inspired by the media's growing suspicion of the hijab after 9/11. The gauze used in this series of works symbolizes the stereotype of the veil as a metaphor for concealing the truth.
Important Maliheh Afnan Artworks
Maliheh Afnan's artworks are sensitive and poetic. Often intimate in scale and painted in earthy tones, her work is layered and meditative. Through material experimentation, she creates intricate works that draw from her own experiences of displacement, political unrest, and cultural heritage. Below we very briefly introduce four of her most seminal works.
Untitled (1969)
| | |
| --- | --- |
| Artwork Title | Untitled |
| Date | 1969 |
| Medium | Collage on rice paper |
| Size (cm) | 38.5 x 54 |
| Collection | Estate of the artist |
This is one of Afnan's earlier works with paper that is inspired by archaeology and script. What seems like a collage of hand-written notes becomes abstract as the ink bleeds into the texture of the paper. The composition and muted rusty hues of the work reminds one of ancient scrolls uncovered from the earth, whilst simultaneously recalling the image of a landscape. Whilst drawing inspiration from her own heritage and ancient languages, Afnan was also inspired by Abstract Expressionists and Western artists like Jackson Pollock and Mark Rothko.
With such diverse influences, these abstract works of Afnan resist a direct cultural interpretation and become Afnan's own unique language.
The Founder (1990)
| | |
| --- | --- |
| Artwork Title | The Founder |
| Date | 1990 |
| Medium | Mixed media on paper |
| Size (cm) | 62.5 x 47.5 |
| Collection | Estate of the artist |
The Founder (1990) is one of Afnan's "Personnages", a series of more figurative works she made during her mid-career. In this series, Afnan painted portraits of no single person in particular, but rather of anonymous subconscious figures that seemed morphed in her memories. The figures are remarkably gestural and become almost scriptural, as if they were written and not painted. Interestingly, most of these figures, whilst being abstract, appear distinctly male and relatively old. All the male figures appear frail, while the more female figures appear strong and confident.
Nothing to Declare (2007)
| | |
| --- | --- |
| Artwork Title | Nothing to Declare |
| Date | 2007 |
| Medium | Mixed media and gauze on paper |
| Size (cm) | 43.2 x 60.6 |
| Collection | The Metropolitan Museum of Art, New York City, United States |
Given Maliheh Afnan's history of exile and displacement, she grew accustomed to moving between national borders. Nothing to Declare (2007) draws on these experiences. In this work, we see Afnan's addition of gauze as a material. Here, the gauze pieces are collaged together to resemble a suitcase.
Due to its transparency, the gauze gives the suitcase an X-ray appearance, as if it passes through airport scanners. The work's title reinforces this interpretation.
Veiled Nonsense (2009)
| | |
| --- | --- |
| Artwork Title | Veiled Nonsense |
| Date | 2009 |
| Medium | Ink and gauze on paper |
| Size (cm) | 61 x 81 |
| Collection | Estate of the artist |
This work is part of Afnan's latest and most famous Veiled series. Afnan began creating this series after 9/11, when international media increasingly scrutinized the hijab, which is a literal veil worn by women in Islam. According to the media, the veil is not meant to conceal faces, but to hide truth and intentions. The work consists of obsessive abstract words written across the paper in ink, delicately covered by a thin layer of gauze. Afnan explains that for her, the veil in this series of works not only draws attention to stereotypes of the Hijab, but also to the veils we hide behind, the "human tendency to conceal what's within: anxiety, agendas, intolerances, threats, melancholy".
Reading Recommendations
There are not yet many publications that deeply explore the work of Maliheh Afnan. There are however two extraordinary books, both edited by Rosa Issa, which will enrich your understanding not only of Maliheh Afnan's artworks, but of contemporary Middle Eastern artists on a broader scale. Rose Issa has been researching Middle Eastern art for over 30 years and is a prolific arts curator, producer, and writer.
Maliheh Afnan: Traces, Faces and Places (2010) edited by Rose Issa
This book focuses solely on Maliheh Afnan's life and work. This publication documents her 50-year career as one of the most influential Middle Eastern artists. The book focuses on themes of displacement and exile and considers how it manifests themselves in Maliheh Afnan's artworks.
Documentation of Afnan's lengthy career
An in-depth look at Afnan's life and artworks
A look at the themes present in Afnan's works
View on Amazon
Arabicity: Contemporary Arab Art (2019) edited by Rose Issa
This publication shines a light on the often-overlooked contemporary Arab artists, including Maliheh Afnan, Bahia Shebab, Hassan Hajjaj, Ayman Baalbaki, and Raeda Saadeh. The book explores the poetic aesthetics of these artists' works that explore complicated themes such as displacement, socio-political conflict, heritage, and stereotyping. The publication is of the highest quality and includes over 200 artworks by 50 contemporary Arab artists.
Reflects on four decades of contemporary Arab artists
Featuring over 200 artworks by 50 Arab artists
An exploration of cultural heritage, among other themes
View on Amazon
Maliheh Afnan's work retained traces of performance throughout her career. As she experimented with ink, watercolors, oil pastels, and gauze on paper, her work was always spontaneous and elegant at the same time. An earthy palette and deep layers reflect Afnan's experiences of displacement and otherness. Her abstract works yearn for a universal language that can be understood by everyone, regardless of cultural differences.
Frequently Asked Questions
Where Are Maliheh Afnan's Artworks Displayed?
Today, Afnan's work can be seen in various public collections. Some of these include the Written Art Collection (Berlin), the Metropolitan Museum of Art (New York City), the British Museum (London), the Arab World Institute (Paris), and the Barjeel Art Collection (Sharjah).
How Did Maliheh Afnan Die?
There is no concrete public knowledge about how Maliheh Afnan died. What is known is that Afnan passed away in London on the 6th of January 2016. She was 80 years old at the time and would have turned 81 in March 2016.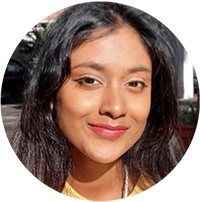 Jordan Anthony is a Cape Town-based film photographer, curator, and arts writer. She holds a Bachelor of Art in Fine Arts from the University of the Witwatersrand, Johannesburg, where she explored themes like healing, identity, dreams, and intuitive creation in her Contemporary art practice. Jordan has collaborated with various local art institutions, including the KZNSA Gallery in Durban, the Turbine Art Fair, and the Wits Art Museum. Her photography focuses on abstract color manipulations, portraiture, candid shots, and urban landscapes. She's intrigued by philosophy, memory, and esotericism, drawing inspiration from Surrealism, Fluxus, and ancient civilizations, as well as childhood influences and found objects. Jordan is working for artfilemagazine since 2022 and writes blog posts about art history and photography.
Learn more about Jordan Anthony and about us.
Cite this Article