Paintings of Cleopatra – A Look at Famous Cleopatra Artwork
Why was Cleopatra famous and why did artists depict Cleopatra in art? Philosophers and conquerors, adversaries and lovers, peers and successors, great empires and Hollywood film companies all fell in love with her image, leading to numerous paintings of Cleopatra. Today, we will investigate these Cleopatra artworks to try and see if we can figure out what makes her so seductive to everyone who hears about her.
The Most Significant Paintings of Cleopatra
Queen Cleopatra VII is recognized as humankind's temptress, the quintessential femme fatale, but her tale isn't so straightforward. Cleopatra's position as Egypt's ruler demanded a lot of her, and she delivered. Cleopatra was born in Alexandria in 69 BCE to the Ptolemaic dynasty that governed Egypt for nearly 300 years. Her job, like that of every Egyptian pharaoh, required her to be a skilled tactician and ruler. In addition to that, history recalls her as a polymath and intellectually adept, having studied a wide range of disciplines, including medicine.
Why Was Cleopatra Famous?
Throughout history, surviving evidence regarding the queen has been widely contested, revealing in part why her appearance is so controversial. Her complicated story was left in the hands of her conquerors, the Romans, such that her renown as a meticulous and crafty diplomat was gradually supplanted by simplistic depictions of her as a treacherous goddess.
Popular representations of Cleopatra in great works of art and literature have focused on indulging our imaginations with outrageous tales that, although indisputably amusing, are often recounted with little indication that they ever happened.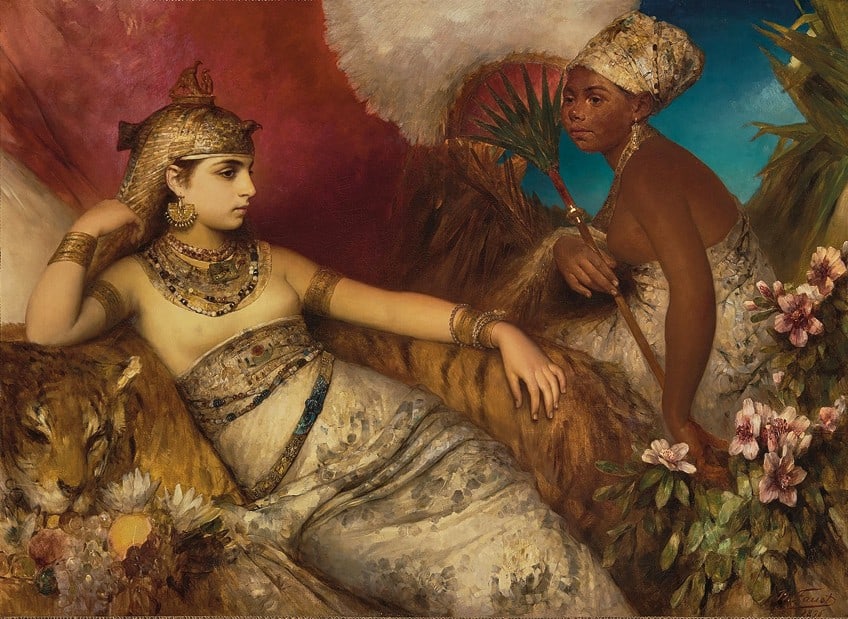 Cleopatra (1876) by Heinrich Faust; Heinrich Faust, Public domain, via Wikimedia Commons
European painters have been fascinated by the stories of Cleopatra and her two Roman lovers, Caesar and Mark Antony, for ages. Cleopatra's artistic depictions reflect what ladies would have desired at various points in history. Cleopatra is frequently portrayed as tiny, incredibly pale-skinned, and even having blonde hair, with no longer having darker characteristics. Paintings of the Queen of Sheba, who is more mysterious than Cleopatra, are evocative of the many Cleopatra artworks because they both share the European painters' disregard for her racial ambiguity. Sheba's life is so poorly known that legends have developed around her. Painters reimagined these two great historical figures to meet European notions of beauty.
Famous Examples of Cleopatra in Art
Cleopatra had another significant advantage: she was stunningly attractive. Modern leaders were afraid of Cleopatra, and subsequent painters were sometimes unable to represent her. European artists depicted the tale that audiences desired to see: the elegance, the drama, the smoke, and mirrors. The queen's prominence in western literature and society was established by Shakespeare's Antony and Cleopatra, making it a regular practice for important aristocratic ladies to have their self-portraits taken. Here are some of the most famous paintings of Cleopatra.
Cleopatra Disembarking at Tarsus (1643) by Claude Lorrain
| | |
| --- | --- |
| Artist | Claude Lorrain (1600 – 1682) |
| Date Completed | 1643 |
| Medium | Oil on canvas |
| Dimensions (cm) | 119 x 170 |
| Current Location | Louvre Museum, Paris, France |
Cleopatra was invited to Cilicia by Roman commander Mark Anthony in 41 BCE, with the intention of replenishing the treasury at the expense of the Egyptian coffers. He was ready to put the queen under strain by exposing her as a collaborator with Cassius and Brutus. Cleopatra arrived at Tarsus in a ship with a golden bow, violet sails, and silvered paddles. Maidservants clothed as nymphs piloted the ship, musicians played flutes, and the queen, costumed as Aphrodite, sat on a throne raised on the deck.
The landscape appears idyllic, yet the arrangement and details foreshadow an approaching disaster – take note of the distant clouds and the glimpse of whitecaps.
Cleopatra Disembarking at Tarsus (1643) by Claude Lorrain; Claude Lorrain, Public domain, via Wikimedia Commons
But, for the time being, everything is calm, allowing you to completely appreciate the artist's perfectly designed landscape and brilliant light. He used thin, semi-transparent strokes of oil paint to achieve exceptional brilliance, yet each element added to the overall poetic atmosphere. This poetic style definitely struck a chord with his peers, and Claude Lorrain quickly rose to prominence as Italy's most recognized landscapist. Collectors longed after his works so much that a thriving fake industry sprang up in Rome, making works in his particular style.
The Banquet of Cleopatra (1653) by Jacob Jordaens
| | |
| --- | --- |
| Artist | Jacob Jordaens (1593 – 1678) |
| Date Completed | 1653 |
| Medium | Oil on canvas |
| Dimensions (cm) | 156 x 149 |
| Current Location | Hermitage Museum, Saint Petersburg, Russia |
Jacob Jordaens' artwork is one of four by the painter at the Hermitage Museum in St Petersburg. It depicts Cleopatra welcoming Mark Antony on her boat. Cleopatra is shown in the center as a lovely Flemish woman that is plump and chubby – which was the ideal form for a woman at that time.
She is adorned with opulent pearls. It is a scenario of temptation toward Marc Antony.
The Banquet of Cleopatra (1653) by Jacob Jordaens; Jacob Jordaens, Public domain, via Wikimedia Commons
This great Roman is depicted with his helmet, and the hilt of his sword, which represents his virile character. The story goes that the queen wanted to prove her wealth and that she could host a banquet of unmatched opulence. To impress him, she took a pearl and dropped it in her drink, and proceeded to consume it.
The Banquet of Cleopatra (1744) by Giovanni Battista Tiepolo
| | |
| --- | --- |
| Artist | Giovanni Battista Tiepolo (1696 – 1770) |
| Date Completed | 1744 |
| Medium | Oil on canvas |
| Dimensions (cm) | 250 x 357 |
| Current Location | National Gallery of Victoria, Melbourne, Australia |
The topic of the Banquet paintings is an alleged historical occurrence reported by both Pliny and Plutarch in which Cleopatra dissolves a valuable pearl in her wine before drinking it. The episode portrays Antony, a spartan warrior, getting lured by the sensuous splendor of the East, as symbolized by Cleopatra. The scene's riches are enhanced by the inclusion of black servants, who are frequently held as slaves in Venice.
With regard to the Labia frescoes, it is unclear if this newly admitted patriciate household would have been seeking to convince visitors of the Labia's wealth, notably the palazzo's owner, Maria Labia's jewelry collection, through this painting.
The Banquet of Cleopatra (1744) by Giovanni Battista Tiepolo; Giovanni Battista Tiepolo, Public domain, via Wikimedia Commons
It is also unclear whether the painting is a metaphor for the Labia family's migration eastward from Spain to this primarily Levantine republic. This was Tiepolo's first of three huge canvases on the topic. The considerably smaller oil works for each of the bigger paintings have survived. Tiepolo returned to the topic a few years later with murals on the subject at the Palazzo Labia in Venice. Tiepolo's other enormous canvases of these landscapes may be found in the Arkhangelskoye Palace near Moscow.
Cleopatra and Octavian (1788) by Louis Gauffier
| | |
| --- | --- |
| Artist | Louis Gauffier (1761 – 1801) |
| Date Completed | 1788 |
| Medium | Oil on canvas |
| Dimensions (cm) | 83 x 12 |
| Current Location | National Galleries, Edinburgh, Scotland |
In this colorful, and highly detailed painting, Gauffier exhibits his outstanding storytelling talents. It reflects the interest at the time in Ancient Egypt. The artwork was ordered by the Comte d'Angiviller, the powerful administrator of the king's art, as a pendant for a Jacques-Louis David artwork. Cleopatra's powers and achievements as a monarch have received less attention in art history than her fictionalized and sad demise.
During Rome's civil war in 31 BCE, Cleopatra aided Mark Antony at the Battle of Actium. They were ultimately vanquished by Octavian, Caesar's chosen adoptive son and successor, allowing him to reclaim control of Rome and its kingdoms.
Cleopatra and Octavian (1788) by Louis Gauffier; Louis Gauffier, Public domain, via Wikimedia Commons
Following the battle, Mark Antony and Cleopatra retreated to Egypt. In his quest for full control, Octavian conquered Egypt and emerged as the first Roman emperor, taking the name Augustus. With no political future and falsely assuming that Cleopatra had already died, Antony committed suicide. Cleopatra died in August 30 BCE, following in his footsteps. Her death effectively ended Egypt's Ptolemaic dynasty, and the country was assimilated into the Roman Empire.
Cleopatra and the Peasant (1838) by Eugène Delacroix
| | |
| --- | --- |
| Artist | Eugène Delacroix (1798–1863) |
| Date Completed | 1838 |
| Medium | Oil on canvas |
| Dimensions (cm) | 98 x 123 |
| Current Location | Ackland Art Museum, North Carolina, United States |
This famous painting depicts Cleopatra locking her eyes on an asp, which would eventually attack her and kill her. This painting has a theme of grandeur and cruelty, with Cleopatra and the peasant symbolizing opposite aspects. She is well clothed, with dark features. Her jewelry is attractive and well-designed, including hats, and bracelets. Delacroix appreciated historical paintings, whether based on real-life occurrences from bygone eras or passages from literature or poetry. He would conduct extensive studies on clothes and related goods in order to ensure that his work was as precise as possible.
Cleopatra had requested the asp after her beloved, Marc Antony, died, leaving her distraught and suicidal. The feelings of tragedy and drama present in the situation would well suit this artist's style.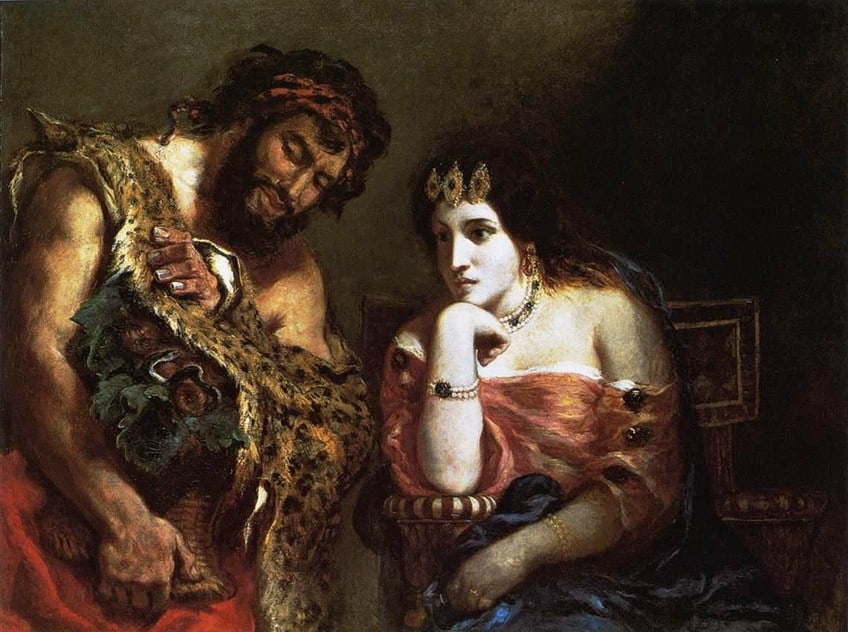 Cleopatra and the Peasant (1838) by Eugène Delacroix; Eugène Delacroix, Public domain, via Wikimedia Commons
The crimson tones utilized in this picture are characteristic of the artist, yet many feel they represent fury and passion for her lost lover. The asp, of course, represents negative forces such as sin and evil with minimal nuance in this artwork. A genuine sorrow was being depicted in the sense that her authority was dwindling as her kingdom fell, on top of losing her own beloved. This artwork is currently in the possession of the Ackland Art Museum, a significant but little-known art institution in North Carolina, USA.
Cleopatra and Caesar (1866) by Jean-Léon Gérôme
| | |
| --- | --- |
| Artist | Jean-Léon Gérôme (1824 – 1904) |
| Date Completed | 1866 |
| Medium | Oil on canvas |
| Dimensions (cm) | 183 x 129 |
| Current Location | Private collection |
La Paiva, a courtesan in France, ordered the painting but sent it back to Gérôme since she didn't like how it had turned out. One of the first modern depictions of Cleopatra can be seen in this piece. Because of a mistake in translation from Plutarch's Life of Caesar, the depiction of Cleopatra coming out of a carpet is seen as historically inaccurate. Since the art dealer Goupil produced the picture in large quantities, it is regarded as a good example of Egyptomania and has been viewed by people all over the world.
Gérôme traveled to Egypt in 1857 to gather a variety of local pigment colors and pay attention to the minute details in order to assist in the creation of an accurate depiction of the subject. The backdrop itself is modeled on a temple at Deir el-Medina detailed in the Description de l'Egypte.
Cleopatra and Caesar (1866) by Jean-Léon Gérôme; Jean-Léon Gérôme, Public domain, via Wikimedia Commons
The picture depicts Cleopatra being unveiled by her servant, Apollodorus, in the year 47 BCE. He is shown bending down to get her out of a rug that was used to sneak her into the castle. Julius Caesar is seated at the top of a table with several assistants further down in the background, staring at Cleopatra. The figurines in the artwork are nearly half the size of the originals. The artwork is characterized as a classic instance of Egyptomania since it contains decadence, nudity, enslavement, and sex.
The Meeting of Antony And Cleopatra (1883) by Lawrence Alma-Tadema
| | |
| --- | --- |
| Artist | Lawrence Alma-Tadema (1836 – 1912) |
| Date Completed | 1883 |
| Medium | Oil on panel |
| Dimensions (cm) | 65 x 91 |
| Current Location | Private collection |
Lawrence Alma-picture Tadema's shows an early meeting between two persons who would go on to become one of the ancient world's most legendary power couples. Queen Cleopatra is reclining aboard her pleasure boat, dressed in pure white. Mark Antony, a great Roman general is portrayed in the backdrop bending over on his seat to observe the queen. The basis for this scenario was most likely inspired by Plutarch's portrayal of Antony and Cleopatra's rendezvous at the Cydnus River. He described that she slept under a gold cloth canopy, clothed like Venu, while gorgeous young men, like painted Cupids, stood on either side to fan her.
Her attendants were costumed as sea nymphs and graces, with some guiding the rudder and others working on the ropes. The most wonderful scents drifted from the ship to the shore, which was swarmed with people, some following the ship up the river on either side of the river, and others were hurrying out of the city to view the spectacle.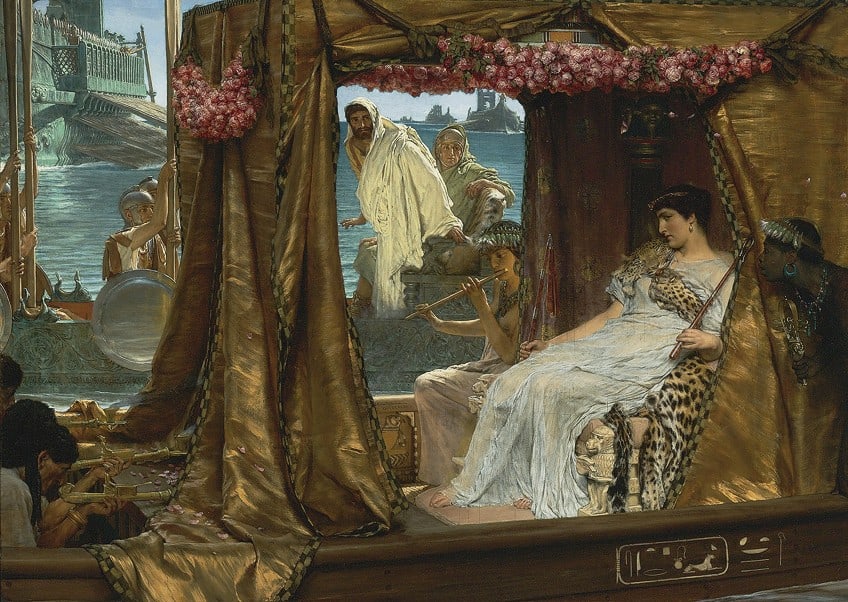 The Meeting of Antony And Cleopatra (1883) by Lawrence Alma-Tadema; Lawrence Alma-Tadema, Public domain, via Wikimedia Commons
Although Lawrence Alma-Tadema did not replicate Plutarch's description exactly, he did use portions of the text in his artwork. The gold canopy, as well as the youthful servants with instruments, were copied, and the aroma was reproduced, this time with pictures of flower garlands and incense. Following this encounter, Antony and Cleopatra's romance progressed naturally – they agreed to meet for a fine banquet. Cleopatra's feast was reported to have been even more magnificent than the opulent boat on which she had floated down the Cydnus.
Cleopatra Testing Poisons on Condemned Prisoners (1887) by Alexandre Cabanel
| | |
| --- | --- |
| Artist | Alexandre Cabanel (1823 – 1889) |
| Date Completed | 1887 |
| Medium | Oil on canvas |
| Dimensions (cm) | 165 x 290 |
| Current Location | Royal Museum of Fine Arts, Antwerp, Belgium |
In the artwork, Cleopatra administers the poison to two captives, one of who is dying in agony and the other whose lifeless body is being taken away by slaves. The Egyptian Queen continues to be a favorite of painters, poets, and filmmakers. Her figure is seen as the embodiment of passion, depravity, and women's deadly influence over men.
The tale tells the narrative of Cleopatra "testing" numerous poisons on slaves and captives in order to select the most powerful and painless poison to take with her in case she had to commit suicide herself.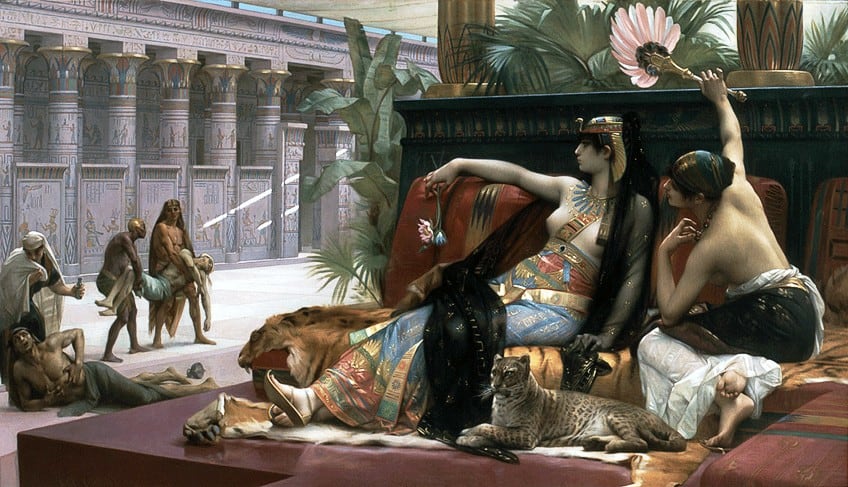 Cleopatra Testing Poisons on Condemned Prisoners (1887) by Alexandre Cabanel; Alexandre Cabanel, Public domain, via Wikimedia Commons
It is regarded as a quintessential work of art of 19th-century orientalism, and it has been used as a template for plays and even early cinema. Alexandre Cabanel had always been drawn to historic and orientalist subjects, and when the picture was first exhibited to the Parisian public, critics lauded him and showered him with accolades. Several international collectors made bids on the Cleopatra artwork.
Cleopatra (1887) by John William Waterhouse
| | |
| --- | --- |
| Artist | John William Waterhouse (1849 – 1917) |
| Date Completed | 1887 |
| Medium | Oil on canvas |
| Dimensions (cm) | 56 x 63 |
| Current Location | Private collection |
People have never totally concurred on whether Cleopatra was more seductive because of her brains or her renowned beauty. John William Waterhouse successfully combined these two characteristics in this picture. He presents a lady of enormous force and passion, with her sensuality and intelligence on show. Cleopatra leans back among her luxury and finery, exhibiting relatively little flesh yet seductively presenting her physique.
Cleopatra's eyes are the most remarkable feature of this artwork. Her face emanates a tremendous amount of energy: she appears angry yet appealing and intriguing.
Cleopatra (1887) by John William Waterhouse; John William Waterhouse, CC BY 2.0, via Wikimedia Commons
In this Cleopatra artwork, it's difficult to turn away from her eyes. John William Waterhouse's approach to this picture was certainly excellent and varied. He precisely portrayed her hair and colored her complexion, but on the belt and wall, he used large, harsh strokes to create an astonishing texture of gold. Another glance at the picture reveals a duality in Cleopatra's position, with one hand resting on a neighboring lion statue and the other bending at the waist. This generates an angry and frustrated demeanor, and Cleopatra is presented as a lady of enormous power and might.
The Death of Cleopatra (1890) by John Collier
| | |
| --- | --- |
| Artist | John Collier (1850 – 1934) |
| Date Completed | 1890 |
| Medium | Oil on canvas |
| Dimensions (cm) | 395 x 315 |
| Current Location | Oldham Art Gallery, Oldham, United Kingdom |
The renowned painter John Collier is most known as a portraiture artist, but he also painted a couple of historical paintings, the largest of which was this one. He traveled to and slept in the Great Temple of Philae in southernmost Egypt to accurately recreate the scene's backdrop. Collier represented Cleopatra on the couch, already dead from poisoned suicide. Her two attendants, Charmion and Eiras, are said to have committed suicide with their queen.
One of the servants has slumped on the floor, while the other is dying of the poisoning as she rests against the divan, however, the absence of concern on her face makes it appear as if she's sexily lazing about (a sign of the 19th Century male preference).
The Death of Cleopatra (1890) by John Collier; John Collier, Public domain, via Wikimedia Commons
According to popular mythology, the imprisoned queen was visited the previous day by a poor servant who did not raise suspicion — along with fruit, he carried a deadly snake at her request. Collier has not shown us the famous asp supposed to have bitten Cleopatra, because there has never been conclusive evidence that this is how she passed.
Cleopatra has long been regarded as a fascinating heroine, inspiring numerous plays, films, operas, ballets, and, of course, paintings and sculptures. Many people's first thoughts are likely to be of Elizabeth Taylor as Cleopatra. Cleopatra has been an inspiration to numerous artists since ancient times. Portrayals of Cleopatra in art may be seen in everything from ancient Greek, Egyptian, and Roman art, to current art. Many of these portrayals show her with an asp (a type of snake) because, according to popular belief, she allowed an Egyptian cobra to bite and poison her; however, her physician never identified the reason for her death.
Frequently Asked Questions
Who Was Cleopatra?
According to the limited surviving contemporaneous Egyptian accounts, Cleopatra was immensely popular among her own countrymen. Egypt's rulers in Alexandria, notably Cleopatra, were Greeks descended from Alexander the Great's commander, Ptolemy I Soter. They would have conversed in Greek and followed Greek traditions, thereby distinguishing themselves from the Egyptian population. But, unlike her forefathers, Cleopatra took the time to learn Egyptian. She commissioned photographs of herself in classic Egyptian style for Egyptian audiences. Cleopatra is referred to as Philopatris in one papyrus from 35 BCE, which translates to a person who loves their nation. Cleopatra utilized patriotism to secure her power by portraying herself as a true Egyptian monarch.
Why Was Cleopatra Famous?
Cleopatra, like other queens of her day, considered herself as someone who had descended from the heavens, and she and other descendants of her dynasty were dubbed deities from birth. Cleopatra's mystery was maintained via displays of beauty, connecting herself with the goddesses Isis and Aphrodite, and thus establishing much of the legend that follows her to this day. Though the Hollywood renditions of her biography are riddled with anachronisms, distortions, exaggerations, and falsehoods, the Cleopatras of Vivien Leigh, Elizabeth Taylor, and Claudette Colbert share a love of pomp with the actual queen. Not only was Cleopatra known to be captivatingly beautiful, she was also believed to have been extremely intelligent too.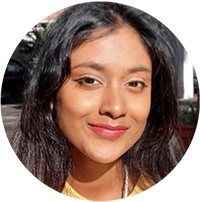 Jordan Anthony is a Cape Town-based film photographer, curator, and arts writer. She holds a Bachelor of Art in Fine Arts from the University of the Witwatersrand, Johannesburg, where she explored themes like healing, identity, dreams, and intuitive creation in her Contemporary art practice. Jordan has collaborated with various local art institutions, including the KZNSA Gallery in Durban, the Turbine Art Fair, and the Wits Art Museum. Her photography focuses on abstract color manipulations, portraiture, candid shots, and urban landscapes. She's intrigued by philosophy, memory, and esotericism, drawing inspiration from Surrealism, Fluxus, and ancient civilizations, as well as childhood influences and found objects. Jordan is working for artfilemagazine since 2022 and writes blog posts about art history and photography.
Learn more about Jordan Anthony and about us.
Cite this Article