Precisionism – Introducing the Post-War Modernist Movement
What is Precisionism? Who are the most famous Precisionist artists? And what are the characteristics of Precisionist art? Towards the end of the 19th century, many art movements emerged in Western Europe that started to aim for "newness" and fresh perspectives in art. This fresh sense of perspective was the beginning of Modernist thinking, which can be seen in many artworks from the early 20th century and well into the mid-20th century following the end of the first World War. In this article, we will introduce you to the Modernist movement known as Precisionism, as well as some of the best works from the movement. Read on for more about this fascinating American art movement!
Precisionism: The Post-War Modernist Movement
Sheen, detail, geometry, and above all – precision. These are a few words to describe the art style of the Modernist art movement called Precisionism, which originated in the United States after the end of the first World War. This movement was heavily influenced by European movements such as Cubism and the visual languages of Futurism and Purism to form a select philosophy around approaching the creation of visual art. The focus of the movement was based on the idea of advancement and sleekness, the latter of which is a feature of many Precisionism artworks, which emphasize a sense of crispness to surface quality and subject.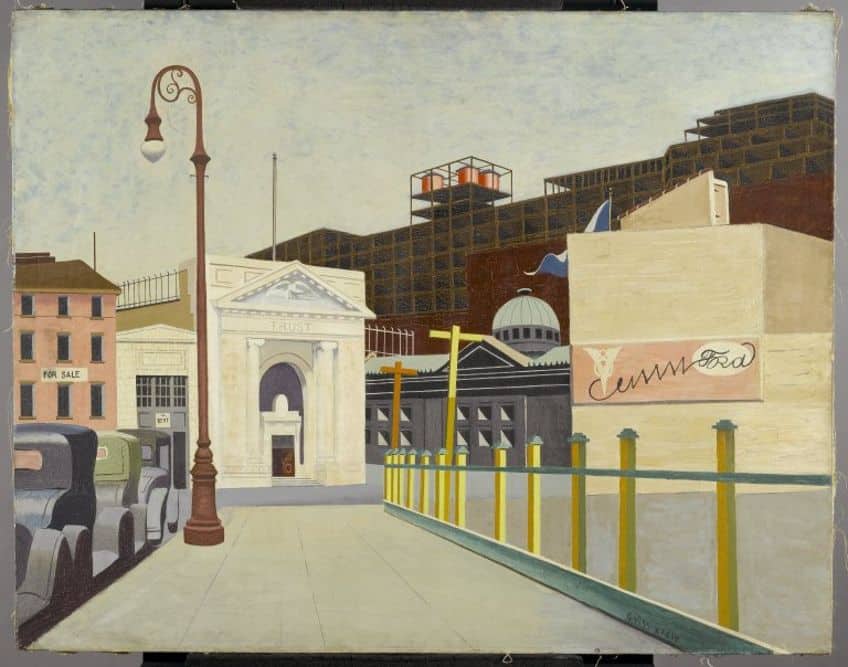 City Landscape (1934) by Francis Criss; Francis Criss, No restrictions, via Wikimedia Commons
Precisionism was most popular during the first quarter of the 20th century, around the 1920s and the 1930s when American architecture saw a shift in the development of new aesthetic languages through towering skyscrapers and Cubist-Realist architecture. Precisionism in the visual arts emerged in the 1920s after the term was officially identified by either Alfred H. Barr or Charles Sheeler, the latter of whom was one of the most famous early Precisionism artists. Artists associated with the movement and style were nicknamed the "immaculates" for their painterly qualities, which removed any sense of detail in a subject and reduced it to geometric shapes, varying planes of light, and representation of materials that mimicked the sheen and slender qualities of machines.
Artists who produced such works did not unite as a collective as seen in many other similar Modernist movements, rather, the work of Precisionists was grouped according to the similar shared styles seen in certain exhibitions where artists would naturally congregate, most notably at the New York Daniel Gallery.
Popular Elements of Precisionism Art
Artists who were drawn to the sleek and simple nature of Precisionist styles preferred subjects such as industrial landscapes, skylines in rural and urban contexts, images of buildings, factories, machinery, countryside barns, and grain elevators. These simple motifs of everyday modern life in 1920s America were the foundational motifs to the movement that was used to create simplified designs and sleek silhouettes instead of detailed realistic paintings or a total focus on perfecting form.
Kitchen, Williamsburg (1937) by Charles Sheeler; Scuttlebutte, Public domain, via Wikimedia Commons
The idea behind Precisionism was not to see how much detail one could render accurately but to render, with a façade of accuracy, the essence of the structure that spoke to a form of modernity. The attitude imposed on the artwork and the viewer was one of detachment with a level of abstraction to how details would be blurred out or flattened for the Precisionist visual language. Most Precisionist works are also almost always devoid of human life and focus more on the sharpness and vague clarity of form. It is the brilliance of clarity in form and realization that is romanticized and exaggerated through modern painting styles such as Cubist techniques.
Precisionism had a widespread effect on Pop artists of the mid-20th century and can be seen in works by artists such as Jasper Johns.
Famous Precisionism Artists
Now that you understand the foundations of Precisionism, we can now look at a few pioneering painters of the Precisionism movement whose immaculate works demonstrate the application of Precisionist thinking in modern America.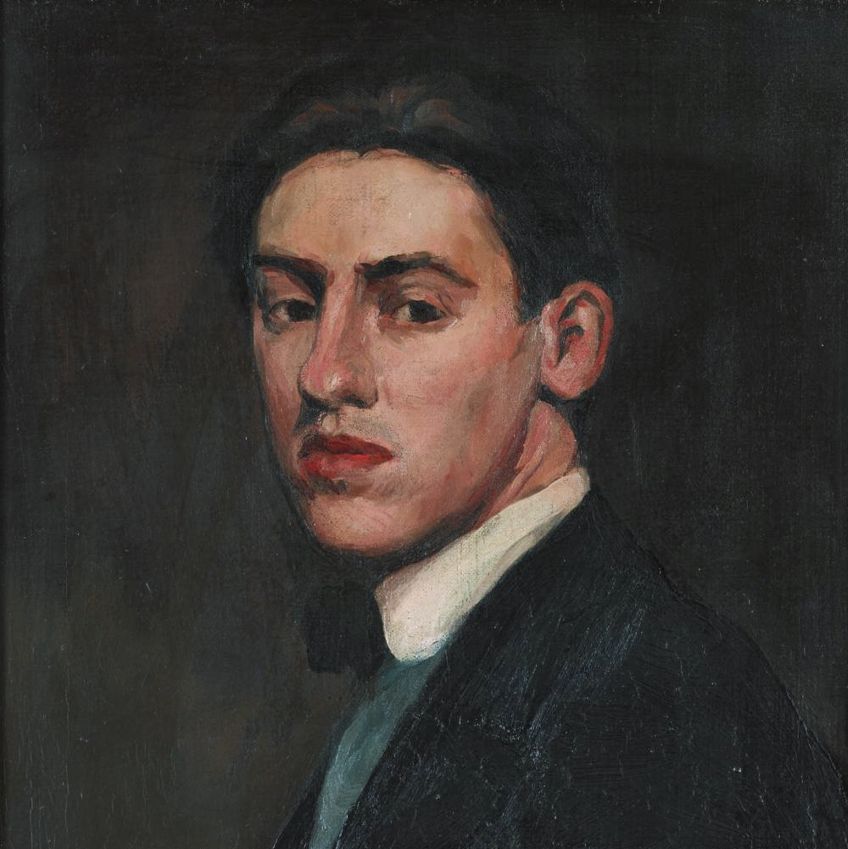 Self portrait (1907) by Charles Demuth; Charles Dmeuth, CC0, via Wikimedia Commons
Charles Demuth (1883 – 1935)
Artist Name
Charles Henry Buckius Demuth
Date of Birth
8 November 1883
Date of Death
23 October 1935
Nationality
American
Associated Movements, Themes, and Styles
Precisionism, Avant-Garde art, and Modern art
Mediums
Painting
Famous Artworks
● The Jazz Singer (1916)

● Turkish Bath with Self Portrait (1918)

● Sail: In Two Movements (1919)

● Spring (1921)

● Incense of a New Church (1921)
Born in Pennsylvania, Charles Demuth was to become one of the greatest and most celebrated Precisionism artists of the decade. Demuth was a highly talented watercolorist who was credited with developing the style of Precisionism itself. Demuth's family ran a tobacco store since the 18th century near East King Street. Throughout his career, Demuth was attached to Lancaster and set up a small studio in his family home. Demuth included many angles and views of the landscape and terrain of Lancaster through many watercolor paintings.
Demuth also painted the simple structures of the city with a level of grandiosity usually seen in paintings of cathedrals or palaces and highlighting his passion for his hometown.
In the early 1920s, Demuth joined the Stieglitz group and thereafter exhibited work at Intimate Gallery and Anderson Galleries. His trips to Europe also introduced him to the art style of Modernism and later the influences of Cubism and the Avant-Garde in New York. As his exposure to new and modern art styles of the early 20th century grew, so too did his art style, which eventually resulted in a quasi-Cubist approach with meticulous attention to definition and sharpness in his Precisionist paintings of urban and rural landscapes. Some of his works were critiqued as pessimistic and ironic due to the aesthetic that he pushed with non-human scenes and industrial features.
Houses (1918) by Charles Demuth; Charles Demuth, Public domain, via Wikimedia Commons
Charles Sheeler (1883 – 1965)
Artist Name
Charles Sheeler
Date of Birth
16 July 1883
Date of Death
7 May 1965
Nationality
American
Associated Movements, Themes, and Styles
Precisionism, Modern art, Abstract art, Avant-Garde art, and American Modernism
Mediums
Painting, drawing, photography, and film
Famous Artworks
● Lady of the Sixties (1925)

● River Rouge Plant (1933)

● Suspended Power (1939)

● Water (1945)

● Aerial Gyrations (1953)
Charles Sheeler was a popular commercial photographer and Precisionism painter who was also behind the production of the 1921 Avant-Garde film called Manhatta. Sheeler was credited with being one of the early champions of American Modernism and gained success in his art career quite early after graduating from the Pennsylvania Academy of Fine Arts. Sheeler's early influences included Italian masters of painting from the proto-Renaissance era such as Giotto and later more modern works by artists such as Georges Braque and Pablo Picasso with the rise in Cubism in Europe.
Sheeler was already educated in the applied arts and drawing and took up a career in commercial photography.
The influenza epidemic of 1918 also impacted Sheeler's early work due to the death of his close friend and painter, Morton Schamberg, whose works were inspired by technology and machines. Sheeler's paintings also reflect some of these influences and later collaborated with Ford Motor Company to produce paintings of their factories and photographs. Works such as his Americana series produced between 1926 and 1934 were among Sheeler's early depictions of American interior décor and design and reflected an interior portrait of the artist's personal space. A few other interesting Precisionist paintings by Sheeler include Upper Deck (1929), Steam Turbine (1939), and Aerial Gyrations (1953).
Self Portrait (1923) by Charles Sheeler; Charles Sheeler, Public domain, via Wikimedia Commons
George Ault (1891 – 1948)
Artist Name
George Copeland Ault
Date of Birth
11 October 1891
Date of Death
30 December 1948
Nationality
American
Associated Movements, Themes, and Styles
Precisionism, Cubism, Surrealism, Realism, and American Modernism
Mediums
Painting and drawing
Famous Artworks
● View from Brooklyn (1927)

● August Night At Russell's Corners (1940)

● January Full Moon (1941)

● Daylight at Russell's Corners (1944)
George Ault was a famous Precisionist artist whose works reflect the crisp detail paid to Ault's interest in realism with influences by Surrealism and Cubism to provide almost cinematic stills of early American architecture. Ault graduated from the Slade School of Art as well as the St John's Wood School of Art and then returned to the United States where his exposure to family trauma was at its peak. Ault had experienced the suicide of three brothers as well as the loss of his family's fortune due to the stock market crash of 1929. In addition to the tragic events surrounding the artist's early career, he also lost his mother in the 1920s.
Surprisingly, he still produced paintings and perhaps it was a form of detachment from the harsh realities of his world.
By the 1930s, Ault's reclusive state caused him to be ostracized from the art world. Ault eventually relocated to New York where he produced many fine works but it was not long after around 1948 when he was discovered dead in Sawkill Brook. It was concluded that his death was a suicide and it may appear that while his paintings became greater and more stylistically admirable, his mental health and inner suffering likely mirrored his focus on his art and heightened too. His ability to narrow down his compositions to their best details in simple forms and flat shapes was a method of peace for the artist's chaotic life story.
Artist at Work (1946) by George Adult; George Ault, Public domain, via Wikimedia Commons
Elsie Driggs (1898 – 1992)
Artist Name
Elsie Driggs
Date of Birth
1898
Date of Death
12 July 1992
Nationality
American
Associated Movements, Themes, and Styles
Precisionism
Mediums
Painting
Famous Artworks
● Aeroplane (1928)

● Moonstruck Goat (1957)

● Javits Center Abstracted (1986)
Elsie Driggs was among the first pioneering Precisionist female artists of the early 20th century whose Cubits-inspired figurative and floral works in watercolor and oil made her works among the best of the movement. Driggs was best known at the time since she was the only woman in the movement who practiced Precisionism. Driggs spent her childhood in a small New York suburb called New Rochelle where her artistic talents were encouraged and developed through painting.
Driggs attended the Art Students League of New York as well as art criticism classes headed by John Sloan.
In the 1920s, she toured Europe where she studied the works of Italian masters and met American collector Leo Stein who pushed her to study the work of Paul Cézanne and Piero della Francesca. When Driggs returned to New York, she joined the Charles Daniel Gallery, which was also representing other Precisionists such as Charles Sheeler and Georges Ault. Today, Driggs' work can be found in collections across the Houston Museum of the Fine Arts, the Columbus Museum of Art, and the Whitney Museum of American Art.
Francis Criss (1901 – 1973)
Artist Name
Francis Hyman Criss
Date of Birth
1901
Date of Death
1973
Nationality
American
Associated Movements, Themes, and Styles
Precisionism, Abstract art, and American Modernism
Mediums
Painting
Famous Artworks
● Astor Place (1932)

● Alma Sewing (c. 1935)

● Untitled (Indian Relics) (1939)
Francis Criss was a famous American Precisionist of the 20th century whose works are among the same level of popularity as Charles Sheeler. Criss was born in London and later relocated to the United States where he studied at the Pennsylvania Academy of the Fine Arts, Art Students League of New York, and Barnes Foundation.
Criss went on to become an educator at the American Artists School around the 1930s and was also awarded a Guggenheim Fellowship.
Throughout the 1930s and 1940s, Criss' Precisionist painting style developed to include iconic urban images such as subway tracks and bridges rendered abstractly without the presence of human figures. Criss' works also contained a distorted perspective and compositions that were dream-like and reminiscent of the influence of Surrealist painting styles. Towards the later phases of his career, he turned to commercial art, which marked a decline in his work's popularity. Among his finest paintings include Alma Sewing (c. 1935), which was mentioned in the Washington Post as the artist's best painting.
Waterfront (1940) by Francis Criss; Francis Criss, Public domain, via Wikimedia Commons
Famous Precisionism Paintings
Now that you have an understanding of the origin of American Precisionism and the various influential artists of the 20th century, you can now browse through a selection of Precisionism paintings and artworks that shaped the movement!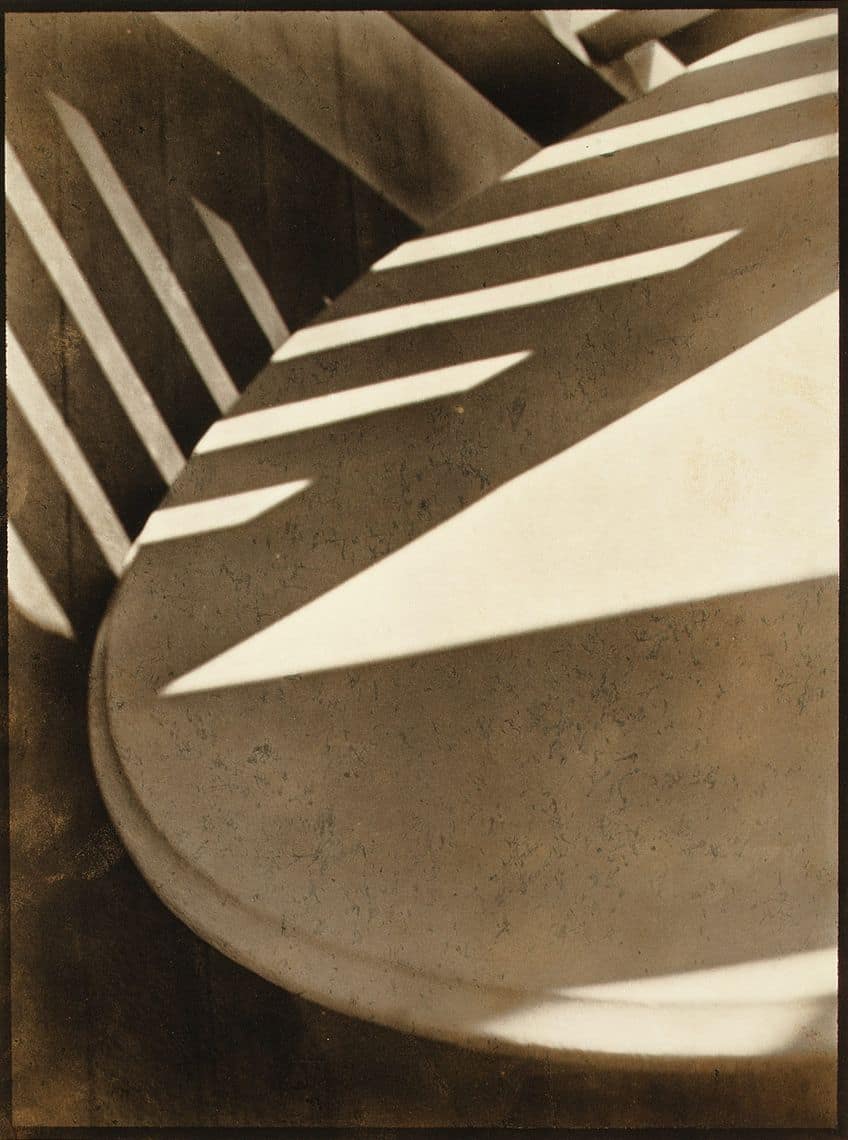 Abstraction, Twin Lakes, Connecticut (1916) by Paul Strand; Paul Strand, Public domain, via Wikimedia Commons
Wall Street, New York (1915) by Paul Strand
| | |
| --- | --- |
| Artist Name | Paul Strand (1890 – 1976) |
| Date | Photographed in 1915 and printed c. 1976 |
| Medium | Photograph and platinum palladium print |
| Dimensions (cm) | 25.7 x 32.2 |
| Where It Is Housed | Whitney Museum of American Art, New York City, United States |
Popular American Precisionist filmmaker and photographer Paul Strand was a major figure of the Precisionism movement who shot this iconic Wall Street image in 1915. Strand was inspired by other Modern figures in the visual arts such as Paul Cézanne and Georges Braque and used Cubist ideals to fuel his notion that photographic images could be broken up, such that his photography would become engaging both in a spiritual and social sense to the viewer. Strand deepened the field of photography beyond the saturated realm of producing art for art's sake through straight photography. For Strand, the camera was a tool that could capture a moment in space and time in a way that was unlike capturing an image in real-time as seen in the plastic arts.
Wall Street, New York is considered to be one of Strand's most significant works in that it not only became an iconic image shot by Strand, but it also revolutionized the way that artists practicing photography viewed the art form.
Strand's style reflects a soft Pictorialism, which is identified when the artist uses a camera and photomanipulation methods in the darkroom to create an image that mimicked an "unfashionable" painting style, as defined by the standards of Modernism. Wall Street, New York is thus an image that combines the documentary genre of photography with abstraction in a single frame. Through the image, Strand presents a straight image and recording of a scene showing pedestrians walking in the street. The sun helped elongate the shadows of the figures and create high-contrast elements that can be seen in the slanting niches of the Morgan Trust Bank building. The Wall Street, New York photograph had also become inspirational for figures like Edward Hopper who mimicked some of Strand's techniques in his paintings.
Wall Street, New York (1915) by Paul Strand; Paul Strand, Public domain, via Wikimedia Commons
After Sir Christopher Wren (1920) by Charles Demuth
| | |
| --- | --- |
| Artist Name | Charles Henry Buckius Demuth (1883 – 1935) |
| Date | 1920 |
| Medium | Watercolor, gouache, and graphite on cardboard |
| Dimensions (cm) | 61 x 50.8 |
| Where It Is Housed | The Metropolitan Museum of Art, New York City, United States |
After Sir Christopher Wren is among the best of Charles Demuth's Precisionist paintings from the 1920s that give one a glimpse into the artist's hometown of Lancaster. During the 1920s, Demuth's watercolor paintings reflected his expert use of line and geometric forms that highlighted the crossing light beams and featured in many of his architecture-inspired compositions.
Among other paintings from this period were images featuring churches, homes, and factories that the artist knew of.
After Sir Christopher Wren was collected by an avid art collector of Modern art known as Scofield Thayer who was also the co-founder of a publication called The Dial. According to sources, Thayer bought the painting in 1921 as noted from correspondence found between Demuth and Thayer. The painting's main structure was based on the old Center Methodist Episcopal Church, which is presently known as the Provincetown Public Library.
After Sir Christopher Wren (1920) by Charles Demuth; Charles Demuth, CC0, via Wikimedia Commons
Pittsburgh (1927) by Elsie Driggs
| | |
| --- | --- |
| Artist Name | Elsie Driggs (1898 – 1992) |
| Date | 1927 |
| Medium | Oil on canvas |
| Dimensions (cm) | 87 × 102.2 |
| Where It Is Housed | Whitney Museum of American Art, New York City, United States |
This masterful Precisionist painting was created by Elsie Driggs and reflects the image of the city steel mill from a view of a train window that Driggs witnessed as a child. Currently housed at the Whitney Museum of American Art, Pittsburgh illustrates the ominous nocturnal industrial hue of the steel mill captured through a smokey array of gray monochrome hues.
In the painting, Driggs recalled the way that the sulfur filled the sky, which is reminiscent of the early industrial processes in steel production.
Over time, processes for steel production changed and toxic emissions were reduced. After exhibiting the painting in New York, Driggs' work was classified as a new form of Classicism and was compared to the Renaissance painter Piero della Francesca who was a pivotal influence on her painting style at the time. The painting is both a celebration of Driggs' newfound Classicism and an ominous reminder of America's early start to technology, which makes one question humanity's faith in technology and its effects in the future.
White Canadian Barn II (1932) by Georgia O'Keeffe
| | |
| --- | --- |
| Artist Name | Georgia Totto O'Keeffe (1887 – 1986) |
| Date | 1932 |
| Medium | Oil on canvas |
| Dimensions (cm) | 30.5 x 76.2 |
| Where It Is Housed | The Metropolitan Museum of Art, New York City, United States |
Often associated with her stunning and calm New Mexican landscapes, American Modern artist Georgia O'Keeffe was one of the most famous American Precisionism painters from the latter stages of the movement.
O'Keeffe's husband was Alfred Stieglitz, who was a mentor to the Precisionists as well as an art dealer and photographer.
It is believed that White Canadian Barn II was created during a period when O'Keeffe sought an escape from the pressure of her relationship with Stieglitz and spent a few weeks at the Gaspé Peninsula in Canada where she produced a series of barn paintings. These barn paintings showcased elements of Precisionism with high-contrast black doors and windows among the flat and muted hues of the landscape.
Bright Light at Russell's Corners (1946) by George Ault
| | |
| --- | --- |
| Artist Name | George Ault (1891 – 1948) |
| Date | 1946 |
| Medium | Oil on canvas |
| Dimensions (cm) | 49.9 x 63.4 |
| Where It Is Housed | Smithsonian American Art Museum, Washington, D.C., United States |
Bright Light at Russell's Corners is among the most famous Precisionism paintings by George Ault, created in 1946. Here, Ault highlights the bright light floating at Russell's Corners. Ault frequently turned to Russell's Corners as a source of painting inspiration. The site was based in Woodstock, New York, and featured in a series of paintings on desolate farm buildings, which became symbols of Ault's desire to relocate to a traditional farm lifestyle and isolate himself from the world. It was Ault's desire for escape that can be understood in the fascinating manner in which he presents the light in the painting, as a beacon of desire. Ault also regularly included religious icons in his work with the bright light converging at the center of the power lines to highlight a "modern cross" hidden in plain sight. The contrasting shadows of the darkness appear threatening and are an overwhelming aspect of the artwork, which may have signaled Ault's mental health status and state of depression.
Bright Light at Russell's Corners (1946) by George Ault; George Ault, Public domain, via Wikimedia Commons
Precisionism was a niche art movement that uniquely blurred the lines between Modernist art using abstraction, Cubist techniques, and Futurist ideals in light of modernization and technological advancement. Despite the seemingly detached nature of Precisionist art, the simplicity in the structure and form presented in these artworks give one meaningful insight into the psyches of the artists behind them and the way they interpreted the rapidly-evolving world beyond war and industrialization. Other masterful Precisionists worth studying include Stuart Davis, Peter Blume, Niles Spencer, Ralston Crawford, and Morton Schamberg among many more!
Frequently Asked Questions
What Is Precisionism?
Precisionism refers to an American art movement loosely founded after the first World War in the early 20th century, and was inspired by other movements such as Futurism, Cubism, and Purism. Precisionism as represented in the visual arts focuses on the sleekness of visual subjects and was inspired by industrialization and modernism in the United States.
What Are the Characteristics of Precisionist Art?
The key characteristics of Precisionist art include a focus on urban subjects, including modern structures of technology and architecture in rural and urban landscapes, the elimination of human figures, highly contrasting colors, monochrome palettes, smooth brushwork, geometric shapes, sharp angles, and an atmosphere of detachment. Precisionist art was a form of pure abstraction and admiration of scientific and industrial advancement.
Who Are the Most Famous Precisionist Painters?
The most famous Precisionist painters include Charles Sheeler, Charles Demuth, Georgia O'Keeffe, George Ault, Elsie Driggs, Morton Livingston Schamberg, Joseph Stella, and Preston Dickinson, who are among the top pioneering Precisionist painters of the 20th century.
Liam Davis is an experienced art historian with demonstrated experience in the industry. After graduating from the Academy of Art History with a bachelor's degree, Liam worked for many years as a copywriter for various art magazines and online art galleries. He also worked as an art curator for an art gallery in Illinois before working now for artfilemagazine.com
Liam's passion is, aside from sculptures from the Roman and Greek period, cave paintings, and neolithic art.