Renaissance Portraits – Faces from the Age of Humanism
The growth of Renaissance art portraits exploded in the 15th century, as part of a more significant cultural movement in which the space for individual achievement increased substantially. The expansion of trade, combined with a new focus on self-governance in Italy's political spheres, resulted in a large number of powerful and wealthy people who sought to capture their characteristics and keep them for posterity, resulting in an influx of Renaissance portrait paintings. Italian Renaissance portraits were proclaimed to depict one's religious devotion, morality, education, affluence, and even one's soul. Today we will look at famous Renaissance portraits that exemplify the genre.
Our Favorite Famous Renaissance Portraits
Renaissance-style portraits' significance was already being advocated in important publications in the early 15th century. Renaissance famous portrait paintings were highly praised as manifestations of the "divine essence of art" in A Treatise on Painting (c. 1435) by Leon Battista Alberti.
Different styles of Renaissance art portraits emerged in various locations in Italy.
Giovanni Bellini created a portrait style for upper-class Venetians, depicting the subject's bust height, in a three-quarter perspective, clothed in customary patrician garb with a flowing black toga and head covering. The traditional background for these Renaissance-style portraits was a beautiful blue sky dotted with clouds, implying an outside environment and the sitter's connection to the world at large.
Leone Batista Alberti by a Florentine School painter (between 1600 and 1650); Uffizi Gallery, Public domain, via Wikimedia Commons
For the very first time in history, the portraiture of women increased significantly throughout the Renaissance. Northern Italians specialized in painting Italian Renaissance portraits of lovely women clad in expensive attire. Renaissance portrait paintings of this genre represented ladies of diverse socioeconomic classes.
A more ambiguous genre of female Renaissance art portraits, which originated in Venice, depicted ladies who interact with the observer in a new way, peering out of the picture with an appealing look and catching the observer's attention with a flirtatious gaze.
Renaissance portrait paintings were seen as a means for portraying not just an individual's appearance but also his or her personality in the 15th century. Here is our selection of the most notable Famous Renaissance portraits.
Portrait of a Girl by Titian (1540's); Titian, CC BY-SA 4.0, via Wikimedia Commons
Portrait of a Young Man (1425) Possibly by Masaccio
| | |
| --- | --- |
| Artist | Tommaso "Masaccio" di Ser Giovanni di Simone (1401 – 1428)? |
| Date Completed | 1425 |
| Medium | Oil painting |
| Dimensions (cm) | 42 x 32 |
| Current Location | National Gallery of Art, London, United Kingdom |
The mesmerizing artwork by famous artist Masaccio exemplifies excellent attention to detail that helped influence a multitude of talented artists that established the Renaissance Era.
Masaccio emphasizes the prominence of the image's focal point by creating a side profile of the subject.
The artwork's style immediately departs from the artist's iconic depiction of biblical landscapes throughout his oeuvre. The painter created a picture of a young man based on his side profile, as the title suggests. The subject stands sideways, his body is slightly slanted toward the observer.
Portrait of a Young Man possibly by Masaccio (between 1430 and 1450); National Gallery of Art, CC0, via Wikimedia Commons
Masaccio emphasized a range of noticeable aspects of the model's face, with his pointed nose serving as the painting's main focal point. The big nose lacks an arch in the middle, elongating its appearance as it meets with the man's forehead.
The artist emphasized important characteristics, capturing the viewer's attention. Because the artwork lacks drama or motion, the artist relied on his skill and fine detail to bring it to life.
Masaccio alternates between a moderate shade of yellow and a vibrant tone of orange to depict the textures of the man's face. These two colors complement one another to draw attention to the subject's rough skin. The yellow highlights the skin, and the orange contours the man's face.
Ginevra de' Benci (1474) by Leonardo da Vinci
| | |
| --- | --- |
| Artist | Leonardo di ser Piero da Vinci (1452 – 1519) |
| Date Completed | 1474 |
| Medium | Oil painting |
| Dimensions (cm) | 38 x 37 |
| Current Location | National Gallery of Art West Building, Washington D.C., United States |
Ginevra de' Benci, a noble lady in 15th-century Florence, was renowned for her brilliance by Florentine contemporaries. She is the focus of one of only around 17 artworks credited to Leonardo da Vinci that still survive. Unlike his previous female portraits, this woman appears sulky, unforgiving, and arrogant; this is highlighted by the slightly smaller cast of one eye, which makes her appear reserved. Her left eye appears to be looking directly at us, while her right appears to be looking beyond some intangible point.
Ginevra, like other Florentine ladies of the time, has shaved her brows. Perhaps her expression suggests that she was not fully enthusiastic about her impending marriage.
Ginevra de' Benci by Leonardo da Vinci (c. 1474 – 1478); Leonardo da Vinci, Public domain, via Wikimedia Commons
Later in life, she would go into self-imposed exile in order to recuperate from a terrible illness; she was also plagued by an ill-fated love affair. Her marble face polished with Leonardo da Vinci's own touch, is framed by her hair's undulating ringlets.
This contrasts well with the juniper bush's halo of spikes. Leonard da Vinci used overlay oil glazes to create a thin layer of mist known as sfumato in the backdrop of this painting. Though Leonardo da Vinci did not invent this technique, he became well-known for his masterful use of it. Fingerprints visible on the surface demonstrate how the artist blended colors and created smooth, delicate edges with his fingers and a paintbrush.
Portrait of a Young Man (c. 1483) by Sandro Botticelli
| | |
| --- | --- |
| Artist | Sandro Botticelli (1445 – 1510) |
| Date Completed | c. 1483 |
| Medium | Tempera on panel |
| Dimensions (cm) | 43 x 46 |
| Current Location | National Gallery of Art, London, United Kingdom |
Florence was the birthplace of the Italian Renaissance, the city where ideals that would define European art were born. Perspective, the importance of human figures in art, and the creative and intellectual liberty of the artist were all developed in Tuscany 500 years ago. This portrait was created in the city during that time. It depicts a man with a bright, intelligent gaze that we can readily understand as that of a young artist enthralled by fresh ideas. Someone like Botticelli. When this was produced, the concept of the portrait was groundbreaking.
Earlier Renaissance-style portraits were in profile. Botticelli was one of the first Italian artists to show someone face-on. Perhaps this isn't so much a depiction as a description of the ideal. The masculine form was revered as valiant and honorable in Renaissance Florence.
Portrait of a Young Man by Sandro Botticelli (1483); Sandro Botticelli, Public domain, via Wikimedia Commons
We recognize him as contemporary in his self-assertion. You can tell he's a city person since he doesn't wear courtly attire, but rather something more casual. He's proud of his wonderful looks, and he has flowing hair like the god Mars in Botticelli's Venus and Mars (1483). His dark eyes lock on us, telling us nothing yet demanding us to comprehend. He's somewhat smaller than life-size, which is an odd effect.
Botticelli was a fan of mystery, and this young man, too, possesses something concealed and incomprehensible. It's unfathomable how a portrait may mysteriously preserve its subject, transporting him or her from the common world into the world of painted imagery. However, throughout Botticelli's period in Florence, art was connected with magic.
An Old Man and His Grandson (c. 1490) by Domenico Ghirlandaio
| | |
| --- | --- |
| Artist | Domenico Ghirlandaio (1448 – 1494) |
| Date Completed | c. 1490 |
| Medium | Tempera on poplar panel |
| Dimensions (cm) | 62 x 46 |
| Current Location | Department of Paintings of the Louvre, Paris, France |
The image depicts an older gentleman in a red robe embracing a tiny child who is also dressed in red. They are seated inside, lit against a gloomy wall. Behind them, on the right, is a window through which a generic landscape can be seen, with its uneven topography and twisting roads characteristic of Ghirlandaio's backdrops. Despite the fact that the man's fur-lined coat and cappuccino, and the boy's exquisite doublet and cap imply aristocratic descent, and despite the common belief that the individuals are grandpa and grandson, their identities are unknown.
It's possible that the artwork was done for a commemorative purpose, and the child was a story invented to emphasize his goodness.
An Old Man and his Grandson by Domenico Ghirlandaio (1490); Domenico Ghirlandaio, Public domain, via Wikimedia Commons
The contrast between the man's wrinkled and wise visage and the child's beautiful features heightens the image's poignancy.
While the composition is conceptually tied to Dutch portraiture, by the mid-15th century, the idea of a portrait in an interior with a distant landscape was popular in Italy.
The malformation of the man's nose, evidence of rhinophyma, is an exceptional aspect of the picture. Ghirlandaio has depicted the picture in a lifelike and empathetic manner, in contrast to the physiognomic philosophy of the time, which maintained a link between exterior appearances and internal realities. Rather than portraying a flaw in the man's character, this image encourages admiration for his virtue.
Portrait of Doge Leonardo Loredan (1501) by Giovanni Bellini
| | |
| --- | --- |
| Artist | Giovanni Bellini (1430 – 1516) |
| Date Completed | 1501 |
| Medium | Oil on panel |
| Dimensions (cm) | 62 x 45 |
| Current Location | The National Gallery, London, United Kingdom |
Giovanni Bellini's portrait contains some of the most exquisite detail of any of the famous Renaissance portraits, emphasizing the subject's formal dress. This important political person would also appear on local coins, allowing him to be appropriately recognized here. His title of Doge translates as Duke, and his state robes support this.
He was the Doge of Venice from 1501 to 1521, therefore this artwork would have been produced during the same year as his inauguration. The high quality of this representation guarantees that we can quickly identify the precise materials used in his clothing as well as the likely methods utilized to put it together at the time.
Portrait of Doge Leonardo Loredan (1501) by Giovanni Bellini (1501); Giovanni Bellini, Public domain, via Wikimedia Commons
The handsome gentleman has a prominent nose, which is typical of this region of Europe, as well as relatively chiseled features. Near the bottom of the page, there is a little cartellino with the artist's Latin signature, "Loannes Bellinvs". It is connected to a parapet, and this framed feature contributes to the artwork's completion.
Bellini himself was a well-known creator of Italian Renaissance portraits at a time when other creative genres were not as prominent as they are now. The National Gallery in London now owns the original painting, which is a part of its permanent collection.
Portrait of Agnolo Doni (1506) by Raphael
| | |
| --- | --- |
| Artist | Raffaello "Raphael" Sanzio da Urbino (1483 – 1520) |
| Date Completed | 1506 |
| Medium | Oil painting |
| Dimensions (cm) | 63 x 45 |
| Current Location | Pitti Palace, Florence, Italy |
Through a set of portraits created in 1506 by the High Renaissance painter, he pays homage to Agnolo Doni's wedding to Maddalena Strozzi. It was during this period that the painter was examining Leonardo da Vinci's artworks.
Raphael was impressed by Da Vinci's art, and he included aspects in the image that mimic the design of the Mona Lisa.
The artist places the young person in the first plane against a relatively low horizon, emphasizing his features. His hands are placed on top of each other, revealing his jewelry, which indicates his social level. The rings have a ruby, which represents fortune, and a sapphire, which represents purity and clarity.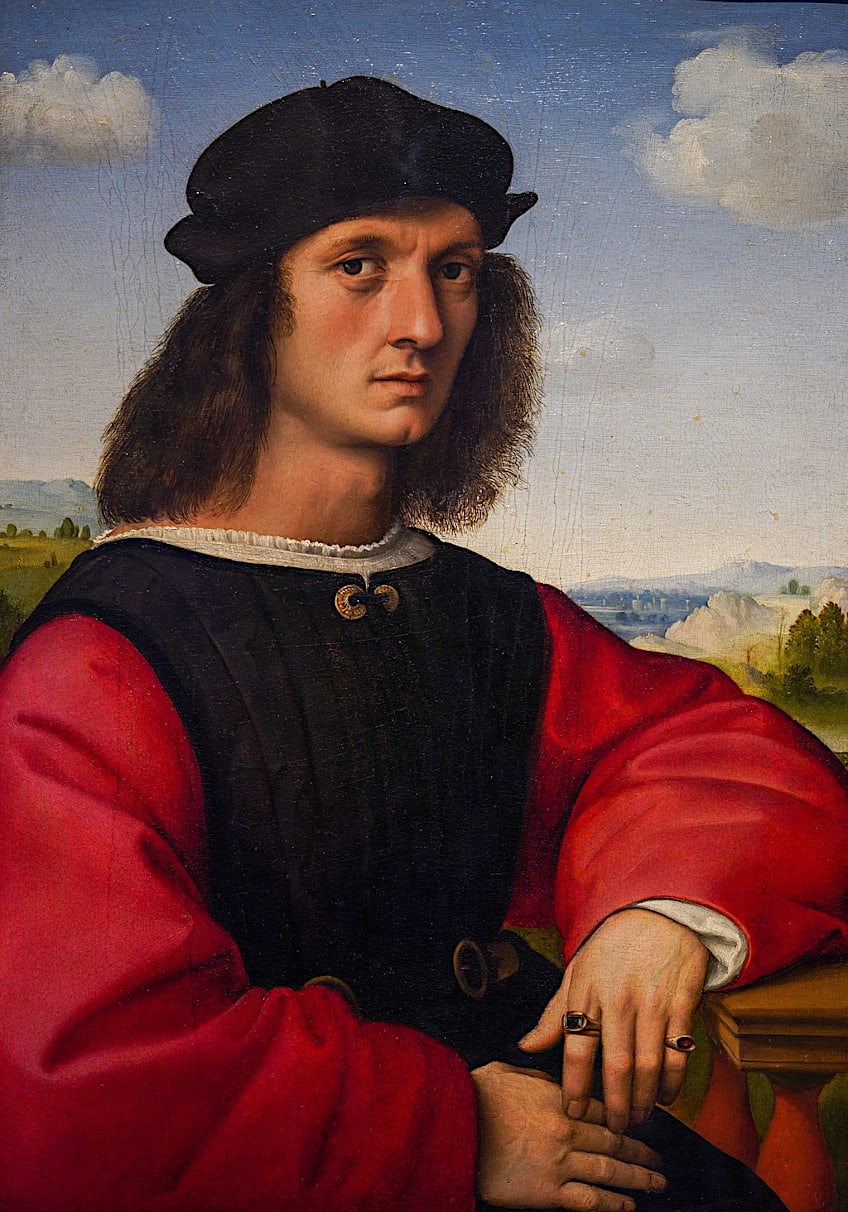 Portrait of Agnolo Doni by Raphael (1506); Raphael, Public domain, via Wikimedia Commons
Raphael's execution, in contrast to Da Vinci's, produces balance and clarity throughout the picture. The background's bright and peaceful image seamlessly incorporates a clear psychological portrayal of the person's character. The picture, though, has some elements from Raphael's instructor, Perugino, such as the rigidity and severity of the lines.
Agnolo was a wealthy and accomplished cloth dealer. Raphael also painted Renaissance-style portraits with clothing fashioned from the rich fabrics provided by Agnolo. Although his money is not flashy, he lives in simple luxury. Agnolo was obsessed with art and jewelry and considered himself an authority on the subject. The trader's facial characteristics indicate a sense of calm and tranquility. Raphael emphasizes the trader's power with waves of shadows and sunlight.
Laura (1506) by Giorgione
| | |
| --- | --- |
| Artist | Giorgio Barbarelli da Castelfranco (1477 – 1510) |
| Date Completed | 1506 |
| Medium | Oil on canvas |
| Dimensions (cm) | 41 x 33 |
| Current Location | Kunsthistorisches Museum, Vienna, Austria |
The portrait portrays a young woman dressed as a bride. The museum claims it shows Laura di Noves, however, this has not been confirmed. It is unsigned, like Giorgione's other works, but it is one of the less contentious attributions to Giorgione. An inscription on the back confirms Giorgione as the artist and specifies the date, making this the sole piece by the artist with a solid date.
Behind the beautiful woman is a laurel branch, which represents virginity or poets and is holding the nuptial veil. The opening of the fur cloak reveals the bosom. This might suggest fertility (and hence maternity) as an expression of affection and a union blessed with children.
Young Woman or Laura by Giorgione (1506); Giorgione, Public domain, via Wikimedia Commons
Only from the uptight viewpoint of the 19th or early 20th century would the baring of one's bosom be considered taboo. Nakedness in art was no longer frowned upon in the 16th century but was displayed publicly and uninhibitedly.
This artwork was also publicly shown, most likely by a proud noble who wanted to honor his bride's beauty – her full build was fully in line with contemporary Venetian ideas of beauty – as well as her virtues and purity.
Portrait of Eleonora Gonzaga (1538) by Titian
| | |
| --- | --- |
| Artist | Tiziano Vecellio (1488 – 1576) |
| Date Completed | 1538 |
| Medium | Oil on canvas |
| Dimensions (cm) | 114 x 102 |
| Current Location | Uffizi, Florence, Italy |
While the duchess was visiting Venice in the winter of 1538, Tiziano Vecellio is said to have produced this piece. It dates before the picture of her husband, the Duke of Urbino, but only by a few months. They were created as companion pieces.
Since one of the images shows a prototype for the courageous person and the other the ideal illustration of the devoted bride (the dog is actually a signifier of love and marriage), an epitome of womanly virtue, they are deeply complementary even though they were not intended to be compared strictly in terms of composition.
Portrait of Eleonora Gonzaga by Titian (1538); Titian, Public domain, via Wikimedia Commons
Famous polygrapher Pietro Aretino applauded Titian's talents as a portrait painter in two famous poems in November 1537, before the painting was presented to the patrons, characterizing the artist's wonderful capacity to memorialize true character, ethical qualities of the subjects of his works of art, proving that he could even exceed the expressive power of poetry.
Titian proceeded to paint Renaissance famous portrait paintings for the remainder of his life. Pope Paul III and his descendant, Cardinal Alessandro Farnese, started fighting for Titian's employment with Emperor Charles V.
In May 1543, at the behest of the Pope, the artist traveled to Bologna and created the famous official painting of Pope Paul III Without Cap (1543). Despite being a state emblem of the papacy, the depiction of the shrewd politician bent with age shines through.
Portrait of Infanta Isabella Clara Eugenia (1599) by Sofonisba Anguissola
| | |
| --- | --- |
| Artist | Sofonisba Anguissola (1532 – 1625) |
| Date Completed | 1599 |
| Medium | Oil painting |
| Dimensions (cm) | 194 x 110 |
| Current Location | Spanish Embassy in Paris, France |
Pedro Paolo De Ribera mentioned the female artist, Sofonisba Anguissola, doing a portrait of Infanta Isabella during her visit in Genoa her way to Brussels in June 1599 in 1609. Infanta "every day spent long hours conversing with the artist, reliving things that had occurred to her in her young years", he says. Anguissola was a court portrait painter who also painted a picture of Isabella's mother, Elisabeth of Valois.
Isabella is depicted in an opulent court dress, a pearl necklace, a huge pleated ruff, a gold chain, and a girdle adorned with rubies, pearls, and diamonds, with her right hand resting on the chair's back and her left hand clutching a handkerchief.
Portrait of Infanta Isabella Clara Eugenia by Sofonisba Anguissola (1599); Sofonisba Anguissola, Public domain, via Wikimedia Commons
She spent her final years in the Descalzas Reales monastery in the nun's garb, as portrayed in Rubens' later image of her. Isabella only stayed in Genoa for a few days, not long enough to finish the painting, so she asked that it be delivered to her upon completion, which she did. However, it appears that the piece was transferred to Madrid as a present from Isabella to her step-brother rather than straight to Isabella in Brussels or Vienna.
The work is listed in an artwork inventory that was prepared following Philip II's death at the Royal Alcázar of Madrid, but there is no attribution.
Self-Portrait by Judith Leyster (1633) by Judith Leyster
| | |
| --- | --- |
| Artist | Judith Leyster (1609 – 1660) |
| Date Completed | 1633 |
| Medium | Oil painting |
| Dimensions (cm) | 75 x 65 |
| Current Location | National Gallery of Art, London, UK |
Professional women artists were unusual in Holland, as they were across Europe. During the whole 17th century, Leyster was one of just two women approved as masters in Haarlem's painters' guild. This self-portrait was most likely created prior to her admittance to the guild in 1633. As she paints, she turns to face the audience, a confident smile on her face.
She is casually positioned with one arm raised on the back of her chair; mouth parted as if to talk. The brushwork is very loose and energetic.
Self-Portrait by Judith Leyster (1633); Judith Leyster, Public domain, via Wikimedia Commons
She seems to have halted briefly, glancing from her easel to engage a studio visitor – perhaps a patron whose attention she draws to a piece in progress. In reality, Leyster's self-portrait is a form of self-promotion, promoting both her wares and her skill.
The purity of her own image and her clutch of paintbrushes, which she comfortably holds against her palette, show her brush proficiency. The canvas on the easel, which is still unfinished, represents a genre of art for which Leyster was widely known: the so-called merry company.
With that, we come to the end of our list of famous Renaissance portraits. The trading success of Italian city-states and some North European ports significantly contributed to the Renaissance creative boom. From this point forward, affluent kings and citizens throughout Europe became key supporters of the visual arts, particularly portraiture, in addition to Papal commissions for murals, sculptures, and other artworks.
Take a look at our famous Renaissance portraits webstory here!
Frequently Asked Questions
Why Were Italian Renaissance Portraits Popular?
Portraits performed a number of practical and social purposes throughout Renaissance Europe, in addition to capturing appearances. Miniatures were offered as intimate remembrance gifts, while images of monarchs expressed their majesty in locations where they were not present. Portraits had diplomatic importance in courtly situations. A portrait was normally created by a straightforward arrangement between the artist and the patron, but artists occasionally worked on their own impulse, particularly when painting friends and relatives.
What Did Renaissance Portraits Portray?
A feeling of realism, an evident attempt to capture the distinctive look of a certain person, is one of the trademarks of European portraiture. As a result, each portrait is intended to convey an individual's identity. These portraits occasionally exhibit a fondness, informality, or experimentation not seen in previously commissioned pieces.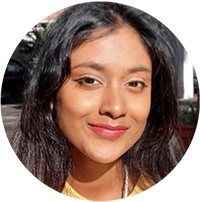 Jordan Anthony is a Cape Town-based film photographer, curator, and arts writer. She holds a Bachelor of Art in Fine Arts from the University of the Witwatersrand, Johannesburg, where she explored themes like healing, identity, dreams, and intuitive creation in her Contemporary art practice. Jordan has collaborated with various local art institutions, including the KZNSA Gallery in Durban, the Turbine Art Fair, and the Wits Art Museum. Her photography focuses on abstract color manipulations, portraiture, candid shots, and urban landscapes. She's intrigued by philosophy, memory, and esotericism, drawing inspiration from Surrealism, Fluxus, and ancient civilizations, as well as childhood influences and found objects. Jordan is working for artfilemagazine since 2022 and writes blog posts about art history and photography.
Learn more about Jordan Anthony and about us.
Cite this Article