What Is Plein-Air Painting? – The World of Open-Air Painting
What is Plein-air painting? You may have heard of a painting technique called en Plein air, which was not a technique always supported in art history but has resulted in some of the most famous paintings. This article will help you understand what Plein-air painting is, how this technique has been used in art history, and some of the different pros and cons of en Plein-air painting.
What Is Plein-Air Painting?
En Plein air painting refers to the French term that translates to "outdoors" and in painting, refers to the act of painting in the outdoor environment. So what is Plein-air painting? Plein-air painting is a theory that was formed by Pierre-Henri de Valenciennes, which was first mentioned in a treatise called Reflections and Advice to a Student on Painting, Particularly on Landscape published in 1800. The treatise contained a concept of landscape portraiture that specified that en Plein air was when an artist paints within the landscape, in situ.
The concept of painting in situ meant that the artist was better able to capture the finer details of a change in the environment.
In the Woods at Giverny, Blanche Hoschedé Monet at Her Easel with Suzanne Hoschedé Reading (1887) by Claude Monet, located in the Los Angeles County Museum of Art in California, United States; Claude Monet, Public domain, via Wikimedia Commons
These changes were primarily focused on light, wind, shade, movement, and the associated color changes. In the early 1830s, the invention of portable easels and canvases enabled the practice of Plein-air painting. The Barbizon school of painting in France was also a major influential institution that encouraged painting in naturally lit environments and many of the works that emerged from this school were varied tonal qualities such as soft forms, varied colors, and loose brushwork.
Many of these features were also crucial to the ideals of the art movement known as Impressionism.
A History of Open-Air Painting
Before the 19th century, artists still created their paint mixtures from raw pigments and various binders. This meant that most paintings were still being produced in a studio and transporting the paint material goods was not an efficient task. The turn of the 19th century saw the invention of oil paint in tubes, which was crucial to propelling open-air painting for many artists.
Artists such as Théodore Bazille and Charles-François Daubigny who attended the Barbizon school of painting employed the practice of open-air painting to portray, as accurately as possible, the changes of light as per the changes in the weather conditions.
The art movement, Impressionism, was founded by a group of painters, including Claude Monet, Alfred Sisley, Pierre-Auguste Renoir, and Frédéric Bazille, who met and studied together under the tutelage of Charles Gleyre in 1860. The group shared a similar interest in studying landscape painting in conjunction with contemporary life and they often traveled to the countryside to engage in open-air painting. The group of enthusiastic artists found that they could paint in direct sunlight and used vivid colors with synthetic pigments to develop luminous tones to depict natural scenes.
Claude Monet Painting by the Edge of a Wood (1885) by John Singer Sargent, located in the Tate Gallery in London, United Kingdom; John Singer Sargent, Public domain, via Wikimedia Commons
These approaches were considered an extension of the teachings at the Barbizon school of painting in connection with Gustave Courbet's influences on Realism. At the time, Plein-air painting was considered a radical aspect of the even more radical art movement Impressionism and after many decades, it was eventually well-received as a normal part of art practice. In other parts of France, artists like Henri Le Sidaner were developing innovative techniques to illustrate nocturne light on canvas using pastels and oil paint.
In Tuscany, a group of Italian artists known as the Macchiaioli of the late 19th century executed most of their paintings outdoors and predated the French Impressionist group who emerged a few years later.
While the Italian group had other intentions, the Plein-air movement is said to have begun in the late 1850s in Florence. Another institution pushing the Plein-air technique was in England at the Newlyn School toward the latter half of the 19th century.
Artists Sketching in the White Mountains (1868) by Winslow Homer, located in the Portland Museum of Art in Maine, United States; Winslow Homer, Public domain, via Wikimedia Commons
Here, there were fewer groups of artists practicing the method, including a small group of artists at Amberley, West Sussex who were inspired by Edward Stott, who specialized in atmospheric rural landscapes that were well-received by many of the late Victorian era. The Plein-air movement then spread to California, America, and then moved across to New York.
The Plein-air technique has sustained its popularity well into the 21st century.
Pros and Cons of Plein-Air Painting
Plein-air painting has many pros and a few cons worth considering, but it is definitely a must-try for any artist. Out of the many pros of Plein-air painting, you can be sure to have fun while being surrounded by your favorite natural landscape. Taking a trip to a park or nature reserve will not only add to your mental wellness but will also help improve your artistic skills. With practice, you can be sure to even match up to the famous Plein-air painters.
Some of the cons of Plein-air painting involve the setup becoming time-consuming.
You may want to invest in a small portable easel and painting kit to ensure your efficiency and organization. When Plein-air painting, your painting is also exposed to the natural elements, so make sure you check your weather app for a detailed forecast to properly plan your Plein-air painting project. Aside from exposure to the outdoor elements and the occasional curious stranger, Plein-air painting allows you to test and exceed the boundaries of painting without prior studio preparation. Plein-air painting also helps you train your eye to set up compositions in the moment and hone your viewfinder skills.
Sometimes, going back to the basics of shape, composition, and color theory is extremely beneficial and gives you a break from the concrete walls of your studio.
It allows for flexibility and a broadening of your imagination. While some may enjoy the added sunlight and fresh air, others may not enjoy the amount of effort it takes to transport your equipment and set up your space in a site that you feel comfortable in. In this regard, Plein-air painting requires quite a bit of planning before venturing outside. This also means that you will have to stay in one location to finish the painting or return to the exact spot the next day.
PROS
Exposure to extra visual stimuli to inform your composition.
Fresh air and extra ventilation as opposed to a studio environment.
Development of view-finding and composition setup skills.
With practice, you will be able to make quicker painting decisions regarding the use of color, composition, and even painting time.
CONS
Increased time and preparation are required to plan and organize your painting space in the outdoor setting.
You may receive unwanted attention from strangers.
You will be exposed to unforeseen weather changes throughout the day or night.
The wind may blow debris onto your painting, which might affect the surface texture and add to your painting's time-to-completion.
You will have to remain at one site for a long period until your painting is complete.
Famous Plein-Air Painters and Paintings
To better inform your question "what is Plein-air painting?", it is best to look at some of the best examples of the technique in a few famous paintings. Many famous artists adopted the open-air painting technique and went on to create some of the most beautiful paintings in art history. Below, we will explore a few of the best Plein-air artists and paintings from the 19th century onwards.
John Constable (1776 – 1837)
John Constable is a famous English Romantic painter and Plein-air artist who is credited with revolutionizing landscape painting through his paintings of and around Dedham Vale, which was the artist's home country. From a young age, Constable created many drawings of his outdoor environment, which later evolved into the main subject of his art.
His artworks were greatly admired in France and were later an inspiration for the Barbizon School.
Painting of artist John Constable by Daniel Gardner (1796); Stephencdickson, CC BY-SA 4.0, via Wikimedia Commons
Wivenhoe Park, Essex (1816)
| | |
| --- | --- |
| Date | 1816 |
| Medium | Oil on canvas |
| Dimensions (cm) | 56.1 x 101.2 |
| Where It Is Housed | National Gallery of Art, Washington, D.C |
Wivenhoe Park, Essex (1816) is one of Constable's most romantic paintings of the outdoors that illustrates a serene summer afternoon. In the painting, one can see cows grazing in the distance while fishermen drag their fishing nets through a pond. The painting also shows a few domestic animals and a kitchen garden, which were classic images of a countryside estate.
The emergence of Plein-air painting coincided with the rise of landscape painting as an art genre and in the early 19th century, the landscape genre was only seen as valid if it were backed up by a historical or mythological narrative.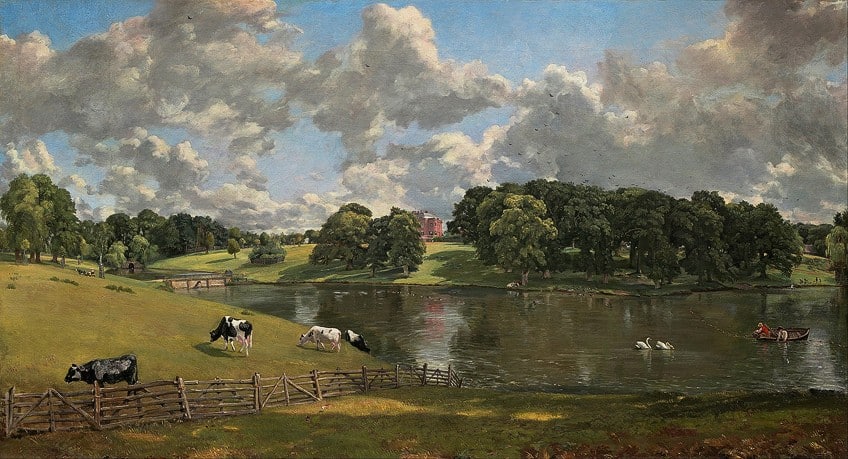 Wivenhoe Park, Essex (1816) by John Constable, located in the National Gallery of Art in Washington D.C., United States; John Constable, Public domain, via Wikimedia Commons
Théodore Rousseau (1812 – 1867)
Another affiliate of the French school of painting, Barbizon, Théodore Rousseau was also a prolific Plein-air painter who expressed his love of outdoor painting in expressive brushwork. Despite the melancholic nature of his paintings, his works appear well finished but according to some, one can gauge that they were probably unfinished due to Rousseau's attention to detail on only certain parts of his paintings that also included vaguely painted areas.
His works can be found at the Louvre in Paris and the Victoria and Albert Museum in London.
Photo of Théodore Rousseau by Nadar (between 1855 and 1859); Nadar, Public domain, via Wikimedia Commons
Forest of Fontainebleau, Cluster of Tall Trees Overlooking the Plain of Clair-Bois at the Edge of Bas-Bréau (1849 – 1852)
| | |
| --- | --- |
| Date | 1849 – 1852 |
| Medium | Oil on canvas |
| Dimensions (cm) | 90.8 x 116.8 |
| Where It Is Housed | Getty Center, Los Angeles |
This magnificent Plein-air painted landscape portrays the splendid oak trees situated in the Fontainebleau Forest. Rousseau paints the trees with dense foliage and gnarly branches that completely conceal the horizon on the left. The edges of the Plain of Clair-Bois can be seen on the right along with cattle that are drinking from the pool.
The trunk of the oak tree in the center is illuminated with sunlight and also draws attention to the contrast between the dark shadows of the forest and the "turbulent sky" above.
Forest of Fontainebleau, Cluster of Tall Trees Overlooking the Plain of Clair-Bois at the Edge of Bas-Bréau (1849 – 1852) by Théodore Rousseau, located in the Getty Center in Los Angeles, United States; Théodore Rousseau, Public domain, via Wikimedia Commons
This painting is also romantic in that it expresses the primal nature of the forest, which according to Christopher Knight (an art critic), was Rousseau's greatest subject. The ancient oaks and the chestnuts serve as symbols of beauty, power, and mystery and also replace the leaders of the state and church.
The artist's use of open-air painting was coupled with his lifelong activism in championing ecological preservation for the Fontainebleau Forest.
His adoption of a low horizon and vertical division on the plain can be attributed to the influences of 17th-century landscape painters like Jacob van Ruisdael.   Rousseau also held much influence over many artists of the Barbizon School and was even considered one of the leading precursors to the Impressionist art movement.
Oscar-Claude Monet (1840 – 1926)
Oscar-Claude Monet is considered one of the pioneering members of the Impressionist movement, which was a movement that was heavily based on the Plein-air painting technique. Monet helped found the Impressionist group and encouraged artists to transition away from the traditional ideals of the art academy, which did not favor landscape painting and often looked down on the style of Impressionism. Monet was raised in a port city called Le Havre and was always fascinated with drawing and the outdoor environment.
The artist was also drawn to capturing natural scenes in the moment, and Plein-air painting provided the perfect opportunity to do this, as seen in one of his Plein-air paintings below.
Portrait of Claude Monet, by the photographer Nadar in 1899; Nadar, Public domain, via Wikimedia Commons
Springtime (1872)
| | |
| --- | --- |
| Date | 1872 |
| Medium | Oil on canvas |
| Dimensions (cm) | 50 x 65.6 |
| Where It Is Housed | Walters Art Museum, Baltimore |
Featured in this famous Plein-air painting is the artist's first wife, Camille Doncieux who is reading a book while seated on the grass among the lilacs. The Plein-air painting method used by Monet aptly captures Camille's beauty and dainty, calm nature among the lush landscape.
Prior to the couple marrying, Camille was known as Monet's mistress and was also a popular model for many other Impressionist painters.
Springtime (1872) by Claude Monet, located in the Walters Art Museum in Baltimore, United States; Claude Monet, Public domain, via Wikimedia Commons
Monet was also famous for his ability to depict light as it changed with the seasons and he often painted the same setting more than once. Towards the latter years of his artistic career, his style and brushstrokes in capturing light took on a more abstract appearance, which helped pave the path forward for Modernist paintings.
John Singer Sargent (1856 – 1925)
John Singer Sargent is considered one of America's pioneering portraiture artists and produced more than 900 oil paintings and 2000 watercolor paintings throughout his lifetime. His artistic career also received its fair share of scandal at the Parisian Salon in the 1880s due to his painting, Portrait of Madame X (1883 – 1884). Many of his works displayed similar traits to that of Impressionism, although he was also criticized for painting superficially.
He frequently made paintings en Plein air and was ignored for his talents up until the end of the 20th century.
Photograph of artist John Singer Sargent in 1903; James Edward Purdy, Public domain, via Wikimedia Commons
An Out-of-Doors Study (1889)
| | |
| --- | --- |
| Date | 1889 |
| Medium | Oil on canvas |
| Dimensions (cm) | 65.9 x 80.6 |
| Where It Is Housed | Metropolitan Museum of Art, New York City |
One of Sargent's most famous Plein-air paintings, An Out-of-Doors Study (1889) portrays the act of painting itself executed by Sargent's friend and artist, Paul Helleu in a relaxed setting with his wife Alice. Captured in Plein air, the painting is a great example of the intimate scenes that occur outside of the studio and reminds us of the other quality of Plein-air painting and painting beyond the studio, that it allowed for intimacy within the natural landscape and offered contemporary insight into the lives of Plein-air painters.
The act of Plein-air painting continues to be an influential approach to artmaking practices of the 21st century.
A few Contemporary artists who have also engaged in Plein-air painting for many years include David Grossmann, Brian Shields, June Yokell, Martin Weinstein, and Valeri Larko. For artists like Valeri Larko, Plein-air painting is considered crucial to the process of making as it allows for the development of connections to the site via careful observation and interaction with people who pass the site.
An Out-of-Doors Study (1889) by John Singer Sargent, located in the Metropolitan Museum of Art in New York City, United States; John Singer Sargent, Public domain, via Wikimedia Commons
According to Contemporary artist, Jivan Lee, one of the reasons behind his engagement in Plein-air painting is attributed to the "direct experience of light and color" despite the other presence of unexpected elements that are beyond his control. The artist also goes on to describe the process as exhilarating and unlike any other process that he experienced before but he also states that despite the experience, it hardly seems worth the effort.
Other artists like Dudley Zopp feel that despite the preference to paint in a studio, he can still capture the living world through Plein-air and the result is often the same. What do you think?
Important Tips for Engaging in Plein-Air Painting
Now that we have covered some of the most influential Plein-air painters and paintings, we can now take a look at some ways in which you can engage in Plein-air painting and embrace the outdoors. While many believe that to truly engage in Plein-air painting, one has to start and finish a painting while still being outdoors, this can be incredibly daunting considering that you would not be the only one in public and would most likely be the subject of a lot of attention. Below, you will find some helpful tips on approaching site-specific Plein-air painting.
Mental Preparation
Engaging in Plein-air painting can be mentally taxing, especially if it is your first time. Painting in public may look easy but when it comes to the act, one also opens themselves up to receiving questions from local inquisitive individuals, which can be distracting.
Not to mention the amount of visual stimulation from being outdoors can also be quite distracting especially if you are accustomed to operating from your studio.
You can still turn this around! By reframing your thinking around the additional visual stimuli and the occasional "looks" from strangers, you can take this as an opportunity to explore different compositions, and who knows, you may even meet a keen stranger who shares the same passion. Painting en Plein air is a brave trait for any artist. If going out alone seems too daunting, why not organize a group of fellow painters to join you at different locations as a way of encouraging group painting?
Select a Location
One of the most important factors when considering Plein-air painting is to select a location that would be the most beneficial for your ability to capture your desired subject or experiment with changes in light. What we may view in photographs on social media and Google Maps can be significantly different from the actual site.
This is crucial since this is the main factor influencing the visual output of your painting.
It is useful to remember that the painting is a constructed image on a flat surface, therefore, it is important to remember to include as many spatial cues on your painting as possible to make it "readable" and allow the colors and shapes to be distinguished from each other with ease.
Create a Compositional Thumbnail
Planning is essential even if on-site and in the event of capturing the moment via Plein-air painting. To set up your composition, it is useful to first outline the prominent shapes in front of you since any scene can easily change its composition over time. Creating a line drawing thumbnail (or more) can assist you in deciding on the composition you want to portray regardless of what transpires in front of you. Alternatively, you can also use a viewfinder to help locate prominent shapes for composition.
Remember that your thumbnail does not have to be super detailed or neat but it should give you a sense of the general placement of shapes.
Underpaint and Color Block-In
To establish your painting's value, structure, and composition, you can begin by underpainting. The idea of underpainting is informed by laying down a foundation for the details to follow before adding any detailed color application.
Underpainting is a step that is often overlooked but helps you from going back later on and working on prominent shapes that you were supposed to include.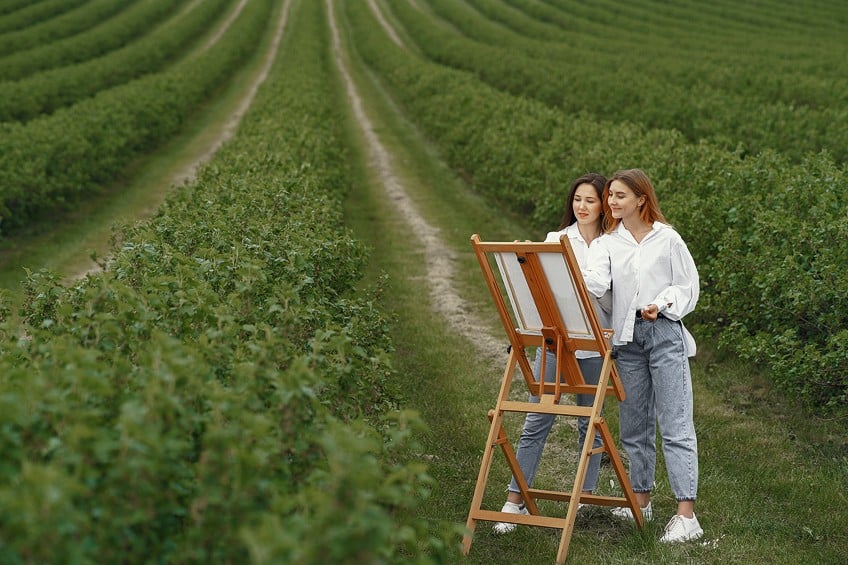 There are two types of underpainting; one is monochromatic underpainting, which sets the foundation of the composition using one pigment. The next type of underpainting is color block-in, which refers to the use of the actual desired color to fill or "block-in" the shapes. This is recommended for advanced painters who have a solid understanding of value and color.
Mixture and Application of Color
This step is a major phase in Plein-air painting and involves mixing your color and applying it directly onto the canvas. This stage of painting consumes the most time since it requires quite a grasp of color theory, paint handling, and mixing. The first thing to remember when color mixing is to take as much time as you need. It is commonly believed that one needs to speed while Plein-air painting but that is not the case unless you are an expert with over 30 years of experience.
The next important task to remember is to try starting out with a limited color palette.
Working with a limited color palette is not necessarily easy but it does help in narrowing down the choices you have to make. Ensure you have a small variety of cool and warm-toned colors from the primary colors and some white. Having a limited color palette also ensures more harmony and relationships between the objects in the composition.
Working Wet-on-Wet with Oil
If you decide to engage in Plein-air painting with oil paint, you will do well to remember a few of these useful tips. While many are drawn to using the impasto technique, it is advised that you refrain from using it unless you are sure that you are not going to go back to retouching that area later.
When using oil, it is important to paint in layers beginning with a thin layer and slowly building on color and thickness later on.
It is also advised that you use a soft brush for added flexibility since a brush with stiff bristles will only scratch away the thin layer underneath and undo all the work you just put in. In conjunction with this, you will also want to keep your touch light when applying brush strokes. Lastly, ensure you use enough paint on your brush when layering (after the thin layer).
While Plein-air painting can be both a fun and arduous task of extra preparation and focus, it is still one of the most useful experiences that an artist can have. Taking the act of painting outside the studio can enhance your understanding and approach to composition construction, color, light, and application of color theory in a challenging environment.
Take a look at our Plein air webstory here!
Frequently Asked Questions
What Is Plein-Air Painting?
Plein-air painting refers to the act of painting outdoors without prior preparation and was initially derived from the act of landscape painting in situ, according to a concept by Pierre-Henri de Valenciennes.
Who Is the Most Famous Plein-Air Painter?
The French Impressionist, Claude Monet, is considered the most famous Plein-air painter in Western art history.
What Are the Benefits of Plein-Air Painting?
The benefits of Plein-air painting include honing your skills in the depiction of light and color as well as composition construction. Plein-air painting also exposes you to a lot of visual stimuli that can help bolster your imagination and provide interesting subjects to work from.
What Are the Downsides to Plein-Air Painting?
The downsides to Plein-air painting can vary from the external weather elements affecting the composition and actual painting surface to the limited number of resources you may carry with you as opposed to using a designated studio space with everything you need. You may also have to contend with inquisitive individuals who might try to strike up a conversation, which may disturb your painting process if you are not a very social artist.