Ana Mendieta – The Life and Art of Ana Mendieta
Ana Mendieta was a funny, loud, and courageous artist. Her career might have been brief, but in a short time, she made a profound impact on the art world. Ana Mendieta's artworks were revolutionary. She explored themes of exile, displacement, and a return to the landscape through a variety of mediums, including photography, film, site-specific installations, drawing, and sculpture. Her work remains deeply relevant today, and below we unpack Ana Mendieta's biography in more depth.
Artist in Context: Who Was Ana Mendieta?
Cuban-American performance artist, photographer, sculptor, painter, and video artist, Ana Mendieta, is best known for her "earth-body" works. Living in America as a Cuban refugee resulted in the artist feeling disconnected, searching for a sense of belonging through her art. For 15 of her short 36 years, Mendieta created art that explored this pain, seeking a sense of belonging by reconnecting with the earth. Below, we discuss Ana Mendieta's biography and her biggest contributions to Contemporary art.
| | |
| --- | --- |
| Date of Birth | 18 November 1948 |
| Date of Death | 8 September 1985 |
| Country of Birth | Havana, Cuba |
| Art Movements | Feminist art, Performance art, Contemporary art, Body art, and Earth art |
| Mediums Used | Performance art, photography, video art, sculpture, and painting |
A Refugee Childhood
Born in Havana, Mendieta grew up in America as a Cuban refugee. At the age of 12, Mendieta and her sister were sent to America as part of a government refugee program, called the Peter Pan operation, which assisted in the relocation of Cuban children that were affected by the Fidel Castro dictatorship. From 1960 to 1962, the Peter Pan operation transported more than 14,000 children to America. In order to avoid being perceived as an anti-Castro political project, the organization operated in the shadows.
Mendieta and her sisters initially lived for a short period in Florida. After that, they were sent to Iowa, where they lived in foster care and attended reform schools.
Due to their inability to understand English, the sisters were mostly isolated. They found refuge in their shared love of art. Art became a source of comfort in their strange and alienating environment as they dealt with the trauma of being removed from their family. The sisters were reconciled with their younger brother and mother in 1996 in Iowa. Her father, however, spent nearly 20 years in a political Cuban prison and could only join his family in 1979.
Early Education
Upon graduating high school, Mendieta enrolled at the University of Iowa to study art and French. Mendieta's early works were mostly paintings. This changed after she attended an Intermedia Art program, presented by Hans Breder. She explained that this turning point for her happened for her in 1972 when her professor exposed her to performance art. Her work also took a turn to Feminist art during this time as she experimented with her own body and blood as art mediums. Mendieta started to explore concepts concerning religious rituals, gender politics, domestic violence, and cultural marginalization.
During this time, Mendieta started a relationship with Breder, who was 13 years older than her, and also her teacher. Mendieta and Breder's relationship would last for an entire decade. Mendieta was greatly influenced by Breder. He exposed her to the exciting possibilities of cross-disciplinary art and connected her to contemporary artists like Vito Acconci and Hans Haacke, who would greatly inspire Ana Mendieta's artworks. Mendieta also inspired Breder, who used her as a muse and collaborator in his own works. Breder also documented many of Mendieta's early performance works. Another important shift happened in Mendieta's career in 1971 when she traveled to Mexico for research. Having suffered from cultural displacement, she later described the trip as "going back to the source".
This trip sparked the artist's interest in reconnecting with the landscape, which would lead to her famous "earth-body" works. Mendieta called these works "a dialogue between the landscape and the female body".
Mature Career
Some of Mendieta's most powerful works were made in response to the 1973 rape and murder of Sarah Ann Ottens on the campus of the University of Iowa. To create these works, Mendieta used her own body as a medium to confront the university community about the violent event that happened within their proximity. In the controversial work, Untitled (Rape Scene) (1973), Mendieta covered her body in the blood of a cow. She invited unknowing students and faculty members to her apartment, where they would find her tied face-down to a table, covered in blood.
In 1974, Mendieta created one of her most famous video works, titled Body Tracks.
By this point, Ana Mendieta's art increasingly featured her own body as an artistic medium. She used her body in performances as a reference to the many other bodies of marginalized people whose voices were not heard. These were people, mostly women, that were discriminated against based on their race and gender. Mendieta soon returned to Mexico, where she would begin to make her most prolific series of works, titled Siluetas (1973-1978).
The Siluetas series would eventually grow to consist of over 200 photographs. These works saw her search for connection manifest in her relationship with nature. Many of the works feature the artist lying on the ground, merged with the earth. She would either be almost completely covered with elements of the earth, such as flowers or twigs, or she would no longer be there, only the imprint of her body left. In all of these, it is as if Mendieta herself is somehow absent in the work, only traces of her are left. This absence speaks to the feelings of dislocation that so many people struggle with. She once claimed that to feel connected to a place, she "had to go to the source of life, to mother earth". The first time Mendieta returned to Cuba was in 1980. Working as a tour guide for the Cuban Cultural Circle, she visited her country of birth frequently after this first visit.
Mendieta also continued her studies during this time, receiving her Master's degree in art in 1977 from the University of Iowa. After graduating with her MA, she relocated to New York City. Here, she became friends with many female artists who are now considered as pioneers of the Feminist art movement. One of these friends was Mary Beth Edelson, who helped Mendieta to get into the gallery Artist in Residency Inc. It is at this gallery where Mendieta would meet her future husband, Carl Andre.
Mendieta resigned from the gallery after an argument arose about an artwork in which she and Andre collaborated.
A year after leaving the gallery, Mendieta attended an artist residency in Rome. While in residency, Ana Mendieta's art began to include more sculptural work and drawings. These new works still incorporated natural elements and she was awarded the Rome Prize in 1983 for these works. During this time, Mendieta and Andre's relationship showed troubling signs of decline, but despite this, they would soon tie the knot. The couple got married in an intimate ceremony in Rome in 1985.
A Tragic Death
Ana Mendieta's death was a horrific tragedy. A few months after her wedding, Mendieta fell from the window of her apartment in New York City, which she shared with her husband, Carl Andre. She was only 37 years old. She landed on the roof of a deli and had fallen 33 floors. The impact of her body on the roof was a sight that was frightfully reminiscent of her Siluetta images. In a trial on her death, neighbors testified that they heard Mendieta scream "no!" and that they saw scratch marks on Andre's face after the incident.
A second-degree murder charge was filed against Andre but he argued that her death was suicide. He claimed that Mendieta was depressed because Andre became more famous than her. Andre was found not guilty. This verdict outraged Mendieta's family and feminist friends who spent time with the artist prior to her death. They claimed that Mendieta was incapable of suicide. To make matters worse, Mendieta's artworks were used as evidence in the trial to show that she was troubled. Mendieta's artist friends were horrified by this and explained that "her work was about life and power and energy and not about death".
Five Important Ana Mendieta Artworks
For a long time, the disputes around Ana Mendieta's tragic death overshadowed the importance of her work. Recently, however, with a renewed focus on displaced and marginalized communities, Ana Mendieta's art has stepped into the spotlight once more. Below we discuss some of her most prolific works.
Untitled (Rape Scene) (1973)
| | |
| --- | --- |
| Artwork Title | Untitled (Rape Scene) |
| Date | 1973 |
| Medium | Photograph, color on paper |
| Size (cm) | 25.4 x 20.3 |
| Collection | The Tate Collection, courtesy of the Latin American Acquisitions Committee 2010, United Kingdom |
In this controversial image, Mendieta is standing, bent over a table. She is stripped from the waist down and she is covered with the blood of a cow. The image has dramatic lighting, which highlights her legs. This dramatic lighting results in the rest of her body, especially her face and arms, being veiled in darkness. On the right of the image, staged on the floor, the viewer can see clothes full of blood and broken crockery, also disappearing into the darkness.
Mendieta staged this photograph, Untitled (Rape Scene) (1973), in response to the violent murder of a fellow University of Iowa student, Sara Ann Otten. Otten was a nursing student at the university before she was raped and murdered by another student in March 1973. At the time, Mendieta was doing an Intermedia art course, which was run by Hans Breder, a German artist. In making this work, Mendieta invited other students and staff associated with the course to visit her apartment. When they arrived, they would find the door left ajar, and inside the apartment, Mendieta was found in this face-down, blood-soaked position.
Mendieta staged this position purposefully to resemble the description of the murdered Sara Ann Otten as it was written in the press.
Imagen de Yagul (Image from Yagul) (1973)
| | |
| --- | --- |
| Artwork Title | Imagen de Yagul (Image from Yagul) |
| Date | 1973 |
| Medium | Photograph, chromogenic print |
| Size (cm) | 50.8 × 33.97 |
| Collection | San Francisco Museum of Modern Art, California, United States |
This famous image is one of Mendieta's first photographs that would become part of her Siluetas (Silhouettes) series. Mendieta first traveled to Mexico in 1973. She specifically visited pre-Columbian sites, where she could research native Caribbean and Central American religions. Whilst learning about these religions, Mendieta's work started to increasingly feature the natural landscape. Many of her early Siluetas images are inspired by natural elements, native concepts of spiritual renewal, and the female archetype. By fusing her interests in the Santería religion and Afro-Cuban rituals with contemporary art practices, such as performance art, body art, and earth art, Mendieta was reconnecting to her Cuban heritage through her work.
In her Siluetas series (1973-1978), Mendieta used the abstracted female figure as a metaphor to relate to all women, universally. She called this the "omnipresent female force". Many of these abstracted female figures are made with her own body. Creating outlines of her own body in the earth, Mendieta left bodily traces using a number of different materials, such as flowers or branches, and sometimes even gunpowder or fire. In Imagen de Yagul (1973), Mendieta lies with her nude body in a Zapotec town. Her identity is, however, ambiguous as she is covered in white flowers. As her body is fused with the landscape, Mendieta returns to the universal "Mother Earth", finding a home in nature as she grapples with issues including exile, identity, belonging, and rootedness.
Untitled (Blood and Feathers #2) (1974)
| | |
| --- | --- |
| Artwork Title | Untitled (Blood and Feathers #2) |
| Date | 1974 |
| Medium | Super-8mm film, shown as color video projection |
| Duration | 3min and 30sec |
| Collection | The Tate Collection, acquired through the Estate of Ana Mendieta Collection and an anonymous donor in 2009, United Kingdom |
Untitled (Blood and Feathers #2) (1974) is another of Mendieta's works that features her own body and blood as a medium. The work is a performance piece, recorded as a short three-and-a -half-minute video. The video is a documentation of Mendieta's performance, captured with a super 8-mm film at Old Man's Creek in Iowa. The video shows Mendieta as she stands naked on the sandy bank of a river. She gazes directly into the camera. Then, she raises a flask filled with blood, and begins to pour it over her body. After she drops the flask to the ground, which is now empty, she drops down, face-first, into a heap of feathers. The white feathers stick to her bloody body. Then, she slowly shifts, assuming the position that with bent elbows, represents a kind of bird. After standing like this for a few seconds, the film ends.
Many of Mendieta's earlier performances and video works featured blood and themes of sacrifice and ritual, such as native Cuban rituals of blood-letting. For example, in Untitled (Death of a Chicken)(1972), Mendieta holds a decapitated chicken, its blood spluttering on her and on the white wall against which she stands. In another performance piece, Feathers on Woman (September–October 1972), Mendieta covered the body of another woman, a fellow student, with white feathers. In Bird Run (1974) and Ocean Bird Washup (1974), she covered her own body in feathers. In Bird Run, she runs on a Mexican beach, covered in feathers and seemingly attempting to take flight. In Ocean Bird Washup, she lies motionless waves in her feather-covered body until she washes onto the sand.
In all of these feathered and bloody performances, Mendieta resists a single interpretation. On one level, the representation of the chicken can be interpreted as the sacrificial victim.
Mendieta often speaks about Santería rituals in her work. Santería is a hybrid religion from Cuba that was brought to the island by African Yoruba slaves. The religion is the merger of Yoruba culture and Spanish Roman Catholicism. In this religion, the blood-letting of animal sacrifices, especially male birds, allows for new life to form. Another meaning emerges when considering that Mendieta was raised in the Catholic religion, where blood plays a central ritualistic role through the metaphor of wine. Mendieta's bird is, however, undeniably female. With this, Mendieta seems to comment on the naked female body and how it is often treated in the same vein as a sacrificial bird. The female body, she seems to say, is seen as something that can be killed for ritual, sacrifice, or consumption.
Untitled: Guanoroca (First Woman) (1981)
| | |
| --- | --- |
| Artwork Title | Untitled: Guanoroca (First Woman) |
| Date | 1981 |
| Medium | Photograph, gelatin silver print |
| Size (cm) | 135.9 x 100.3 |
| Collection | Elizabeth A. Sackler Center for Feminist Art, Brooklyn Museum, New York, United States |
As the Siluetas series developed, Mendieta made more frequent references to ancient goddesses. She would create these images in the landscape, shaped in sand or clay, or even carved into rock or limestone. Mendieta's later works, which would become known as her Esculturas Rupestres or Rupestrian Sculptures, consist almost exclusively of traces in the landscape that reference abstract goddess-like shapes. Untitled: Guanoroca (First Woman (1981) is one of the photographs that form part of this group of works.
Mendieta created this body of images when she returned to Cuba. In Cuba, her original native country from which she fled as a child, Mendieta started to work with limestone grottos just outside of Havana. On the naturally formed limestone, she would carve and paint shapes of goddesses from the Ciboney and Taíno cultures. Initially, people could find these goddess shapes in the landscape, but with time, many of these shapes were eroded away and can only be fully seen in Mendieta's photographs and films.
Tallus Mater (Madre Tallo/Stem Mother) (1982)
| | |
| --- | --- |
| Artwork Title | Tallus Mater (Madre Tallo/Stem Mother) |
| Date | 1982 |
| Medium | Sculpture, ficus tree roots |
| Size (cm) | 153.67 x 61.6 x 10.16 |
| Collection | San Francisco Museum of Modern Art, California, United States |
Tallus Mater (Madre Tallo/Stem Mother) (1982) is one of Mendieta's later sculptural works that she originally made for an outdoor exhibition. To make the work, she tore Ficus roots from a tree that was at the exhibition site, and bent them into a shape that resembles a kind of hovering figure. The shape resembles a kind of spirit or angel. We see this kind of shape repeated in many other works she made during her career as well.
When considering the titles of all of these works, along with Mendieta's own words, it becomes clear that the shape is not necessarily an angel, but rather a kind of abstract goddess. Many of Mendieta's works loosely reference goddess forms from ancient cultures. Through her titles, Mendieta also allows the viewer to read a Feminist narrative into the work.
When considering the material further, we can read other possible associated meanings into the works. Ficus tree roots are known to be invasive. They are incredibly tenacious and often strangle other trees as they vigorously seek new avenues of growth and are in desperation for survival. One can read this as a reference to Mendieta who relates to the alien nature of the plant, as she too had been displaced and forced to survive under new circumstances and in a different environment.
The work seems strong and fragile at the same time. The networks of entangled roots make it seem stable, but it is also easy to imagine the entire work, which is held together by glue, falling apart in front of your eyes. Mendieta never intended for the work to last forever, she was much more interested in the act of making something with her hands. More specifically, she was interested in making something that is directly connected with the earth. The work thus almost becomes a conversation between Mendieta's body and the earth.
This conversation is about rootedness, being pulled from the earth, transformed, hovering, ghostly, in some other space.
Book Recommendations
Ana Mendieta is one of those artists that transformed the art world as we know it. Her work is engaging, timeous, and important. Because of this, many incredible art writers have been moved to author books on her interesting life and remarkable work. Below, we recommend three books on Mendieta's life and art that are absolutely worth the read.
Ana Mendieta in Havana (1981); GM, CC BY-SA 4.0, via Wikimedia Commons
Where Is Ana Mendieta?: Identity, Performativity, and Exile (1999) by Jane Blocker
This important publication is the first major critical exploration of Mendieta's works. The book's title not only refers to the horrific conditions of Ana Mendieta's death but also to the sheer number of female artists that are left out of high-profile art institutions. The author considers Mendieta's work in relation to the theories of philosophers and academics like Edward Said and Homi K. Bhabha.
The book offers an in-depth discussion of Mendieta's use of anthropology and mythology in debates about gender and ethnic identities.
Explore the power of Mendieta's earth and body works
Analyse Mendieta's use of mythology and anthropology
Understand her ethnic, gender, and national identities in art
View on Amazon
This book is published alongside a 2015 exhibition at the University of Minnesota that showcased a collection of Mendieta's films that have been preserved and digitized in high-definition. Focussing solely on Mendieta's films, captured with her Super 8 video camera, the publication provides rich insights into Mendieta's video works. The book is richly illustrated and presents 21 of Mendieta's films in a series of stills.
Take a look at the many films by Ana Mendieta as part of her oeuvre
Explore sequential color stills from each of the twenty-one films
Understand the history and process behind each of these films
View on Amazon
Radical Virtuosity: Ana Mendieta and the Black Atlantic (The MIT Press) (2019) by Genevieve Hyacinthe
This book, written by art historian Genevieve Hyacinthe, situates Ana Mendieta's art within the black Atlantic paradigm. Hyacinthe reframes Mendieta's work in a way that offers new insight into the artist's work. The book is both an in-depth Ana Mendieta biography, and a discussion of the social and political conditions that Mendieta had to navigate throughout her life.
Explore the life and struggles of the famous feminist artist
A new view of Ana Mendieta within the wider social setting
Detailed analysis and history of her most famous works
View on Amazon
Ana Mendieta is one of those special artists who left traces wherever they went. In her case, we mean this both literally and physically. By exploring how we are all connected to each other and the earth, Mendieta's work can provide comfort and meaning to those who, like her, are displaced, abused, and searching for a sense of belonging. In her own words, she explains: "My art is the way I re-establish the bonds that unite me to the universe. It is a return to the maternal source."
Frequently Asked Questions
When Was Ana Mendieta Born?
Have you ever wondered when Ana Mendieta was born? Mendieta was born on the 18th of November, 1948. Although she was born in Havana, Cuba, she would spend most of her life in America as a refugee. She died at the age of 36 in New York City on the 8th of September, 1985.
Why Was Ana Mendieta Important?
Ana Mendieta was one of the pioneers of both Earth art and Body art. Body art is an art movement that developed out of Performance art. Using her own body as a medium, Mendieta represented both the body's presence and absence, mostly in relation to the earth. She used the earth and her own body as mediums to address issues about dislocation, exile, identity, gender, violence, and belonging.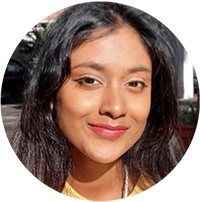 Jordan Anthony is a Cape Town-based film photographer, curator, and arts writer. She holds a Bachelor of Art in Fine Arts from the University of the Witwatersrand, Johannesburg, where she explored themes like healing, identity, dreams, and intuitive creation in her Contemporary art practice. Jordan has collaborated with various local art institutions, including the KZNSA Gallery in Durban, the Turbine Art Fair, and the Wits Art Museum. Her photography focuses on abstract color manipulations, portraiture, candid shots, and urban landscapes. She's intrigued by philosophy, memory, and esotericism, drawing inspiration from Surrealism, Fluxus, and ancient civilizations, as well as childhood influences and found objects. Jordan is working for artfilemagazine since 2022 and writes blog posts about art history and photography.
Learn more about Jordan Anthony and about us.
Cite this Article