Famous Black Painters and Artworks – African American Art Stars
Art history is full of stories about the creative achievements of mainly White men, yet many famous Black painters and artworks are worth examining. Black American artists have helped shape American culture through the centuries, expressing elements of their ancestral heritage and personal journeys. From Black history artists, who portray critical moments from the past, to black pop artists, who depict life in the modern world, Black painters are renowned for creating a diverse range of subjects and styles. In this article, we will look at the significant Black painters that helped shape the art world, and the famous Black artworks that brought them renown.
The Most Famous Black Painters and Artworks
In the past, there was an unfortunate tendency for people to disregard art by Black artists. This has thankfully begun to change in the modern era as museums, galleries, and other various institutions now feature exhibits that highlight famous Black artists due to increased demand from the public at large.
Some Black American artists such as Kehinde Wiley are lauded for their black history paintings such as his portrait of Barack Obama, while other Black Pop artists such as Jean-Michel Basquiat are known for their contemporary and unique works.
Here is a list of famous Black artists that have all had a huge impact on art and culture in America and beyond.
Joshua Johnson (1763 – 1824)
Full Name
Joshua Johnson
Nationality
American
Date of Birth
c. 1763
Date of Death
c. 1824
Place of Birth
Baltimore, United States
Notable Artworks

Family Group (1800)
Grace Allision McCurdy and Her Daughters (1804)
Edward and Sarah Rutter (1805)
The Westwood Children (1807)
Joshua Johnson grew up in Baltimore and is renowned for his portraits of Maryland's aristocracy. Yet, it wasn't until around 100 years after his death that historians began to attribute works to him – a total of 13 portraits. They tried to piece together what was known about him, but everything from his dates of birth and death, as well as his race remained a mystery until the mid-1990s. New information about his life came to light when recently discovered manuscripts were released by the Maryland Historical Society.
Portrait of a Man (Abner Coker) by Joshua Johnson (between c. 1805 and c. 1810); Joshua Johnson, Public domain, via Wikimedia Commons
These manuscripts were dated from 1782 and stated that he was the child of a White man and a Black woman known to be the slave of a man named William Wheeler. At the age of 19, he was bought from Wheeler by George Johnson for half the price that an enslaved person would normally cost. The documents stated that George would make Joshua a free man on condition that he first apprenticed as a blacksmith.
In 1782 he was declared a free man and started to work as a painter of portraits. Johnson was renowned for his distinct naive style of portraiture and is today regarded as possibly the first famous Black artist to become a painter by trade.
Robert S. Duncanson (1821 – 1872)
Full Name
Robert Seldon Duncanson
Nationality
American
Date of Birth
c. 1821
Date of Death
21 December 1872
Place of Birth
Fayette, New York, United States
Notable Artworks

Summer (1849)
Landscape with Shepherd (1852)
Pompeii (1855)
Valley Pasture (1857)
From 1850 to 1860, Robert S. Duncanson was possibly the most successful African American artist in the United States. Born in 1821 to a Canadian-Scottish father and an African American mother, he attended Canadian schools as a young child. It is unknown where or when Duncanson had his early artistic instruction, but he was exhibiting his artworks in Cincinnati by 1842.
Duncanson's artworks are categorized into five subgroups: regional landscapes, literary landscapes, portraiture, still lifes, and murals. His landscapes from the middle and late periods are regarded by many as his best works.
Duncanson's Scottish paintings were a huge hit during the summer of 1871. His career appeared to be thriving, with his works commanding up to $500 each, a very high price at the time. Unfortunately, he developed mental issues just as his career was taking off. His mental breakdown happened during the summer of 1872, as he was preparing for an exhibit of his paintings in Detroit. He was hospitalized at the Michigan State Retreat for around three months before passing away on the 21st of December 1872.
Uncle Tom and Little Eva by Robert Seldon Duncanson (1853); Robert Seldon Duncanson, Public domain, via Wikimedia Commons
Henry O. Tanner (1859 – 1937)
Full Name
Henry Ossawa Tanner
Nationality
American
Date of Birth
21 June 1859
Date of Death
25 May 1937
Place of Birth
Pittsburgh, Pennsylvania, United States
Notable Artworks

The Bagpipe Lesson (1893)
The Banjo Lesson (1893)
The Thankful Poor (1894)
Landscape with Irises (1914)
In the late 1800s, despite America's still mostly unenlightened attitude toward racial equality, Henry Ossawa Tanner would defy all cultural expectations and courageously emigrate to Europe, becoming the first African American man to gain international fame as an artist. By rejecting the conventions of the time, he was able to not only forge his own path through life but also revolutionize religious genre painting, for which he is primarily known.
Tanner is still regarded as the 19th century's most distinguished African American painter. He was passionate about not letting his race define him, which his life in Paris enabled him to do.
Two of his most iconic works depict emotional interactions between a Black senior figure and a Black youthful figure. Nonetheless, others have critiqued what they view as his deliberate detachment from his own Black culture.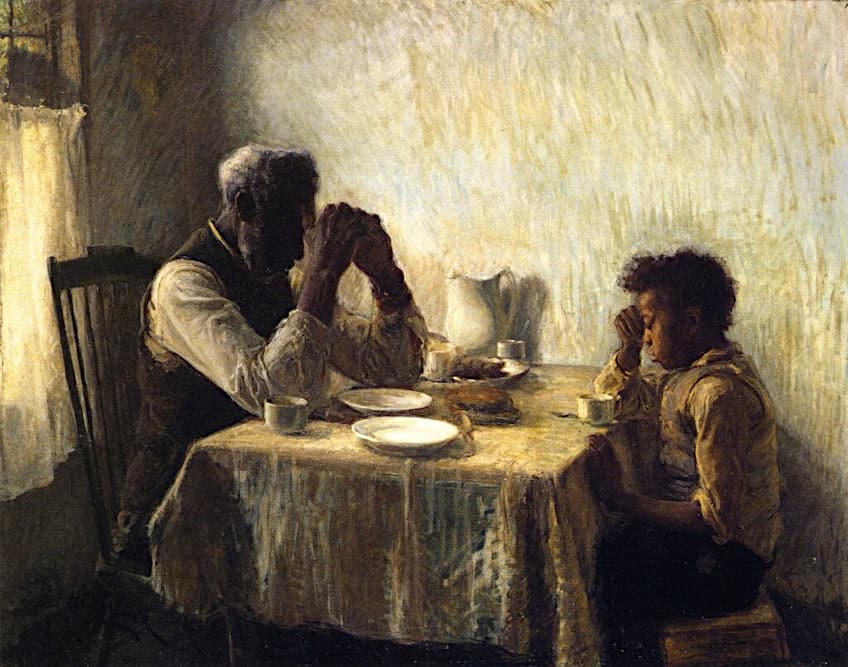 The Thankful Poor by Henri Ossawa Tanner (1894); Henry Ossawa Tanner, Public domain, via Wikimedia Commons
Tanner's fascination for different cultures, as well as his desire to always improve his artistic skills while keeping an open mind, lead him to continuously diversify his techniques and subject matter. Throughout his career, he explored Symbolism, Realism, Impressionism, and Orientalism, although always with his own distinct style.
Edwin Harleston (1882 – 1931)
Full Name
Edwin Augustus Harleston
Nationality
American
Date of Birth
14 March 1882
Date of Death
10 May 1931
Place of Birth
Charleston, South Carolina, United States
Notable Artworks

The Nurse (1917)
Reverend Caesar Ledbetter (1920)
Magnolia Gardens, Charleston, South Carolina (1929)
Edwin Augustus Harleston was an American painter who specialized in realistic portraiture inspired by classical artwork. His realistic aesthetic was inspired by both his Boston education and the photography of his wife, Elise Forrest Harleston.
After studying at various institutions such as the Boston Museum of Fine Arts, he returned to South Carolina to help his father run a funeral home in 1913.
While working for his father, Harleston failed to sustain a continuous creative career, but he resumed painting in his 30s after meeting Elise Forrest. When he resumed painting, he was happy to see that his academic abilities were intact, and he depicted his family members. He also produced genre scenes of Charleston's African American people's daily lives, particularly its burgeoning middle class, as well as views of South Carolina's Lowcountry.
Miss Bailey with the African Shawl by Edwin Augustus Harleston (c. 1930); by Edwin Augustus Harleston, Public domain, via Wikimedia Commons
Out of sync with the growing modernity of the 1920s, he viewed himself as carrying on Henry Ossawa Tanner's legacy of representing Black individuals and their lives truthfully rather than as stereotypes. Despite his moderate success, he was mostly excluded from the predominantly white creative circles of the Charleston Renaissance, which his artwork is now identified with.
Horace Pippin (1888 – 1946)
Full Name
Horace Pippin
Nationality
American
Date of Birth
22 February 1888
Date of Death
6 July 1946
Place of Birth
West Chester, Pennsylvania, United States
Notable Artworks

Christ Crowned with Thorns (1938)
The Trial of John Brown (1942)
Mr. Prejudice (1943)
Domino Players (1943)
Man on a Bench (1946)
Horace Pippin was born in 1888 and it was only 10 years later that he won a box of crayons in an art competition. He moved to New Jersey after completing grade 8 and got various jobs there from iron molder to hotel porter. In 1917, the artist enlisted in the all-Black unit of the New York National Guard and was sent to France on active duty. While there his arm was permanently disabled after he was shot and seriously wounded in the shoulder by a sniper.
It was during this period of recovery that he started painting – mainly as part of the rehabilitation of his arm. He was given an honorable discharge and received a disability pension as he was not able to perform any sort of manual labor.
At first, he painted cigar boxes and then later experimented with pyrography. He started to paint on stretch fabric in the 1930s, often depicting scenes of war as well as biblical and political themes, and landscapes. He became the very first Black American painter to be captured in a monograph in 1947.
School Studies by Horace Pippin (1944); Horace Pippin, Public domain, via Wikimedia Commons
Nowadays, his famous Black artworks can be found in many public and private collections, such as the Phillips Collection, the Barnes Foundation, and the Metropolitan Museum of Art in New York.
Alma Thomas (1891 – 1978)
Full Name
Alma Thomas
Nationality
American
Date of Birth
22 September 1891
Date of Death
24 February 1978
Place of Birth
Columbus, Georgia, United States
Notable Artworks

Red Abstraction (1960)
The Eclipse (1970)
Starry Nights and the Astronauts (1972)
White Roses Sing and Sing (1976)
Alma Thomas was an art teacher for over 30 years in Washington D.C., before eventually taking her own art seriously once she had retired. Her works started off in a rather traditional figurative manner before she developed and explored an exciting abstract style of form and color, which were significantly inspired by the patterns found in nature. These natural patterns are evident in her works such as Grassy Melodic Chant (1976), in which turquoise geometric blocks are arranged in a vibrant mosaic pattern that suggests the blossoming of flowers.
Aged 81, in 1972, Thomas would become the very first Black female artist to have a solo exhibition featured at the Whitney Museum of American Art.
She was also the very first female African American to have an artwork selected to be a part of the White House art collection. The artwork, Resurrection (1966), was selected by the Obamas. Thomas' artworks are now known to sell for millions, with one selling at a Christie's auction for $2.6 million in 2019.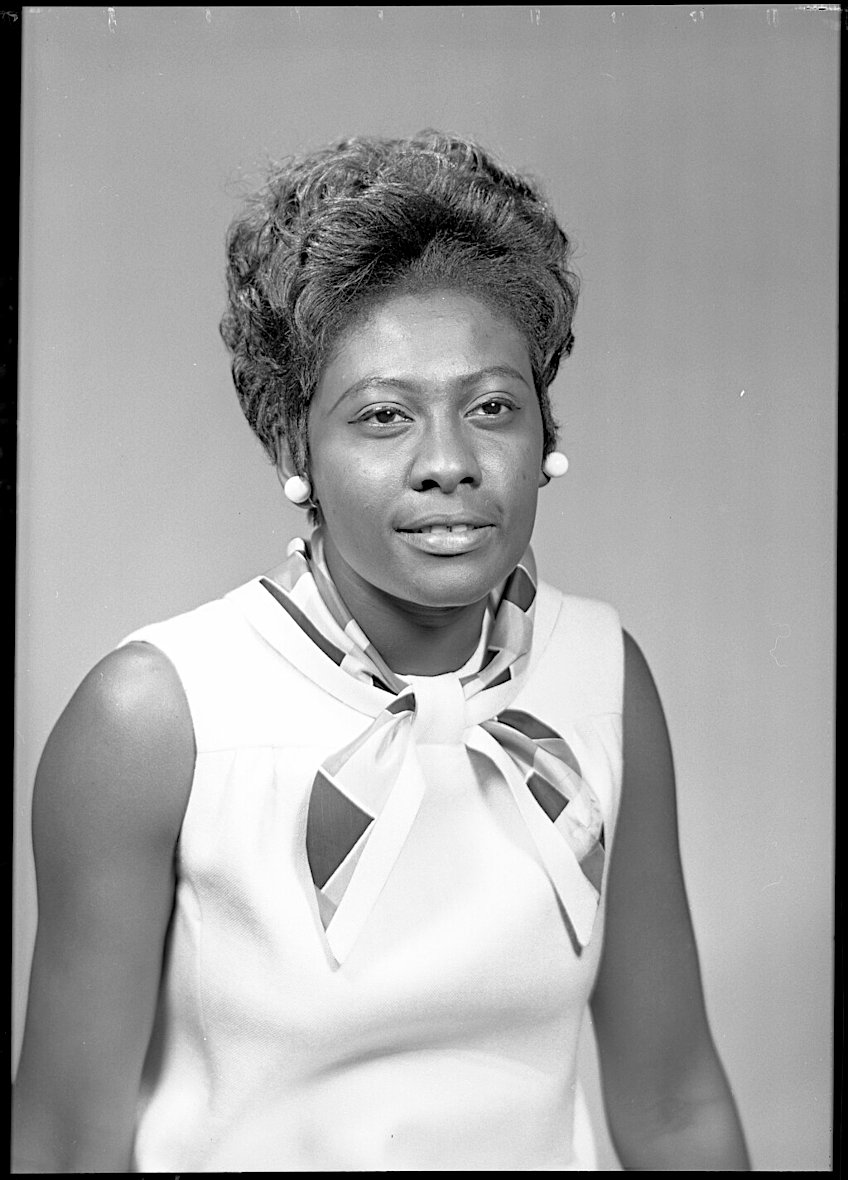 Photograph of Alma Thomas taken in 1969; United States Government, Public domain, via Wikimedia Commons
Aaron Douglas (1899 – 1979)
Full Name
Aaron Douglas
Nationality
American
Date of Birth
26 May 1899
Date of Death
2 February 1979
Place of Birth
Topeka, Kansas, United States
Notable Artworks

Sahdji (Tribal Women) (1925)
The Judgment Day (1927)
Harriet Tubman (1931)
The Negro in an African Setting (1934)
An Idyll of the Deep South (1934)
Originally from Topeka, Kansas, Douglas worked in steel foundries and glass factories to earn enough money to attend college. He taught art in Kansas City after graduating with a degree in fine arts in 1922, and then subsequently moved to New York to join the Harlem art scene. Once he had arrived in New York, he started studying painting under Fritz Winold Reiss, the German artist.
Douglas started to develop his own visual lexicon by fusing European modernism with what he had begun to learn about African art during his search for cultural identity.
This African art influence can be seen in the abstracted silhouette fissures that feature in his works. This style was employed in many of his works, ranging from murals to prints, illustrations, and paintings. These murals and illustrations focused on various social issues that faced African Americans such as segregation and race.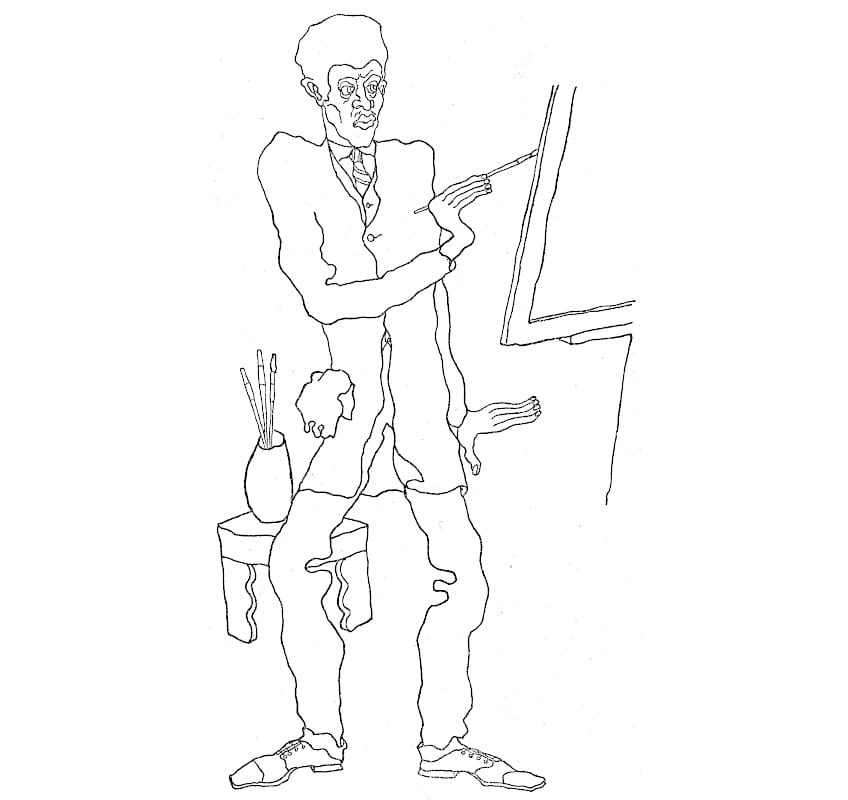 Drawing from Fire! by Aaron Douglas (1926); Aaron Douglas, Public domain, via Wikimedia Commons
Douglas traveled to places such as Paris in New York before accepting a position at Fisk University's art department in 1944 where he stayed until retiring from art instruction in 1966.
Beauford Delaney (1901 – 1979)
Full Name
Beauford Delaney
Nationality
American
Date of Birth
30 December 1901
Date of Death
26 March 1979
Place of Birth
Knoxville, Tennessee, United States
Notable Artworks

Scattered Light (1964)
Charlie Parker (1968)
Portrait of a Young Musician (1970)
Self Portrait in a Paris Bath House (1971)
Delaney, like many other artists of his era, was drawn to New York's cosmopolitan environment, where experienced some initial success. However, Delaney's early success in New York and kind nature did not save him from the anonymity and poverty that followed him to Paris in 1953.
Delaney's style was motivated by three major influences: the coloring of the Fauves, Vincent Van Gogh's techniques, and abstract expressionism's design ideas.
From his earliest pastel portraits in New York and Boston to the eventual emergence of his nonrepresentational style, Delaney's paintings were never just copies of preceding movements.
Photograph of Beauford Delaney taken in 1953; Carl Van Vechten, Public domain, via Wikimedia Commons
Delaney's works have a distinctive spontaneity that defines him as one of the most important abstract expressionists of his time. His thickly applied paint and use of vibrant colors are also reminiscent of the practices of the Fauves from France, who produced at the turn of the century. His street people, ambiguous and raceless, hit an ironically painful tone for a modern audience while simultaneously evoking the history of can fires among many of the city's destitute and homeless.
Charles Henry Alston (1907 – 1977)
Full Name
Charles Henry Alston
Nationality
American
Date of Birth
28 November 1907
Date of Death
27 April 1977
Place of Birth
Charlotte, North Carolina, United States
Notable Artworks

Jazz Club (1935)
The Family (1955)
Walking (1958)
Seated Woman (1963)
Charles Henry Alston was a painter and sculptor born in Charlotte, North Carolina. He relocated to New York City as a boy, where he studied at high school and college and received his MFA from Columbia University. During the Harlem Renaissance, he experimented with African elements while also portraying the life of regular Black Americans.
Alston was one of just a few Black supervisors for the Works Progress Administration during the Great Depression, and he mentored many younger painters, most notably Jacob Lawrence, at the Harlem Community Art Center.
Charles Henry Alston was also a founding member of Spiral, a group of New York African American painters who gathered regularly during the 1960s to examine the connection of their works to racial justice issues. Alston was also among the first Black painters to exhibit their works in the Museum of Modern Art. Alston would also be the first Black artist to have one of their works displayed at the White House when his bust of Martin Luther King Jr. was placed there in 1990.
The Family by Charles Henry Alston (1955); Sharon Mollerus, CC BY 2.0, via Wikimedia Commons
Romare Bearden (1911 – 1988)
Full Name
Romare Bearden
Nationality
American
Date of Birth
2 September 1911
Date of Death
12 March 1988
Place of Birth
Charlotte, North Carolina, United States
Notable Artworks

Patchwork Quilt (1970)
Carolina Morning (1974)
Home of Ithaca (1977)
Out Chorus (1980)
Pepper Jelly Lady (1980)
Roamare Bearden was not only considered to be one of the most famous Black artists, but he was also a prolific author and songwriter. Bearden experimented with many different mediums throughout his career, such as collage and oil paint. Although he would eventually develop a more abstract style, he was initially influenced by muralists such as the famous Diego Rivera from Mexico.
Through his collages, he hoped to portray themes of co-existence and cooperation within the African American communities. He used African American literature and cultural history, as well as his own personal recollections as the subject matter for his famous Black artworks.
Bearden's style was influenced by varied sources such as jazz and blues music, Mexican muralist art, African sculptures, and Western European artworks. Besides his famed collage artworks, he also produced paintings in oil, watercolor, and gouache, as well as assemblage sculptures, monotypes, and murals.
Grayscale reproduction of After Church by Romare Bearden (1941); Romare Bearden, Public domain, via Wikimedia Commons
Although he received a degree in education after studying at New York University, he realized his love for art and pursued it further by studying painting and drawing at New York's Art Students League. He was pivotal in the establishment of an infrastructure for the emergence of Black painters in New York.
Jacob Lawrence (1917 – 2000)
Full Name
Jacob Lawrence
Nationality
American
Date of Birth
7 September 1917
Date of Death
9 June 2000
Place of Birth
Atlantic City, New Jersey, United States
Notable Artworks

Harriet Tubman Series (Panel #4) (1940)
Tombstones (1942)
The Shoemaker (1945)
The Builders (1947)
Dreams No. 2 (1965)
The African American artist Jacob Lawrence was born in 1918 in New Jersey. He is known for his Black history paintings such as his Migration Series, which he produced when he was only 23 years of age. This series of artworks portray the story of the mass migration of Black Americans from the South to other parts of the country in what was known as the Great Migration. Lauded both for its Harlem-inspired style and its subject matter, the works were rendered in vibrant tones and avant-garde shapes.
Lawrence's art is regarded as essential in modern art history due to the way it radically revitalized Black history painting in the modern era.
He would produce 60 panels in this series, the success of which led him to produce many more projects that visually documented the history of the African American people. Lawrence would go on to receive many awards and accolades and also lectured at several notable universities. He also became the very first Black artist to have his works added to the permanent collection of the Museum of Modern Art in 1941.
Grayscale reproduction of During World War I there was a Great Migration North by Southern Negroes by Jacob Lawrence (between 1940 and 1941); National Archives at College Park, Public domain, via Wikimedia Commons
Gwendolyn A. Magee (1943 – 2011)
Full Name
Gwendolyn Ann Magee
Nationality
American
Date of Birth
31 August 1943
Date of Death
27 April 2011
Place of Birth
High Point, North Carolina, United States
Notable Artworks

Crystalline Fantasy (1998)
Our New Day Begun (2000)
Lift Every Voice and Sing (2004)
Gwendolyn Ann Jones Magee was a textile artist who created stunning narrative and abstract works in the form of quilts. Her art, which she only started to explore in her midlife years, was influenced by her upbringing in an artistic family, her training in the social sciences, and her engagement in the civil rights movement. Magee's upbringing and early adult years in North Carolina's Triad region influenced the powerful voice she brought to her artwork.
Her upbringing was filled with art publications and crafts in many mediums, as well as museum vacations to New York with her adoptive mother. As a small child, she was obsessed with color.
She remembers digging into paper with crayons to try to reach the depth and intensity that could match the pure colors in her imagination. The potency of color became a trademark of her mature works. Magee began to learn the art of quilting in 1989 in order to make mementos for her college-bound children. She found her artistic voice in the fiber arts, quickly perfecting quilting and surface design methods that allowed her to express herself passionately and captivate an audience. Her early quilted works evolved into abstract patterns, then allusions to African cultures through the incorporation of design and textile traditions.
Jean-Michel Basquiat (1960 – 1988)
Full Name
Jean-Michel Basquiat
Nationality
American
Date of Birth
22 December 1960
Date of Death
12 August 1988
Place of Birth
Brooklyn, New York, United States
Notable Artworks

Fishing (1981)
Profit I (1982)
Self-Portrait (1982)
Flexible (1984)
Riding with Death (1988)
For many decades, New York City served as a catalyst for the emergence of Black painters, with one of the most famous Black American artists to arise from the Big Apple being none other than Jean-Michel Basquiat. Born in 1960 in Brooklyn, his mother was Puerto Rican, and his father was from Haiti. A very intelligent child, he could both read and write by the time he was four years of age, and could fluently speak French, English, and Spanish by the age of 11.
He was responsible for the popularization of street art and graffiti and helped bring these art forms into gallery spaces, opening the doors for other urban artists to follow.
Even though he only produced art for ten years (due to his sudden death at the age of 27), his legacy is considered prodigious. Even today, he is still revered as a cultural icon and a highly celebrated artist, admired for his handling of subject matter such as oppression and slavery. Basquiat's artworks are displayed in the top galleries and museums in the world, selling at auction for tens of millions of U.S. dollars.
Kara Walker (1969 – Present)
Full Name
Kara Elizabeth Walker
Nationality
American
Date of Birth
26 November 1969
Date of Death
N/A
Place of Birth
Stockton, California, United States
Notable Artworks

Gone: An Historical Romance of a Civil War as It Occurred between the Dusky Thighs of One Young Negress and Her Heart (1994)
Harper's Pictorial History of the Civil War (Annotated): Scene of McPherson's Death (2005)
A Subtlety (2014)
Resurrection Story with Patrons (2017)
Similar to the art by Black artists such as Basquiat and Lawrence, Walker's artworks explored issues such as race. In her signature silhouette-style works, she preferred to work in monochrome rather than employing a vivid color palette like the aforementioned black painters. She first developed the distinct silhouette style utilized in her Black history paintings in 1994 and has subsequently continued to create pieces in this aesthetic to draw attention to certain issues that face African Americans every day.
A Subtlety or The Marvelous Sugar Baby by Kara Walker (2014); Adjoajo, CC BY-SA 3.0, via Wikimedia Commons
This is not the only style she is known for producing in, though, and also works in mediums such as shadow puppets, magic-lantern projections, animated works, and paintings. The cut-paper craft style originated in the Antebellum South, a region that she often depicted in her works.
Kehinde Wiley (1977 – Present)
Full Name
Kehinde Wiley
Nationality
Nigerian American
Date of Birth
28 February 1977
Date of Death
N/A
Place of Birth
Los Angeles, California, United States
Notable Artworks

Napoleon Leading the Army Over the Alps (2005)
Randerson Romualdo Cordeiro (2008)
Femme Piquée par un Serpent (2008)
Judith Beheading Holofernes (2012)
Kehinde Wiley became famous due to his unique portraits of Black American men set against floral backgrounds. Wiley is a portrait artist who became the very first Black person to be asked to produce an official presidential portrait in 2017. Subsequently hung along with the other presidential portraits in the National Portrait Gallery, his work was personally chosen to be the portrait painting by Barack Obama. He has continued this reimagined style of portraiture ever since the success of Obama's portrait, even challenging the conventions of equestrian artworks.
For Wiley, it is crucial that his work features Black Americans and that they are also the audience of his works.
Unlike other Black history artists, he likes to appropriate historical images and recontextualize them by adding his famous floral backgrounds, such as the portrait of Napoleon. Wiley is gay, and with his work, he hopes to reframe the Black male body as something that symbolizes vulnerability and desire instead of violence and fear. Wiley's paintings are valuable documentation of the American Black community's influence, style, and adaptability.
That concludes our list of famous Black painters and artworks. Art by Black artists took many years to be properly acknowledged and recognized. Black history artists have served an essential role in capturing the history of African Americans through their works. Without these Black history paintings and literature written by the African Americans of that time, we would potentially only have a very one-sided story of historical events – especially when it relates to the history of the African American people in the United States. These Black painters helped pave the way for the multitudes of artists who now express themselves through numerous media to appreciative audiences.
Frequently Asked Questions
What Is the Importance of Black History Paintings?
While it is one thing to learn about art through textbooks, it is another to see these events visually represented. Who better to illustrate the history of the African American people than Black painters? There are so many important individuals that played a part in the liberation of African Americans, and their stories were not often told in White circles. We can be thankful to famous Black painters and artworks that have kept these people and stories alive through the centuries.
What Is the Subject Matter of Art by Black Artists?
While there are Black history artists who focus specifically on events and people of the past, this is not the only genre of art produced by Black painters. In fact, there is no limit to the scope or range of subjects and topics in their artworks. Yet, it is the works that leave an impression of a lifestyle and world that we would not have been able to see without their creation, that leave viewers with a desire to see and experience more. African American culture and art are vibrant, colorful, and lively – just like its people.
Liam Davis is an experienced art historian with demonstrated experience in the industry. After graduating from the Academy of Art History with a bachelor's degree, Liam worked for many years as a copywriter for various art magazines and online art galleries. He also worked as an art curator for an art gallery in Illinois before working now for artfilemagazine.com
Liam's passion is, aside from sculptures from the Roman and Greek period, cave paintings, and neolithic art.