Harlem Renaissance Art – Discover Art in the Harlem Renaissance
The Harlem Renaissance was a vibrant blossoming of literature, art, and music within the African-American community that began about 1920 in New York City's Harlem district. Visual art in the Harlem Renaissance was one component of a thriving cultural development that included several multidisciplinary partnerships, in which artists collaborated extensively with publishers, writers, musicians, and playwrights. Harlem Renaissance artwork was characterized by no particular style; instead, Harlem Renaissance artists explored many methods to honor African-American heritage and culture. This article will explore the Harlem Renaissance timeline of events and popular Harlem Renaissance artworks.
An Exploration of Art in the Harlem Renaissance
Harlem Renaissance artists typically merged aspects of African art with modern subjects, making a connection that respected and broadened the narrative of the African-American experience while opposing the negative stereotypes that permeated popular culture. The movement was inspired by The New Negro (1925), a book by Alain LeRoy that was published to bring a sense of self-dependence and pride to the African-American culture. Several first-generation participants of the Harlem Renaissance lived overseas, a large number of them meeting in Paris before returning to New York to develop and encourage prospects for young African-American artists, their careers having been impeded by prejudice in America before moving abroad. This resulted in a second generation of domestically educated artists who were entrenched in Harlem and contributed to moving the art world's focus to New York after World War II. During the 1960s civil rights movement, several of these second-generation Harlem Renaissance artists became activists.
A depiction of the end of World War I (1941) by Horace Pippin; Horace Pippin, CC BY-SA 4.0, via Wikimedia Commons
The History of Harlem Renaissance Art
The Harlem Renaissance corresponded with the emergence of the Civil Rights Movement, which spurred Harlem Renaissance artists to produce artworks that honored the richness and tenacity of African American culture. Political and social concerns, such as the push for racial equality and the battle against discrimination, also influenced Harlem Renaissance artists.
But, who were the Early influences on these artists who paved the way?
19th Century African-American Artists
Only Edmonia Lewis and Henry Ossawa Tanner had previously achieved international standing and distinction as professional African-American artists, and they served as role models for early Harlem Renaissance artists. Due to the discrimination in their home country, both artists spent most of their life in Europe where they discovered a more accepting cultural and creative atmosphere in the decades following the American Civil War. Mary Edmonia Lewis was brought up in upstate New York of Black American and Native American ancestry. She traveled to Boston in 1864 to study sculpting, but owing to her ethnicity and gender, she had trouble finding a teacher.
The Old Arrow Maker (1866) by Edmonia Lewis; Edmonia Lewis, CC0, via Wikimedia Commons
She subsequently trained with Edward August Brackett, the sculptor, who excelled in portrait busts of prominent abolitionists. Lewis focused on liberation themes, such as a bust of Robert Gould Shaw, a Union Colonel and prominent abolitionist who headed the Civil War's first all-black regiment. Despite praise from critics and widespread emulation, Lewis continued to encounter prejudice; in search of more welcoming workplace conditions, Lewis relocated to Rome in 1866, where she rose to prominence as a Neoclassical sculptor. "The nation of liberty has no space for a sculptor of color", she later stated.
Despite the fact that her classical style had little direct influence on Harlem Renaissance artists, Lewis offered an inspiring paradigm for how African-American female artists may achieve success by mixing modern ideas with African motifs.
In the Pennsylvania Academy of the Fine Arts, Henry Ossawa Tanner studied alongside artists Robert Henri and Thomas Eakins. In 1891, he traveled to Paris to pursue a degree in art at the Académie Julian, hoping to find an environment free of discrimination. In France, inspired by the Realists Jean-François Millet and Gustave Courbet, he started producing genre and landscape pieces. He did return to the States for a few years, during which time he focused on African-American issues. Upon returning to France, he focused on religious issues. Tanner became a major patron of young Harlem Renaissance painters, opening his Paris studio to William H. Johnson, Hale Woodruff, and Meta Vaux Warrick Fuller, among others.
The Great Migration
From the beginning of the 20th century to the 1970s, millions of African-Americans traveled from the rural South to the urbanized Midwest, West, and North in pursuit of greater social and economic prospects. This period is referred to as the Great Migration. A number of causes drove the movement, including severe sharecropping and tenant farming practices, pervasive prejudice and assault against African-Americans in the South, and the abundance of industrial opportunities in the North following World War I and II.
When African-Americans relocated to cities, they experienced additional problems, such as unemployment, lack of affordable housing, and discrimination in schools. Notwithstanding these challenges, the Great Migration had a profound influence on American society, helping to define the country's cultural, political, and economic environment. Since migrants carried their values and experiences with them to new places, the Great Migration gave rise to novel forms of African American culture, such as art, jazz, and literature.
The Red Summer
Racial tensions rose as African-Americans relocated to Northern cities to seek industrial and railroad employment. White mobs in more than a dozen American cities provoked riots in 1919, assaulting and murdering African-Americans and destroying their communities and businesses.
This violent period, dubbed "The Red Summer", led to the creation of the Harlem Renaissance, when African-American groups staged nonviolent demonstrations.
The Harlem Renaissance in the 1930s
Economic troubles led many African-American artists residing in Paris to come back home during the Great Depression. In the following ten years, artists in Harlem established community centers, schools, and art collectives in order to build their own platforms for opportunity and growth. Augusta Savage created the Savage School of Arts and Crafts in 1932 and became a mentor to a new generation of Harlem-based artists such as Romare Bearden, Norman Lewis, and Jacob Lawrence.
Illustration for New York Artists Equity Association's volume VI publication of Improvisations (1955) by Jacob Lawrence; Artistsequityassociation, CC BY-SA 4.0, via Wikimedia Commons
She co-founded the Harlem Artists Guild in 1935 with the goal of training new painters, encouraging community arts engagement and education, and creating greater opportunities for black artists. The Guild also lobbied for more Black Americans to be recruited by the Federal Arts Project. It was successful in establishing the Harlem Community Art Center, which was sponsored by the WPA, in 1937, and Savage was named as its first head. It remained a lively arts center until World War II when it was forced to close due to a shortage of funds.
Later Developments
In the early 1940s, World War II brought an end to the Harlem Renaissance. But, even without its geographic heart, a new wave of Harlem Renaissance artists, such as Charles Alston and Jacob Lawrence, continued to produce in the decades that followed. Others, like Romare Bearden, experimented with new subjects and approaches. Négritude, a cultural and literary movement founded in the 1930s by Leopold Senghor, Aimé Césaire, and Leon Damas, was influenced by the Harlem Renaissance.
This collection of French-speaking authors from the Caribbean and African French colonies had a long-lasting impact, especially on Jean-Paul Sartre, the French philosopher.
Some Harlem Renaissance artists, such as Los Mailou Jones, Meta Vaux Warrick Fuller, Augusta Savage, Aaron Douglas, and Charles Alston, were well-known professors who influenced future generations. Under Jones's tutelage, Howard University became a well-known center for African-American art, producing artists such as Elizabeth Catlett, Alma Thomas, and David Driskell. Artists affected by Jacob Lawrence's work include Kerry James Marshall, Faith Ringgold, Hank Willis Thomas, Robert Colescott, and Alexis Gideon.
Notable Harlem Renaissance Figures
Now that we have had a look at the initial inspiration behind (and cause of) the formation of the Harlem Renaissance, we can explore a few notable figures of the movement who helped develop and spread its ethos and beliefs. Meta Vaux Warrick Fuller was considered an early pioneer in both Egyptian-inspired design and African-American topics that characterized the early phase of the Harlem Renaissance. The philosophical architecture of the movement was laid out by Alain LeRoy Locke. In the 1920s, Aaron Douglas rose to prominence as a leader of the Harlem Renaissance. Langston Hughes, the movement's main poet, pioneered a new style based on jazz music's rhythm and improvisational approach.
Terry Dintenfass with Jacob and Gwendolyn Lawrence (c. 1970); CHILLYWILLY88, CC BY-SA 3.0, via Wikimedia Commons
Meta Vaux Warrick Fuller (1877 – 1968)
| | |
| --- | --- |
| Artist Name | Meta Vaux Warrick Fuller |
| Nationality | African-American |
| Date of Birth | 9 June 1877 |
| Date of Death | 18 March 1968 |
| Place of Birth | Philadelphia, Pennsylvania, United States |
Fuller was born in Philadelphia and studied sculpting at the Pennsylvania Museum as well as the School of Industrial Art, but her time in Paris had the most effect on her artwork. Numerous Harlem Renaissance artists saw Paris as a destination where they might find a more accepting culture and attain creative achievement. She encountered Henry Ossawa Tanner, the African-American activist W.E.B. Du Bois, and the legendary Auguste Rodin while pursuing sculpture at the Académie Colarossi. Du Bois, who became a lifetime friend, inspired her to explore African-American issues, while her mentor, Rodin, motivated her to adopt a realistic style that expressed the subject's inner feelings.
Her Mary Turner: A Quiet Protest Against Mob Violence (1919) portrayed a pregnant 19-year-old African-American girl who was killed in Georgia in 1918 after opposing her husband's lynching the day before.
The piece was a bold protest depicting the girl as an exalted and regal figure above the faces of the mob. And Ethiopia Awakening (1921), commissioned for America's Making Exposition in New York City, was Fuller's most important sculpture. The work combined Egyptian cultural and artistic traditions with African-American identity, which became a dominating theme in Harlem Renaissance art. Fuller rationalized her use of Egyptian symbols by proclaiming the era of the Black Kushite monarchs to be Egypt's most magnificent age. This assertion was reinforced by articles published in Crisis, the journal of the National Organization for the Advancement of Colored People, in 1911 about the archeological discovery of Meroe, the Kushite capital city of Sudan. Her friendship with Du Bois had an effect on her aesthetic as well; he was a devoted supporter of Pan-Africanism, an international movement that linked African and African-American pride to its historical roots in Africa, trying to promote the findings of Nubian and Egyptian art as cultural and artistic models.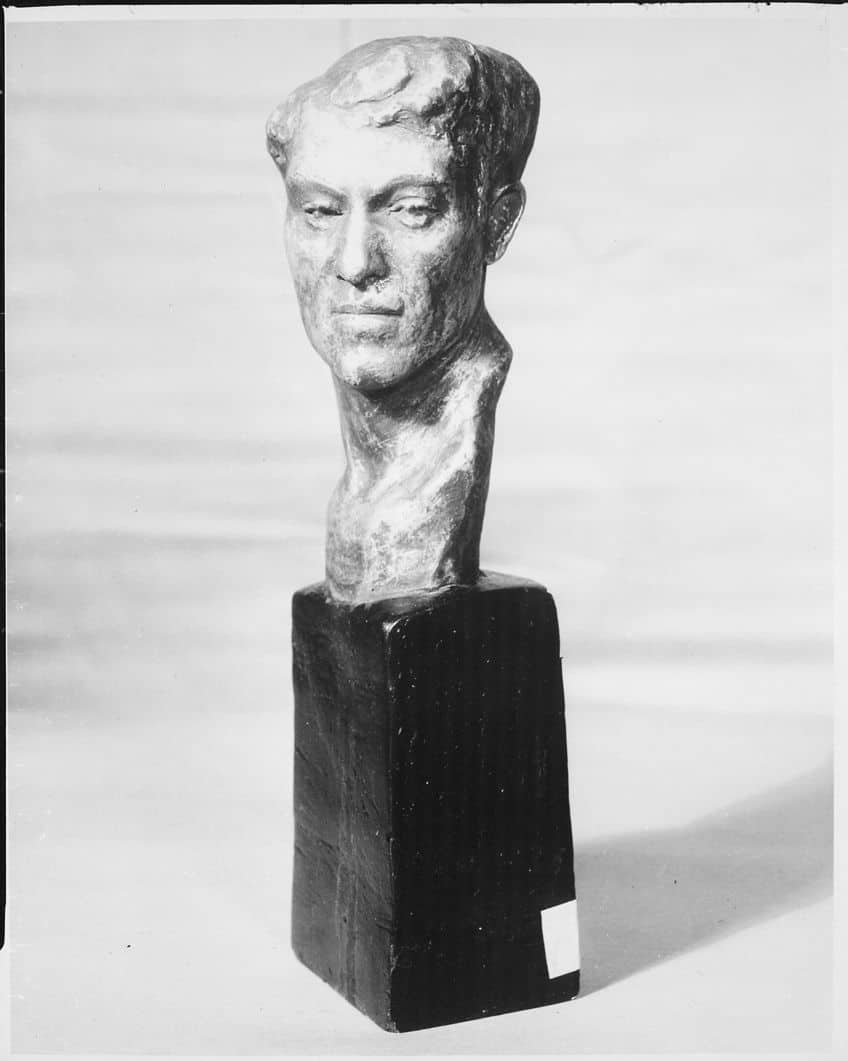 Dark Hero (unknown date) by Meta Warrick Fuller; National Archives at College Park, Public domain, via Wikimedia Commons
Alain LeRoy Locke (1885 – 1954)
| | |
| --- | --- |
| Artist Name | Alain LeRoy Locke |
| Nationality | African-American |
| Date of Birth | 13 September 1885 |
| Date of Death | 9 June 1954 |
| Place of Birth | Philadelphia, Pennsylvania, United States |
Locke was a prominent educator, writer, sociologist, philosopher, critic, and patron of the arts. His essay Harlem, Mecca of the New Black was printed in a 1925 edition of Survey Graphic, which presented Harlem and its subculture to a broad audience. In The New Negro (1925), a compendium that comprised his seminal writings, he built on these themes. Alain LeRoy Locke's writings, which advocated for a new dynamic period of revitalized self-dependence and respect within the community, fueled the core impetus of the Harlem Renaissance – the formation and advancement of a uniquely African-American culture.
Locke's writings reflected and evolved ideas that had been brewing in the African-American literary community since the 1890s, spearheaded by novelist Booker T. Washington, sociologist W. E. B. Du Bois, and Hubert H. Harrison, the social activist.
Locke's anthology was dubbed "the first national book" about African-American identity and experiences. He pushed for self-assurance, societal awareness, and a focus on racial equality in it. The book also includes poems and fiction by notable Harlem Renaissance writers such as Zora Neale Hurston, Langston Hughes, Jean Toomer, and Claude McKay on similar subjects. He contrasted the notion of the "old Negro", who had been beaten down by the remnants of slavery, with the "new Negro," who was able to make a fresh start in the northern cities; he foresaw new opportunities for changing old stereotypes, and for overcoming the internalized impact of discrimination and oppression. The Harlem Renaissance was known for its diversified and rich interdisciplinary collaborative efforts, which were inspired by Locke's belief that "the ethical function of art is to eliminate prejudice, to disable the scales that prevent the eye from perceiving, to tear away the shroud due to tradition, to perfect the ability to understand". This attitude became the movement's de facto manifesto.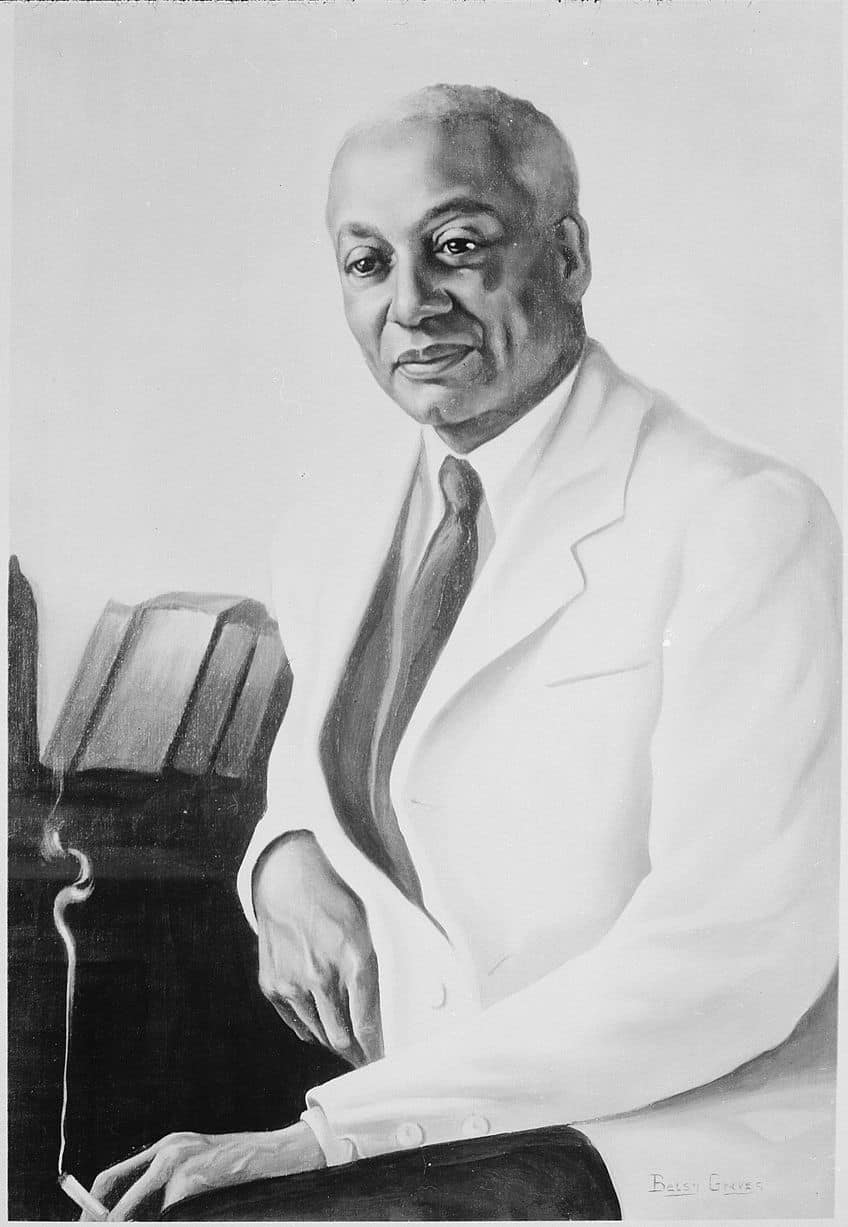 Alain Locke (c. 1943) by Betsy Graves Reyneau; National Archives at College Park, Public domain, via Wikimedia Commons
Aaron Douglas (1899 – 1979)
| | |
| --- | --- |
| Artist Name | Aaron Douglas |
| Nationality | African-American |
| Date of Birth | 26 May 1899 |
| Date of Death | 2 February 1979 |
| Place of Birth | Topeka, Kansas, United States |
Aaron Douglas was raised in Kansas before moving to New York City to study under Winold Reiss, the German artist, whose artworks represented the Art Deco style. Reiss was also a fan and defender of Alain Locke's ideas; he helped illustrate the first edition of New Negro (1925). Douglas established a distinct style while working with Reiss, combining inspirations from African-American and African art with an Art Deco aesthetic. His iconography blended Religious motifs and black content to portray racial pride and religious desire in an innovative modernist manner. He mixed African topics with an American modernist style that blended rich heritage with abstract vitality.
His art, together with his career of teaching, established him as a pivotal figure for future generations of African-American artists.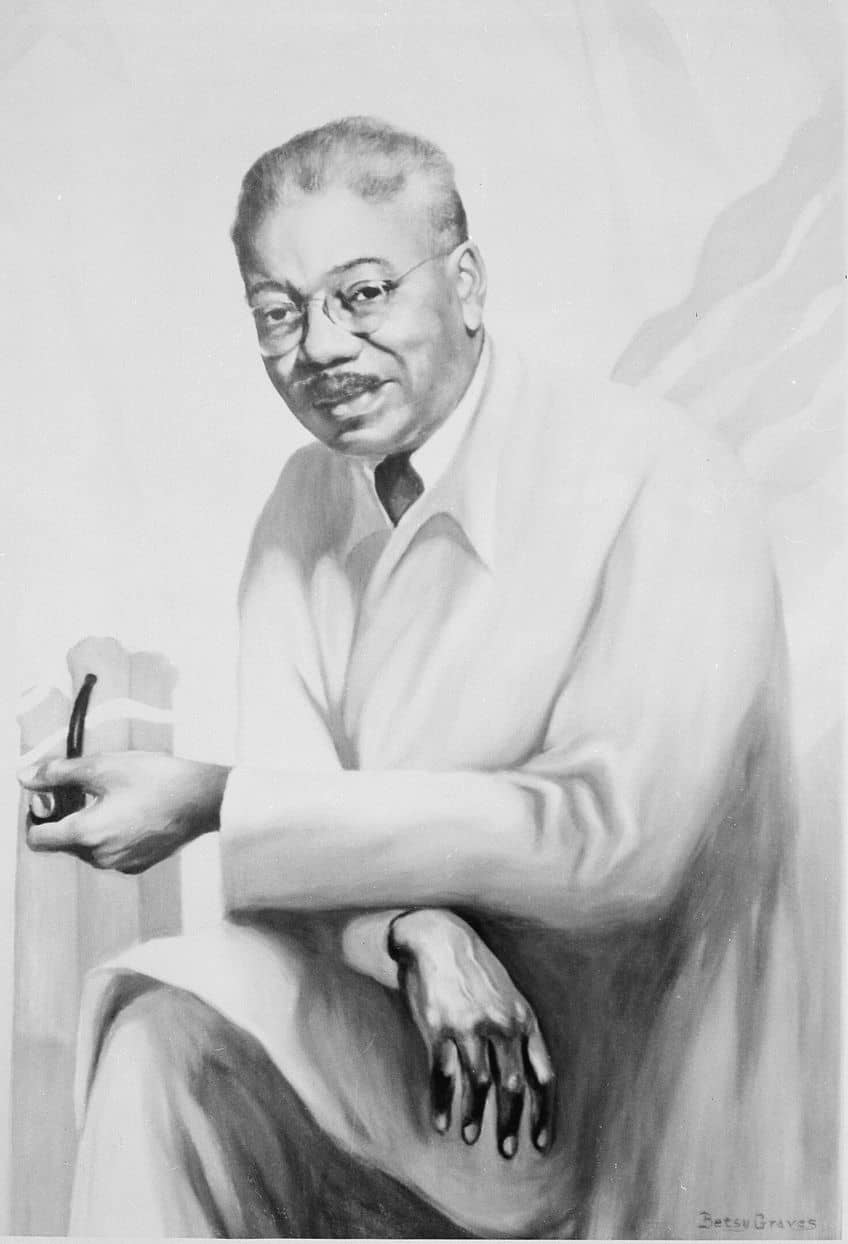 Aaron Douglas (c. 1943) by Betsy Graves Reyneau; National Archives at College Park, Public domain, via Wikimedia Commons
Notable Harlem Renaissance Artworks
We have looked at the Harlem Renaissance timeline, and now it is time to check out a few of the most notable Harlem Renaissance artworks. Harlem Renaissance art was distinguished by a variety of styles and topics, but it was most notable for its embrace of African-American culture and identity. Several artists aimed to break down racial stereotypes and reflect the daily lives of Black Americans in a good and uplifting light.
Crucifixion (1943) by Horace Pippin; Horace Pipin, CC BY-SA 4.0, via Wikimedia Commons
Ethiopia Awakening (1921) by Meta Vaux Warrick Fuller
| | |
| --- | --- |
| Artist | Meta Vaux Warrick Fuller (1877 – 1968) |
| Date Completed | 1921 |
| Medium | Bronze |
| Dimensions (cm) | 10 (height) |
| Location | National Museum of African American History and Culture, Washington D.C., United States |
This statue portrays a young black lady costumed as an ancient Egyptian, her bottom half shrouded in mummy-like bandages. The woman's right hand is resting on her bosom, as if touching her heart, while her other arm is flush against her body, culminating in expressive fingers that stretch outwards. Her closed eyelids softly turned to the left, showing an intensity of inner feeling.
The title, which refers to Ethiopia, the one and only African nation that has preserved its independence from Western power and authority, conveys African-American self-determination, while the woman's Nemes headdress (a representation of authority typically worn by the Egyptian pharaoh) implies the integrity of African-American women.
The sculpture's delicate and flowing lines glide from the decorative mummy wrap to the headpiece framing her face, creating an idealized yet distinctly contemporary appearance. She pioneered a statement of Black-American pride by linking current trends in Western art with an understanding of the Egyptian and African influences on Western civilization. The work was, as historian Paul Von Blum subsequently commented, "Fulller's art aided her viewers in imagining an African culture and history that Western civilization had rejected, even stolen. That was a powerful, appealing image of African ancestry".
Meta Warrick Fuller (1919); Not stated, Public domain, via Wikimedia Commons
Gamin (1929) by Augusta Savage
| | |
| --- | --- |
| Artist | Augusta Savage (1892 – 1962) |
| Date Completed | 1929 |
| Medium | Painted plaster |
| Dimensions (cm) | 22 x 14 x 11 |
| Location | Smithsonian American Art Museum, Washington D.C., United States |
An African-American boy is portrayed in this bust. He turns his head to the right, wearing a crumpled shirt and a bebop cap, with a contemplative and quiet expression on his face. His solemn expression indicates a mature understanding of adversity and poverty, which is heightened by the trimming away of his arms, which symbolizes weakness and societal restraint. In the tradition of the eponymous gamin or streetwise youngster, he appears to recognize his circumstances but has no power to change them. Several historians have put forth the idea that the bust portrays the artist's nephew, Ellis Ford, while others believe it was based on a street urchin, as the French title suggests.
The bust was well received, and Savage was given a Julius Rosenwald Fellowship for studying in 1929 in Paris, where her artwork continued to be well received. She presented her work at both the Grand Palais and the Salon d'Automne in Paris. In 1932, when Savage returned to Harlem, she established the Savage Studio, becoming one of the most significant teachers of the next wave of Harlem Renaissance artists, including Jacob Lawrence. While she was regarded as a notable Harlem Renaissance artist, poverty and tragedy drove her into obscurity in the 1940s and resulted in the loss of many of her paintings, but there has been a recent resurrection and rediscovery of her art.
The Harlem Renaissance was a period of cultural change that occurred in the United States during the 1920s and 1930s, particularly in New York City's Harlem district. A bloom of African-American culture, encompassing music, literature, drama, and visual art, defined the movement. Thanks to the Harlem Renaissance, African-Americans began to view themselves as independent and respectful individuals that had value to add to their community and the world at large.
Frequently Asked Questions
What Is Harlem Renaissance Art?
The Harlem Renaissance was a time of artistic exploration and creativity. Several artists were influenced by traditional African art and culture, as well as European modernist tendencies during the period. As a result, Harlem Renaissance art frequently included a variety of inspirations and styles. Several more significant individuals contributed to the movement. Photographer James Van Der Zee, for instance, was well-known for his pictures of Black Americans that portrayed their dignity and pride.
Who Were the Important Harlem Renaissance Artists?
Aaron Douglas was a prominent player in Harlem Renaissance art, whose works typically mixed African and European elements to create a uniquely African-American aesthetic. Douglas' murals, which graced numerous public buildings during the time, frequently represented images from African-American cultural and historical events. Romare Bearden was another renowned Harlem Renaissance artist, whose work incorporated aspects of African-American folk art and Cubism. Bearden's collages frequently included images from black communities' daily lives, as well as connections to African-American mythology and the past. Other prominent Harlem Renaissance artists were Jacob Lawrence, William H. Johnson, Augusta Savage, and Hale Woodruff. Together, these creative individuals and others contributed to the development of a dynamic and significant African-American art legacy that keeps inspiring artists today.
Liam Davis is an experienced art historian with demonstrated experience in the industry. After graduating from the Academy of Art History with a bachelor's degree, Liam worked for many years as a copywriter for various art magazines and online art galleries. He also worked as an art curator for an art gallery in Illinois before working now as editor-in-chief for artfilemagazine.com. Liam's passion is, aside from sculptures from the Roman and Greek periods, cave paintings, and neolithic art.
Learn more about Liam Davis and about us.
Cite this Article