What Is Contemporary Photography? – The Best Photographers
What is Contemporary photography? Is Contemporary photography the same as Modern photography? And who are the leading Contemporary photographers of the recent decade? In this article, we will introduce you to the dynamic and ever-growing realm of Contemporary photography that will have you in awe at how innovative one can get with testing the boundaries of the camera in the visual arts. We will also be looking at a few leading Contemporary photographers and examples of Contemporary photography that will certainly inspire you to pick up your camera again!
An Introduction to Contemporary Photography: Contemporary vs. Modern
What is Contemporary photography? And how is it different from the term "Modern photography"? These are just a few bubbling thoughts you may have when thinking about what Contemporary photography means in the 21st century and you will be correct in identifying that there is most likely a difference between what is modern and what is "contemporary" in art history.
The world of photography has been a trial-and-error medium for artists and professionals who use a camera since the early 19th century and has since become one of the best and most efficient ways to capture the moments we love. In art history, photography can be understood through its divisions in time, specifically by the phases in its development as seen in Modern photography, which was marked by the 20th century and ended around the 1960s when artists first started rebelling against traditional art styles.
Exhibition Gregory Crewdson (2008); Galerie Rudolfinum, CC BY 3.0, via Wikimedia Commons
The first half of the 20th century was known as a Modernist period and any photography in the arts practiced then, would be classified as Modern photography. In Modern art, photography was a medium that was used in a variety of artistic ways, including documentary, performance, portraiture, landscape art, aerial photography, and anti-war, and post-war art. So, what is Contemporary photography? Photographic practices and imagery that emerged in the latter half of the 20th century until the present are considered to be Contemporary artworks. Defining Contemporary photography is mainly based on the period as a way to distinguish the modern from the contemporary.
Today, Contemporary photography artists may also employ a variety of photographic techniques and digital editing software to produce various Contemporary artworks and also includes analog photography techniques.
A Brief History of Contemporary Photography
In comparison to other traditional mediums in art history (painting or drawing), photography as a medium on its own only took flight in the early 19th century and can be considered a fairly recent medium in the broader history of art. The development of photography was first associated with science and the process of documentation. Photography as an art form only emerged later through artists' willingness to experiment and capture more than the physical reality or memento of the model in question.
Between the late 19th century and the mid-20th century, a genre of photography called vintage photography was quite popular with other versions of artistic Modernist photography taking over. Artists who lived during the Modernist period may have also created works that began to show threads of Contemporary cultures and trends and can still be classified as Contemporary works, given that there is no fixed date for the beginning of Contemporary art. Modernists who produced photographic art between the early 1900s and the middle of the 20th century would still be understood as a niche group who practiced Modern art photography.
Marie, Park Rapids, Minnesota (2007) by Alec Soth; Cliff from Arlington, Virginia, USA, CC BY 2.0, via Wikimedia Commons
Contemporary photography extends beyond the traditional capture of an image through a camera body and lends and includes the unique value of an artist's vision, experimentation with traditional Modernist or vintage techniques, and processing methods. Generally, the use of the medium in the Contemporary era will almost always include the impression of light and its relationship to the surface, subject, or model, all of which are traditional elements of artistic photography.
It is important to understand the term Contemporary photography is helpful when reviewing the photographic work of artists from the recent past up to the present and applying the term "genre" is useful to further understand the different layers of Contemporary photography. A final point worth noting is that "contemporary" as an umbrella term for the encapsulation of a period specific to photography in the post-Modernist era is ever-evolving and can be likened to a concept that shifts with time.
Contemporary is "nowness" and what is understood as the present today, can in a few decades become the distant past.
Leading Contemporary Photographers
Photography has always co-existed and evolved with the continuous advancement in photography, which has allowed for new levels of image manipulation and other editing tools and props by which one can experiment with the medium and broaden one's practice. Below, we will explore a few leading Contemporary photographers who you can look to for additional inspiration! While there are many established and upcoming Contemporary photography artists on the rise, these few are sure to feature on any list.
Stas Dombrovsky (2018) by Alek Sota; Alec Soth, CC BY 3.0, via Wikimedia Commons
Bill Cunningham (1929 – 2016)
Artist Name
William John Cunningham Jr.
Date of Birth
13 March 1929
Date of Death
25 June 2016
Nationality
American
Associated Movements, Themes, and Styles
Contemporary art, fashion photography, and street photography
Mediums
Photography
Famous Artworks
● Paris Theater, New York City (c. 1968 – 1976)

● Versailles Live Show, Paris (1973)

● Untitled, New York City (c. 1980)

● Neo-pop hats by Javits and Whittall, Mudd Club (1989)

● Karl Lagerfeld and Claudia Schiffer (1992)
Legendary American street photographer Bill Cunningham was one of the most famous Contemporary photographers of the 21st century who was first and foremost a fashion designer and critic. Cunningham's early career evolved from design to street photography and eventually combined his passion for fashion journalism and photography to become one of the most influential photographers of all time.
Cunningham's philosophy on fashion and art was informed by the fact that for him, fashion was the "armor to survive the reality of everyday life", and as such, it was not something that could easily be "done away with".
The majority of his early works were never sold or published due to his personal philosophy of choosing not to exchange his art for money. For more than 50 years, Cunningham documented the fashionable society of New York City, traveling by bike in black sneakers and a blue workman jacket, which eventually became his signature fashion statement. Today, he is still remembered as one of the best icons of Contemporary photography whose philosophy toward the practice inspired many!
Bill Cunningham at Fashion Week (2012) photographed by Jiyang Chen; Jiyang Chen, CC BY-SA 3.0, via Wikimedia Commons
Hiroshi Sugimoto (1948 – Present)
Artist Name
Hiroshi Sugimoto
Date of Birth
23 February 1948
Date of Death
Present
Nationality
Japanese
Associated Movements, Themes, and Styles
Contemporary art
Mediums
Photography
Famous Artworks
● Canton Palace, Ohio (1980)

● Gemsbok (1982)

● Faraday Cage (2010)

● Constructing Worlds (2015)
Hiroshi Sugimoto is another famous Japanese Contemporary photographer whose journey into creative photography began in his high school days, photographing images of Audrey Hepburn in films. Sugimoto was influenced by the work of Marcel Duchamp as well as art styles found within Surrealism and Dadaism. One of his most famous works is a series called Dioramas, which commenced in 1976 and included images of displays as found in various natural history institutions with the images first being shot at the American Museum of Natural History.
In 2009, Sugimoto's work was also selected to become the album cover for the band, U2, on their No Line on the Horizon album.
In the same year, Sugimoto also founded the Odawara Art Foundation in support of promoting Japanese culture. In addition to being a highly praised photographer, Sugimoto is also an architect and sculptor, having published a book in 2011 on the various institutions that have exhibited his work. Sugimoto's reach is global with many of his works scattered in public collections, including the Smithsonian Institution, Tate Gallery, the Tokyo Museum of Contemporary Art, and the Metropolitan Museum of Art among many more institutional art giants.
Exhibition for Hiroshi Sugimoto, Barcelona (2016); Kippelboy, CC0, via Wikimedia Commons
Cindy Sherman (1954 – Present)
Artist Name
Cynthia Morris Sherman
Date of Birth
19 January 1954
Date of Death
Present
Nationality
American
Associated Movements, Themes, and Styles
Contemporary art
Mediums
Photography and film
Famous Artworks
● Untitled Film Still #11 (1978)

● Untitled Film Still #18 (1978)

● Untitled (Marilyn) (1982)

● Untitled #408 (2002)
Playing with the balance between the glamorous and the grotesque, Cindy Sherman remains one of the most iconic figures of Contemporary photography. Sherman's best works date from the 1970s with her exploration of the different roles of women as portrayed in popular cinematic history of the 20th century.
Sherman is commonly associated with the group of artists belonging to the Pictures Generation, which marked a turning point in Contemporary photography with the criticism of the media landscape.
Sherman evoked various stereotypes in her film photography and used these conventions to provoke questions about feminism, post-modernism, artificial beauty, and identity. Sherman's works sell for up to several figures in the market and are housed in permanent collections in institutions such as the San Francisco Museum of Modern Art.
A hallway in the Wexner Center for the Arts, with an artwork by Cindy Sherman displayed on the wall at right (2017); Vince Reinhart, CC BY-SA 2.0, via Wikimedia Commons
Andreas Gursky (1955 – Present)
Artist Name
Andreas Gursky
Date of Birth
15 January 1955
Date of Death
Present
Nationality
German
Associated Movements, Themes, and Styles
Contemporary art
Mediums
Photography and digital manipulation
Famous Artworks
● Rhein II (1999)

● 99 Cent (1999)

● Chicago Board of Trade III (1999 – 2009)

● Mayday V (2006)

● Pyongyang IV (2007)
Andreas Gursky is one of the most celebrated German photographers of the Contemporary period whose works have achieved some of the highest prices for a living artist. Gursky is famous for his large-format color photography that features digitally manipulated images of common architectural spaces. His works are captivating through his superimposition of the replication of spaces such that it creates a grandiosity in his work and makes the medium demonstrate its power.
Gursky is also a professor at the Kunstakademie Düsseldorf and was influenced by various prominent art educators and photographers including figures like John Davies and Otto Steinert.
Many of Gursky's invented spaces are a result of digital manipulation, which is an artistry in its own right and elevates Gursky's photography by using images taken from a high vantage point to re-create imagined spaces. His application of perspective has also been linked to ideas of globalization and the development of high-rise architecture. Gursky's works are therefore straightforward and are admirable in their Contemporary amplification of architectural power, space, and human occupation. Gursky's works can be found in many collections around the world, including the Centre Pompidou, the Washington National Gallery of Art, and Tate Modern.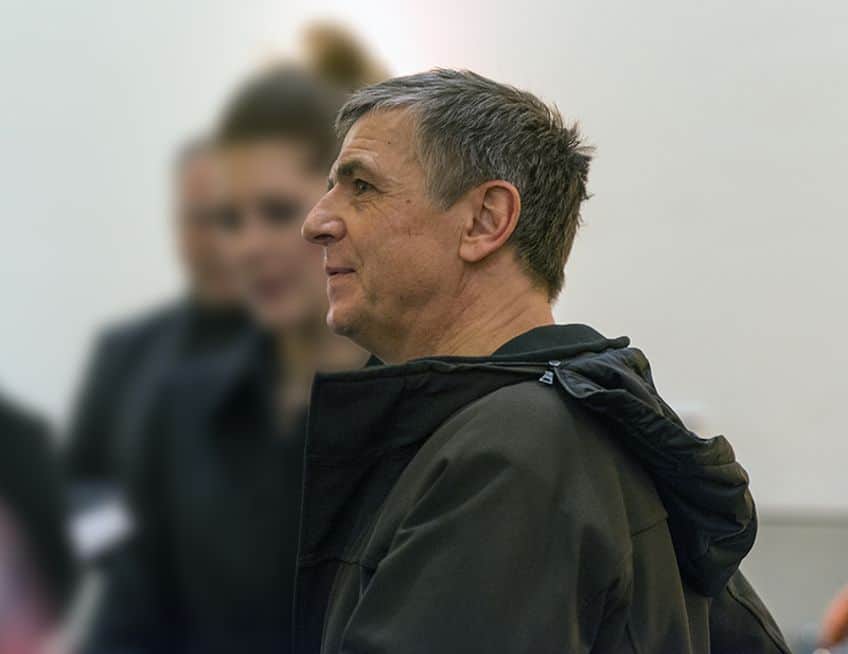 Andreas Gursky (2013); Hpschaefer www.reserv-art.de, CC BY-SA 3.0, via Wikimedia Commons
Gregory Crewdson (1962 – Present)
Artist Name
Gregory Crewdson
Date of Birth
26 September 1962
Date of Death
Present
Nationality
American
Associated Movements, Themes, and Styles
Contemporary art
Mediums
Photography
Famous Artworks
● Untitled (Natural Wonder Series) (1995)

● Untitled, from the series Twilight (1998)

● Production Still (Merchant's Row) (2003)

● Untitled, Winter (Mother on Bed with Blood) Beneath the Roses (2004)

● Brightview (2005)
Yale MFA photography graduate and recipient of the Skowhegan Medal for Photography and the National Endowment for the Arts Visual Artists Fellowship, Gregory Crewdson is one of the leading Contemporary photographers of the present.
Crewdson is a masterful photographer who demonstrates his cinematic eye by capturing scenes of American suburbia with as much detail and dramatic flair as possible to transport the viewer into alternative realities.
Crewdson described his creative process as a search for the perfect moment and often collaborates with large production teams to capture "the perfect shot". Major influences on his work include Edward Hopper and Steven Spielberg. Crewdson is currently based in New York where he continues to explore the boundaries between reality and fiction.
Photographer Gregory Crewdson setting up a shot with his 8×10 camera on location in Pittsfield, Massachusetts at the corner of Seymour Street and Madison Avenue (2007); Photograph by Christopher Peterson, CC BY-SA 3.0, via Wikimedia Commons
Alec Soth (1969 – Present)
Artist Name
Alec Soth
Date of Birth
1969
Date of Death
Present
Nationality
American
Associated Movements, Themes, and Styles
Contemporary art
Mediums
Photography
Famous Artworks
● 2008_02zl0189 (2008)

● Near San Antonio, Texas (2013)

● Park Hyatt Hotel, Tokyo (curtains) (2015)

● Nick, Los Angeles (2017)

● Monika. Warsaw (2018)
Alec Soth is one of the best Contemporary photographers of the 21st century whose works highlight the interesting dynamics between intimacy and isolation through diverse snapshots into American lives and the Contemporary landscape. Soth's photography is based on an on-the-road, process-based approach that gives one a sense of actively participating in the journeys that Soth captures. The viewer is the witness in Soth's portfolio and is reminiscent of the works of documentary artists such as William Eggleston and Walker Evans. Soth was also awarded the Guggenheim Fellowship in 2013 and has since received many other major awards with his prints selling up to six figures on auction.
Soth has also worked with major brands such as Vogue and GQ on editorial commissions while having his work collected by institutions such as the Museum of Modern Art and the Whitney Museum of American Art.
While there are numerous other major names to mention in the bustling world of Contemporary photography, these select artists have certainly left a huge impact on the development of the medium as well as the unique ways in which each photographer drew from the past to inform Contemporary works. Other leading Contemporary photography artists include figures such as Michel Lagarde, Christian Boltanski, Thomas Ruff, William Klein, Sophie Calle, Annie Leibovitz, Taryn Simon, Jeff Wall, William Eggleston, David Lachapelle, Anne Geddes, Steve McCurry, Sebastiao Salgado, Wolfgang Tillmans, An-My Le, and many more!
Black and White Alec Soth with Marco Anelli (2015); Alessandra Brunhildmedia, CC BY-SA 4.0, via Wikimedia Commons
Famous Examples of Contemporary Photography
It is simple to identify the many talented photographers across the world whose eye for detail, narrative, and creative editing skills have captivated audiences and transformed the genre of Contemporary photography. However, it is far better to observe the wonders of these masterful Contemporary giants through their creations!
Below, you will find a few famous examples of Contemporary photography artworks that are sure to awaken your passion for photography and digital manipulation.
14 Pictures (1974) by William Eggleston
| | |
| --- | --- |
| Artist Name | William Eggleston (1939 – Present) |
| Date | 1974 |
| Medium | Ink on paper |
| Dimensions (cm) | 33.1 x 48.5 (each) |
| Where It Is Housed | The Metropolitan Museum of Art, New York City, United States |
William Eggleston is one of the most celebrated icons of the Contemporary era as well as a pioneer in color photography as an art form. Inspired by Robert Frank and Henri Cartier-Bresson, Eggleston began his experiments with color in the mid-20th century and went on to adopt color transparency film throughout the 1960s.
Eggleston's early career launched in isolation from other artists of the time and was initially described by John Szarkowski as "absolutely out of the blue". Later on in his career, Eggleston also worked with filmmakers such as John Huston on the sets of the 1982 movie Annie and David Byrne's 1986 film True Stories.
14 Pictures is a series that Eggleston produced while working at Harvard, which was also exhibited at the Museum of Modern Art and is known as the artist's first portfolio series.
Domestic Tourism I: Beach (2005) by Maha Maamoun
| | |
| --- | --- |
| Artist Name | Maha Maamoun (1972 – Present) |
| Date | 2005 |
| Medium | Chromogenic print |
| Dimensions (cm) | 50 x 74.9 |
| Where It Is Housed | The Metropolitan Museum of Art, New York City, United States |
Egyptian visual artist and Contemporary photographer Maha Maamoun are one of the most famous photographers, curators, and founders of the Contemporary Image Collective. Domestic Tourism I: Beach was part of a series of stills taken from her award-winning film Domestic Tourism, which was also exhibited at the 2009 Sharjah Biennal 9.
The Cairo-based artist focuses primarily on video and photographic-based mediums to explore the function of images in mainstream and popular culture. Maamoun's practice also revolves around ideas of social conditioning and how common visual and literary imagery expands its territory and reach across different cultural environments. Domestic Tourism I explores tourist views of Egypt as a tool for exploring the psychological experience of the environment.
Her images are digitally manipulated to present discomfort to the viewer that is visually complex and therefore "less sellable".
Pyongyang IV (2007) by Andreas Gursky
| | |
| --- | --- |
| Artist Name | Andreas Gursky (1955 – Present) |
| Date | 2007 |
| Medium | Cibachrome print |
| Dimensions (cm) | 305 x 206 x 6 |
| Where It Is Housed | The Broad, California, United States |
Pyongyang IV is one of the most expensive photographic prints by Andreas Gursky that sold for approximately $2.1 million in 2010 and roughly $1.3 million in 2008 and 2015. Gursky's color photograph was part of a series called Pyongyang, which was made up of several images shot after he attended the Arirang Mass Games held annually at the North Korean city of Pyongyang in the Rungrado May Day Stadium as a tribute to the Communist leader Kim II Sung. The highest price paid for a Gursky image was $4.3 million in 2011 at Christie's in New York.
Disney Dream Portraits (2007 – 2014) by Annie Leibovitz
| | |
| --- | --- |
| Artist Name | Anna-Lou Leibovitz (1949 – Present) |
| Date | 2007 – 2014 |
| Medium | Photography |
| Dimensions (cm) | Varied |
| Where It Is Housed | The Walt Disney Company, California, United States |
The Disney Dream Portraits was a long-term series produced in partnership with the Walt Disney Company by famous Contemporary photographer Annie Leibovitz between 2007 and 2014. These portraits were created for advertisement purposes to promote Disney's Year of a Million Dreams event and are one of the most recognized forms of Contemporary photography by the artist.
The American photographer is also famous for her specialty in celebrity portraiture and for harnessing intimate moments to capture the beauty and character of her sitters.
Leibovitz places immense trust in her subjectivity, which lies at the forefront of her praxis and relationship to photography. Leibovitz is also credited with capturing the last image of famed celebrities Yoko Ono and John Lennon together before the musician's death in 1980. By 1991, Leibovitz was already the first woman to host a solo show at the National Portrait Gallery with many of her works later acquired by museums such as the Art Institute of Chicago and the Los Angeles County Museum of Art.
Silver 175 (2014) by Wolfgang Tillmans
| | |
| --- | --- |
| Artist Name | Wolfgang Tillmans (1968 – Present) |
| Date | Est. 1998 |
| Medium | Photography |
| Dimensions (cm) | Unavailable |
| Where It Is Housed | Galerie Buchholz, Berlin/Cologne, Germany |
Wolfgang Tillmans is one of the most famous Contemporary photographers of all time whose works reflect an in-depth observation of his environment. Tillmans was recognized as the first non-British photographer to win the Tate Turner prize. Among the many prestigious awards, the German photographer focuses on capturing the world to "see the world' and is best known for his casual portraits of friends, still-life images, and abstract photography. Other themes that Tillmans explored in his art include political and social landscapes of the cities he frequented as well as images of the sky, aerial photography, ideas around gender identity, and homosexuality.
Tillmans' Silver series was part of his experimental phase, which began in the late 20th century and explored the reaction of photographic paper to light exposure, including chemical and mechanical processes. The title for the series emerged from the process of creation, which came from the traces of dirt and silver salt marks that were left on the paper after Tillmans developed the images in a machine filled with unclean water.
The world of Contemporary photography cannot be defined by anything other than its relation to the current moment and the integration of Modern principles into the application and experimentation with photography. The advancement of technology and the continuous improvement of artistic mediums like photography help artists develop imaginative and new ways of seeing and presenting the world, through the practice of Contemporary photography.
Take a look at our contemporary photographers webstory here!
Frequently Asked Questions
What Is Contemporary Photography?
Contemporary photography refers to the practice of producing creative photographic images and is a type of photography in the visual arts that was practiced after Modern photography, from the mid-20th century. Contemporary photographers commonly use digital editing software and experiment with a variety of photography techniques and processing methods to produce unique images. Contemporary photography is used to distinguish photographic practices that occurred in the recent past until the present.
What Are the Different Forms of Contemporary Photography?
Different forms of Contemporary photography include abstract photography, architectural images, photojournalistic images, urban landscapes, photo-documentary, and camera-less photography, among many other major types of Contemporary photography.
Who Is the Most Famous Contemporary Photographer?
The most famous Contemporary photographer is considered to be German photographer Andreas Gursky, whose works have sold for up to six figures on auction. Gursky is also the recipient of the 2008 Goslar Kaiserring award, marking the artist as one of the most distinguished international artists of Modern and Contemporary art.
Liam Davis is an experienced art historian with demonstrated experience in the industry. After graduating from the Academy of Art History with a bachelor's degree, Liam worked for many years as a copywriter for various art magazines and online art galleries. He also worked as an art curator for an art gallery in Illinois before working now for artfilemagazine.com
Liam's passion is, aside from sculptures from the Roman and Greek period, cave paintings, and neolithic art.