Famous American Painters – Looking at the Greatest American Artists
If we look back at the origins of American art classics we discover a link that connects back to a style of painting traditionally associated with the English. Many famous American artists first began to emerge in the 19th century, however, these great American painters would only begin to gain international recognition in the 20th century. In this article, we intend to introduce you to a few of the most significant and famous American painters that have proven to be highly influential throughout the decades.
A Brief History of the Oil Painters of America
What differentiates great American fine artists, whether they were born in America or elsewhere? Without a question, it should be someone who could capture the country's enormity, whether it be in terms of landscape and production or consumption of consumer goods.
Second Story Sunlight (1960) by Edward Hopper; Edward Hopper, Public domain, via Wikimedia Commons
However, during most of the country's existence, famous American painters had to compete with their European rivals, most notably the artists from France, who helped make Paris the 19th century's creative capital that it was.
This all changed after World War II, when the New York Style surpassed the Parisian art style. This was a consequence of America emerging unscathed from the conflict, while the rest of Europe was in ruins.
Since then, a host of new art forms have evolved throughout the United States, the majority of which may be broadly classed as Modern or Postmodern art. While the nation's prominence in this traditional art form continued to rise, nations with additional capital, such as the Chinese, Russians, and numerous Arab countries, were vying for a piece of the action.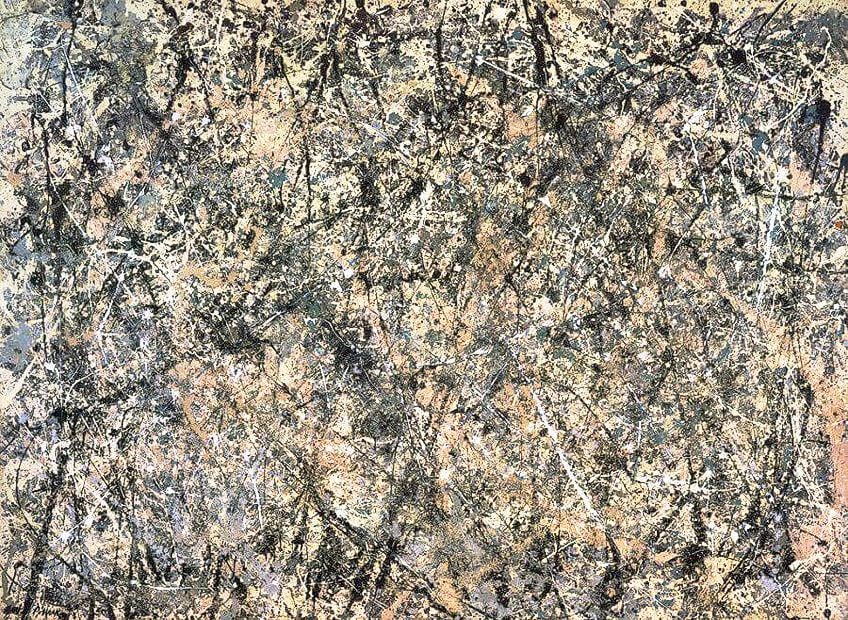 Lavender Mist (1950) by Jackson Pollock; Jackson Pollock, CC BY-SA 4.0, via Wikimedia Commons
With the bulk of classic art already safeguarded, it was becoming exceedingly rare for anything significant to become available for sale, driving up final pricing even further. The first prominent art movement in the U. S. was realism, which depicted real-life socio-economic challenges and ordinary people's lives. The first uniquely American trend to achieve international prominence was Abstract Expressionism. It emphasized abstraction as a means of conveying significant expressive or emotive significance.
It was superseded by the Pop Art movement, which was defined by the use of recognizable imagery from popular cultures, such as advertising, celebrities, and characters from graphic novels. Neo-Expressionism and street art were also influenced by the United States.
The potential of American art is exciting, with hitherto undiscovered aspects of society, such as minority ethnic groups and female artists, obtaining considerable attention and prominence for the first time.
Our Top 12 Famous American Painters
Throughout history, many prominent artists have emerged from America, along with their equally iconic artworks. You are probably already familiar with some of these artists, as their names and works have been solidified into the history of American art. Below, we will be taking a closer look at the top 12 great American painters who greatly influenced the art world.
Little Big Painting (1965) by Roy Lichtenstein; Tim Evanson from Cleveland Heights, Ohio, USA, CC BY-SA 2.0, via Wikimedia Commons
Gilbert Stuart (1755 – 1828)
| | |
| --- | --- |
| Date of Birth | 3 December 1755 |
| Date of Death | 9 July 1828 |
| Place of Birth | Saunderstown, Rhode Island |
| Style | Portraiture Artist |
Gilbert Stuart was regarded as possibly the most illustrious and innovative oil painter of America's initial regional era, possessed a wealth of natural talent that he devoted to the portrayal of human likeness and character, bringing his witty and impulsive approaches to bear on each of his works, such as his perceptive paintings of George Washington.
Self-portrait (c. 1778) by Gilbert Stuart; Gilbert Stuart, Public domain, via Wikimedia Commons
Stuart's overall reputation and lasting legacy are defined by the seemingly contradictory aspects of his life. Despite bouts of sorrow that rendered him immobile for weeks at a time, he was a prolific artist, finishing over 1,100 portrait paintings. Notwithstanding a propensity of struggling to execute or finishing projects that irritated him, he is known for his triumphs, as are other painters of his caliber.
He demanded exorbitant fees while constantly on the verge of insolvency.
Many of the guests who enjoyed his companionship and expected fine portraiture were dissatisfied with the artist's slow, delayed work practices. "Mr. Stuart believes it is the right of genius to ridicule the performance of his promises," stated John Adams, a frequent model for the artist.
George Washington (Lansdowne Portrait) (1796) by Gilbert Stuart; Gilbert Stuart, Public domain, via Wikimedia Commons
He was well-versed in portrait customs, easily depicted the attributes of gentility and elegance, and succeeded time and again in making images that satisfied his clients' visual objectives and aspirations. Nonetheless, he stated that his success was due to his own inventive abilities rather than the personalities or abilities of his sitters.
A few of the American Fine Artist's well-known artworks include:
The Skater (1782)
George Washington (1796)
John Adams (1824)
Frederic Church (1826 – 1900)
| | |
| --- | --- |
| Date of Birth | 4 May 1826 |
| Date of Death | 7 April 1900 |
| Place of Birth | Hartford, Connecticut |
| Style | Landscape Painting |
In the 1800s, the Romanticism movement was fashionable in both France and Britain as a counter-movement to the rationalism of the Age of Enlightenment. Landscapes were commonly shown in idealized settings that accentuated the abundance and grandeur of creation, sometimes with a stress on its great scale, by Romantic painters.
This tradition lives on in the creations of Frederic Church, who reveres an uninterrupted world, as seen by his incredibly detailed canvases.
Photograph of Frederick E. Church (1855) by the Library of Congress; Mathew Benjamin Brady, Public domain, via Wikimedia Commons
The emphasis on nature is assisted by the use of low horizontally placed lines and an abundance of the sky. Church's brushwork was often "concealed," resulting in a smooth painted surface and the creator's "personality" being seemingly absent. Frederic Church, the renowned oil painter of America, was also a member of the second wave of artists associated with the Hudson River School, a movement in Western art pioneered by his mentor, Thomas Cole.
Both Cole and Church were devout Protestants, and Church's beliefs affected his artwork, notably his earlier efforts. The paintings of the Hudson River School were defined by their concentration on traditional pastoral settings as well as their incorporation of Romantic elements.
They aimed to depict the harsh truth of a quickly vanishing America, as well as a reverence for natural characteristics.
The Icebergs (1861) by Frederick Church; Frederic Edwin Church, Public domain, via Wikimedia Commons
The American fine artist's frontier landscapes depict the "colonial growth and idealistic attitude of the U. S. in the mid-19th century." Church's painting topics differed from Cole's in that he preferred realistic and often gorgeous surroundings as opposed to Cole's tendency for allusion. The art of the Church has been gradually re-examined in the perspective of themes and connotations.
A few of the artist's most recognized American art classics include:
The Heart of the Andes (1859)
The Icebergs (1861)
Aurora Borealis (1865)
James Abbott McNeill Whistler (1834 – 1903)
| | |
| --- | --- |
| Date of Birth | 11 July 1834 |
| Date of Death | 17 July 1903 |
| Place of Birth | Lowell, Massachusetts |
| Style | American Gilded Age |
Famous oil painter of America, James McNeill Whistler participated in the 19nth-century creative upheavals in Paris and London, created a distinct visual style from a variety of sources, and finally emerged with a new variant of Post-Impressionism in the mid-1860s, while the large percentage of his avant-garde colleagues would still be uncovering Expressionist techniques and the Realism movement.
Arrangement in Gray: Portrait of the Painter (c. 1872) by James McNeill Whistler; James McNeill Whistler, Public domain, via Wikimedia Commons
Whistler was born in the town of Lowell in Massachusetts, but spent most of his boyhood in Saint Petersburg in Russia. While his father worked on the construction of the railways to the city of Moscow, Whistler studied painting at the Russian Imperial Academy of Sciences. Whistler returned to the United States and then proceeded to enroll at the United States Military Academy, which was located at West Point.
He studied art with Robert W. Weir but lacked competence in other subjects, notably chemistry, and was expelled from the school in 1854.
Whistler, who had been fluent in French since his childhood in Russia, opted to pursue a career as a painter by studying in Paris after participating in the designs section of the United States Coast and Geodetic Survey, where he received his first etching tuition.
Arrangement in Grey and Black No. 1 (1871) by James McNeill Whistler; James McNeill Whistler, Public domain, via Wikimedia Commons
Whistler designed a monogrammed signature – a colorful butterfly based on his initial letters – and utilized it as a compositional component rather than just a designer's hallmark. His dedication to comprehensive uniformity extended to interior design, furniture, and the development of frames and even whole shows.
He was a key figure in the Aesthetic movement, which emphasized aesthetic principles, sophisticated style, and inventive expressionism in the design and manufacture of furniture, metals, ceramics and glassware, textiles and wallpapers, and other goods.
A few Well-known American art classics by the artist include:
Whistler's Mother (1871)
The Peacock Room (1877)
Nocturne in Black and Gold (1877)
Mary Cassatt (1844 – 1926)
| | |
| --- | --- |
| Date of Birth | 22 May 1844 |
| Date of Death | 14 June 1926 |
| Place of Birth | Allegheny City, Pennsylvania |
| Style | Modern Art, Impressionism |
Mary Cassatt had an important role in the Impressionist era. When she relocated to Paris, where she would then go on to spend the rest of her life, she met Edgar Degas. Her deteriorating eyesight essentially put an end to her commercial work after 1910, and she died in 1926. Cassatt enrolled at the Pennsylvanian Institute of the Fine Arts when she was just 16 years old, despite the fact that girls were not allowed to pursue jobs at the time.
Photograph of Mary Cassatt (1913); Durand-Ruel, Public domain, via Wikimedia Commons
Predictably, she quickly found male professors and students to be incredibly arrogant and antagonistic to her mere presence. Cassatt was also unhappy with the curriculum's slow pace and restricted training program possibilities. She chose to leave school and travel to Europe, where she could immerse herself in the artworks of the Old Masters.
The Paris Salon approved her pieces for presentation in 1872 and 1874, cementing her as a known artist.
She trained and worked in Belgium, Spain, and Rome before settling in Paris. Despite her appreciation towards the Salon for advancing her vocation, Cassatt began to feel constrained by its exacting criteria. She began exploring artistically, no longer caring about what was fashionable or financially lucrative.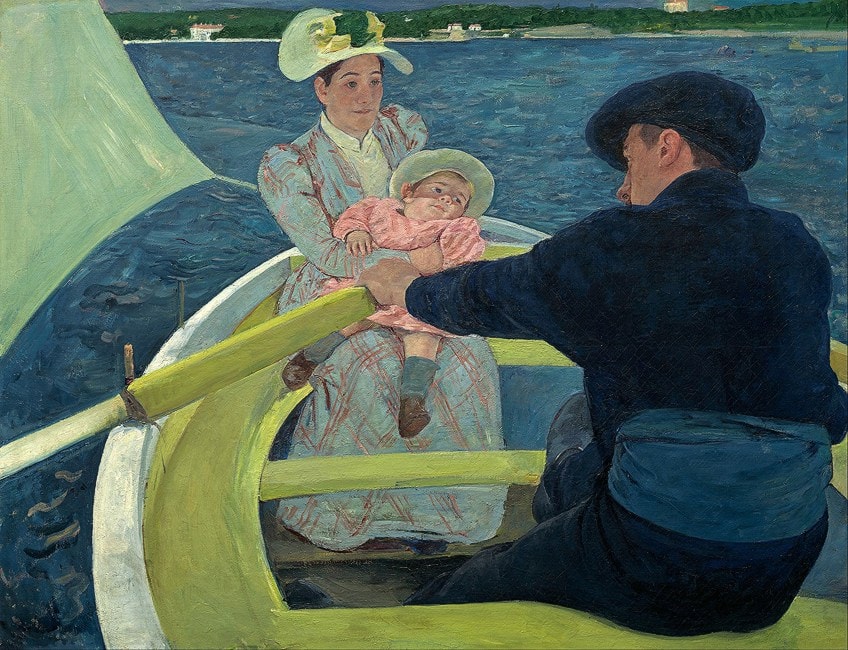 The Boating Party (1893 – 1894) by Mary Cassatt; Mary Cassatt, Public domain, via Wikimedia Commons
Her new painting was panned for its bright colors and violent representation of its subjects. During this time, she was inspired by the pastel colors of the renowned artist Edgar Degas, whose oeuvre encouraged her to forge her own course.
Cassatt rose to prominence as a portraitist.
She was particularly drawn to ladies in ordinary family situations, notably those featuring mothers with children. Cassatt's portraits were exceptional in their clear and honest quality, in contrast to the classics and of the Renaissance period.
A few of the American Fine Artist's most renowned works include:
The Cup of Tea (1879)
The Child's Bath (1893)
The Boating Party (1893)
John Singer Sargent (1856 – 1925)
| | |
| --- | --- |
| Date of Birth | 12 January 1856 |
| Date of Death | 14 April 1925 |
| Place of Birth | Florence, Italy |
| Style | Portrait Painting |
Famous oil painter of America, John Singer Sargent, the child of an American doctor, was born in Florence in 1856. He studied art in France and Italy, and his portrait of Madame Gautreau caused quite a stir at the Salon de Paris in 1884. People stated that the image, known as Madame X, was irresistibly sexual. The dispute drove Sargent to migrate to Britain, where he swiftly established himself as the region's leading portrait painter.
Self-portrait (1906) by John Singer Sargent; John Singer Sargent, Public domain, via Wikimedia Commons
In 1879, Sargent painted Carolus-Duran. This virtuoso attempt gained widespread acclaim and foreshadowed the direction his mature work would take. Its display at the Salon de Paris served as a monument to his mentor as well as a pitch for portraits commissions. Sargent's early work was described by Henry James as "the "unsettling" vision of a mind on the verge of its vocation with nothing else to master."
Sargent's best portraiture shows the sitters' individuality and character; his most ardent supporters feel he is only surpassed in this by Velázquez, who was a significant influence on Sargent.
Madame X (1883 – 1884) by John Singer Sargent; Metropolitan Museum of Art, Public domain, via Wikimedia Commons
Sargent gave up portraiture in 1907 and focused on vistas in his later years; he also made sculptural art pieces later in life. His art chronicles his trips across the world, from Corfu to Venice, Florida, as well as Montana, and each site yielded visual treasures.
In some of his later works, Sargent appeared to be generating nearly totally for himself.
His watercolors, which usually showed landscapes from his travels, were executed with a cheerful flow. He painted his relatives and friends in Orientalist attire in both oil and watercolor, relaxing in warmly lit situations that allowed for more rich colors and inventive handling than his contracts did.
A few American art classics by Singer Sargent include:
El Jaleo (1882)
Portrait of Madame X (1884)
Carnation, Lily, Lily, Rose (1886)
Edward Hopper (1882 – 1967)
| | |
| --- | --- |
| Date of Birth | 22 July 1882 |
| Date of Death | 15 May 1967 |
| Place of Birth | Nyack, New York |
| Style | Realist Artist |
Edward Hopper was a well-known American oil painter whose lifelike depictions of everyday urban settings jolt the visitor into realizing the peculiarity of their surroundings. In the later part of the 1960s as well as the early 1970s, he had a huge influence on new Realist and Pop artists. Hopper started his vocation as an illustrator.
Photograph of Edward Hopper (1937); Harris & Ewing, photographer, Public domain, via Wikimedia Commons
He studied art under Robert Henri, the creator of the Ashcan School of painters, from 1901 through to 1906. Hopper traveled to Europe numerous times, but he was unmoved by the exploratory work that was flourishing among the French at that time, and he proceeded to explore his own artistic path all through his life. Hopper, like the painters of the Ashcan School, reflected the unchanging facts of city life.
His artworks, in opposition to their randomly placed, vibrant canvases, portrayed unmoving, nameless individuals and stark geometric patterns within snapshot-like settings that give an inevitable sense of solitude. Hopper's particular use of illumination to confine persons and things in space, whether in brilliant morning light or the sinister illumination of an all-night restaurant, heightened his figures' estrangement.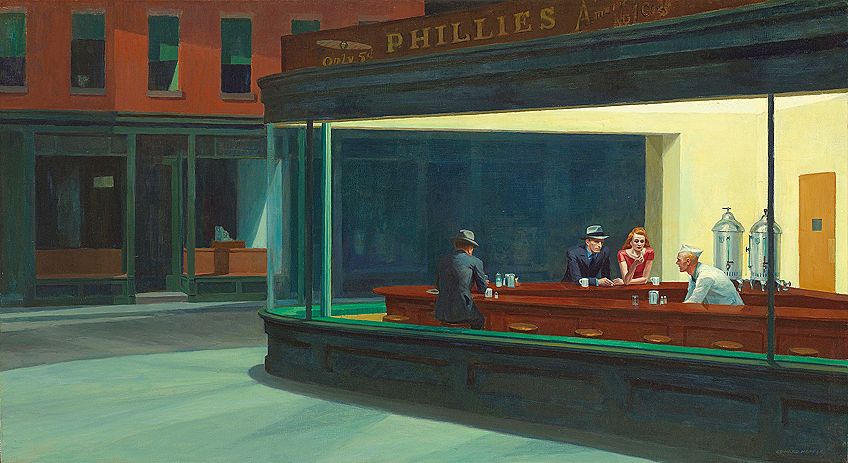 Nighthawks (1942) by Edward Hopper; Edward Hopper, Public domain, via Wikimedia Commons
Hopper's maturing approach had already been established by the mid-1920s. His subsequent development indicated a constant refinement of his vision. Later pieces, including Second-Story Sunlight (1960), are distinguished by extremely subtle spatial linkages and a greater grasp of illumination than his paintings from the 1920s.
A few of the American Fine artist's most renowned works include:
House by the Railroad (1925)
Early Sunday Morning (1930)
Nighthawks (1942)
Georgia O' Keeffe (1887 – 1986)
| | |
| --- | --- |
| Date of Birth | 15 November 1887 |
| Date of Death | 6 March 1986 |
| Place of Birth | Sun Prairie, Wisconsin |
| Style | Precisionism, Modernism |
Georgia O'Keeffe was a well-known American fine artist who worked for over seven decades. Despite changing painting trends, she stayed committed to her personal aesthetic, which was concentrated on finding life's core, abstract elements. With her extremely strong observation abilities and extraordinary technique with a brush, she caught tiny details of hue, shape, and light that enlivened her works and garnered a significant audience.
Portrait of Georgia O'Keeffe (1950); Carl Van Vechten, Public domain, via Wikimedia Commons
Her main interests were landscapes, plants, and skeletons, which she examined in depth over several years, if not decades. Her life circumstances influenced the artworks, which were either general or specific to the regions she lived in. Between 1911 and 1918, she worked as an art teacher at a number of primary schools, as well as High Schools.
During this period, she produced a stunning series of charcoal drawings that rocketed her art—and her career—to new heights.
Line, shape, and color were employed to produce abstract compositions in these striking paintings. These sketches drew the attention of Alfred Stieglitz, a very well photographer and gallery owner, to O'Keeffe. With his encouragement and financial backing, O'Keeffe left lecturing in June of 1918 and relocated to New York to establish a career as an artist.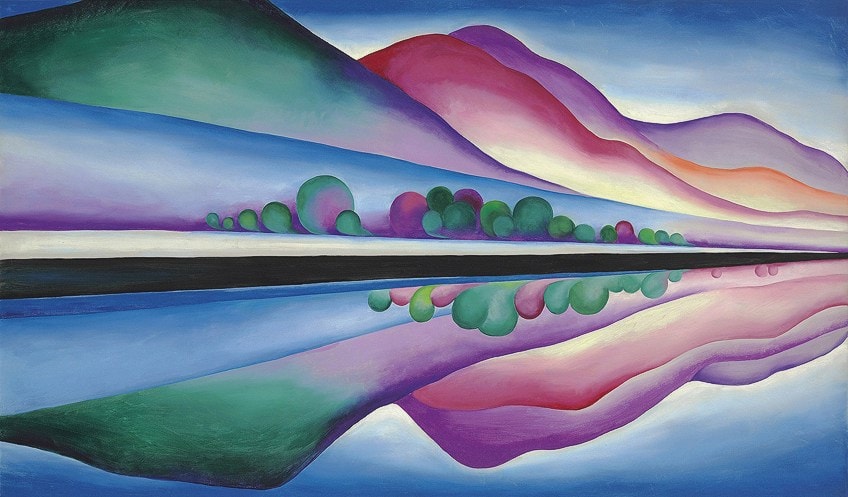 Lake George Reflection (1921 – 1922) by Georgia O'Keeffe; Georgia O'Keeffe, Public domain, via Wikimedia Commons
O'Keeffe's magnified close-ups of blooms, which she started in the year 1924, transport the viewer into the picture. Expanding the tiniest petals to cover a whole 30 40 inch canvas emphasized their shapes and lines, making them appear surreal when they were really rooted in her study of the natural. Such daring compositions contributed to O'Keeffe's reputation as a forward-thinking contemporary.
A few of the American Fine artist's most renowned works include:
Lake George Reflection (1921-1922)
Black Iris (1926)
Jimson Weed (1936)
Norman Rockwell (1894 – 1978)
| | |
| --- | --- |
| Date of Birth | 3 February 1894 |
| Date of Death | 8 November 1978 |
| Place of Birth | New York, New York |
| Style | Regionalism |
Norman Rockwell knew he wanted to be an artist at the age of 14 and studied at The New School of Art. He was so passionate about his trade that he dropped out of school and enrolled in the National Academy of Design when he was just 16 years old. Following graduating, Rockwell was hired as an illustrator for Boys' Life publication.
Photograph of Norman Rockwell; Bain News Service, publisher, Public domain, via Wikimedia Commons
In 1930, he decided To marry Barstow, a teacher, and they had three sons. The Rockwell family relocated to Vermont in 1939, and the new surroundings gave the artist enough material to create with. Rockwell's fame stemmed partly from his acute knowledge of everyday American situations, notably the allure of small-town life.
What he displayed was usually presented with simple elegance and a sense of humor. Some critics thought he lacked actual creative talent, yet Rockwell's intentions for painting what he did were founded in the world around him.
Ours to Fight For – Freedom of Speech, Freedom of Worship, Freedom from Want, Freedom from Fear (1943) by Normal Rockwell; Office of War Information, Public domain, via Wikimedia Commons
"Perhaps as time passed I realized that the planet was not the flawless paradise I had envisioned it to be, I intuitively reasoned that if it wasn't an ideal setting, it should be, and so showed only the ideal components of it," he once said.
Nevertheless, Rockwell did not completely ignore the issues of the day. In 1943, he painted the Four Freedoms, which were influenced by President Franklin D. Roosevelt.
A few American art classics by the artist include:
Freedom From Want (1943)
Freedom From Fear (1943)
Freedom of Speech (1943)
Jackson Pollock (1912 – 1956)
| | |
| --- | --- |
| Date of Birth | 28 January 1912 |
| Date of Death | 11 August 1956 |
| Place of Birth | Cody, Wyoming |
| Style | Abstract Expressionism |
Jackson Pollock, a unique artist amongst famous American painters, was born in Cody, Wyoming in 1912. Pollock began studying painting while he was still in junior high school. At the age of 18, Pollock came to New York to study at the Art Students League under the tutelage of Thomas Hart Benton, who would influence and encourage him for the next decade.
Portrait of Jackson Pollock (1928); Smithsonian American Art Museum, Public domain, via Wikimedia Commons
Pollock worked for the WPA during the era of the Great Depression, a government institution that provided him with a source of income and allowed him to devote his time to creative development. Some of Pollock's WPA paintings have since been misplaced or perhaps lost to time, but those that have remained demonstrate the gradual development of a very personal visual language that included allusions to Native American symbolism, mythology, rites, and his own visions.
This famous American artist was not a classic American fine artist, but he did invent a new mode of production. Pollock used his entire body to spill, splatter, and pour paints and enamel over an unprimed canvas that was resting flat on the wooden ground of his Long Island studio.
The She-Wolf (1943) by Jackson Pollock; Jackson Pollock, CC BY-SA 4.0, via Wikimedia Commons
This concept reinterpreted the tools and procedures of traditional easel paintings and became recognized as action painting, a style that required the artist's full physical participation. Pollock's method of all-over painting avoided any focal points, resulting in intricately interwoven patterns that reflected Pollock's gestures and traveled across the canvas.
A few American art classics by the artist include:
Mural (1943)
Autumn Rhythm (1950)
Blue Poles (1952)
Roy Lichtenstein (1923 – 1997)
| | |
| --- | --- |
| Date of Birth | 27 October 1923 |
| Date of Death | 29 September 1997 |
| Place of Birth | Manhattan, New York |
| Style | Pop Art |
Roy Lichtenstein, a pivotal figure in the Pop art movement, built his enormously successful career on imitation, starting with images drawn from graphic novels and advertisements in the early 1960s and eventually encompassing those of everyday objects, forms of art, and visual arts itself.
Photograph of Roy Lichtenstein (1967); Eric Koch, CC0, via Wikimedia Commons
"Replicating a Lichtenstein is just like releasing a creature back into the ocean," Richard Hamilton commented on Lichtenstein's normalizing approach to the subjects he used for his work. He used perforated templates to imitate and often enhance the dot patterning visible in printed images. This design, recognized as Ben-Day dots, had become a defining characteristic of his work, combining the illusion of mechanical reproduction into works of American high art.
His color scheme was limited to saturated colors in general, unnecessary details were deleted, contrasts were heightened, and he "emphasized the aesthetic tropes and visual conventions of professionally produced photographs."
With powerful, expressive reproductions of brushstrokes in prints, he emulated the expressive mark-making hallmark of Abstract Expressionism. Whereas Jackson Pollock was regarded as acquainting his streaks of color with virtuoso energy and purpose, Lichtenstein turned that process into something cliched, commercialized, and repetitious. "Visible brushwork in a painting creates the illusion of great motion; however, in my palms, the brushstroke has become a representation of a grandiose movement," he explained later.
Whaam! (1963) by Roy Lichtenstein; GualdimG, CC BY-SA 4.0, via Wikimedia Commons
A few American art classics by the artist include:
Look Mickey (1961)
Whaam! (1963)
Drowning Girl (1963)
Andy Warhol (1928 – 1987)
| | |
| --- | --- |
| Date of Birth | 6 August 1928 |
| Date of Death | 22 February 1987 |
| Place of Birth | Pittsburgh, Pennsylvania |
| Style | Modern Art, Pop Art |
Andy Warhol, a Pop icon amongst great American painters, started his career as a commercial and visual designer in New York. As an artist and cinematographer, writer and poet, and devout Catholic throughout his brief but adventurous life, he captured the essence of American civilization. He was a significant figure in the arts, but he also broke convention by publicly embracing his homosexuality.
Photograph of Andy Warhol (1968); Lasse Olsson / Pressens bild, Public domain, via Wikimedia Commons
Warhol was a forefather of pop art, a type of art that aimed to profit on iconography and motifs from popular culture, notably advertising and the media. Warhol had planned to focus on comic books, but he considered that this industry had been taken over by another well-known Us pop art creator, Roy Lichtenstein.
Conversely, Warhol concentrated on commercial items such as soup cans, boxes, Brillo wash pads, Del Monte fruits, and sauces.
Soup cans are frequently displayed in grocery stores, lined up like troops in an unending series. But at the other extreme, food was not always aesthetically pleasing in Warhol's paintings. Warhol was a big lover of series like cows, flowers, and dollar bills.
Andy Warhol Museum entrance hallway wall; Photojunkie, Public domain, via Wikimedia Commons
His fixation with performances, on the other hand, reflects a fear of loss. According to folklore, he named all of his male kittens Sam, a trend that may be interpreted as an intense need to protect the present from death.
Shortly after Marilyn Monroe's death, he created a series of images of the superstar in strikingly vibrant psychedelic colors that emphasized her features. Andy Warhol was dubbed the "Artist of Urban Consumerism."
In Warhol's case, the future has reinforced his status as one of America's most important figures, whose creative processes and funny witticisms have become a part of the American visual culture milieu.
A few American art classics by the artist include:
Campbell's Soup Cans (1962)
Marylin Diptych (1962)
Shot Marylins (1964)
Jean-Michel Basquiat (1960 – 1988)
| | |
| --- | --- |
| Date of Birth | 22 December 1960 |
| Date of Death | 12 August 1988 |
| Place of Birth | Brooklyn, New York |
| Style | Neo-Expressionism |
Jean-Michel Basquiat showed an early talent for art, starting to draw and paint with the help of his mother and regularly used materials (such as documents) sent back from his father's job as an auditor. Basquiat and his mother visited various museum exhibitions in New York on a regular basis.
"I never went to art school," Basquiat explained. I failed the few art classes I took in high school. I basically looked at a lot of various things. And it was via looking at art that I learned about it."
Photograph of Jean-Michel Basquiat (1984); Galerie Bruno Bischofberger, CC BY-SA 4.0, via Wikimedia Commons
Basquiat's art was heavily influenced by the New York City graffiti scene of the 1970s. Basquiat was frequently homeless, sleeping at friends' homes or on wooden benches, and he made a living by panhandling, dealing drugs, and peddling T-shirts and souvenirs.
As a consequence of his immersion in the downtown environment, he began to get more opportunities to exhibit his art, and he became a key participant in the burgeoning downtown cultural community. Around this period, he also formed and performed with his band, Gray.
Nonetheless, Basquiat was wary of the lack of people of color in downtown culture and began spending time uptown in the late 1970s with street performers in Harlem and the Bronx.
Olive Oil (1982) by Jean-Michel Basquiat; Jean-Michel Basquiat, CC BY-SA 4.0, via Wikimedia Commons
Basquiat's approach was supposed to reveal what he saw as his characters' inner self, private thoughts, and innermost ambitions, with chunks of paint and fast slashes of lines. Rather than emphasizing the idealized Black man's physicality, these works stressed the characters' brains and passion.
A few American art classics by the artist include:
Head (1981)
Warrior (1982)
Untitled (1982)
That brings us to the end of our list of famous American artists. We have numerous American art masterpieces to admire and enjoy now because of these artists. Whether an early American oil painter or a current graffiti artist, the notable American painters all contributed something new to the table that helped them separate out from their colleagues.
Take a look at our American painters webstory here!
Frequently Asked Questions
In What Genre Were the American Art Classics Created?
Famous American painters experimented with a wide range of genres. Throughout the years, American fine artists have adopted a variety of trends. The style might have been anything from Abstract to Post-Impressionist, Pop art, or even Modern art, depending on the period.
Who Is Regarded as the Most Influential Oil Painter of America?
Jackson Pollock is often regarded as America's most well-known oil painter. His fashion sense was one-of-a-kind. He created his artwork by moving his complete body.