Yayoi Kusama – Discover the Famous Japanese Polka Dot Artist
Yayoi Kusama is one of the most famous contemporary artists of our time. Dubbed the 'polka dot princess', Kusama is a Japanese artist who specializes in various mediums, including installation, sculpture, performance, and painting. In this article, we give context to Yayoi Kusama's art by considering how her childhood, education, and mental health have influenced her work and life.
Artist in Context: Who Is Yayoi Kusama?
| | |
| --- | --- |
| Date of Birth | 1929 |
| Country of Birth | Matsumoto, Nagano, Japan |
| Art Movements | Conceptual art, Pop Art, Minimalism, Feminist art, and Performance art |
| Mediums Used | Sculpting, painting, photography, installation, and performance |
Yayoi Kusama's art is a powerful testimony to art's healing power and human resilience. Kusama is a female Japanese artist who is most famous for her work with polka dots. In her early years, Kusama was abused by her insensitive mother and suffered from mental illness. She suffered from hallucinations and obsessive disorders and used both as inspiration for her prolific artistic work.
Today, Yayoi Kusama works from a mental hospital and is praised as one of the most unique and resilient artists of our times.
Childhood
Yayoi Kusama was born in 1929 as the youngest of four in Matsumoto, Japan. Her parents were unhappy together and there was no love in their arranged marriage. Her father was forced to take her mother's surname as he married into a much wealthier family. This made him feel emasculated and he spent most of his time away from home, pursuing other women. His wife was left feeling angry and took her frustration out on young Kusama, physically and emotionally abusing her youngest child. As a young girl, Kusama would be sent by her mother to spy on her father's sexual expeditions. This resulted in Kusama having a life-long aversion to the male body and sex.
When Kusama was ten years old, she began experiencing hallucinations where flowers spoke to her, and fabric patterns enveloped her.
Yayoi Kusama's wax model at Louis Vuitton for the 2012 collection unveiling; Garry Knight, CC BY 2.0, via Wikimedia Commons
Drawing these hallucinations became cathartic and therapeutic for her, easing her anxiety. At the age of 13, during World War II, Kusama was sent to work at a factory that sewn parachutes. She spent her teenage years working in the factory, listening to sirens and military planes. Her sewing skills would later become useful in her career, but war traumas would torment her for years to come.
Some of Kusama's first works were anti-war pieces that promoted freedom and artistic expression.
Early Education
Kusama's mother wanted her daughter to become a good housewife, but she chose to study art in Masumoto and Kyoto instead. During this period, Japan rejected Western culture. Due to this, Kusama was forced to study Nihonga, an ancient Japanese painting style. Young Kusama displayed her artistic talent in exhibitions across Japan, but the conservative styles would soon become too limiting for her.
To escape the conservative traditions of Japan and her stifling mother, Kusama decided to move to the United States in 1957, where she would eventually settle in New York City in 1958.
Mature Career
In America, Kusama had the freedom to express herself creatively in ways she never could in Japan. She once said that Japan was too critical of women and that her art needed "a wider world". While living in Japan, Kusama became friends with Georgia O'Keeffe. This friendship proved extremely fruitful once Kusama moved to America. O'Keefe helped Kusama exhibit and sell her work in America. She also introduced her to the artistic community in New York City, who was intrigued by the foreign artist.
Kusama soon became great friends with Donald Judd. Judd would be one of the first to purchase one of Yayoi Kusama's paintings from the Infinity Net series.
During this time, Kusama also became close with assemblage artist Joseph Cornell. Cornell fell deeply in love with Kusama. He wrote her letters and draw her in the nude. Kusama, however, only saw Cornell as a friend, her childhood trauma keeping her from sexual relationships. Her love for Cornell was, however, undeniable and when he passed away in 1972, Kusama started creating collages in his honor.
Yayoi Kusama Exhibition in Israel showing paintings and installation art (2022); Lizzy Shaanan Pikiwiki Israel, CC BY 2.5, via Wikimedia Commons
Kusama fully embraced the free-spirited mindset of the 1960s hippie culture in America. She worked tirelessly creating works that opposed war, capitalism, and the patriarchy. By combining these pressing social issues of the time with her own insecurities and anxieties, Kusama made work that was both deeply personal and entirely contemporary. She experimented with various mediums, including drawing, painting, sculpting, installation, fashion, and performance.
Kusama was praised by art critics for her daring and unique innovations and soon the struggling artist earned her fame.
Whilst Kusama enjoyed her fame, she overworked herself. After Cornell's passing, the overworked and mentally exhausted Kusama decided to return to Japan in 1973 to get treatment for her strained mental and physical health. While in Japan, Kusama turned her attention to surrealist writing and developing an experimental fashion line. Kusama was diagnosed with obsessive-compulsive neurosis in 1977. With this diagnosis, Kusama decided to admit herself to the Seiwa Mental Hospital. Having made the hospital her home, she has chosen to live and work there since.
Late Career
In 1993, Kusama was invited to represent Japan at the 45th Venice Biennale. This dramatically renewed interest in her work. Her Infinity Mirror Rooms became among the most famous installation art in the world. Kusama is often seen in photographs, posing with her quirky works. In these photos, she is seen posing with her iconic red wig and polka dot outfits that match her work.
One of Kusama's early Infinity Net paintings, which Judd once owned, set an auction record in 2008 for the highest price achieved by a living female artist.
Dots Obsession (2013 – 2016) by Yayoi Kusama; M.Ahmadani, CC BY-SA 4.0, via Wikimedia Commons
In 2017, the doors to the Yayoi Kusama Museum officially opened. The Yayoi Kusama Museum, based in Tokyo, Japan, was founded by Kusama herself and is managed by the Yayoi Kusama Foundation. The museum promotes Kusama's works with two exhibitions each year and hosts lectures and a variety of other events. The Yayoi Kusama Museum aims to create a fun and inclusive experience for all to connect people of various backgrounds to contemporary art. You can also read more about Yayoi Kusama at Barnebys.com.
Important Yayoi Kusama Art
A Yayoi Kusama artwork is instantly recognizable by its bold colorful patterns and quirky style. Her works are both unique in their character and in their depth. Kusama's work has influenced diverse artistic disciplines, including visual art, fashion, architecture, and design. She has also collaborated with prestigious fashion houses like Louis Vuitton, claiming that she would like to share her "artistic thoughts and philosophy with everyone". Although her work has become wildly popular globally, it remains deeply personal as it is infused with the artists' personal challenges and experiences. In the following section, we briefly explain a set of Yayoi Kusama's paintings, sculptures, and installations.
No. F (Infinity Net Series) (1959)
| | |
| --- | --- |
| Artwork Title | No. F (Infinity Net Series) |
| Date | 1959 |
| Medium | Oil on canvas |
| Size (cm) | 105.4 x 132.1 |
| Location | The Museum of Modern Art, New York City, United States |
This Yayoi Kusama artwork is one of the first works she created after moving to New York City. We can see a sense of freedom in the work that mirrors the freedom Kusama experienced in the United States, especially when compared to her living conditions in Japan. The work is entirely experimental and gestural. Nevertheless, it remains gentle and is a much softer and more quiet approach to the abstract works of Abstract Expressionists created at the time.
What we see is not actually polka dots, but the reverse. Endless looping networks made with a bone-color oil paint are gesturally painted over the canvas surface with varied thickness and viscosity.
The continuous network of lines results in negative spaces where the darker background color begins to look like polka dots. There is an obsessiveness in the work that would become a significant identifier of Kusama's style throughout her career. This time-consuming process, the artist explains, became a cathartic and therapeutic process for her that allowed her to cope better with her anxieties.
Accumulation No. 1 (1962)
| | |
| --- | --- |
| Artwork Title | Accumulation No. 1 |
| Date | 1962 |
| Medium | Sewn stuffed fabric, paint, and chair fringe |
| Size (cm) | 94 x 99.1 x 109.2 |
| Location | The Museum of Modern Art, New York City, United States |
Accumulation No.1 (1962) is considered as Kusama's first sculpture. In this work, Kusama gave new life to an old, abandoned armchair. Working with the idea of the found object, Kusama transforms the shape and meaning of the chair by hand sewing hundreds of stuffed fabric shapes to the chair and painting it white. The shapes are lumpy, elongated, and irregular; each is unique. The phallic-like protrusions are repeated over the surface of the object, giving it the appearance of growing out of the chair.
The obsessive quality of Kusama's work that can be seen in her Infinity Nets painting takes a more bodily form in her Accumulations series. The obsessive repetition of soft shapes gives the work a monster-like surface with a rippling, squirming effect.
The work lives between the space of aggression and humor, phallic and childlike. Like with her painting, Kusama's repetitive making in her sculptural works becomes a way to grapple with her anxiety. This work, however, has another layer to it when considering Kusama's aversion to the male body and sexual expression.
Looking at the work through a feminist lens, the soft phallic shapes in the chairs can be seen as a defiance of patriarchy. In this work, Kusama subverts the sexual symbol of male power and dominance by depicting not as strong and perfect, but rather as soft and odd-looking. She also makes these shapes with textile and sewing, which is traditionally considered "woman's work". Simply by making the work and giving visual form to her thoughts, Kusama abandons the role of the passive female. This is also a defiance against her mom's wishes of her becoming an "obedient" housewife.
Narcissus Garden (1966)
| | |
| --- | --- |
| Artwork Title | Narcissus Garden |
| Date | 1966 |
| Medium | Plastic silver balls, gold kimono, and signs |
| Performance Location | 33rd Venice Biennale, Venice, Italy |
Yayoi Kusama was never officially invited or given permission to participate in the 33rd Venice Biennale in 1966. Despite this, Kusama nevertheless arranged an installation of 1500 plastic silver mirrored globes outside of the Italian Pavilion. Coupled with the installation, Kusama staged her first successful performance piece called Narcissus Garden (1966). The silver globes were installed tightly next to each other, their reflective surfaces creating the illusion of an infinite reflexive field of silver balls.
The title of the work is inspired by the Greek myth of Narcissus, who admired his own reflection in water so much that it caused him to drown. Visitors experiencing the installation are faced with seemingly endless versions of their own reflection, encouraging them to face their own vanities.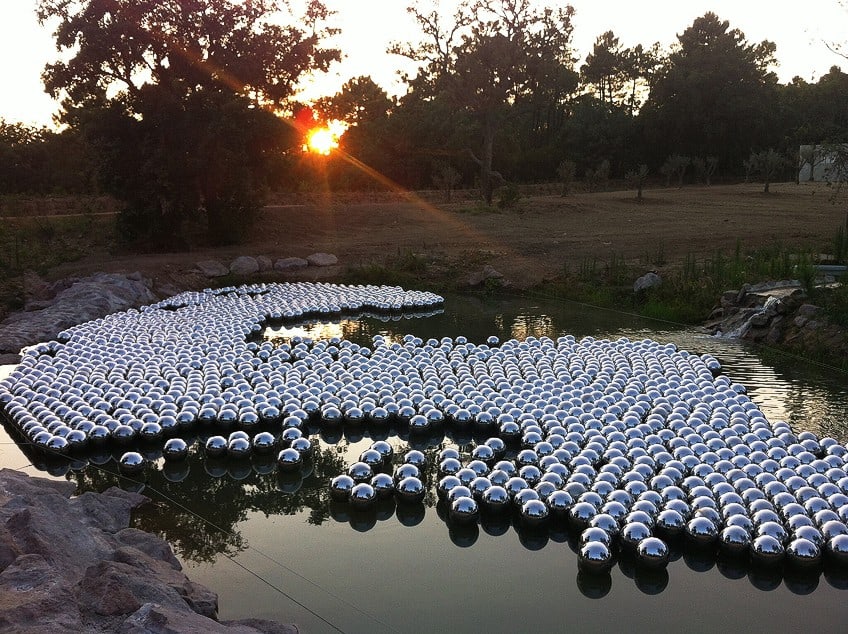 Yayoi Kusama's Narcissus Garden, as installed in 2014 in Domaine du Muy, France; Simon Lamuniere, CC BY-SA 4.0, via Wikimedia Commons
The installation also featured two signs that read: "NARCISSUS GARDEN, KUSAMA" and "YOUR NARCISSISM FOR SALE". When the Biennale opened, Kusama spent the first week performing, dressed in a gold kimono. For the performance, she posed as a street vendor selling the shiny plastic balls for two dollars. She also handed out flyers quoting art critic Herbert Read's praise for her work. While officials forced her to stop her "panhandling", the installation of the balls remained outside the Italian Pavilion for the remainder of the Biennale. The installation of Narcissus Garden has been commissioned and re-installed in various settings over the years.
Pumpkin (1994)
| | |
| --- | --- |
| Artwork Title | Pumpkin |
| Date | 1994 |
| Medium | Acrylic on ceramic |
| Size (cm) | 230 x 220 x 220 |
| Location | Benesse Art Site, Naoshima Island, Japan |
This famous work was Kusama's first public outdoor sculpture. The work was specially created for the Benesse Art Site on Naoshima Island in Japan. It features rows of black dots sprinkling around a giant yellow pumpkin. The size, shape, and coloring of the pumpkin give the sculpture a quirky cartoonish quality.
Kusama often explains her love for the everyday pumpkin, describing it as her alter-ego.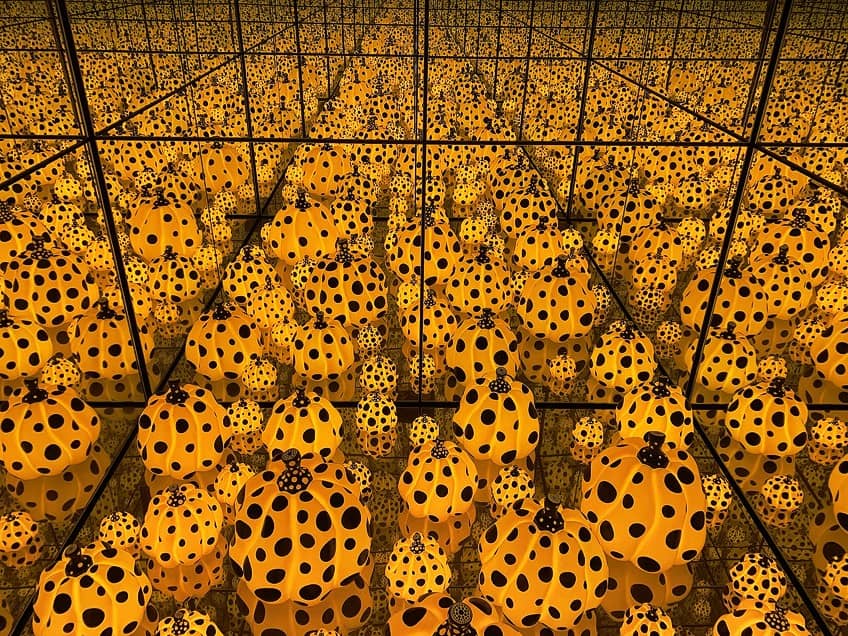 Yayoi Kusama's work, The Spirits of the Pumpkins Descended into the Heavens (2015), as exhibited at the National Gallery of Australia in Canberra, Australia; Ncysea, CC BY-SA 4.0, via Wikimedia Commons
Her love for pumpkins started in her childhood nursery and she claims to have seen a pumpkin for the first time in elementary school and when she visited a seed-harvesting plant with her grandfather. Since then, she has fallen in love with its human-like and comical bulbous form. Kusama's polka-dotted pumpkin would soon become synonymous with both her practice and personality.
Obliteration Room (2002 – Present)
| | |
| --- | --- |
| Artwork Title | Obliteration Room |
| Date | 2002 – Present |
| Medium | Furniture, white paint, and colored dot stickers |
| Size (cm) | Installation size varies |
| Location | First staged at the Queensland Art Gallery, South Brisbane, Australia |
Obliteration Room (2002-present) is an ongoing series of installations that begins as a restaging of an everyday domestic space within the gallery. In a gallery space, Kusama would stage the interior of a typical home, including changing the floor, installing fans, adding furniture, ceilings, wallpaper, and typical household objects.
The entire scene would be painted white, as if the domestic space is a kind of blank canvas. Participants would then be invited into the space and given round stickers of various sizes and colors.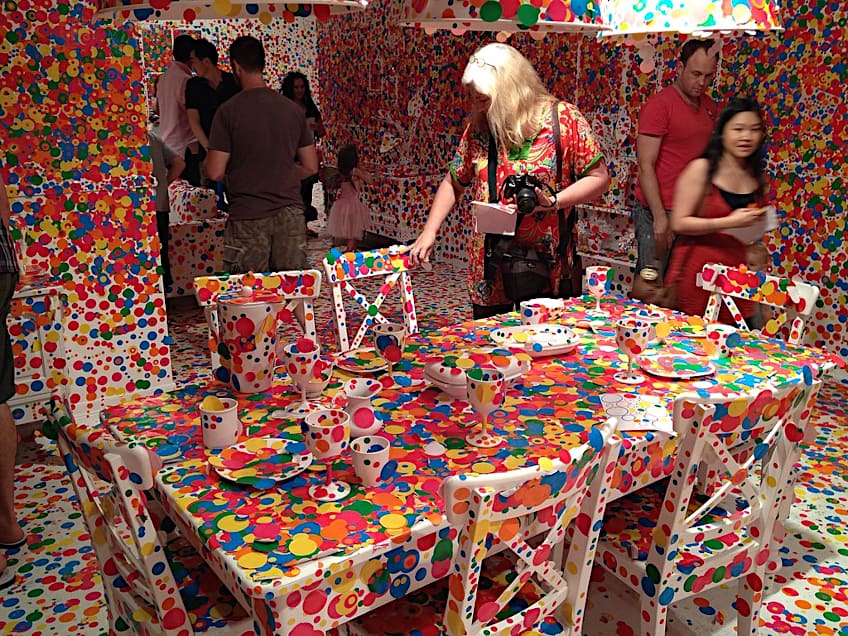 Obliteration Room after mass participation (2011, first staged in 2002 at the Queensland Art Gallery); Stephan Ridgway, CC BY 2.0, via Wikimedia Commons
Initially targeted at children, but open to all, each visitor can then stick the colored dot stickers to any surface they wish inside the space. Eventually, the all-white room would become completely transformed into a surrealistic room of polka dots. The installation gives people the freedom to disregard the typical museum rules that tell us to "look, but don't touch".
Infinity Mirrored Room – The Souls of Millions of Light Years Away (2013)
| | |
| --- | --- |
| Artwork Title | Infinity Mirrored Room – The Souls of Millions of Light Years Away |
| Date | 2013 |
| Medium | Mirrors, Plexiglas, and LED lights |
| Size (cm) | 287.66 x 415.29 x 415.29 |
| Location | The Broad Foundation, Los Angeles, United States |
Kusama's Infinity Mirror Room series is of the most immersive experiences of all of her installation works. In Infinity Mirror Room – The Souls of Millions of Light Years Away (2016), Kusama lined a completely dark space with mirrors. The space is then filled with small LED lights that are suspended from the ceiling.
Flickering in rhythmic patterns, the lights reflect off the mirrors and create an illusion of an endless space filled with tiny pulsing dots. The viewer stands in the space as if being amidst the infinite universe filled with flickering stars as far as the eye can see.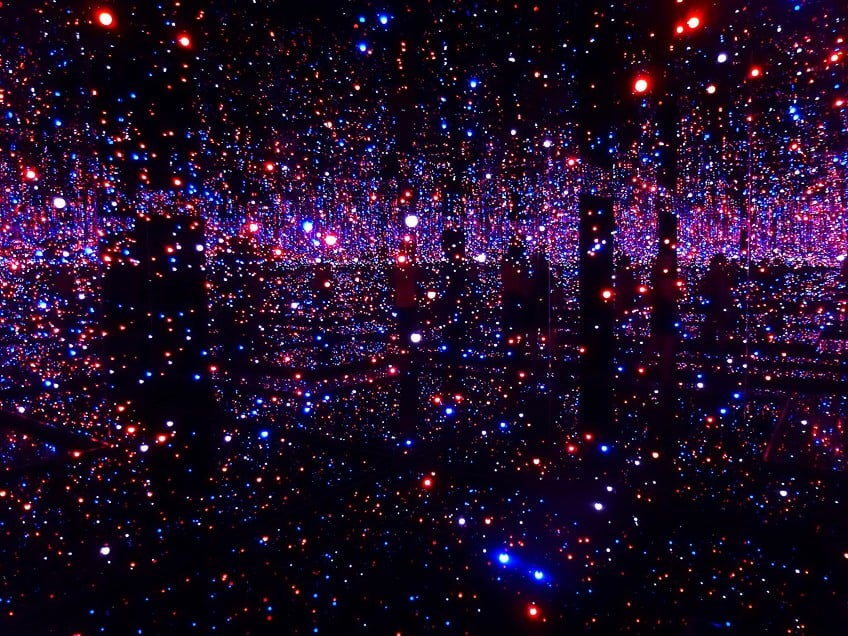 An Infinity Room installation by Yayoi Kusama; Pablo Trincado from Santiago de Chile, Chile, CC BY 2.0, via Wikimedia Commons
To add to this meditative effect, only one visitor is allowed into the cosmic room at a time. Viewers are prompted by the experience to contemplate their existence within the larger scale of life and many reported back to say that the work made them consider the meaning of life and death.
Reading Recommendations
As one of the most famous artists of our time, there is no shortage of writing on Yayoi Kusama and her quirky work. Of the most beautiful publications on her life and work include children's books with unique and fun illustrations. Apart from her striking works, Kusama's life story is one of resilience. Kusama has become an inspirational role model in a society marked by anxiety and rising mental health concerns. Below are our top three books on Yayoi Kusama!
Lewis Carroll's Alice's Adventures in Wonderland: With Artwork by Yayoi Kusama (A Penguin Classics Hardcover (2012) by Lewis Carroll and Yayoi Kusama
Kusama's hallucinatory, surrealist artworks are right at home within Lewis Carroll's timeless tale of Alice in Wonderland. The tale of Alice in Wonderland resonates with Kusama's ideas of childhood creativity and adults' capacity to reconnect to their inner child. The book is published in the highest of qualities with Kusama's images dispersed throughout the classic tale.
Beautifully illustrated by Yayoi Kusama
Kusama's images are interspersed with Carroll's text
In collaboration with Kusama Studio, Tokyo, and Gagosian Gallery
View on Amazon
Infinity Net: The Autobiography of Yayoi Kusama (2015) by Yayoi Kusama, translated by Ralph McCarthy
This book is a memoir written by the artist herself to give insight into her life and work. Kusama writes about her challenges with her mental health, her traditional upbringing, and her artistic journey. She explains her experience as a poverty-stricken artist as she arrived in New York City in 1957 and maps her journey to becoming one of the most famous artists in the world. Special consideration is given to her friendships with Georgia O'Keeffe, Donald Judd, Andy Warhol, and Joseph Cornell.
Remarkable memoir on Kusama's career, as told by the artist herself
Direct insight into the life of artist Yayoi Kusama
A must-read for art lovers
View on Amazon
Yayoi Kusama Covered Everything in Dots and Wasn't Sorry (2020) by Fausto Gilberti
This quirky book, targeted at children aged four to seven, tells Kusama's story in a whimsical style. Written by Fausto Gilberti, the colorful and magical book introduces young readers to the fun side of contemporary art. This dazzling book features Kusama's infinity polka dot room, funky personal style, and glittering balls of light. The language and vocabulary are easy to understand, and the book discusses the heavier side of mental health issues in a considerate and accessible way for children to relate to.
Perfect for children aged four to seven
Written from Yayoi Kusama's point of view
A clever and quirky look at the art of Yayoi Kusama
View on Amazon
Yayoi Kusama is one of the most important contemporary Japanese artists of our time. Her fame stretches globally, and her work has become immediately recognizable over various creative disciplines, including art, fashion, and design. Her work has sparked new artistic movements and influenced many artists, including Andy Warhol, Yoko Ono, and Damien Hirst. Whilst always ahead of the curve, Kusama's work is not only popular, but also deeply personal. Her story continues to inspire countless people who struggle with mental health issues and obsessive disorders.
Take a look at our Yayoi Kusama art webstory here!
Frequently Asked Questions
Why Does Yayoi Kusama Like Pumpkins?
Kusama explained in an interview that she has a child-like love for pumpkins because of their humorous form, warm feeling, and a human-like quality. Kusama uses the pumpkin in the same way that Warhol uses the soup can. Both Kusama and Warhol use their artistic license to elevate the everyday object to the status of fine art.
Why Does Yayoi Kusama Use Polka Dots?
Kusama's use of polka dots are inspired by hallucinations she experienced as a child. She explains that in one of these hallucinations, she was in a field of flowers. In the field, the flowers began talking to her, their heads becoming like dots as far as she could see. She continues to explain that she felt like she was disintegrating, becoming a part of the infinite dots. Dots would later populate Yayoi Kusama's paintings, sculptures, fashion, and installation. In these works, Kusama aims to make both herself and her work become part of the universe.
Liam Davis is an experienced art historian with demonstrated experience in the industry. After graduating from the Academy of Art History with a bachelor's degree, Liam worked for many years as a copywriter for various art magazines and online art galleries. He also worked as an art curator for an art gallery in Illinois before working now for artfilemagazine.com
Liam's passion is, aside from sculptures from the Roman and Greek period, cave paintings, and neolithic art.