70s Art – The Revolution That Birthed Contemporary Art
You may have seen films or TV shows highlighting the eclectic appeal of the 70's, shaped by bell-bottom jeans, eye-blinding strobe lights at the disco, and mass cultural change across fashion, art, and the broader economic climate in light of the Flower Power movement. The 70's was a period of radical innovation and widespread recognition of all things radical, which influenced art. This article will take you on a journey back to the 70's by exploring some of the most famous 1970's art styles as popularized by various prominent artists.
An Introduction to the Art of the 1970's
The 1970's was an exciting time to be an artist since many cultural and socio-political changes informed the art of the 70's and helped establish the norm for a widespread critical approach to the way that artists thought and presented art.
One of the major elements that impacted the cultural shifts within 1970's art styles included the economic recession in the United States, which had a considerable negative impact on the global economy spurring waves of social unrest and discontent with authority.
The most influential movements of the 70's were informed by the 60's and included movements such as Minimalism and social protests. The 1970's were also dominated by the emergence of Feminism and saw a sharp increase in the presence of more female-centric art, which gave rise to the empowerment of the female body and highlighted the many inequalities toward women in society.
Demonstration in London, December 1975; Jerzy Strzelecki, CC BY-SA 3.0, via Wikimedia Commons
The 1970's also birthed a variety of creative concepts in art since the period was more centered on questioning previous notions of what was presented in art and more importantly, subject matter that was neglected and overlooked. New image painting through pattern and décor also enabled the re-consideration of painting as one of the most important mediums of the decade.
CalArts live performance of Ashes and Apples on Ash Wednesday 1972. The performance explored the Zen principal of throwing a dart everywhere in the room except at the target. Bites were taken from several apples as a reward every time the dart missed the dart board. Mark Wilson is completely covered with ashes. Performed behind a screen while drumming on a wooden log. Photo originally taken by Michael Pliskin; ; Sgerbic, CC0, via Wikimedia Commons
The 70's was a period of expansion in thinking around how art could be reimagined by professionals who identified as anything other than male.
It is one of the most profound decades in art history that provided society with critical insight into land art, feminism, the body, and ephemeral themes that allowed the emergence of female voices in art while capturing the most pertinent global issues that we still witness in Contemporary history today.
Some of the most popular art styles and movements of the 70's included funk art, feminist art, land art, Photorealism, low-brow art, and bad painting, which occurred in different regions across America.
Artistic Highlights from the 1970's
With the boom of new ideas and concepts mentioned above, the 70's gave rise to some of the most memorable and influential artworks that still reverberate into Contemporary history. Below, we will traverse through the art of the 70's by looking at some of the most famous 1970's paintings and artistic productions of all time.
Untitled (1970) by Kazuo Shiraga
| | |
| --- | --- |
| Artist Name | Kazuo Shiraga (1924 – 2008) |
| Date | 1970 |
| Medium | Oil on canvas |
| Dimensions (cm) | 15.5 x 22.6 |
| Where It Is Housed | Private collection |
Kazuo Shiraga was one of the most influential 1970's artists who was most famous for demonstrating the Japanese art practice known as Gutai in various happenings as well as some of his most famous 70's paintings. The term Gutai is understood as the use of the body as a tool for artistic production and Shiraga was one such artist who best demonstrated its essence through painting.
Some of his works were created using only his feet and Untitled was one such painting that demonstrates the abstract notion of Gutai.
A year after the painting was created, Shiraga chose to join the Tendai sect priesthood and trained in esoteric Buddhism known as Mikkyō. The 70's for Shiraga can be considered a transitory period for the artist's style and approach to painting.
The Gutai method of painting and artistic production coupled with Shiraga's abandonment of tools for painting and the use of his body as a replacement reframed the image and function of the body and artist as more than subject and maker. It placed the artist at the forefront of production and added a level of violence and direct expression from the body to the canvas.
Alongside Shiraga was Atsuko Tanaka (b. 1932-2005) who was also one of the major pioneers of Gutai art during the 1950's. Tanaka was a famous Avant-Garde practitioner whose works combined found technologies with household objects and abstraction to "make art perform".
Spiral Jetty (1970) by Robert Smithson
| | |
| --- | --- |
| Artist Name | Robert Smithson (1938 – 1973) |
| Date | 1970 |
| Medium | Site-specific sculpture |
| Dimensions (m) | 4.572 x 457.2 |
| Where It Is Housed | Rozel Point Peninsula, Great Salt Lake, Utah, USA |
The Spiral Jetty is one of the most famous land art creations in art history credited to Robert Smithson, who was a popular environmental artist. Spiral Jetty is perhaps one of his most famous works and is located on the shore of the Great Salt Lake on the Rozel Point peninsula. The massive spiral-shaped earthwork was also documented as a 32-minute film and consisted of mud, basalt rocks, and salt crystals.
Over time, the sculpture has become intermittently visible and concealed due to the changes in the rising and decreasing levels of the water in the lake.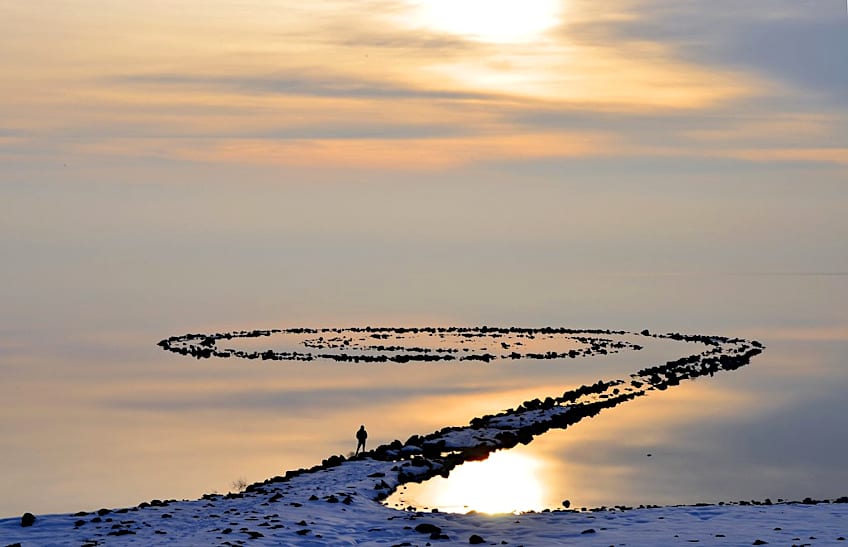 Spiral Jetty by Robert Smithson (1970) partially submerged; Mikeeconomo, CC BY-SA 4.0, via Wikimedia Commons
The artwork was donated to the Dia Art Foundation in 2009 and has since been a topic of debate on the impact of art on the land and how sculpture and land art can be combined to ensure sustainable use of natural materials to create profound environmental statements in art.
Museum of Modern [F]art (1971) by Yoko Ono
| | |
| --- | --- |
| Artist Name | Yoko Ono (1933 – Present) |
| Date | 1971 |
| Medium | Performance |
| Location | Museum of Modern Art, New York, USA |
You cannot explore popular artists of the 1970's without talking about Yoko Ono. Ono is one of the world's most famous multimedia artists whose work in a performance captured the global art community. Museum of Modern [F]art was one such clever performance that was in reality an advertisement for Ono's fictional "one-woman show", which was broadcasted by the Village Voice in 1971 and announced that Ono had an upcoming solo exhibition.
When visitors pitched up at the museum, they only found empty walls and no signs of any Ono artwork.
Photograph of Yoko Ono in 1972; Pelo magazine #21, 1972, Public domain, via Wikimedia Commons
The artwork thus became the performative advertisement and was accompanied by a clipping of the advertisement on the ticket window of the museum reading "THIS IS NOT HERE".
Ono's strategic and clever play with performance as art and the invisible artwork and artist was an important comment on the role of the art institution and the alternative perception of how art could be experienced outside of a physical museum context. The artwork was concluded with a survey for the viewers questioning them "How did you like Yoko's show?". The 70's saw an increase in unique methods to attract audience participation and Ono remains one such artist who continued to promote public involvement thus thinning and altering the boundaries between artwork and the role of the viewer.
The Liberation of Aunt Jemima (1972) by Betye Saar
| | |
| --- | --- |
| Artist Name | Betye Irene Saar (1926 – Present) |
| Date | 1972 |
| Medium | Mixed media assemblage |
| Dimensions (cm) | 29 x 20.3 x 6 |
| Where It Is Housed | Berkeley Art Museum and Pacific Film Archive, Berkeley, California, USA |
The Liberation of Aunt Jemima is one of the first and most profound political artworks by Betye Saar consisting of a derogatory figurine portrayed as an armed soldier. The derogatory figurine was a popular image that emerged out of the deep trenches of racism in America and Saar leveraged the image of "Aunt Jemima" as a new symbol of black liberation and Feminism.
Her work was also praised by Angela Davis as being one of the most significant artworks that helped propel the black women's movement. Race and feminism often butt heads with each other for the fact that race in the West, and many parts of the global South, is still a factor in what voices get heard and what voices go silenced.
Saar's The Liberation of Aunt Jemima was exhibited in 1972 and was powered on the use of an incredibly offensive and racist "mammy" image that was used by commercial America to advertise household objects and kitchen goods that catered to the narrative of "serving the master of the home". Saar responded to an open call by Rainbow Sign, which called upon artists to submit artwork inspired by black heroes, and Saar, who like many, was deeply affected by the assassination of Martin Luther King Jr., decided to use the derogatory figure as a powerful tool to bring to the fore a topic that needed to be shared and corrected.
This "Aunt Jemima" image on a sheet music cover from 1899 demonstrates how long this derogatory trope had been established before Saar appropriated and re-interpreted it; Martin Saxx, Public domain, via Wikimedia Commons
Another significant element of the assemblage is that Saar chose to represent the figure of Jemima as holding a child of mixed race, which served as a reminder of the oppression and sexual assault that black enslaved women had to face while under the ownership of white men. Saar thus recycled and reframed the image of a female black slave by inserting arms and relaying the message of the liberation of black women from systemic oppression.
Imagen de Yagul (1973) by Ana Mendieta
| | |
| --- | --- |
| Artist Name | Ana Mendieta (1948 – 1985) |
| Date | 1973 |
| Medium | Photography; chromogenic print |
| Edition | 12/20 |
| Dimensions (cm) | 50.8 x 33.97 |
| Where It Is Housed | San Francisco Museum of Modern Art, San Francisco, USA |
Ana Mendieta created some of the most impactful photographs by inserting her body and presenting herself in the natural landscape. Some might even say it is part of the natural landscape itself. Mendieta's Imagen de Yagul is part of a series called Silueta (1973 -1980) where she imprinted her body onto the earth and covered herself with flowers as if she were part of the earth itself.
Mendieta was also responsible for creating some of the most emotive 70's paintings using her body as the paintbrush. Her works are regarded as somewhat prophetic since her death in 1985 proved untimely and brutal.
Mendieta's death sparked controversy after it was suspected that her husband and fellow artist, Carl Andre, pushed her out of their apartment building window. Andre was acquitted of the second-degree murder charge, and this led to an uproar among the Feminists within the art sphere. In 2010, a symposium was held in commemoration of Mendieta's death called Where is Ana Mendieta? Following this, in 2014, the Dia Art Foundation held a retrospective for Carl Andre, which attracted protests from the No Wave Performance Task Force, which laid a pile of animal guts in front of the building.
In the years since Mendieta's death, there have been many efforts to stop the publicity of Andre's work.
Untitled (1973) by Yves Klein
| | |
| --- | --- |
| Artist Name | Yves Klein (1928 – 1962) |
| Date | 1973 |
| Medium | Prints and multiples, Lithographic Poster |
| Dimensions (cm) | 92.7 x 54.6 |
| Where It Is Housed | Donna Leatherman LLC, New York, USA |
French performance artist, sculptor, and painter, Yves Klein, was one of the most influential 70's artists of all time and is most recognized for his signature vivid blue artworks executed in a monochrome style. His style emerged in the 50's and by the 70's, Klein had already provided some of the most memorable performance artworks, including the 1960's Anthropometry series where he used female models as paintbrushes for his artwork.
Untitled by Klein was a lithograph produced in 1973 for the Karl Flinker Gallery in Paris and represents the height of 70's abstract art through Klein's gestural paint marks to create entwined silhouettes of two bodies encapsulated in the silhouette of a woman.
The Dinner Party (1974 – 1979) by Judy Chicago
| | |
| --- | --- |
| Artist Name | Judy Chicago (1939 – Present) |
| Date | 1974 – 1979 |
| Medium | Installation; Ceramic, porcelain, textile |
| Dimensions (cm) | 1463 x 1463 |
| Where It Is Housed | Brooklyn Museum, Elizabeth A. Sackler Center for Feminist Art, USA |
The Dinner Party is a long-term installation by one of the best 1970's artists, Judy Chicago, who was also a key proponent of the Feminist art movement. The installation is a large triangular dinner table that served as a ceremonial banquet to commemorate different influential women in history.
The installation was the main artwork around which the Elizabeth A. Sackler Center for Feminist Art was established and includes bespoke décor according to the unique styles of each celebrated female figure. At the bottom of the table is a white and gold tiled floor with the inscribed names of 999 women with 1038 women being honored in total.
The Dinner Party by Judy Chicago (1974-79); Bee1120, CC BY-SA 4.0, via Wikimedia Commons
Judy Chicago (b. 1939 – Present) is one of the most famous first-generation Feminist artists and art writers who are most famous for incorporating Feminism into arts education. The Dinner Party was set up as a permanent display at the Brooklyn Museum at the Elizabeth A. Sackler Center for Feminist Art. In 2018, Chicago was announced as one of the most influential people in the world by Time magazine.
The Elizabeth A. Sackler Center for Feminist Art is considered an important milestone in Feminist history due to the institution being the first space to offer a female point of view in the art space of the 70's and was founded by both Chicago and Canadian artist Miriam Schapiro in 1971 under the Womenhouse project.
One cannot discuss 70's art without discussing the importance of the Feminist movement that shaped critical questions around the politics of the body, gender, and identity. In close connection to the body and gender stereotypes, Feminist art was also the site of exploration for other key issues surrounding the environment and human impact on the land. Performance art was also an incredibly useful tool that boosted public engagement and helped spread awareness around gender inequalities in art while highlighting important global issues.
Place setting for Virginia Woolf. Detail of The Dinner Party by Judy Chicago (1974-79); Bee1120, CC BY-SA 4.0, via Wikimedia Commons
Amidst the Feminist movement were protests around anti-war as well as civil and queer rights that brought to light the unheard issues in society and the need for the recognition that the patriarchal system upon which art was built, needed to be redesigned and re-arranged. Art was, and to a degree still is, founded on the male viewpoint, and ever since the 70's, it has been under deconstruction.
Lips of Thomas (1975) by Marina Abramović
| | |
| --- | --- |
| Artist Name | Marina Abramović (1946 – Present) |
| Date | 1975 |
| Medium | Performance; gelatin silver print with inset letterpress panel |
| Dimensions (cm) | 30.8 x 40.6 |
| Where It Is Housed | Solomon R. Guggenheim Museum, New York, USA |
The 1970's art scene saw the rise of performance with the body at the forefront of exploration. Serbian performance artist Marina Abramović performed Lips of Thomas in the 1970's as an experiment on the limits of her physical and mental states, which formed part of the artist's spiritual growth.
Lips of Thomas was a combination of self-inflicted violence with the underlying theme of an epic struggle and was derived from Abramović's personal experience of Communist Yugoslavia and her upbringing under high-ranking Socialist officials.
Viewing Marina Abramović's Confession (2010) at an exhibition in Stockholm; Frankie Fouganthin, CC BY-SA 4.0, via Wikimedia Commons
The torturous performance involved Abramović carving the Star of David on her bare body while drawing blood in an act to highlight the torture imposed by politics and use her body as the site for creation. The performance also highlights what it means for artists to perform acts of self-mutilation for art and tests the mental and ethical boundaries of the viewer for witnessing someone harm their body to make a political statement.
Untitled Film Stills (1977 – 1980) by Cindy Sherman
| | |
| --- | --- |
| Artist Name | Cynthia Morris Sherman (1954 – Present) |
| Date | 1977 – 1980 |
| Medium | Film; gelatin silver prints |
| Dimensions (cm) | Varied |
| Where It Is Housed | Museum of Modern Art, New York, USA |
Cindy Sherman is also one of the most important pioneers of the 1970's Pictures Generation, which was built on the use of critique and humor as part of a collective response to the mass media landscape. This was fueled by the appropriation of imagery and themes from popular culture, magazines, film, television, and art. Sherman's Untitled film still series explores shifting identities through a selection of different personas from film and media.
Sherman's work in photography combined with her use of appropriation drew attention to the cinematic conventions used to promote films and questioned the representation of such popular stereotypes, often projected onto women, by superimposing it. Some of the cinematic representations that created specific stereotypes for women include the image of the jaded seductress, the jilted lover, the vulnerable naïf, and the unhappy housewife.
Sherman's superimposition of such stereotypes allowed viewers to question the common portrayals of women as seen in European art-house and Hollywood movies from the 50's and 60's. By inserting herself as the subject of these different stereotypical characters, Sherman draws attention to her own body and identity as a woman who represents the vast majority of women who are adopted into stereotypical narratives and have these same narratives projected onto them in real life by men.
Star Piece (1979) by Kazuko Miyamoto
| | |
| --- | --- |
| Artist Name | Kazuko Miyamoto (1942 – Present) |
| Date | 1979 |
| Medium | Brown industrial paper |
| Dimensions (cm) | 274.3 x 274.3 x 15.24 |
| Where It Is Housed | Zürcher Gallery, New York, USA |
Kazuko Miyamoto is a Japanese visual artist who was strongly affiliated with many significant movements of the 20th century, including Feminism, Minimalism, and Postminimalism. In 1979, Miyamoto created Star Piece, which sheds light on 70's abstract artworks in sculpture and is made up of coiled brown industrial paper arranged in a star shape and presented spread-eagle style.
A year before the sculpture was complete, Miyamoto had befriended Ana Mendieta and it has since been rumored that the sculpture may have been a premonition of Mendieta's tragic death and suspected murder a few years later.
The many 70's art styles resulted in the production of incredible works across the mediums of sculpture, performance, installation, and painting. This is the decade where Contemporary art as we now know it emerged. These phenomenal 70's artists and their artworks continue to inspire critical thought about how artists can challenge existing inequalities within the art sphere and propose new methods of engagement for the audience to whom art is directed. Other key artists who played a major role in defining the leading art styles of the 70's include John Baldessari, Andy Warhol, Chris Burden, James Turrell, Charles Bell, Josef Albers, Linda Benglis, Joseph Beuys, Alexander Calder, and Mary Corse.
Take a look at our 70s art styles webstory here!
Frequently Asked Questions
What Were the Most Famous Themes in the Art Sphere During the 70s?
The most famous themes in the art sphere during the 70s included Feminism, land and environmental art, performance art that boosted audience participation, bad painting, staged happenings, documentary photography, and abstract art.
Who Are the Most Popular 70s Artists?
The most popular 70s artists include a variety of artists specializing in different mediums, including Marina Abramović, Ana Mendieta, James Turrell, Yoko Ono, Robert Smithson, Cindy Sherman, Andy Warhol, and Judy Chicago.
What Made the 70s So Important in Art History?
The 70s was an important decade in art history since it laid the foundations for popular art movements such as Photorealism and post-modernism in art. The 70s was also a period of drastic cultural change in light of student protests and the influence of socio-political events and figures, which had a major impact on the art that was produced during this decade. Feminism and land art in conjunction with performance as a medium was at the forefront of art in the West during the 70s.
Liam Davis is an experienced art historian with demonstrated experience in the industry. After graduating from the Academy of Art History with a bachelor's degree, Liam worked for many years as a copywriter for various art magazines and online art galleries. He also worked as an art curator for an art gallery in Illinois before working now as editor-in-chief for artfilemagazine.com. Liam's passion is, aside from sculptures from the Roman and Greek periods, cave paintings, and neolithic art.
Learn more about Liam Davis and about us.
Cite this Article